JUST Capital Has Most Corporate Engagement Yet With Its Rankings Data Review
Corporate engagement is an essential and distinguishing part of JUST Capital's process in producing the annual Rankings of America's Most JUST Companies, and all the analysis that flows from it, and this year, we had the highest level of engagement in our history. 350 companies participated in our Data Review period this year, up from 74 in 2017 (373% increase). Of those, 52 companies engaged with us for the first time, and we had engagement across all of the industries we track.
At a time when the public and private sectors are taking a closer look at how organizations measure ESG or stakeholder engagement, our review process offers a robust level of transparency with companies that enables us to build trust and helps guide corporate leaders on how to address the expectations of the American public.
Through Data Review, companies have an opportunity to both gain an in-depth understanding of our methodology and provide our team with new or updated data to incorporate into our Rankings model. We also learn from the comments and questions we receive and use that input to continuously improve our model and process. The growth we've seen in engagement signals the value our framework and performance research provides to companies, as well as the rising importance of stakeholder performance data across America's largest companies.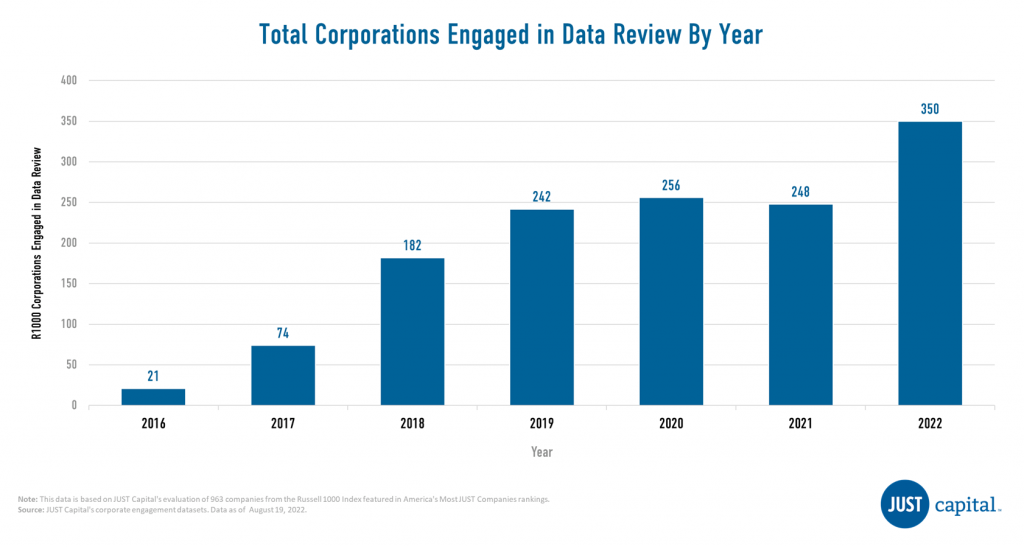 Data Review is one of several steps we take to produce our annual Rankings, which serves as a scorecard for corporate America on how companies are serving their workers, customers, communities, the environment and shareholders. Each year we:
Poll Americans to identify the issues that matter most.
Translate key issues into measurable metrics.
Collect data from publicly available sources on America's largest companies, the Russell 1000.
Host an open Data Review period for companies to explore our framework and review and update data we have collected through our online password protected Corporate Portal.
Evaluate company performance across companies and publish the annual Rankings (the next of which will be published in January 2023 in partnership with CNBC).
During Data Review, we see hundreds of corporate representatives – including members of ESG and sustainability teams, human resources, DEI, investor relations, communications, and legal – log into the portal to review the data we've collected for their company. Within the portal are definitions for each data point, and users can submit updated values and ask questions directly of our team of analysts who respond, and either confirm updated data points or clarify why certain submissions may not meet our criteria.
We tend to see updates come as a result of a company releasing a new report or announcement after our team has done the initial data collection, which helps ensure our data is as up-to-date as possible. Through Data Review, we also see companies requesting further detail on our criteria, which often leads to internal discussions around the approval of disclosing data or policies that would improve performance in our Rankings.
Our team has started tracking the increase in disclosure across several key issues included in our model. For example, we've seen the number of companies that disclose paid parental leave at parity for both primary and secondary caregivers increase from 92 companies in 2017 to 244 companies this year. This increase signals the growth in companies that publicly disclose their paid parental leave policies for primary and secondary caregivers, as well as the growth in companies that are providing leave at parity. We've seen a similar increase on metrics across stakeholder areas – from companies disclosing pay equity practices to making net zero climate commitments – and have heard feedback from companies that our work helps drive these increases by informing or prompting implementation of new practices and disclosures
Engaging in the Data Review process ensures that a company's data is current and comprehensive, so our Rankings can be as accurate as possible. Participating companies have let us know that they gain real insight and value from the process. Some feedback from this year:
"We find that JUST tends to be ahead of the curve compared to other ESG raters and rankers, so going through the data review process is a great forecast on what we should be focusing on." – ESG team director
"I am a generalist working across a 100 person team, and across a large organization – your work and ranking provide me with a thoughtful framework for how to break down issues and identify specific areas to engage colleagues about improving performance." – chief sustainability officer
"We really appreciate the opportunity to connect directly with the research team and your prompt and helpful support – and the transparency of your process." – ESG team analyst
Much of this work is led by our Corporate Engagement team who connect with and assist companies throughout this process, and speak to our work more broadly. The direct interaction from both our Corporate Engagement team and the Research Analysts provides a high touch experience for those who engage in our process.
We believe our unique approach and perspective is what drives more and more companies to participate in our process and use it to inform their work. We also find it incredibly valuable to learn from the questions and comments we receive and use that as input to continue to refine our metrics and framework each year.
Thank you to all 350 companies that participated in our data review process this year! If you would like to learn more or start a discussion, please contact our Corporate Engagement team.