The JUST Report: Can "The Atlanta Way" Reinvigorate Corporate Community Investment?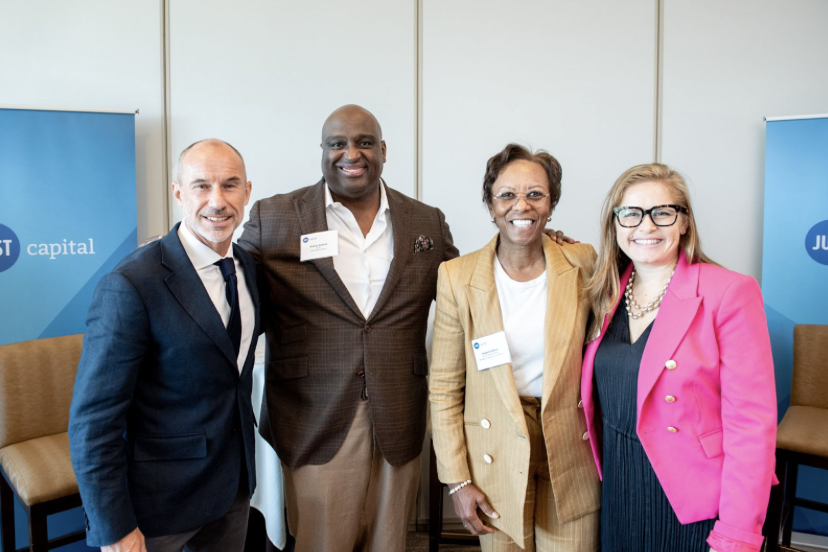 [Image via Picture This Photography, Atlanta]
How can corporations make a lasting difference to the financial, human, and social capital of cities in America? This was the question Roosevelt Giles, Chairman of the Stakeholder Impact Foundation, former Executive Chairman of Atlanta Life Financial Group, and JUST Capital Board member, put to a group of business leaders JUST Capital convened in Atlanta this week.
It's a topic that doesn't get the attention it deserves. Americans want companies to give more back to the cities and communities they do business in. Indeed, many corporations have a rich history of doing just that. Think of Rocket Mortgage in Detroit, Microsoft in Seattle, Prudential in Newark, Walmart in Bentonville. Investing in communities always features in our polling and is a core component of our Rankings.
Roosevelt's question runs a little deeper though. It speaks to the obligations companies have to nurture strong economic and cultural bonds with the people and places they connect to; to invest in health, education, housing and infrastructure; to create good jobs. To be more just.
In Atlanta, we learned that despite the gleaming new office buildings in downtown Buckhead, economic mobility is low, deep inequality persists, and talent goes untapped. Rodney Bullard, CEO of The Same House and former executive at Chick-fil-A, put it this way; "In Atlanta if you were born in poverty, you have a 4.3% chance of getting out of poverty."
Overall, our panel – which in addition to Rodney featured Stephanie Martin from the Georgia Chamber of Commerce and our own Ashley Marchand Orme – stressed that business leadership was needed now more than ever. "It's all about cities like Atlanta figuring out how to deepen relationships with CEOs. When the community does well, companies do better," said one prominent guest. With 17 Fortune 100 companies and a deep-rooted culture of philanthropy in the Greater Atlanta area, perhaps "the Atlanta way" of bringing private, public and philanthropic leaders together can inspire a new model for community development.
Be well,
Martin
JUST EVENTS

AI is reshaping the business landscape, and financial services is no exception. On October 10th at 12 p.m. ET, Martin Whittaker will sit down with TIAA Chief Information and Client Services Officer Sastry Durvasula for a LinkedIn Live to discuss how AI is impacting workers, investors, customers, and other stakeholders. The two will also discuss Durvasula's extensive work upskilling and reskilling workers through technological changes, with takeaways for business leaders. Sign up to join the discussion here.
JUST IN THE NEWS
October 5 marks Latina Equal Pay Day, recognizing the number of days into the year that Latinas must work to earn as much as a white, non-Hispanic man typically earned in 2022. CNBC reports on the wage gap Latinas face, losing $1.2 million over the course of their careers, citing JUST Capital research that finds "24% of Russell 1000 companies disclose that they conduct a pay equity analysis with a specific focus on race and ethnicity. Within that group only 9% — or 85 companies — have disclosed the results of their analyses."
Gartner features JUST Capital research in a new blog post highlighting our Worker Leaders index concept and making the case for the objective value of ESG. "When JUST Capital compares the market performance of companies on their annual ranking that score in the top 20% for worker issues to the broader Russell 1000 stock index, it has consistently shown outperformance by the Workers Leaders group."
JUST Capital CEO Martin Whittaker joins the Enterprise Engagement Alliance (EEA) to discuss the state of stakeholder capitalism and ESG. Other panelists include EEA Managing Director Bruce Bolger and R. Edward Freeman, Professor of Business Administration at the University of Virginia. Watch the full conversation here.
B Lab's B The Change newsletter features an article focusing on the "S" in ESG. JUST Capital's Managing Director and Head of Investor Strategies Cambria Allen-Ratzlaff talks to the nonprofit about the expectations the American public has for companies to invest in good jobs and how companies' relationships with their workers influence the bottom line.
QUOTES OF THE WEEK
Roosevelt Giles, Image via Picture This Photography, Atlanta.
"When you talk about capital, there are three buckets. You've got financial capital, human capital, and social capital. When you look at a lot of the noise today around financial capital, it's shareholder primacy. Well that is in conflict with human capital and social capital. Historically, there was a deep bond between corporations and employees. If there was a problem, I knew the company would take care of me. Also, people recruited their family members to their companies. People performed well because they did not want to embarrass the family, you had that built-in mechanism. But that's broken now.
Now the relationship between human capital, social capital and financial capital is transaction based. That's a problem. What JUST capital is doing is we're working with companies with our data to bridge these things back together, so that capitalism works for everybody."
Roosevelt Giles, Chairman of the Stakeholder Impact Foundation, former Executive Chairman of Atlanta Life Financial Group, and JUST Capital Board member at JUST Capital's recent breakfast salon with Atlanta business leaders.
"There's an outsized impact corporations have on society. Corporations have to be engaged in finding solutions. In looking for ways to guide change, we should be able to turn to boards. Board directors have much longer tenure than CEOs when you think about it, they can guide change for the long-term in ways CEOs can't. They can raise their hand and ask company leaders, 'What are our biggest human capital and equity challenges? How can our company address those?'"
JUST Capital's Director of Equity Initiatives Ashley Marchand Orme, at our Atlanta event. 
JUST AI
Fortune's CEO Daily touches on AI's "shiny object" problem. CEOs are pushing for broad and rapid adoption of the new technology before businesses can implement proper guidelines and precautions.
JPMorgan Chase CEO Jamie Dimon says future generations will have 3.5-day work weeks and live much longer lives thanks to AI.
The New York Times publishes an opinion piece highlighting the precedent set by the new WGA deal in respect to AI and labor negotiations. The striking writers were able to center regulations around the new technology in their revised contract.
LinkedIn debuts a new platform for recruiters powered by AI. The new tool will streamline and simplify the way employers find candidates for new roles. Axios also reports on LinkedIn executives making the case that AI's ability to upskill workers could reduce the value of a four-year college degree for job candidates.
MUST READS
A new opinion piece in The New York Times argues that higher wages for workers will not lead to the much feared wage-price spiral. New analysis from Goldman Sachs included in the article and also covered by Axios finds that increases are essentially an "echo" of raises in other sectors over the past two years.
More than 75,000 unionized Kaiser Permanente employees walk out on strike marking the largest labor action by healthcare workers in U.S. history. Workers are hoping to resolve staffing shortages that have left many of them feeling overworked and burned out.
CNBC reports on the tension brewing between automakers and union leaders. Both GM and Stellantis have accused UAW president Shawn Fain of a delay in sending counterproposals as the union threatens to expand its strike.
Ken Frazier, former CEO of Merck, spoke out during Fortune's CEO Initiative conference, arguing that CEOs have a responsibility to speak out for democratic principles when they are not being upheld by elected officials.
Forbes writes about Walmart's plan to remove college degree requirements from a large swathe of corporate job descriptions. The ongoing labor shortage has pushed companies to reconsider what they prioritize when considering a candidate.
According to Indeed, more than half of U.S. job postings now have salary and wage information, a 50% increase from 2020. HR Brew has the story.
CHART OF THE WEEK:
On September 30, $24 billion in federal funding distributed to childcare providers and facilities expired – creating what's been termed a "childcare cliff" in the U.S. The stoppage could lead to 70,000 childcare programs closing, according to estimates from the Century Foundation, and employers may need to adapt care policies accordingly, including parental leave. JUST analysis finds that only 9% of Russell 1000 companies offer parity of 12+ weeks in paid parental leave for both primary and secondary caregivers. We also took a look at the top companies for working mothers and fathers among the largest U.S. employers, taking into account parental leave, backup dependent care policies, subsidized childcare, and flexible work practices. Learn more about how we're helping companies prioritize care through our Corporate Care Network.