Intuit, US Bancorp, and Eli Lilly Are the Leading Companies for Working Mothers in 2023
Working mothers make up a significant portion of the American workforce – nearly one-third of all employed women currently have children under the age of 18 – and many must find a way to delicately balance work and care responsibilities.
In our 2022 caregiving survey, 84% of women (compared to 68% of men) said access to child care is a problem for women in the workplace, and 70% of women (compared to 53% of men) say access to paid family leave is a problem for women in the workplace. Further, women are more likely than men to say the ideal number of weeks for parental leave is 12 or more weeks (56% of women, 46% of men). When not provided adequate caregiving support, many women are forced to make difficult decisions and nearly 43% end up leaving their careers.
With no federal oversight of paid leave and caregiving policies, and with women five-to-eight times as likely as men to experience a caregiving impact on their employment, corporate leaders are being asked to take the lead. More and more companies are taking action – as of September 2022, 60% of the companies we rank disclosed a paid parental leave policy, up from 47% the year before. But there's a long way to go, with 40% of companies disclosing no such policies and an average of just 10.5 weeks for primary caregivers among those that do.
This year, in recognition of Mother's Day, we're highlighting three companies that stand out for their commitment to working mothers – going above and beyond on issues including paid parental leave, subsidized child care, and more. Among the 951 companies we ranked in 2023, we found that Eli Lilly, Intuit, and US Bancorp provide best-in-class support to parents – and especially mothers – in their workforce.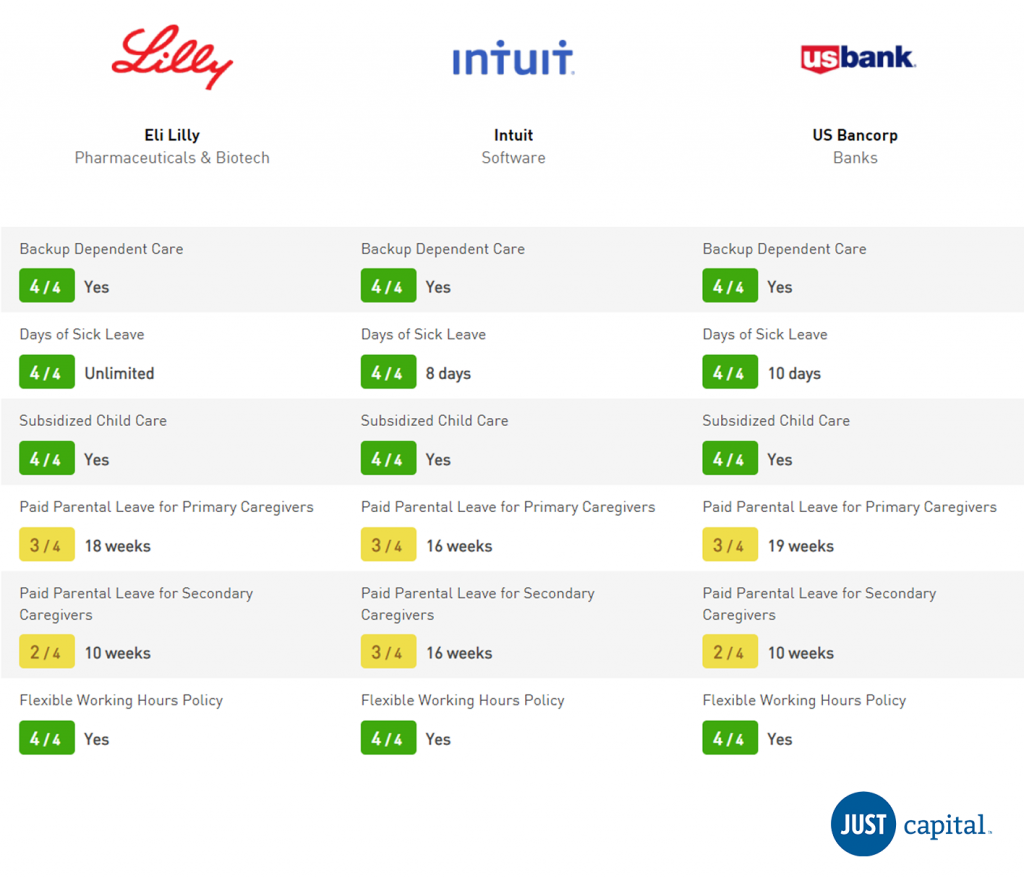 Each of these leading companies:
Provides paid parental leave at or above 16 weeks for primary caregivers, often seen as maternal or birthing parent leave.
Provides paid parental leave at or above 10 weeks for secondary caregivers, often seen as paternity or non-birthing parent leave.
Provides a minimum of seven days of paid sick leave.
Offers backup dependent care.
Offers subsidized child care.
Offers flexible work scheduling.
Read on below to learn more about key policies and disclosures and how these three companies support moms in the workplace as they navigate the challenges of caregiving in the "sandwich" generation – caring for both their children and their older relatives.
Intuit
Ranked 7th in Software and 65th overall
Software company based in Mountain View, CA
Intuit offers comprehensive caregiving policies to support working mothers, including 16 weeks of paid parental leave for both primary and secondary caregivers. By offering parity in parental leave and giving both parents the opportunity to bond with their children without worrying about work obligations, Intuit reduces gender-based discrimination, promotes gender equality, and combats the "motherhood penalty." Intuit deepens its commitment to mothers by offering backup dependent care, flexible scheduling, and subsidized child care. Their dependent care program supports full-time and part-time employees working 20 or more hours a week, as well as seasonal employees, and covers regular and temporary child care, adult care, and elder care. Additionally, employees receive eight days of sick leave per year to attend to their own health needs or those of a dependent. Intuit aims to support employees "by offering benefits [they] need to stay healthy, achieve financial security, and enjoy peace of mind."
US Bancorp
Ranked 9th in Banks and 56th overall
Banks company based in Minneapolis, MN
US Bancorp has implemented several policies and programs to support mothers in the workplace. All parents welcoming a new child through birth or adoption receive 10 weeks of paid parental leave, with an additional nine weeks of paid pregnancy leave for the parent giving birth. In addition, mothers have access to a maternity support program offered free through their insurance, and all parents can utilize an employee assistance program for practical advice and resources for help with health, finances, family and relationships, work-life balance, and more. US Bancorp also offers subsidies for childcare, flexible scheduling options, and backup dependent care reimbursement for up to five days of emergency care for both children and the elderly. Furthermore, US Bancorp offers 10 days of sick leave "for medical appointments, personal illness, the illness of a family member, to care for a family member when their school or place of care is closed due to a public health emergency." US Bancorp asks employees to bring their best selves to work, and in return will "invest in benefits and programs that embrace what makes each of us unique and empowers all of us to thrive."
Eli Lilly and Co
Ranked 16th in Pharmaceuticals & Biotech and 235th overall
Pharmaceuticals & Biotech company based in Indianapolis, IN
In 2019, Eli Lilly and Co expanded its paid parental leave to 10 weeks for both primary and secondary caregivers, with an additional eight weeks of leave for recovery for birthing parents. Eli Lilly and Co CEO Dave Ricks said of the expansion, "We're proud to expand this benefit, reinforcing our commitment to a diverse, inclusive and flexible workplace, Lilly has always been a company grounded in strong family values. We hold a firm belief that the well-being of our employees – and those they go home to each day – is foundational to our purpose to create medicines that make life better for people around the world." To further support mothers, Lilly also offers backup dependent care, as well as robust flexible scheduling through Lilly@Work, which allows employees to create custom schedules to best fit their needs, and based on their role, employees can work reduced schedules or work with other employees to create a job sharing arrangement. In addition, the company offers "Caregivers Time Off," which is up to 64 hours of paid time off per year as a primary caregiver to an immediate or extended family member – whether natural, legally adopted, step, foster, or through marriage or domestic partnership – when they are ill or injured. Should mothers need to take time off to care for their own health, Lilly offers unlimited sick leave, which can be used to care for oneself or a dependent.
While there is still a long way to go, companies are increasingly supporting working parents, helping to ease their transition back to work and encouraging employees to stay with their companies long term. These actions help both working parents and their employers thrive – with 80% of companies that offer paid family leave reporting an increase in employee morale and 70% reporting an increase in employee productivity. By prioritizing retention of working parents, corporate leaders can support their companies' bottom line and avoid unnecessary costs, with recent analysis showing that replacing an employee who leaves after childbirth can cost anywhere from 20% to 213% of their annual salary.
Furthermore, these benefits provide a key response to the urgent calls for more inclusive workplace practices. 64% of mothers overall are the primary earners in their homes, while a significant 84% of Black mothers fill this role – underscoring the need to support working mothers as part of the growing demand for corporate commitments to diversity, equity, and inclusion.
As we continue to navigate the ongoing caregiving crisis, employers play a pivotal role in ensuring that mothers have the support they need to remain in the workforce. Corporate leaders looking to build more inclusive practices that support working mothers can look to these three companies as examples of leading practices. By prioritizing this key workforce demographic, corporate leaders can help to build a sustainable future not only for working parents but for their companies overall.
JUST Capital, in collaboration with partners, established the Corporate Care Network to advance the well-being of workers and demonstrate the long-term value of investment in workers. The Network is committed to driving increased access to care benefits, including paid leave and flexible work policies, and highlighting leaders in the space.
If you're interested in gaining insights into how to improve on the issues that matter most to the American public, and learning how your company can get involved in the Network, please reach out to JUST Capital impact@justcapital.com.