The JUST Report: Record Heat, Flash Floods, Megadroughts, and Sinking Cities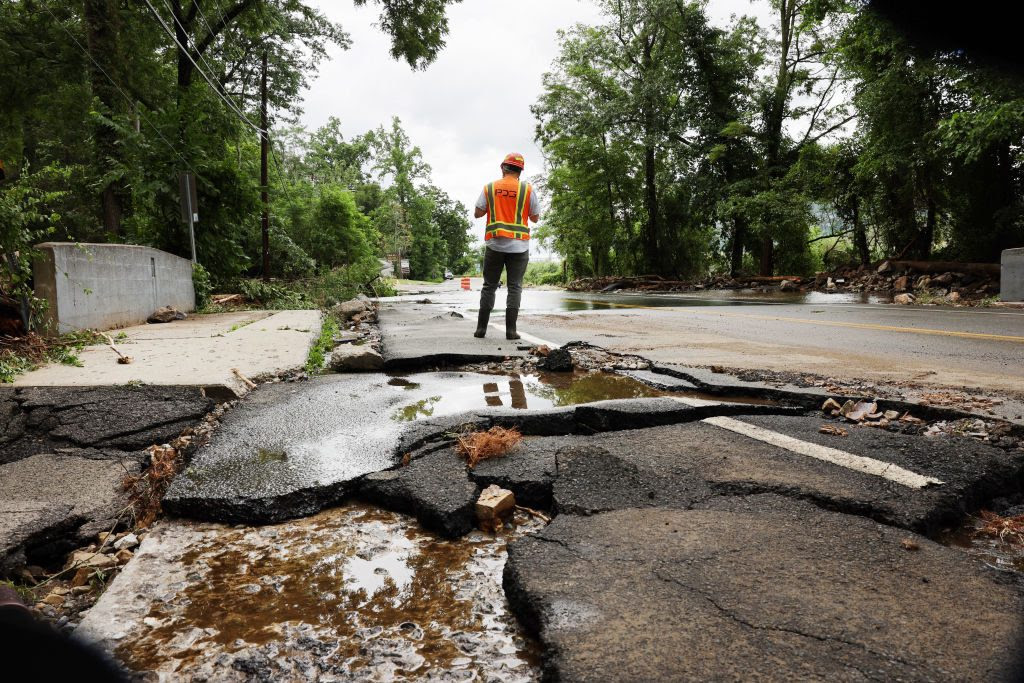 The world just had the hottest week on record, according to preliminary data published by the World Meteorological Organization. It follows the hottest June on record and, according to some scientists, possibly the hottest day on Earth – July 4th – in over 125,000 years.
Extreme weather events are now the norm. New Pew polling suggests 69% of Americans have experienced some type of extreme weather in their community over the last year. Hurricane season is reportedly off to a faster than predicted start because of record-hot ocean temperatures in the Atlantic. Increases in flooding and storm surges are also projected.
Unfortunately that's not all. The cities of Chicago and New York are slowly sinking as a result of higher underground temperatures, scientific analysis shows. In the southwestern US, more than 113 million people are under some form of heat warning. The Colorado River Basin – on which seven other states depend – is experiencing a megadrought that threatens 40 million people and countless businesses. From my time at Swiss Re – one of the world's leading reinsurance providers – I know it's not all about property damage or business interruption. Changing disease vectors, agricultural yields, power grid integrity, global supply chains, humanitarian crises, and other systemic impacts are all in play.
Whatever your politics or your views on national and global climate policy, it's clear that business has a huge role to play in helping us adapt to the worst impacts of a changing climate. And it's not just about avoiding risk. The opportunities to provide solutions will be significant. How investors, business leaders, and boards – as a new survey by WTW and the Nasdaq Center for Board Excellence highlights – prepare for this new reality is going to be critical. Trillions of dollars – not to mention many millions of lives – may ultimately be at stake.
Be well,
Martin
WORKER FINANCIAL WELLNESS INITIATIVE VIDEO SPOTLIGHT
(JUST Capital)
"When you support your workforce, your workforce absolutely supports you." Shanelle Forde, an Associate Software Developer at Prudential Financial, speaks to the difference she's felt in her four years at the company. For Shanelle, a single mother, her top priority is her son. Prudential's investment in her growth and financial security "has allowed me to be a better parent. But it also allows me to be a better worker because now when I come to work, I'm happy. I don't have to focus on those things like, 'oh, how am I going to pay my rent?' I can just come to work and focus on the work," she tells us.
Hear directly from Shanelle about the impact of Prudential's investments – along with insights from Prudential's Senior Vice President of Inclusive Solutions – in a new video series we launched recently as part of our Worker Financial Wellness Initiative, which helps companies assess and improve their workers' financial health.
JUST IN THE NEWS
JUST Capital board member Peter Georgescu pens an editorial in Forbes discussing the ramifications of the Supreme Court's affirmative action decision. He argues that a diversity of opinion drives innovation in the business world and without a more inclusionary workforce, out-of-the-box solutions and new ways of problem solving will be harder to come by.
The Financial Times features JUST Capital Director of Corporate Equity Ashley Marchand Orme in an article examining the exits of several high-profile U.S. diversity executives from their posts, as well as corporate America's commitment to racial equity in the face of tougher economic and political conditions.
Bloomberg cites JUST Capital's research in a new piece on the Pregnant Workers Fairness Act, citing our work tracking paid parental leave across the Russell 1000. In a recent analysis we released on Father's Day, we found that primary caregivers on average receive 10.5 weeks of paid parental leave, while secondary caregivers receive 7.6 weeks.
QUOTE OF THE WEEK
"A decade's worth of research shows that when workers are more financially secure, key
business outcomes improve such as productivity, customer satisfaction, and employee turnover and engagement,"
Lata Reddy – Senior Vice President of Inclusive Solutions at Prudential Financial – to JUST Capital on why the company committed to assessing and improving worker financial wellness.
JUST AI
Elon Musk announces the launch of his new AI startup xAI. The news comes as several tech giants ramp up the development of their artificial intelligence ventures.
Axios weighs potential responses to the coming barrage of AI-generated misinformation. Provenance, regulation, and media literacy are all possible ways to combat harmful and false content.
The Organisation for Economic Co-operation and Development says that 27% of jobs are at high risk of automation by AI. Meanwhile, three out of five workers fear that they could lose their jobs to AI over the next 10 years, per a 2022 OECD survey.
NVIDIA plans to invest $50 million in Recursion, a company specializing in artificial intelligence models that will aid in the discovery of new pharmaceutical drugs. Reuters has the story.
The Federal Trade Commission begins an investigation into OpenAI trying to understand whether or not the tech firm has harmed consumers by collecting personal data and publishing false information.
MUST READS
CNBC breaks down the latest from the ESG-centered House Financial Service Committee hearing this week. Lawmakers argued over federally mandated disclosure requirements.
The Wall Street Journal writes about DEI divisions in American workplaces in the wake of the Supreme Court's affirmative action decision. A new Pew Research Center survey found that 54% of workers believe their company is doing enough, 14% believe their company is doing too much, and 15% believe their company is doing too little. A new editorial in Fortune offers advice for businesses on how to center DEI in the face of criticism from anti-ESG proponents.
Bloomberg highlights the stark news that Black workers account for around 90% of recent layoffs as hiring cools and businesses tighten budgets.
Fortune's CHRO Daily Newsletter highlights the work of Chobani CEO Hamdi Ulukaya. The yogurt company advocates for hiring newly arrived refugees and provides their employees with benefits like childcare discounts – and has been rewarded by exceeding talent retention averages.
The New York Times' Daily Podcast reports on the end of "the great resignation" as employers regain their edge in a more stagnant labor market.
Bloomberg explores how rising anti-ESG sentiment is impacting funds. An HSBC survey found that managers are taking the backlash into consideration as they decide how to invest their clients' money.
CHART OF THE WEEK:
The Climate Change Leaders index concept features the top 20% of Russell 1000 companies in JUST's annual Rankings that actively employ strategies to mitigate climate-related risks. This concept highlights the financial performance and impact of investing in companies that set clear operational commitments and goals designed to combat climate change. From inception on December 31, 2021 through July 10, 2023, the concept has outperformed its Russell 1000 benchmark by 0.93 percentage points.