Corporate Climate Commitments Are on The Rise, Largely in Less Ambitious Categories and Low Intensive Industries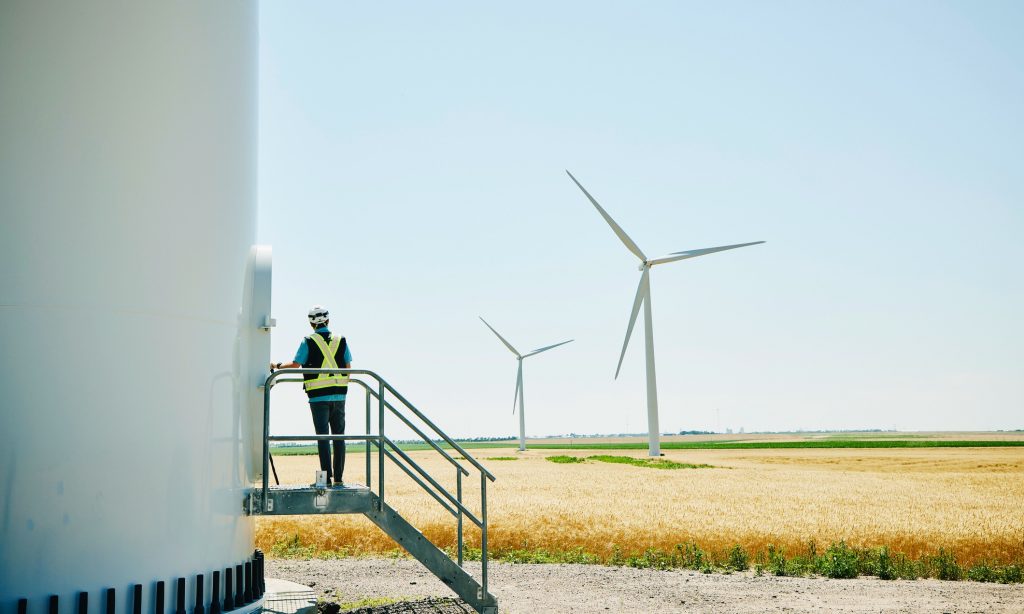 A week ahead of Climate Week NYC, Patagonia founder Yvon Chouinard made headlines when he announced that he and his family have decided to transfer their ownership of Patagonia into a specialized trust and nonprofit organization dedicated to fighting climate change. Chouinard's decision is one on the extreme end of the climate action spectrum, and while there are also questions about the tax implications of it, it comes at a time of growing concern around corporate commitments to mitigate environmental impact. 
In JUST Capital's 2022 Issues Report, capturing the American public's biggest priorities for companies, minimizing pollution and combating climate change both rose in importance from the prior year's polling – as the eighth and 13th most important issues respectively. Our polling from earlier this year also found that 94% of respondents believe it is important for companies to be transparent about their environmental impact. And, across all demographics including political affiliation, majorities support federal requirements on corporate climate disclosures.  
Growing public support for corporate climate action comes as business leaders, policymakers, investors, and others gathered this week in New York for Climate Week and the United Nations General Assembly in New York, prompting the usual flurry of corporate climate announcements (a couple highlights this year include Uber and Salesforce). And, following the passage of the Inflation Reduction Act, a key moment for the United States to signal its stepping up of efforts to curb global temperature increases. 
With eyes on American business leaders and policymakers on climate action this week, we decided to take a look at the current state of climate commitments across corporate America. In short, we found an increase in commitments, but with a wide variety of increasingly important granularity.
As part of our Rankings of America's Most JUST Companies, we monitor, track, and analyze corporate climate commitments across 36 industries. Four categories, listed in order of increasing rigor, guide our annual analysis: emissions reduction commitments, Net Zero by 2050, Science-Based Target Initiative for 2 Degree Scenario (verified 2-degree SBTi), and SBTi for 1.5 Degree Scenario (verified 1.5-degree SBTi). 
Within all four categories of climate commitments, we saw an increase in the number of companies setting targets since data collected for our 2022 Rankings. And while overall companies are setting more climate commitments, the majority of these commitments are concentrated within certain industries and do not meet the highest criteria for the most ambitious commitments.
An additional 86 companies set goals to reduce their emissions and 136 new companies committed to reaching Net Zero by 2050. The number of companies with verified targets by the SBTi to meet a 2-degree scenario nearly doubled, with 45 companies now verified compared to 25 companies last year. Finally, 83 companies have now set the most ambitious commitment, a verified SBTi 1.5-degree scenario, marking a 21% increase from last year.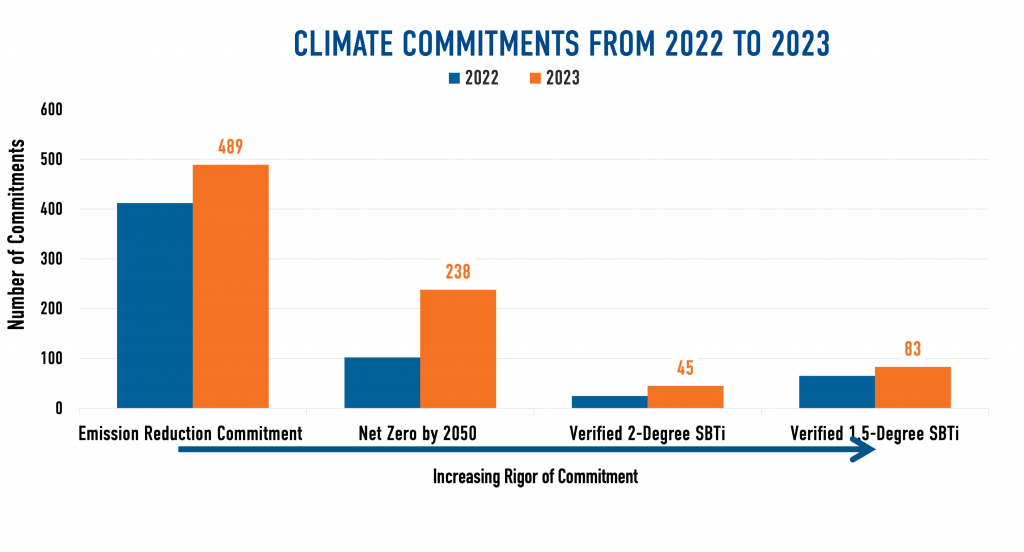 The Utilities industry had the highest number of Net Zero commitments for the second year in a row and is also the sector with the highest percentage of companies committing to Net Zero, with 61% of companies having set a goal. Software is the industry with the second-highest number of commitments, with 20 companies setting a Net Zero target representing 29% of the companies we rank. Only one industry we analyze has no companies with Net Zero commitments, Consumer and Diversified Finance.
However, within our more rigorous commitments, the Utilities industry, and other high emitting sectors are not committing to ambitious climate goals.
A verified SBTi 1.5-degree commitment is considered the most ambitious climate commitment within our Rankings. Of the Russell 1000 companies we rank, 83 have achieved this verification. Software has the highest number of companies working toward this goal, with nine companies having a verified SBTi 1.5-degree commitment. The industry with the highest percentage of companies verified to this standard is Clothing & Accessories at 54% followed by Personal Products at 30%. Only 24 out of the 36 industries we analyze have SBTi 1.5-degree commitments and two of the highest emitting industries had no companies verified. 
The three highest emitting industries we rank do not focus on the highest tier of commitments – verified Science-Based Targets. Neither Oil & Gas nor Basic Resources have any companies with verified SBTi 1.5-degree commitments, though the Initiative currently does not verify targets from Oil & Gas companies. The Utilities industry has just one company with a SBTi 1.5-degree commitment. In JUST's analysis of corporate disclosures on environment metrics, we found Utilities disclosed more data, on average than any other industry. Despite this, and despite the sector's carbon intensity, ambitious climate targets have yet to take hold across the industry.   
In comparison, the Software industry has a high number of SBTi 1.5-degree commitments with significantly lower overall average industry emissions and environmentally-intensive business models. We see the same trend within the Clothing & Accessories, Real Estate, and Pharmaceuticals & Biotech industries. All three industries have relatively low emissions in comparison to the caliber of climate commitments they are setting. While Utilities may be an industry leader in the number of overall Net Zero commitments, when analyzing emissions levels relative to the caliber of climate commitments companies are setting, the group is an industry laggard.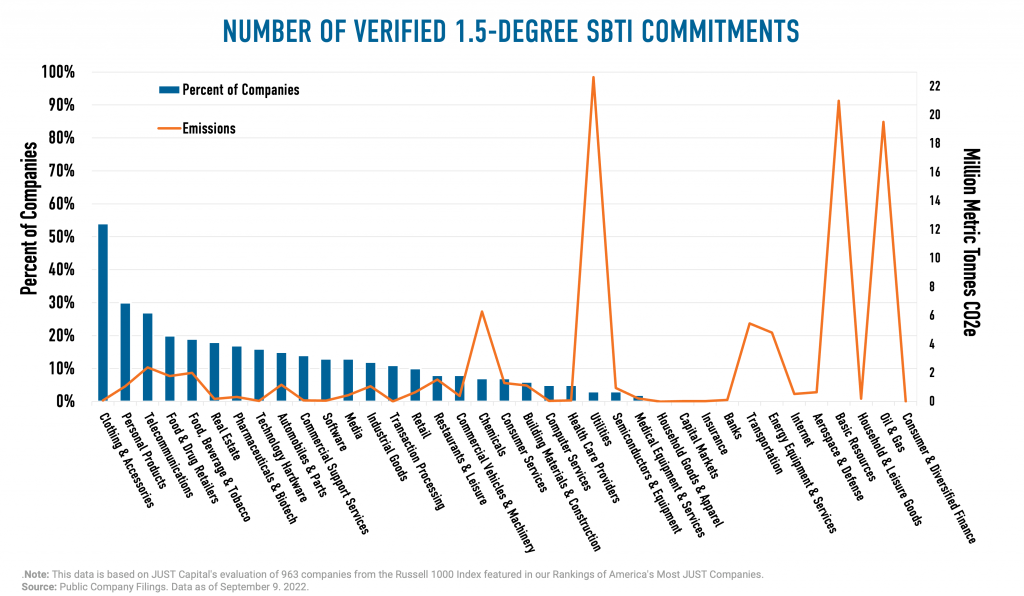 We also expanded our analysis to look at 12 additional data points that focus on the details of these set commitments, including disclosure of interim targets, baseline year and baseline emissions, in addition to emissions percentage reduction, and historical disclosure of emissions. Specifically analyzing the top 100 performers on climate change in our 2022 Rankings, we found that each company averaged about six additional disclosures on the details of their commitments. The majority of commitments across all levels of rigor are aiming for the year 2030 (48 companies), while Net Zero commitments are split between 2030 and 2050 (12 each). Between those commitments, 2034 averages out as the year to achieve these targets.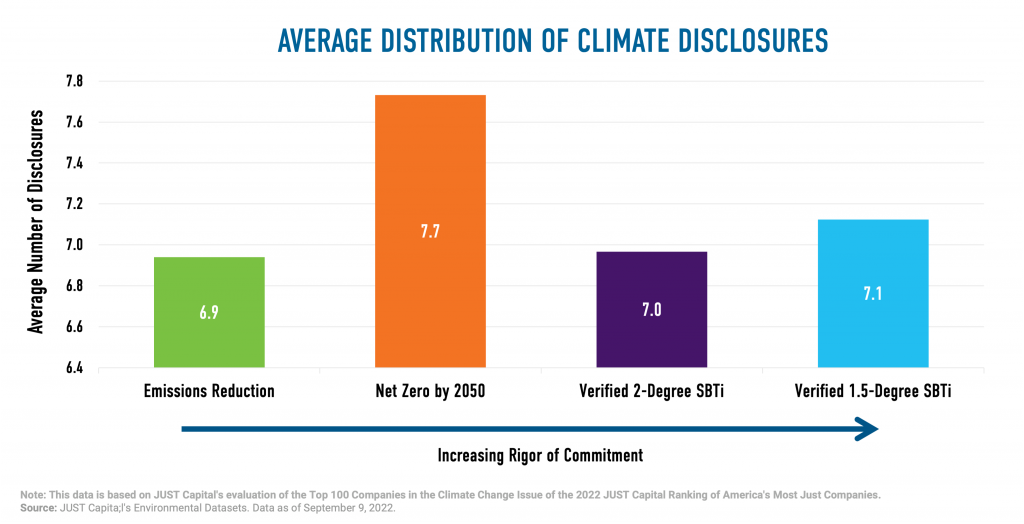 Of the 41 companies in the top 100 performers that have a Net Zero commitment, only 26 have interim goals, but all companies with a 2050 target date have interim targets set. This level of granularity is how we begin to actually assess the effectiveness of these commitments beyond the flashy Net Zero verbiage. And, importantly, it also shows that these companies aren't kicking the can down the road and avoiding addressing problems until it's close to the wire.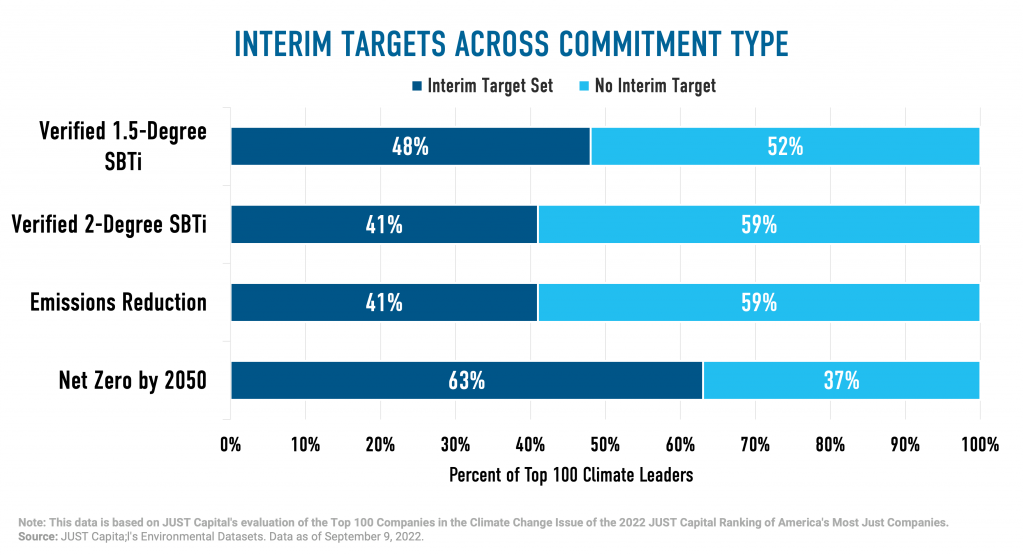 This growth in both granularity of commitments and commitments overall occurs as corporate climate action comes under attack among broader backlash against environmental, social, and governance (ESG) policies. Our analysis shows that, currently, companies are standing their ground when it comes to climate. With the UN's annual climate conference, COP27, coming in just a few short months, we'll be continuing to monitor what companies are doing to both set and fulfill commitments.