These 3 Companies Are Leading on Diversity Disclosure in 2023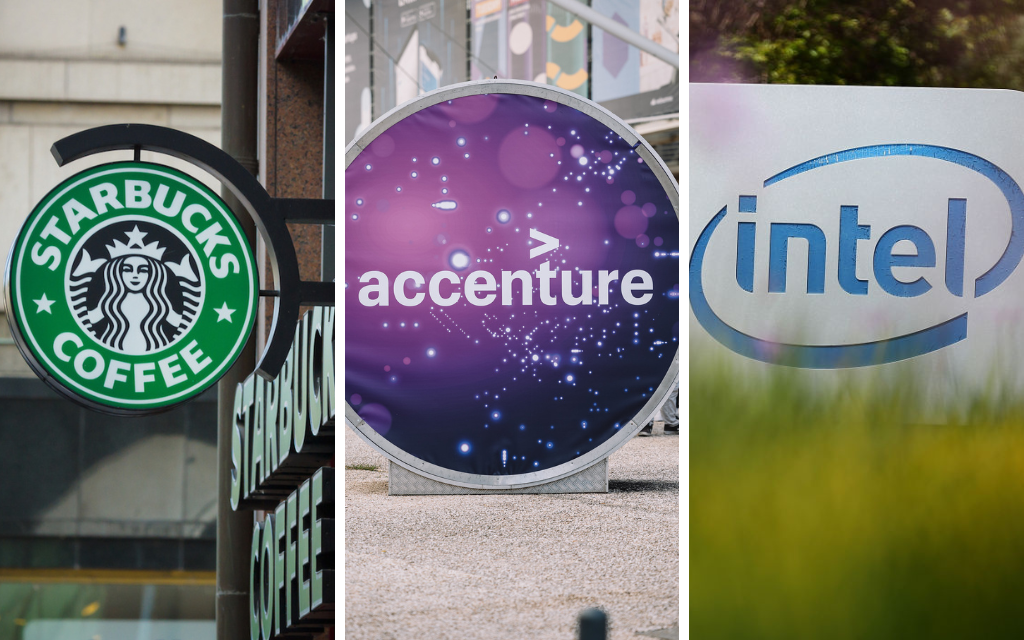 Over our years of polling the public, we've heard time and again that Americans agree it is important for companies to make workers their top priority. They want to see companies pay their workers a fair, living wage, create jobs in communities that need them, and establish diverse and inclusive workplaces that provide opportunities for all employees to succeed. When companies take concrete action to invest in diversity, equity, and inclusion (DEI) in the workplace, they demonstrate not only a commitment to advancing racial equity, but also to investing in their employees overall. By taking actionable steps – from conducting pay equity analyses to offering key benefits like paid parental leave to setting workforce diversity targets – corporate leaders are setting a higher standard for the treatment of all workers everywhere.
In our 2022 survey taking the pulse of the public on key diversity, equity, and inclusion issues, we found that a significant 92% of Americans agree it is important to promote racial equity in the workplace, but a strong majority (68%) say that corporations have more work to do. The public agreed that companies should take concrete steps toward advancing racial equity – including by conducting annual pay analyses (89%) and disclosing workforce demographics (76%).
With DEI representing an integral element of quality jobs, it appears as a core theme in our upcoming JUST Jobs Scorecard – an online interactive tool we will be releasing in the coming months, which highlights corporate disclosure on seven key topics around job quality, identifies leading practices, and demonstrates corporate pathways for improvement. Just under half of all the data points featured in the Scorecard are directly related to creating inclusive and equitable workspaces.
In an effort to showcase what strong DEI disclosure looks like, we've analyzed a subset of key data from our Rankings and new JUST Jobs Scorecard analysis and identified three companies with the highest scores – Starbucks, Intel, and Accenture.
Each of the leading companies:
Performs pay gap analyses and reports specific pay gap ratio(s) by race/ethnicity and gender.
Discloses detailed workforce diversity data by race/ethnicity and gender (e.g. EEO-1 report or equivalent).
Discloses specific diversity and opportunity targets by race/ethnicity and gender.
Offers paid parental leave for both primary and secondary caregivers.
Discloses a fair chance policy eliminating barriers for those with a criminal record.
Discloses a veteran hiring policy.
Below, we explore the key actions these companies have taken that drive their strong outperformance.
Starbucks
Based in Seattle, Washington
As part of its efforts to increase diverse representation of workers in both retail and corporate roles, Starbucks has committed to reaching ambitious gender and race/ethnicity diversity targets. With pledges to fill 50% of corporate roles with women, as well as to have at least 30% BIPOC representation at the corporate level by 2025, Starbucks is setting meaningful goals to establish a more diverse workplace.
Starbucks also provides detailed disclosure of its workforce demographic data, broken out by gender and employment category, in its latest EEO-1 report. In 2018, Starbucks demonstrated its commitment to creating an equitable workplace by achieving 100% pay equity for workers of all genders and races in the U.S. Starbucks has maintained this achievement in 2022.
Additionally, Starbucks is a signatory of the White House's Fair Chance Business Pledge, creating pathways for employment for veterans, formerly incarcerated individuals, and young people who face systematic barriers to education and employment.
Intel
Based in Santa Clara, California
Intel has made inclusivity in the workplace a pillar of its 2030 RISE Strategy and has already exceeded some of its initial milestones. In terms of gender diversity targets, the company has doubled the number of women in leadership positions and surpassed its goal of having 10% representation of Black/African American employees in senior, director, and executive roles, reaching 11% representation in 2022. Additionally, Intel has set a goal to increase accessibility in its workplace and aims to increase the number of workers who self-identify as having a disability to 10%.
Beyond increasing representation, Intel is also committed to creating an equitable workplace by offering 12 weeks of paid parental leave for all new caregivers. Intel's commitment to DEI is evident in the public release of its comprehensive EEO-1 report, which also contains highly detailed information about workers' pay broken down by race/ethnicity, job category, and salary band. Finally, Intel promotes hiring veterans and discloses detailed data tracking its yearly progress on veteran hiring.
Accenture
Based in Chicago, Illinois
Accenture PLC conducts annual pay equity analyses by gender and race/ethnicity for its workforce and publicly discloses the findings. Using the information collected during these analyses, Accenture has been able to make informed future commitments to increasing diversity in its workplace for 2025. Accenture achieved 100% pay equity by race and gender in 2022 and is taking its commitment a step further, committing to achieve full gender parity at all levels by 2025, with 50% of its board seats and 45% of revenue-producing roles held by women.
In addition to disclosing detailed information about workforce demographics in its EEO-1 report, Accenture discloses other DEI metrics such as the number of workers who are veterans or self-identify as disabled or LGBTQ+. Accenture seeks to create opportunities for all individuals to thrive in the workplace, evidenced by its 16 weeks of paid parental leave offered to primary caregivers. Accenture also has a partnership with Goodwill to provide formerly incarcerated individuals with VR technology so they can participate in mock interviews, increasing their chances of finding employment.
Here's a snapshot from our upcoming JUST Jobs Scorecard "compare" tools, showing how Starbucks, Intel, and Accenture are performing on these issues.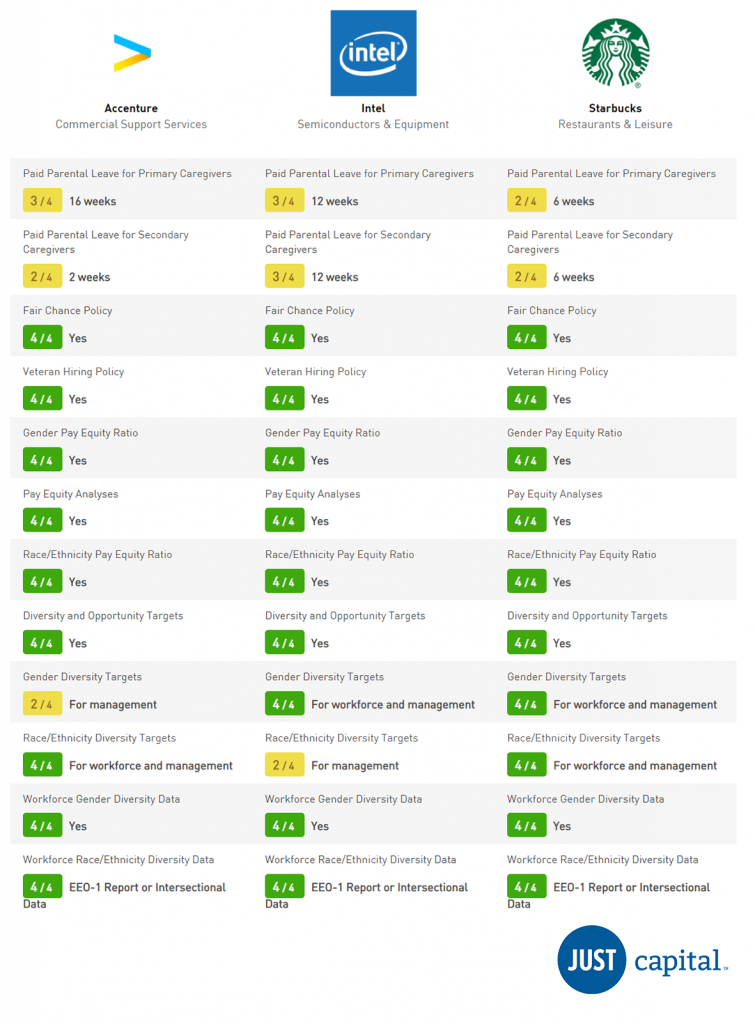 To unpack your company's DEI performance in the 2023 Rankings and gain insights into how to improve on the issues that matter most to the American public, please reach out to corpengage@justcapital.com.