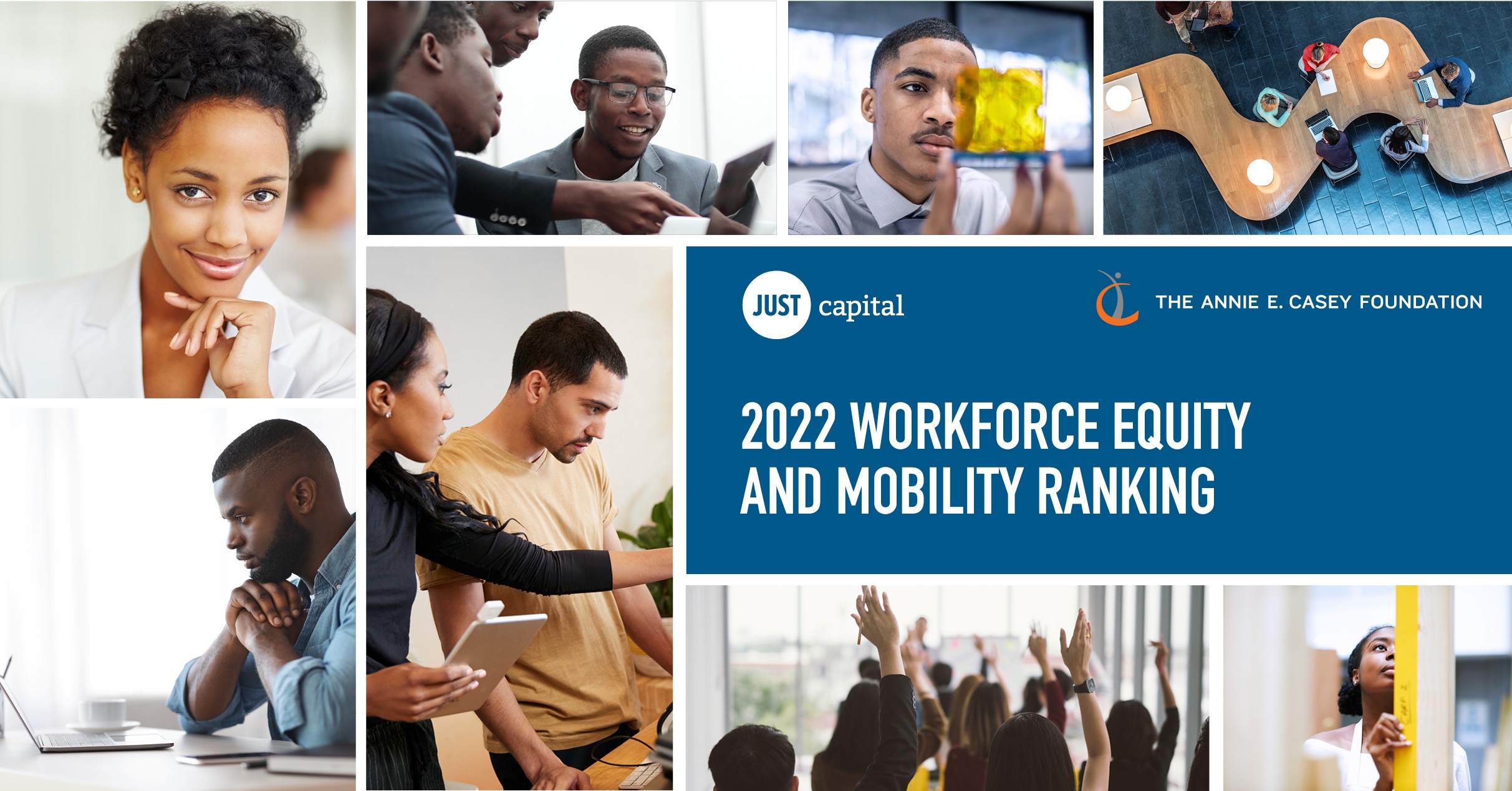 August 11, 2022
This report was authored by Kelley-Frances Fenelon and Matthew Nestler, and funded by the Annie E. Casey Foundation. We thank the Foundation for its support. The findings and conclusions presented here are those of the authors alone, and do not necessarily reflect the opinions of the Foundation.
In the midst of economic uncertainty, labor market dynamics continue to underscore that we're currently in a new normal: There remain more job openings than unemployed workers to fill them, and workers are voluntarily leaving positions in search of better opportunities and rejecting those that don't offer what they need. Ultimately, workers are making it clear that companies must offer more than a paycheck with little opportunity for advancement if they hope to attract and retain their employees. JUST Capital's own polling finds agreement across the American public: 81% of Americans believe the current job market indicates that it's time for corporations to reassess how they treat workers if they want to stay competitive, rather than reverting to the status quo in their treatment of workers.
But the scarcity of opportunity holds differential impact across demographic groups, and it should come as no surprise that an increasingly overt call for workplace opportunity coincides with a sustained push for greater diversity, equity, and inclusion in the workplace. Unequal opportunities for social and economic mobility have had damaging effects on American workers, their families, and the U.S. economy, a reality that has led to persistent racial wealth gaps, racial gender pay gaps, and higher levels of unemployment among Black job seekers compared to their white peers. And those most affected by these persistent gaps are young workers of color seeking good jobs with clear career development.
Lots of companies are making verbal and written commitments to create opportunity and drive equity, but how many are taking concrete actions to actualize career development and improve diversity, inclusion, and mobility, particularly for young workers of color?
JUST Capital, with support from the Annie E. Casey Foundation, is highlighting the companies that perform best on key disclosure and performance metrics that address racial equity and advance opportunity and mobility in our Workforce Equity and Mobility Ranking. We hope it inspires more companies to follow suit.
This ranking identifies the Top 100 performers on these issues among Russell 1000 companies. Out of 66 total metrics in our flagship 2022 Ranking of America's Most JUST Companies, we selected the 15 that most speak to equity, opportunity, and mobility – including diversity, equity, and inclusion policies, career development programs, local employment pipelines, fair pay, and quality worker benefits.
To jump to specific sections of this report and explore the companies leading on these issues, please click the links below:
And to dive deeper into some of the issues behind the ranking, along with notable examples of corporate policies for each, refer to our corresponding Issue Brief.
Compared with other companies in the Russell 1000, the top 100 performers in the Workforce Equity and Mobility Ranking:
Were 2.4x more likely to disclose that they offered an apprenticeship program to employees (53% compared to 22%).
Were 4.6x more likely to disclose a DEI target (62% compared to 13%).
Offered, on average, 13 more hours in training or career development per employee (32 hours compared to 19 hours).
Were 7.3x more likely to disclose that they had a re-entry program (12% compared to 1.6%).
Were 8.2x more likely to have conducted a race/ethnicity pay gap analysis (68% compared to 8%).
Offered, on average, 1.7 more weeks of parental leave for primary caregivers (12 weeks compared to 10.3 weeks).
Offered, on average, 1.8 more weeks of parental leave for secondary caregivers (8.5 weeks compared to 6.7 weeks).
Check out which companies are leading on these issues:
Ranking
Main Takeaways
This Ranking highlights some of the policies that companies can enact to advance racial equity, and opportunities for their employees and, by extension, within society at large. Our key findings include:
1.  Companies must make explicit commitments to equity, but this is only a first step for leadership on equity and mobility.
2. From this foundational first step, current company leaders on these issues take multiple pathways to advance equity and mobility.
3. All of America's largest publicly traded companies have room to grow and improve in advancing equity, opportunity, and mobility.
4. Looking ahead, these companies cannot afford to ignore these issues.
The first and essential step for any company is to center equity in its policies and practices rather than siloing it in a DEI team. From that starting point, this ranking shows that companies can pursue multiple pathways to advance racial equity, opportunity, and mobility more broadly. The leaders of the Ranking outperform their peers, and one another, on multiple different metrics rather than neatly aligning on a central set of policies and practices. One path is to focus on workforce career development, while another prioritizes the provision of necessary benefits (e.g. paid family leave) and workers' work-life balance. Yet another path is to pay employees fairly and provide opportunities for advancement, such as apprenticeship training. Some of the most impactful approaches taken by leading companies in this ranking are discussed in this report's accompanying issue brief. The Issue Brief complementing this ranking contains recent examples of what each of these paths can look like.
While each of these paths advance equity, opportunity, and mobility, companies can pursue an array of different approaches to improve their performance. All companies, including those leading on the Ranking, have areas that require further investment, and each company must continue to ensure that its policies are carried out in practice and lead to meaningful progress across the organization rather than serving as signaling. In fact, due to the relative lack of performance-related disclosure on issues central to inclusive workforce mobility, the metrics included in this ranking provide a useful signal of companies' intentions, but cannot guarantee their fulsome implementation across an organization.
For example, in recent weeks Wells Fargo (ranked #4) has been the subject of several news stories attentive to discrepancies between corporate policies and actual practice, particularly reports of fake job interviews with people of color for positions that had already been filled to boost diversity statistics on paper. This instance serves as a potent reminder that commitments to equitable career development must become integrated within company culture, with their implementation understood as the responsibility of leaders and employees alike, in order for companies to follow through on their policies and values meaningfully.
Companies cannot afford to ignore racial equity or neglect cultivating inclusive opportunity and mobility. Taking concrete actions to advance opportunities for historically excluded groups such as young workers of color is an essential business practice that supports recruitment, retention, and internal mobility and taps into the talent and potential these groups bring to the workforce. Our current moment, triggered by the COVID-19 pandemic, deepened through the revitalized racial equity movement, and extended with recent demands for worker advocacy and dignity, demands corporate action and transparency. Companies must consider that their shareholders, employees, communities, and customers are all paying attention to how they bring their commitments to life through action.
Methodology
This ranking utilizes data from JUST Capital's 2022 Rankings of America's Most JUST Companies. We identified the 15 metrics that best capture how companies perform on issues relating to racial equity, opportunity, and mobility. The metrics are:
Board Diversity
Local School Support
Local Employment Pipeline
Worker Benefits Package
Work-Life Balance
Benefits and 401K Quality
Discrimination Controversies
EEOC Violations and Worker Grievance Fines
Diversity, Equity, and Inclusion Policies
Workforce Demographics
Career Development
CEO-to-Median Worker Pay
Wage Violations
Fair Pay Score
Fair Pay Rating
From our research and experience, three metrics (Local Employment Pipeline, Diversity, Equity and Inclusion Policies, and Career Development) were determined to be most important and indicative of the outcomes of equity and opportunity, and were each given a weight of 2, while the remaining 12 metrics were each given a weight of 1. A full description of all metrics can be found in our annual Rankings of America's Most JUST Companies methodology.
Note: We previously put Uber "under review" in our 2022 Rankings of America's Most JUST Companies. The company remains in our Rankings and is flagged as such due to inconsistent workforce data and disclosures (please see this post for more background). As our 2022 Workforce Equity and Mobility Ranking uses the same methodology as our 2022 Rankings of America's Most JUST Companies, Uber ranks 72nd on this list. We've also withheld here a JUST Seal that denotes its inclusion as one of America's Most JUST Companies, despite being ranked in the JUST 100.
Learn more about ways Russell 1000 companies are taking action in our complementary 2022 Workforce Equity and Mobility Ranking Issue Brief. For more information on how we're engaging with the country's largest employers on these issues, reach out to our team at programs@justcapital.com.