Last August, 181 CEOs in the Business Roundtable signed a new Statement on the Purpose of a Corporation that rejected shareholder primacy in favor of an approach that considered benefits to all stakeholders – which we group as workers, communities, customers, the environment, and shareholders. It wasn't a legally binding proposal, and it lacked specifics, but given that it came from one of the most influential business groups in the United States, it has been recognized as a watershed moment in the stakeholder capitalism movement that JUST is dedicated to.
More leaders have signed on since the statement's release, bringing the current total of signatories to 207 companies. We released our 2021 Rankings of America's Most JUST Companies this week, and so naturally we were interested in how these BRT signatories performed against our stakeholder issues. We weight them by importance from our polling of a representative body of the American public, done in partnership with The Harris Poll.
In short, we found that 56 of the JUST 100 companies were BRT signatories and that signatories, on average, scored higher across all five stakeholders than their non-signatory Russell 1000 peers.
Of course, these findings don't necessarily mean that being a BRT signatory is a guarantee of strong stakeholder performance. Nor does outperformance relative to peers on any particular stakeholder issue mean that companies have no room left for improvement. That said, the signatories' performance is still notable, particularly in light of some of the criticisms they've received. We've broken down some of the main insights in this report.
BRT Signatories and Their Rankings
Out of the 207 companies whose executives signed the statement as of September 2020, 152 are part of JUST Capital's 2021 Rankings universe. This year, 56 BRT signatories (about 37% of the total) were included in the JUST 100.
When taking a closer look at the distribution of BRT signatories across the rankings, we find that the vast majority of signatories land in the top 500, with only 19 of the signatories ranked 500 or lower.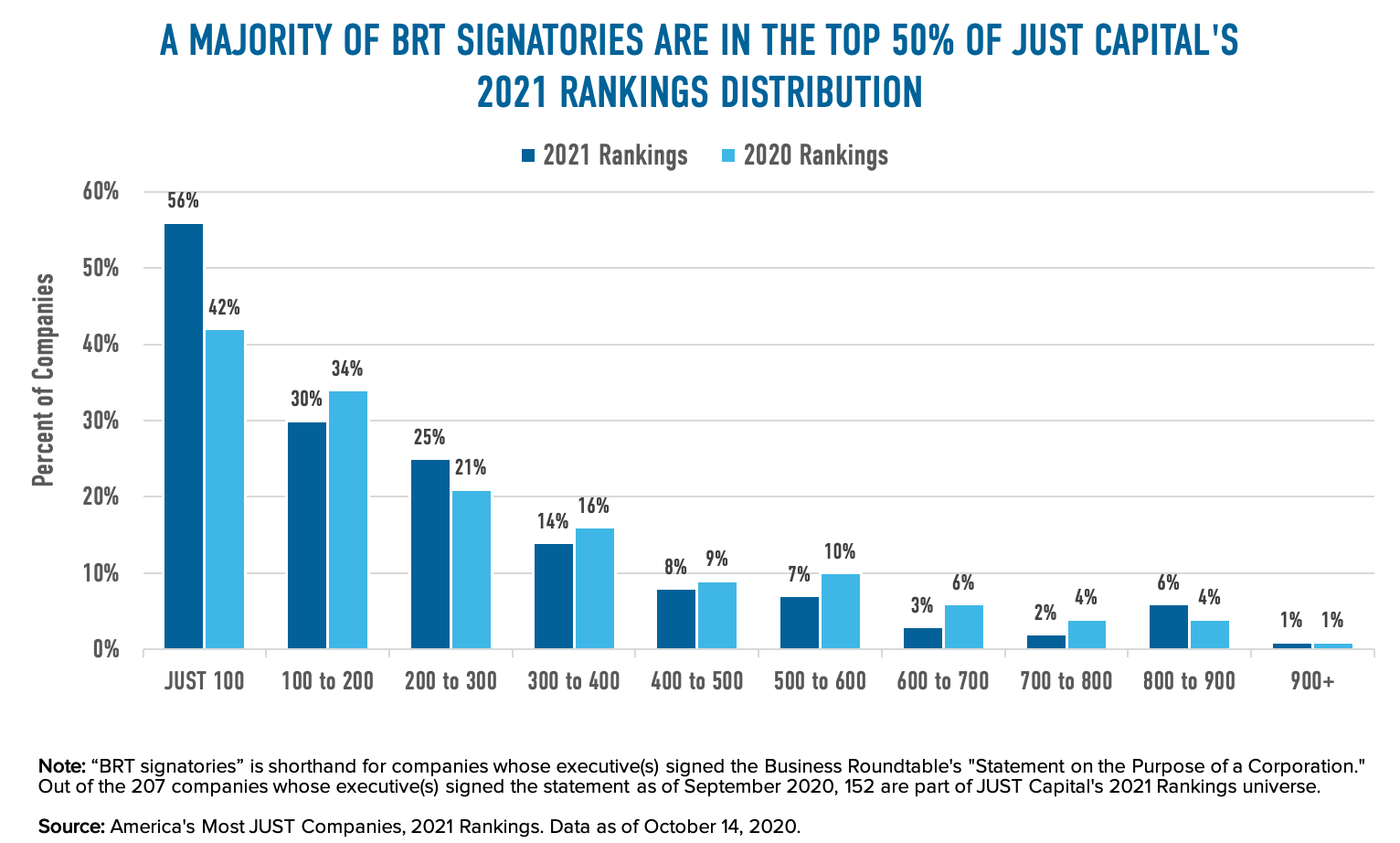 Between last year's and this year's Rankings, BRT signatories' overall rank improved by an average of 42 places, while the rank of other non-signatory companies in the Russell 1000 decreased by an average of 8.5 places. When considering the entirety of the Rankings, however, this amounts to only a relative shift upwards of around 5%.
BRT Signatories and Their Stakeholder Performance
To assess how BRT signatories actually performed on stakeholder capitalism, we further analyzed their performance across our workers, communities, customers, shareholders, and environmental issues. Overall, BRT signatories tend to perform well on communities and workers issues, ranking in the 0.73 and 0.72 percentiles, respectively.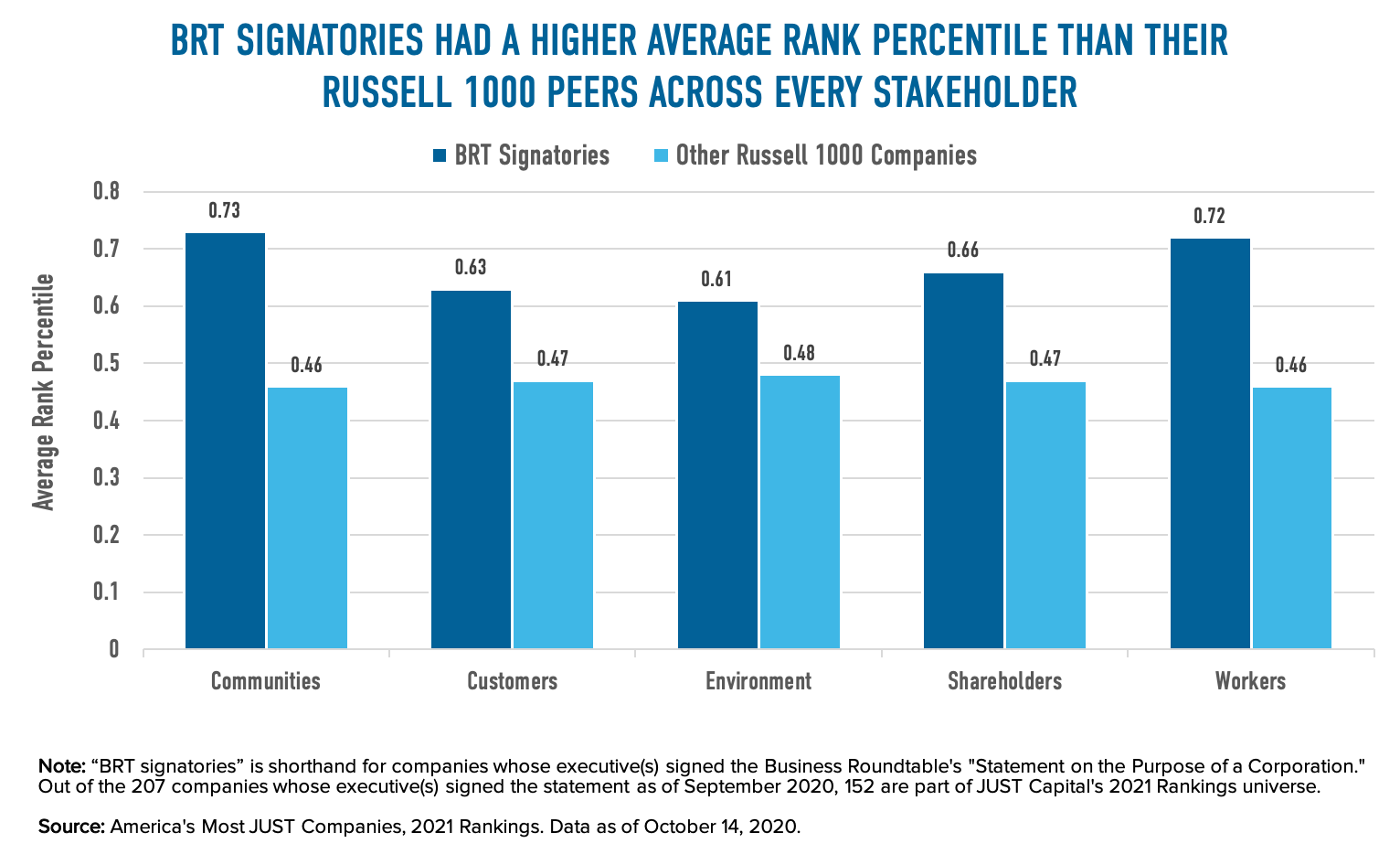 When comparing BRT signatories' stakeholder performance to that of their Russell 1000 peers, we find that across all five stakeholders, BRT signatories have a higher average rank percentile than non-signatory companies.
Digging even deeper into what drives this stakeholder performance, we see that BRT signatories generally tend to have stronger public disclosure on a variety of policies and practices than their non-signatory peers. For example, BRT signatories are:
2 times more likely to disclose having a paid parental leave policy than their non-signatory peers, though, on average, they provide almost one week less of paid parental leave for primary caregivers than their peers.
4.1 times more likely to disclose providing a subsidy for child care to their employees.
3.3 times more likely to disclose diversity and inclusion targets for representation, hiring, or promotion and 3.0 times more likely to disclose conducting a pay equity analysis by gender and/or race and ethnicity.
2.4 times more likely to disclose a supplier diversity policy.
2 times more likely to disclose a policy, commitment, or effort to source from local suppliers or hire locally.
1.2 times more likely to not sell users' data as part of their customer privacy policies.
2.2 times more likely to include environmental, social, and governance key performance indicators (KPIs) as part of executive compensation or remuneration metrics.
2 times more likely to have disclosed providing new or additional paid sick leave and 1.8 time more likely to have disclosed providing free personal protective equipment to employees in response to the pandemic.
BRT signatories appear to do better, compared to their non-signatories peers, on some aspects of performance, as well. For example, BRT signatories:
Pay their typical worker 5.3% percent more.
Have 22.3% less direct and indirect greenhouse gas emissions.
Give 370% more in charitable contributions.
This aligns with assessments we made earlier this year. Back in August, on the one-year anniversary of the BRT's statement, we found that BRT signatory companies scored higher than non-signatories on matters of racial equity and COVID-19 response policies. That said, we also found that for many issues, the majority of BRT signatories did not actually act in accordance with how Americans actually wanted companies to behave. For example,  of the companies in our COVID-19 Tracker, BRT signatories were three times more likely to have disclosed that they provided additional days of back-up dependent care or more paid time off for caregiving for working families during the pandemic, but only 22% of said signatories disclosed.
How Size Could Impact Results
In examining the results of our analysis, we do note that BRT signatories tend to be larger companies with greater national visibility and brand presence. The typical BRT signatory company, for instance, had 5.7 times the revenue in 2019 of the typical non-signatory. There could also be some industry effects at play. For example, although there are only five companies in the Banks sector that are BRT signatories, they account for 73% of the 2019 revenue of that industry. This means that some BRT signatories may be able to dedicate more resources towards disclosing their actions.
A Push for Increased Stakeholder-Driven Leadership
Our annual survey report found once again that, even in such an intensely polarized climate, 92% of Americans across all political beliefs and demographics agree that it's important for large companies to promote an economy that serves all Americans, but only 50% believe that companies are actually doing that. Clearly, this is the moment for every company to be accelerating its stakeholder operating model.
That BRT signatories are overrepresented in the JUST 100 this year is notable. This does not mean the journey to operating businesses according to a new stakeholder paradigm is anywhere close to being over. Far from it. That shift will take years and require major structural changes to how markets function, including to how we define and measure stakeholder value creation. Nevertheless, it is a sign of where things currently stand. In the meantime, we will continue to research and monitor progress on whether BRT signatories are building upon this momentum to deliver on their promise of creating an economy that serves all Americans.
Methodological Note: "BRT signatories" is shorthand for companies whose executive(s) signed the Business Roundtable's "Statement on the Purpose of a Corporation." Out of the 207 companies whose executive(s) signed the statement as of September 2020, 152 are part of JUST Capital's 2021 Rankings universe.