Today, we analyze how the BRT signatories in our coverage universe (151 of the 206 total companies whose executives have signed the statement) measure up on transparency around four of these key actions: conducting a pay equity analysis, disclosing workforce demographic data, funding local education programs, and instituting a diverse supplier policy. 
We find that while more than half of the BRT signatories have committed to the four actions, there remains a significant gap between what the American people want companies, including BRT signatories, to prioritize and what companies are actually doing on these issues. 
Conducting a Pay Equity Analysis 
75% of Americans, and 81% of Black Americans, believe that companies should analyze wages by race, ethnicity, and gender and address any pay discrepancies to ensure equal pay for equal work. This analysis is typically known as a pay equity or pay gap analysis, and among BRT signatories 51% disclose conducting one by either gender or race and ethnicity.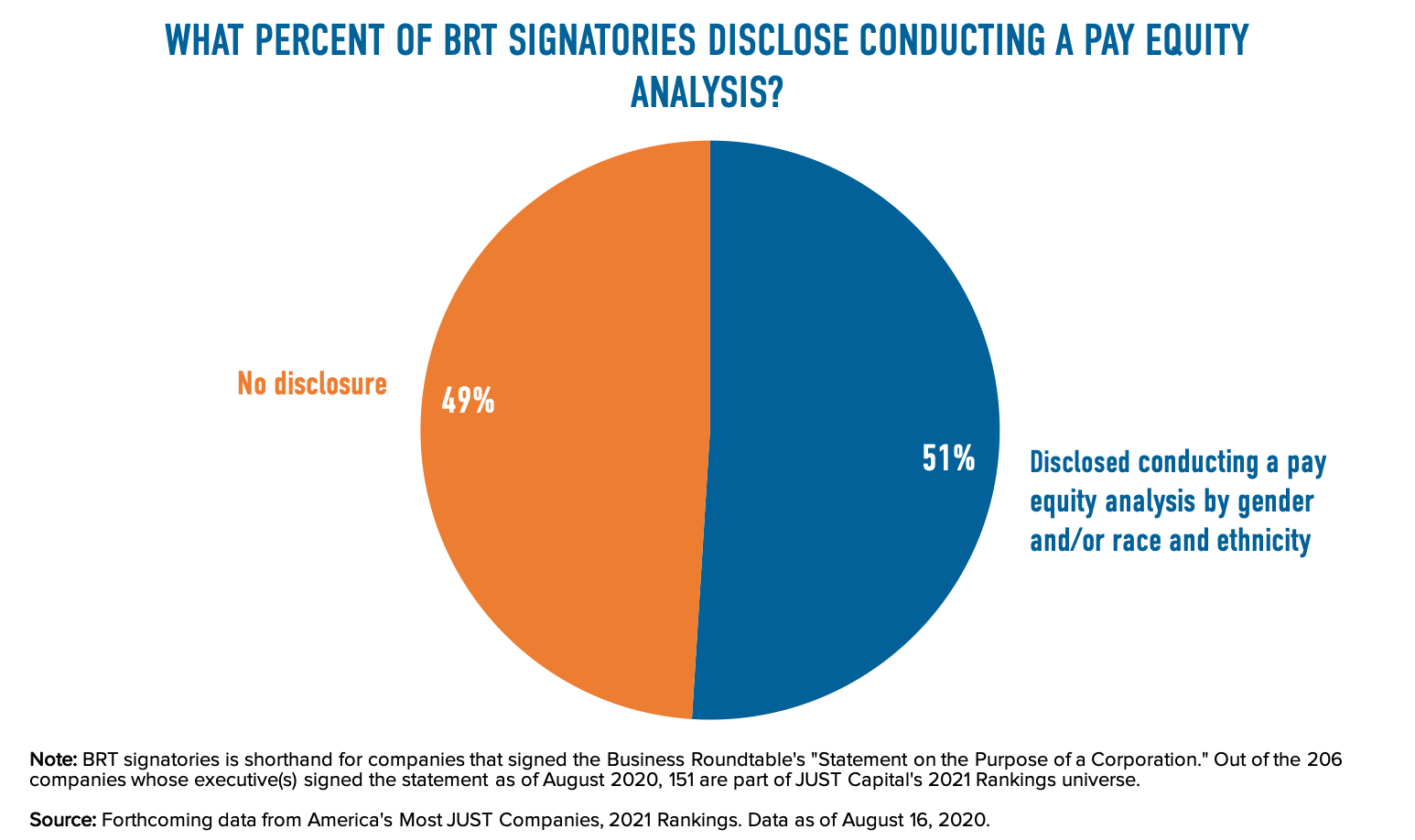 It's more important than ever to embark on this work, as the effects of the COVID-19 pandemic have hit women and workers of color – those with large pay gaps to begin with – particularly hard. As a stark reminder, last week marked Black Women's Equal Pay Day, ongoing research from McKinsey and LeanIn.org indicate that Black women had to work all of 2019 and this far into 2020 to earn what white men earned last year alone and four months longer than white women had to work to accomplish the same goal. 
Disclosing Workforce Demographic Data
62% of Americans, and 77% of Black Americans, believe that companies examining the racial or ethnic makeup of their workforces and publicly disclosing these numbers is somewhat or very important. Among BRT signatories, 62% have some type of disclosure on the racial or ethnic makeup of their workforces.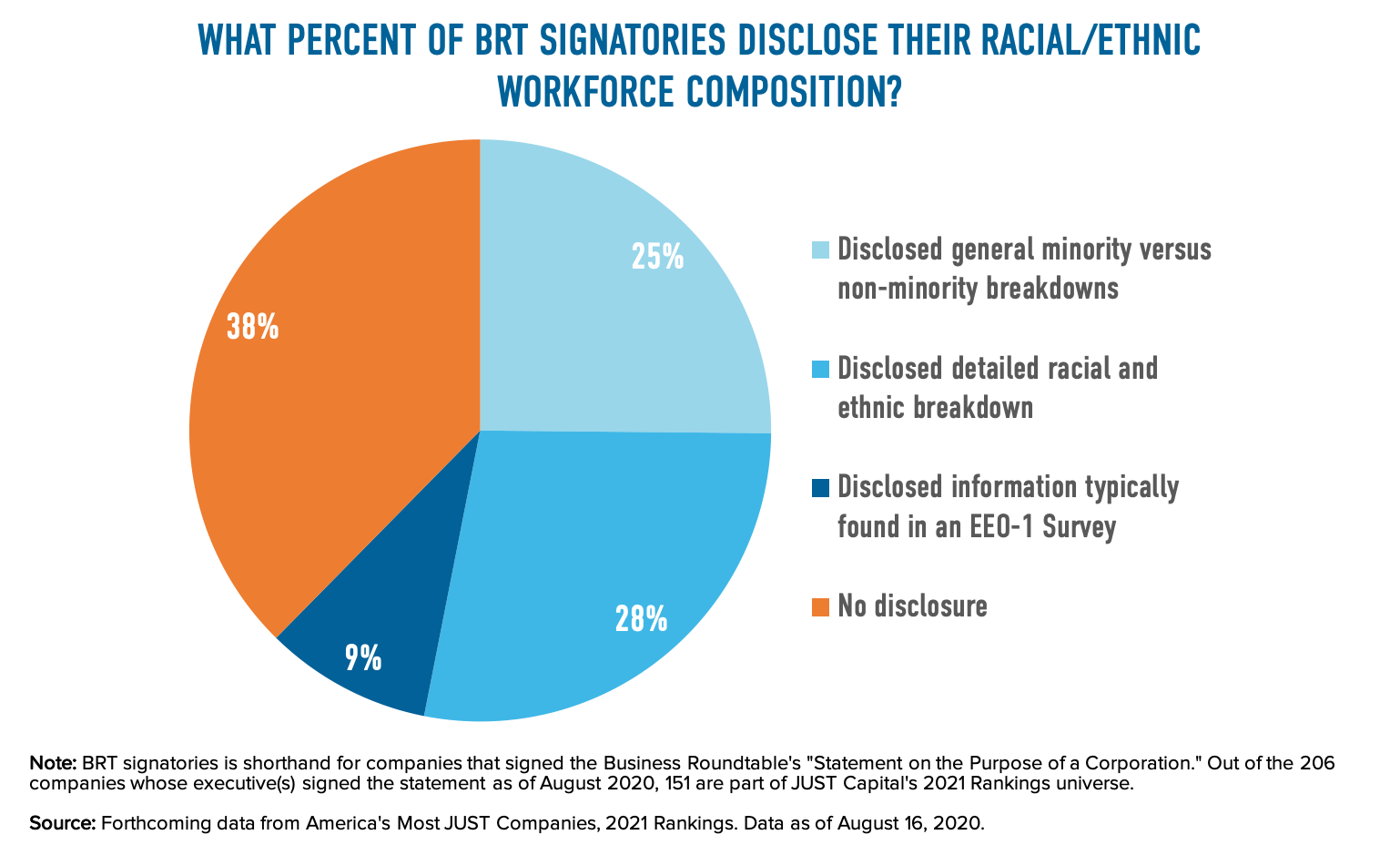 Of the 151 BRT signatories we track, 25% disclose general data on the number or percent of employees who identify as a non-White minority, while about 28% share a more detailed racial and ethnic breakdown, including information about which employees identify as Asian, Black, or Latinx. Over 9% of BRT signatories have publicly disclosed data that would be typically calculable from an EEO-1 Survey – the gold standard for demographic disclosure – which features the count of employees by gender, race, and ethnicity by 10 standardized job categories. (You can see a preview on how other Russell 1000 companies compare here.)
While disclosing demographic data is not a panacea, we've recently joined institutional investors like NYC Comptroller Scott Stringer's office in urging companies to publish their current workforce demographic breakdowns, specifically EEO-1 Reports. By building a deeper and more open understanding of the state of diversity within their workforces, BRT signatories and their corporate peers can establish a benchmark from which progress toward creating a more equitable workplace can be made. 
Funding Local Education Programs
74% of Americans, and 88% of Black Americans, believe that it is somewhat or very important for companies to fund local education and create apprenticeship and scholarship programs to support more diverse hiring. Among BRT signatories, a strong 73% have disclosed funding local education programs and initiatives. 
Examples like IBM's P-TECH program demonstrate how investments in initiatives that build skills and provide opportunity to local workforces and community can aid in ongoing recruitment efforts for Black candidates.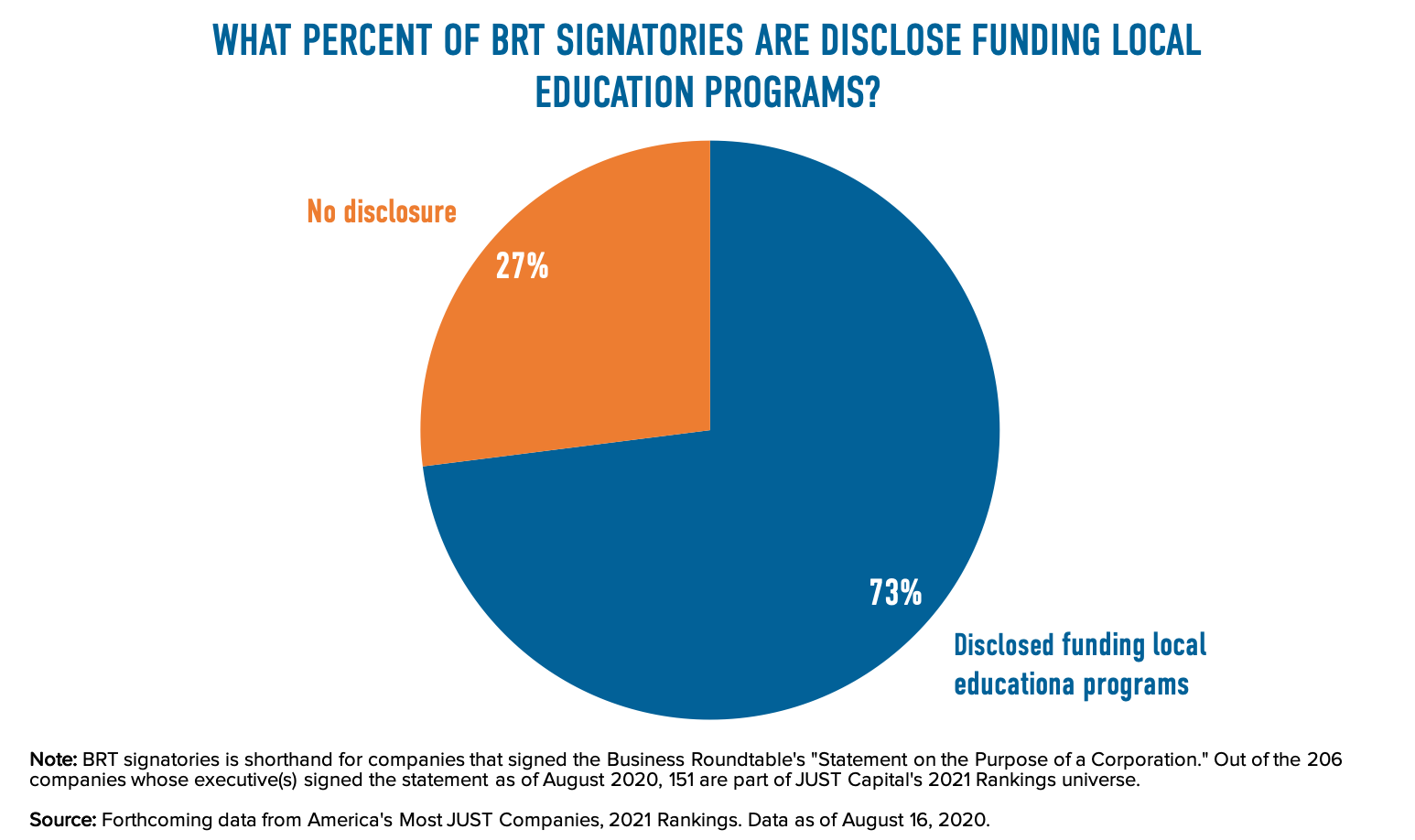 Instituting a Supplier Diversity Policy
71% of Americans, and 89% of Black Americans, believe that it is somewhat or very important for companies to increase business with Black-owned suppliers and organizations. The vast majority of BRT signatories (81%) have publicly shared their supplier diversity policies to ensure that a diverse group of vendors are part of their sourcing or procurement process.
Examples like Intel's demonstrate exemplary commitment to diverse vendors, which contains both leading supplier diversity goals as well as reporting requirements to help their non-diverse suppliers to become more diverse. Additionally, Intel partners with other companies, governments, and NGOs to expand opportunities for diverse suppliers. Their commitment to inclusive sourcing is evident by Intel reaching their goal to spend $1B annually with diverse suppliers by the end of 2020 one year early, in 2019. 
AT&T's supplier diversity policy also stands out, with its revised, detailed and transparent endeavor on further expanding and diversifying its supplier community in order to stimulate growth; as well as committing $3 billion in order to establish its black supplier base by the end of 2020.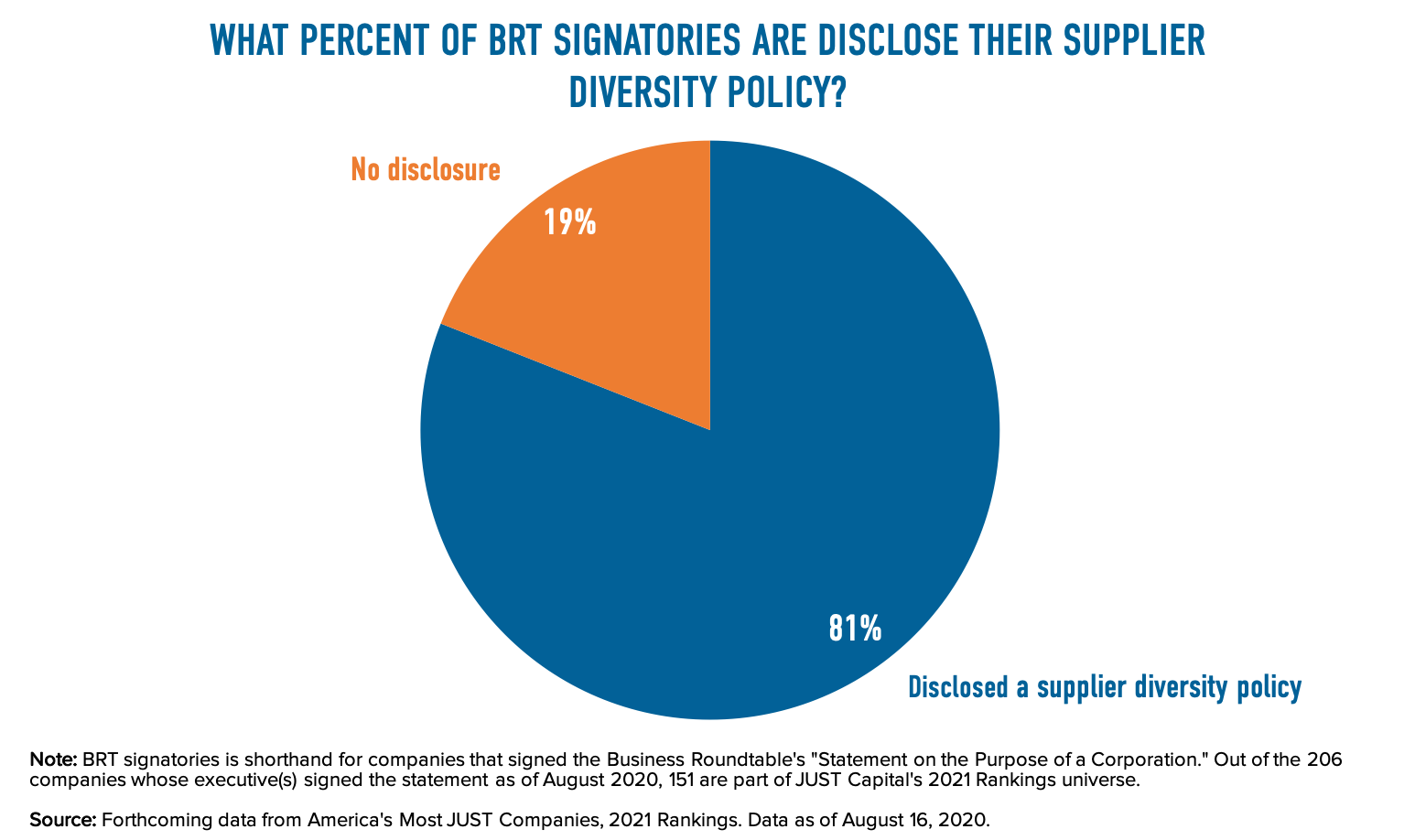 The Takeaway
Corporate America has an unmistakable opportunity to tackle racial inequity in ways that have never before been contemplated. That a majority of BRT signatories already lead with transparency on these four key actions on racial equity is laudable; yet we know the work to dismantle systemic racism does not and cannot stop there. These actions represent important initial steps in supporting racial equity in the workplace, but ongoing work is critically needed across all of corporate America to continue to prioritize these issues, build an anti-racist workplace culture, and center the experiences and needs of Black and Brown workers, customers, and communities to ensure that a truly equitable economy is within reach. 
As we discussed in the takeaway to our companion piece examining How Business Roundtable Companies Have Responded to Six Critical Stakeholder Issues During the COVID-19 Pandemic, employees, customers, and investors are paying close attention, now more than ever, to ask if companies are actually walking the talk of their statements of purpose and commitments to key stakeholders. And based on the priorities of the American public, taking meaningful steps to actually cultivate racial equity in the workplace – by serving the needs of Black and Brown people – is going to be an important focus for the months and years ahead. 
For additional resources on how companies can promote racial equity and commit to anti-racism, please see: 
This report was written by Kavya Vaghul, Michelle Mullineaux, and Amanda Keating. The authors thank Kim Ira, Zsofia Duarte, Snigdha Dutt, and Molly Stutzman for their research assistance.