6 Easy Ways to Support More JUST Companies, Starting Today
There's a viral video you might remember from 2017: A passenger was forcibly removed from an overbooked United Airlines flight after refusing to give up his seat. The incident forced not only the specific airline but also the rest of the industry to rethink and update its booking policies. And much of the credit goes to the individual who took and shared the video.
The rise of smartphones, social media, and the Internet has multiplied the ways that even one individual can influence the actions of big companies. And while much of the news focuses on bad corporate behavior, companies that do the right thing deserve a show of support.
In JUST Capital's annual survey – which asks the public what they care about most when it comes to business practices – 78% of Americans said they had taken some kind of action to support a company's positive behavior. The most common examples were purchasing a product or service or making a positive mention in social (or other) media. But many Americans do much more.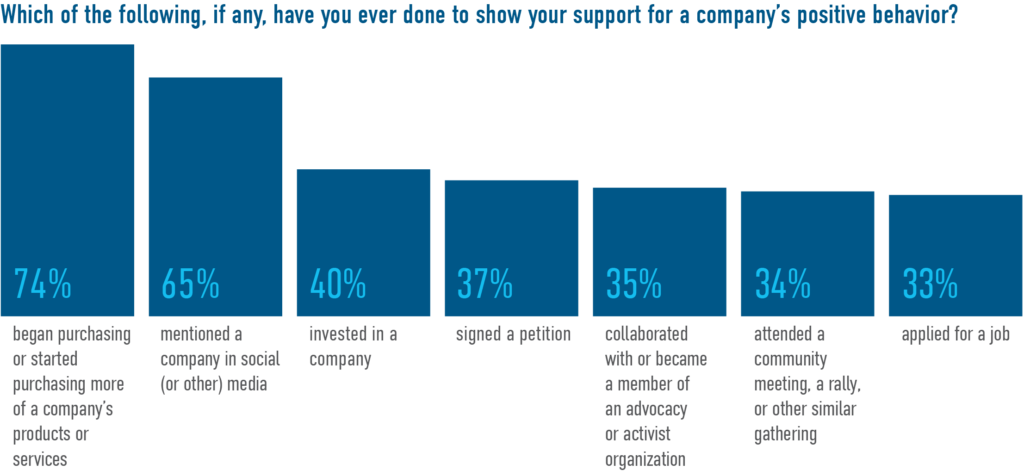 Here are a few tangible ways you can show your support for just companies, starting today.
1. Purchase from Just Companies
Yes, you can use our Rankings as a guide! The "view by industry" filter is especially helpful.
Looking for a new pair of shoes? Search under Household Goods & Apparel and you'll see Nike at the top. Maybe those should be your next buy. What about a hotel room? You'll find Hilton atop the rankings for Restaurants & Leisure.
You can use this filter to find top performers for cars, banks, airlines, insurers, restaurants, and more. Use the "compare" search feature for values-based comparisons.
Unlike rankings that focus on a particular industry or facet of corporate behavior, the JUST Capital Rankings evaluate the largest publicly traded U.S. companies based on their conduct toward all stakeholders.
They provide a unique opportunity to get a holistic view of a company's behavior. But if you're interested in learning more about a specific issue or industry, our Rankings are equally useful. You can combine the "view by industry" and the "view by issue" filters to get an industry-based ranking on a particular issue.
2. Say Something Positive in Social Media
All businesses appreciate a good plug in social media, whether you share a story about the brand on Facebook or tweet about a positive experience you had. That's true for any size of company, though it's particularly important for smaller ones or niche products.
If you want your opinion to have the biggest impact, then write your reviews on the platform where people are most likely to go to check out the product or service. Typically that's Yelp or Google for local businesses, Amazon for consumer products, TripAdvisor for travel or tourism, and Angie's List for home service providers.
Also, take the time to write a measured review that people will find credible; here's a useful guide on how to write good reviews.
3. Invest in a Just Company
"Impact investing" is on the rise, with one in four investment dollars now aimed at companies that do the right thing.
Dozens of mutual and exchange-traded funds now screen companies based on their performance on environmental, social, governance (ESG) criteria or on the products they sell (for example, most won't invest in companies that sell tobacco).
In the early days of impact investing, many investors assumed that impact investors would take a hit on performance. In fact, our research finds the highest-ranked companies in our Rankings exhibit lower investment risk and provide higher performance than their peers. So you can do good and feel good while doing it.
To illustrate, our JUST Index – made up of the top 50% of Russell 1000 companies ranked by JUST Capital by industry – has outperformed the Russell 1000 benchmark since it was launched in November 2016. In June 2018, Goldman Sachs Asset Management launched the JUST U.S. Large Cap Equity ETF, which tracks our Index.
---
Want to read more stories like this?
Our FREE weekly newsletter about the future of capitalism and the movement to build a more equitable marketplace in America. 
---
4. Sign a Petition
Effective online petitions can attract hundreds of thousands of signatures. Two of the largest online petition sites, Change.org and Care2, report thousands of petitions that have succeeded in achieving their goals.
Once you sign petitions with these sites, you'll hear about many others that may interest you. You can also start your own petition through these platforms.
5. Advocate for Justness
Buying, signing, or sharing online is nice, but making a sustained impact usually requires making a real connection to fellow humans or to organizations you believe in. And often these connections are local – maybe even within your workplace.
If you have an idea for improving your workplace, from upgrading the office break room to providing paid parental leave to employees, Coworker.org is a great place to start. The site lets you create a petition and share it with your coworkers to spread the word.
A lot is possible when employees join together. Recent examples include Google staffers staging a worldwide walkout in 2018 to change how the company handles sexual harassment and Wayfair employees leaving their desks after learning that the retailer profited from detention centers housing migrant children. These are just two examples of a growing trend in employee activism.
6. Apply for a Just Job
In JUST Capital's annual survey, three out of four Americans stated they would prefer to work at a just company, even if it paid less.
If your job hunt is targeted at a particular industry, searching through our Rankings using the "view by industry" filter is a great place to start. If you're interested in how a company values its workers, you can search the Rankings using the "view by issue" filter and look under "workers."
We've also collected a wealth of data about workplace policies, so if you want to look into a prospective employer's commitment to diversity and inclusion, pay equity, paid time off, parental leave, day care services, career development, or tuition reimbursement, check out our JUST Jobs Tracker.
If you land a job interview, you can make your values clear from the outset. If you land the job, you can make change from the inside. Increasingly, companies are paying attention to the values of their current and prospective employees.
No matter what lever you pull to support just companies (or to make companies more just), your voice will be magnified when others join you.