The JUST Report: Bank of America Lifts Wages…And Its Shares Rise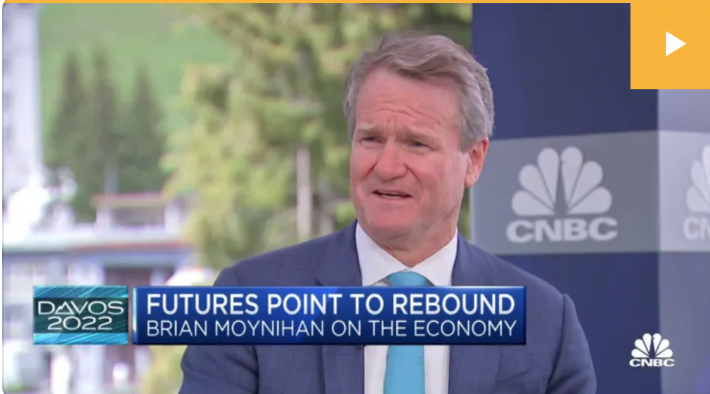 (CNBC)
An unusual thing happened this week. A company was rewarded, not punished, by the market for raising wages. Shares of Bank of America (Ranked #5 in the JUST 100 and #1 in its industry) rose 1.5% in premarket trading Monday after it announced it was raising U.S. minimum wage to $22/hour and giving everyone earning less than $100,000 pay increases of 3%, 5%, and 7% based on the years of service. The increase will affect some 15% of its 166,000 US workers. The company's minimum wage has now risen 47%, from $15 an hour, in five years.
Interviewed on CNBC's Squawk Box, CEO Brian Moynihan talked about the increases and was pushed more broadly on whether CEOs were pursuing personal politics via their businesses under the name of ESG. His response – that "if we did things that were good for our customers… teammates… shareholders… communities, you'd say that's fine," sums up perfectly the ethos of stakeholder leadership. JUST advisor Hubert Joly likes to say, "Look after your people, and profits will follow." I also explore this in my new Insider editorial on the imperative of investing in workers right now.
Moynihan was speaking from Davos, where we piloted our new ESG scorecards with CNBC to give viewers quick snapshots on how exactly companies they're featuring are performing on stakeholder issues. You can check them out on our site.
Speaking of accountability, the SEC this week voted to issue two proposals related to both the labeling of funds as ESG, and to establishing a minimum standard of reporting transparency for ESG funds. Earlier in the week the commission fined BNY Mellon's investment adviser division $1.5 million for allegedly misstating and omitting ESG information about mutual funds it managed – reportedly the SEC's first ever anti-greenwashing settlement. "'Say what you mean and mean what you say' … summarizes the backbone of our disclosure regime," noted SEC Commissioner Caroline Crenshaw. Words to live by.
Be well,
Martin Whittaker
---
---
This Week in Stakeholder Capitalism
Apple announces it is increasing starting pay for hourly workers in the U.S. to $22 an hour or higher based upon the market, a 45% increase from 2018.
Bank of America increases its minimum U.S. wage to $22 toward its goal of $25 an hour by 2025.
BlackRock announces at Davos that it is debuting "gender-lens investing" as part of its ESG strategy.
Pfizer announces it will sell its vaccines and drugs at not-for-profit prices in 45 impoverished countries.
Salesforce plans to purchase $100 million of durable carbon credits from technologies that remove carbon from the atmosphere at scale, as part of its role in the First Movers Coalition alongside Alphabet and Microsoft.
Target reveals that since its commitment to spend $2 billion with Black-owned businesses in 2021, it has increased those investments by more than 50%, and more than doubled the number of Black-owned brands available at Target, now offering more than 100.
What's Happening at JUST
Martin published two bylines this week. The first is in Insider, building on our ongoing focus on workers and wages: "Americans agree – companies should invest in workers, including paying employees a livable wage. The second, "The Moral Corporation" was published in conjunction with Edelman and is featured alongside its 2022 Trust Barometer.
This week we released new analysis showing progress on gender board diversity at Russell 1000 companies and how lessons behind those gains can help inform broader diversity efforts. We also spotlighted five JUST 100 leaders with over 40% or more women on their boards – General Motors, Citigroup, Procter & Gamble, Nielsen, and Merck. Julia Boostin broke the news on CNBC's Closing Bell with expansive coverage in CNBC's Make It.
Alison Omens spoke to Forbes about Americans' concerns around the growing CEO-to-worker pay gap. "People, regardless of ideology, see that CEO pay is too high," she said.
Fortune's CFO Daily showcased data from our latest report showing how corporate disclosures regarding board oversight of ESG efforts are on the rise amongst Russell 1000 companies.
JUST Events


Moving the Needle: Tracking Corporate Progress on Racial Equity Over the last two years, corporate leaders made public commitments to combat systemic racism in their workplaces, communities, and society-at-large. This virtual convening will uncover how our nation's largest corporations are measuring up. Leading investors, asset managers, and corporate leaders will share their latest playbooks, benchmarks, and priorities for moving the needle on equity and opportunity while creating value for all stakeholders. JUST Capital will highlight trends and takeaways from our updated 2022 Corporate Racial Equity Tracker and unveil a new ranking that will shine a light on Workforce Equity and Opportunity. Sign up to join this virtual event here.

The Forum
(Melissa Lyttle/Getty Images)
"A lot has happened in our capital markets in the past two decades. As the fund industry has developed, gaps in the current Names Rule may undermine investor protection. In particular, some funds have claimed that the rule does not apply to them – even though their name suggests that investments are selected based on specific criteria or characteristics. Today's proposal would modernize the Names Rule for today's markets."
"We'd like to wipe payday loans off the map. This loan is an example of the types of products and services that our community needs. And it's one that a lot of banks don't offer."
"Every company needs to go net-zero. We need to create a net-zero world. We're simply creating too many emissions…and the only way to hit these climate targets is by creating net-zero companies."
Marc Benioff, CEO of Salesforce, speaking to CNBC at Davos on why the company is investing in technology to help other companies reduce their carbon emission.

Must-Reads of the Week
TriplePundit spotlights a new research report revealing that paying a living wage pays back to the bottom line by strengthening business performance, resilience, and stability.
The Wall Street Journal reports on the increasing trend of shareholders rejecting CEO pay packages, most recently at JPMorgan Chase, Intel, and Coca-Cola.
Several worthy surveys this week: Edelman Trust Barometer's Geopolitical Business shows a continued collapse of trust and the need for business to step up on societal issues like climate change and economic inequality. Fortune's CEO Survey says 75% expect a recession in the next year and the talent shortage remains top concern. 2022 Axios/Harris Poll 100 shows companies are increasingly caught between their employees, consumers, and politics, dragging down reputation scores.
Fortune releases the annual Fortune 500, as well as a special analysis on which companies excelled at purpose-driven corporate leadership. JUST 100 leader Microsoft tops the list.
The Wall Street Journal takes a deeper look at one of the knock-on effects of the pandemic and the rising cost of childcare – the rates for babysitters are skyrocketing compared to two years ago, straining family finances even further.
Chart of the Week
This week's chart comes from our latest analysis demonstrating that average board gender diversity in the Russell 1000 rose from 23.8% to 28.2% between 2019-2021. When we break these gains down by representation thresholds of 30%, 40%, and 50%, we see gains across all three groupings, with the lowest gains at or above parity.
---
Get to Know JUST
Patricia Russo
JUST Capital Board Member
Patricia Russo has been leading the way in advancing board diversity. Pat currently serves on the boards of Hewlett Packard Enterprise (Chair), General Motors, KKR, and Merck. She continues to demonstrate that the diverse perspective she brings adds enormous value to the companies on whose boards she serves.
JUST's recent report The Lessons Behind Women's Gains in Board Leadership That Can Help Inform Corporate Diversity Efforts demonstrates the importance of women's representation at the highest levels of corporate America. In an interview with HPE CEO Antonio Neri, Pat makes her point of view very clear: "We know that the more diverse the perspectives are that are weighing in on strategic discussions, operational reviews and the like, the better the dialogue and debate, and the better the decision process."