Chart of The Week: Companies That Prioritize Their Workers Continue to Outperform the Market
In light of Labor Day this past Monday, we at JUST Capital wanted to revisit a chart from early June to evaluate how companies' treatment of their workers continues to affect financial performance throughout 2020. We considered the trailing one year, as of Aug. 31, for the Russell 1000 companies we track, and split them into five quintiles based on how they scored on the Workers stakeholder in our current ranking of most just companies. Once again, we saw significant alpha correlated to superior workforce treatment. The top quintile of just companies with the highest workers score has outperformed the Russell 1000 by 4.7% while the bottom quintile underperformed by 4.3%.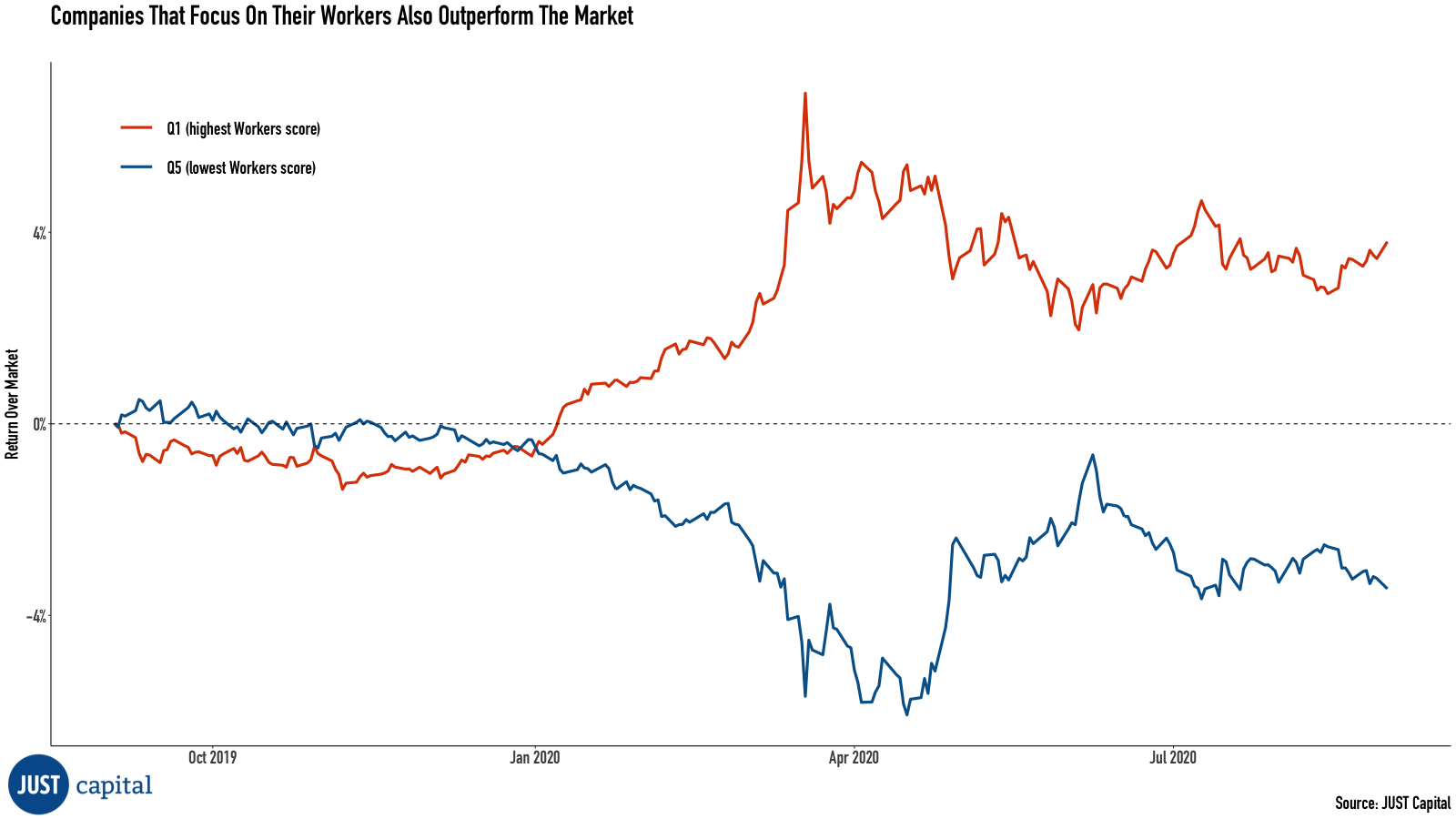 Labor Day provided us a unique opportunity to take a closer look at the how companies treat their workers, which our polling has consistently found to be the stakeholder Americans prioritize most. Your business is only as good as your workforce, and as the U.S. unemployment rate fell to 8.4% in August from 10.2% in July, America's biggest corporations in a rebuild have the chance to set a new standard. The pandemic has prompted long overdue conversations about how companies value their workers, and we've seen corporations step up to provide permanent minimum wage hikes, paid sick leave policies, and long-term commitments to advancing racial equity from within.
Our surveys, done in partnership with The Harris Poll, have shown that the American public overwhelmingly believes that the pandemic has prompted the need for a "reset," where we move to stakeholder-driven capitalism, and that CEOs have a role to play in advancing racial equity within their companies.have accelerated the need for stakeholder driven capitalism. Americans are demanding more from the companies they work for, purchase from, and invest in. Our analysis has shown that the corporations that take this seriously can do so while continuing to grow and yield returns to shareholders.  As the debate between stakeholder capitalism and shareholder primacy carries on, we are seeing clear evidence that maximizing profits in a way that hurts employees is not the best way to do business.
If you are interested in supporting our mission, we are happy to discuss data needs, index licensing, and other ways we can partner. Please reach out to our Director of Business Development, Charlie Mahoney, at cmahoney@justcapital.com to discuss how we can create a more JUST economy together.
If you have questions concerning the underlying analysis, please reach out to our Senior Manager for Quantitative Research, Steffen Bixby, PhD, at sbixby@justcapital.com.