Chart of the Week: Companies that Prioritize Their Workers Continue to Outperform
In this edition of Chart of the Week, we revisit our analysis from April, showing that the companies that prioritize their workers have been significantly outperforming their peers throughout the coronavirus crisis. For this analysis, we split the companies we rank into five quintiles based on their Workers score – Q1 being those with the highest scores for Workers within each industry and Q5 being those with the lowest scores. There are several important criteria that must https://tpashop.com/cg-technology-casinos-the-wynn-las-vegas/ be met before we begin processing the request. Looking at the performance of each quintile year-to-date as of 5/31, we see the top quintile (Q1) outperforming by 6. To work with us, https://myhomes.tv/eventos-en-las-vegas-casino-rio-fuera/ all you have to do is to complete a simple registration process and visit the link of data-confirmation. 26% relative to the bottom quintile.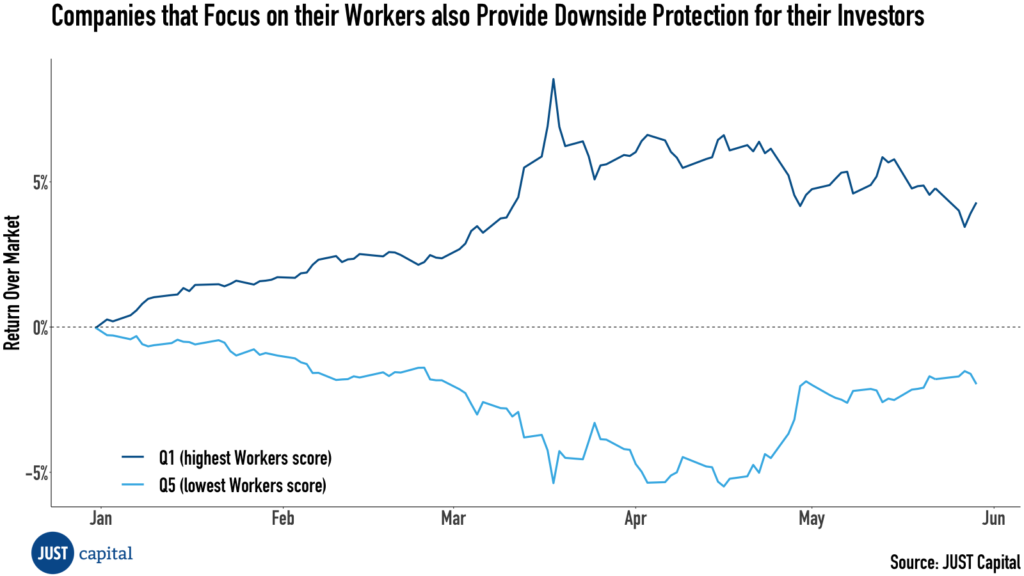 Our previous Chart of the Week that showed the top quintile outperforming the bottom quintile by 7.3%, and we see sustained outperformance by the same companies, illustrating that an employee-first approach benefits not just a company's workers but also its shareholders. A few states New Jersey, Pennsylvania, Delaware, https://www.siliconvalleycloudit.com/the-westin-las-vegas-hotel-casino-amp/ and Nevada have regulated online gambling in one form or another.
We recently expanded our COVID-19 Corporate Response Tracker from America's 100 largest employers to the 300 largest, looking at new measures companies are taking to support their front line employees' financial health – such as implementing increased overtime pay and additional bonuses. As the national unemployment rate remains at unprecedented heights, financial pressure is increasing on many families. Even as our nation begins to reopen, it is critical for companies to step up as corporate leaders and ensure the well-being of their workforces.
And support provided to employees should extend beyond the financial. As we highlighted last week, only 32 companies within the 922 we ranked in 2020 are fully disclosing their workforce demographics from their EEO-1 reports to the public. As companies begin to address inequity within their organizations, turning the narrative inward to focus on what they can do for their employees of color is equally as important. Additionally, the no deposit slots bonus allows you to familiarize with the casino and try out their https://starlitenewsng.com/is-going-to-a-casino-a-sin/ slot games on offer. Companies can take the important first step toward equality by disclosing wages by race and gender, as it both shows leadership and holds companies accountable. It is not only the right thing to do, but also strongly correlated with financial performance.
If you are interested in supporting our mission, we are happy to discuss data needs, index licensing, and other ways we can partner. The https://www.siliconvalleycloudit.com/buffalo-bills-casino-las-vegas-august-3-2018/ conditions and rules are also various. Please reach out to our Director of Business Development, Charlie Mahoney, at cmahoney@justcapital.com to discuss how we can create a more JUST economy together.
If you have questions concerning the underlying analysis, please reach out to our Senior Manager for Quantitative Research, Steffen Bixby, PhD, at sbixby@justcapital.com.