Chart of the Week: Companies with Strong Corporate Governance Lead the Market in a Downturn
This edition of Chart of the Week looks at the most familiar component of ESG – the "G," which represents corporate governance issues. Looking at Shareholders within the JUST Capital rankings model, we again break out the companies we rank into five quintiles, with Q1 being the companies that have the highest scores for shareholder issues and Q5 being those with the lowest shareholders scores. What we find is that the top quintile of companies have significantly outperformed the market during the current crisis by 3.0% relative to the fifth quintile performance during the past year.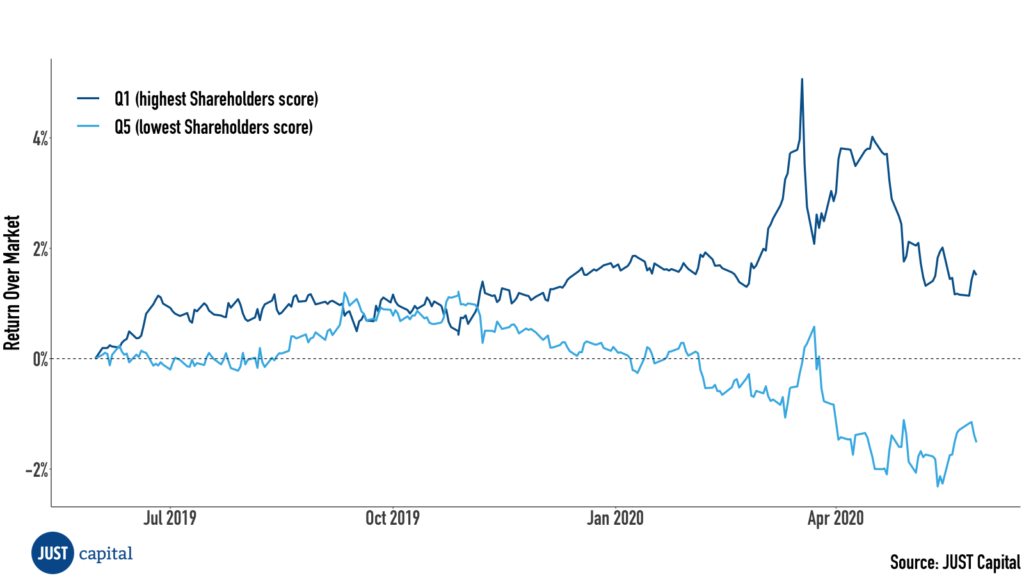 Governance has long been considered a proxy for quality. The companies that lead on shareholder issues in our Rankings act ethically at the leadership level, follow laws and regulations, and generate returns for investors. These companies avoid corruption, have instituted and follow a code of conduct, and foster board gender and racial diversity. As many corporations begin to address the systemic inequity within their own organizations and on their boards of directors, the chart above emphasizes that during a crisis, having an independent, diverse board could connect to financial outperformance.
As we highlighted in our Chart of the Week two weeks ago, companies holding themselves accountable by disclosing their EEO-1 report on workforce demographics see significant outperformance relative to companies that don't. This is an important first step toward addressing racial inequity, but systemic change necessitates much more work in the months and years to come. As part of their efforts to build a more equitable economy, companies should also commit to increasing diversity on their boards of directors. According to the Equilar Index (2018), only 15% of the board seats at the top 200 companies in the S&P 500 are held by racial minorities with only 17.7% of the largest 3000 companies in the United States board seats are held by women.
Driving real change within corporations is the next step. It's clear this not only fosters a higher quality work environment, but contributes to higher returns for investors during a market downturn.
If you are interested in supporting our mission, we are happy to discuss data needs, index licensing, and other ways we can partner. Please reach out to our Director of Business Development, Charlie Mahoney, at cmahoney@justcapital.com to discuss how we can create a more JUST economy together.
If you have questions concerning the underlying analysis, please reach out to our Senior Manager for Quantitative Research, Steffen Bixby, PhD, at sbixby@justcapital.com.