Chart of the Week: Companies that Embrace Full Disclosure on Workforce Diversity Outperform their Peers
Last week, we responded to rising calls from across the U.S. to reckon with hundreds of years of systemic racism in our country – including this piece in Forbes from our head of corporate engagement Yusuf George, on why corporate leaders must step at this time, and this piece from our Communities & Human Rights lead, Sarah Vieux on the specific actions companies can take to drive change. And earlier this week, we spoke with Intel CEO Bob Swan on our Quarterly JUST Call, about how Intel's approach to diversity & inclusion is the gold standard all companies should be striving toward. In light of these crucial conversations, and the growing push for change across corporate America, our Chart of the Week looks at how demographic disclosure – one of the key actions companies can take to address systemic racism – is linked to company performance. An overview of our work on inclusion and diversity can be found here.
We divided the companies we rank into four groups – one with companies that publicly disclose their workforce demographics by race/ethnicity, gender, and job category, one with those that disclose race/ethnicity and gender demographics, one with those that either disclose race/ethnicity or gender demographics, and one with companies that do not disclose this information at all. For each company within these groups, we calculated the stock market returns over the past year (05/31/19 – 05/31/20) relative to its respective industry before accumulating to the group level. We found that the group that fully discloses workforce demographic data has seen a 6.1% return over their industry peers, which is significantly better than the performance of the other three groups (3.6% higher than the zero-disclosure group).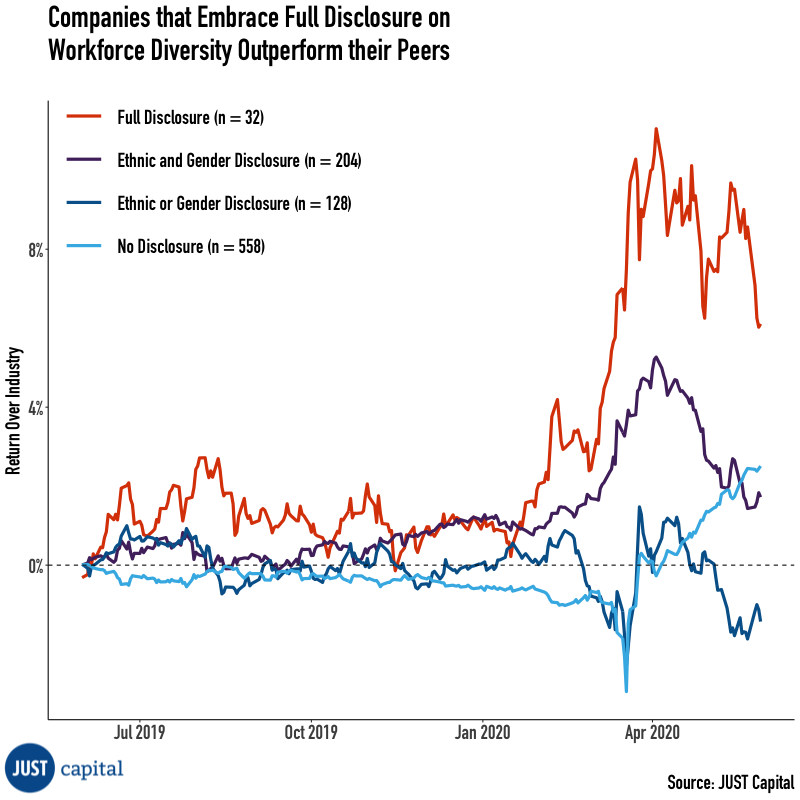 What is interesting about this data is the timing. While the companies that fully disclose have been performing well relative to their industry all year, most of their outperformance came into effect during the downturn. This suggests that transparency regarding and a focus on ethnic and gender diversity does not negatively impact company performance during good times, and that it may even provide downturn protection in bad ones.
The 32 companies that provided full disclosure on their workforce demographics are taking the right step forward, proving that advocating for your workers continues to produce outperformance. While workforce breakdowns by job category, ethnicity, and gender data may show troubling discrepancies, it is impossible to change without transparency.
In this moment of reckoning, company executives have begun addressing inequality within their own organizations, issuing statements of solidarity, unity, and commitments to change. However, if the 890 companies that did not fully disclose their demographic breakdowns really aspire to change, they can start by disclosing information on workers' gender, race, and ethnicity by occupation. Transparency benefits all stakeholders and is an essential first step to creating a more just workplace for underrepresented groups.
If you are interested in supporting our mission, we are happy to discuss data needs, index licensing, and other ways we can partner. Please reach out to our Director of Business Development, Charlie Mahoney, at cmahoney@justcapital.com to discuss how we can create a more JUST economy together.
If you have questions concerning the underlying analysis, please reach out to our Senior Manager for Quantitative Research, Steffen Bixby, PhD, at sbixby@justcapital.com.