Chart of the Week: Examining the Outperformance of Companies that Prioritize Ethical Leadership
Our analysis this week dives into the leadership practices of Russell 1000 companies over the trailing one year, evaluating whether companies that act ethically have outperformed those that lag behind.
Our annual survey work has shown that the American people consistently agree that ethical leadership should be a top priority for America's largest companies. This year, Americans identified ethical leadership as the #4 most important priority for companies in building more just business practices, and issues of ethical leadership – quantified through measures like corporate controversies, commitments to following laws & regulations, and legal fines & violations – comprises 8.2% of a company's score in our Rankings.
Splitting the companies we rank into five quintiles relative to industry (with top performers in Q1 and bottom performers in Q5), we see that the companies that prioritize ethical leadership within their organizations outperform those that don't by 5% over the trailing year.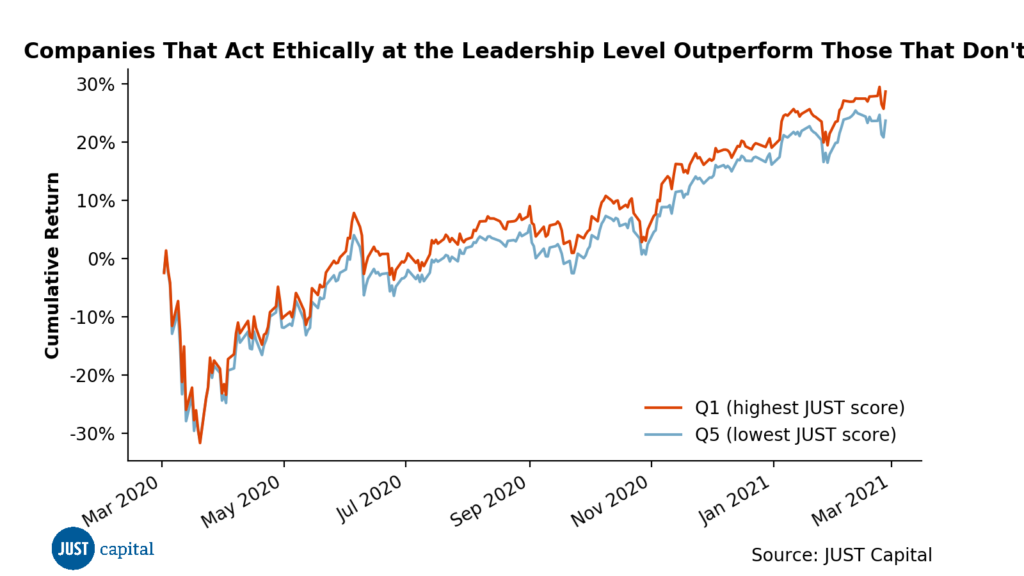 Given that today marks one year since the World Health Organization characterized COVID-19 as a global pandemic, it is important to recognize the ways in which certain organizations stepped up for their stakeholders at a time when the country was in need. Through our survey work over the last year found here in our 2020 Survey Report, we see that Americans are increasingly looking to companies to step in and take a lead when it comes to COVID-19 and other critical issues of our time, like racial inequity and threats to American democracy. From our initial COVID-19 polling – conducted in the first month of the pandemic, from March 24 through April 30, 2020 – we found that a majority of survey respondents (58%) believed America's largest companies were demonstrating leadership throughout the COVID-19 pandemic while our partners at The Harris Poll recently found that 72% of Americans "trust companies more than the Federal government to help find solutions to issues related to the COVID-19 pandemic and racial equality movement." But based on our most recent survey – turning to both employers and employees to understand how they view health and safety in the workplace one year into the pandemic – we found that 30% of workers still do not feel safe and protected from contracting COVID-19 in their workplaces, showing clearly that more leadership is still needed from corporate America in keeping our workforce safe, even as we begin to emerge from the pandemic.
These results clearly demonstrate that the American public looks to corporate leaders to focus on their stakeholders throughout the pandemic – from its beginning to its end. Based on our analysis above, we see that the companies doing right by their stakeholders are not only helping their workers, customers, and communities through the COVID-19 crisis, they also continue to outperform their industry peers.
If you are interested in supporting our mission, we are happy to discuss data needs, index licensing, and other ways we can partner. Please reach out to our Director of Business Development, Charlie Mahoney, at cmahoney@justcapital.com to discuss how we can create a more JUST economy together.