Chart of the Week: COVID-19 Best Responders Outperform Their Respective Industries
In our latest Chart of the Week, we analyze companies in the new Forbes Corporate Responders list, which acted quickly to support their workers, customers, and communities in response to COVID-19. The list, which launched on Wednesday in Forbes, analyzes the policies of America's 100 largest employers from mid-March through May 7 across 22 different actions featured in JUST's COVID-19 Corporate Response Tracker, including wage increases and bonuses, paid sick leave benefits, community relief funding, price reductions, and customer accommodations, among others.
To run the analysis we looked at the returns of the top 25 Corporate Responders relative to their respective industries and from there, calculated their average outperformance. When comparing their outperformance relative to the bottom 25 employers' performance, the top 25 saw a 7.81% return over their respective industries while the bottom 25 saw a -9.55% underperformance relative to their industries.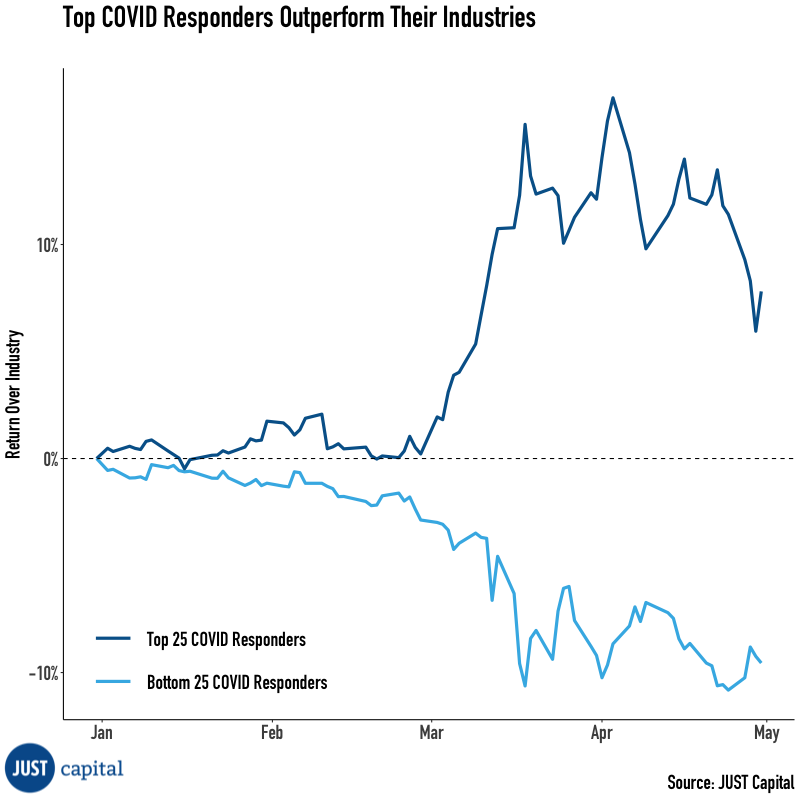 It is important to note that the top and bottom groups have a different industry composition, and have been impacted in unique ways throughout the crisis. This being said, the overall picture is robust and does not change significantly when looking at performance relative to the market or at other metrics.
This result is further in line with what we saw last week when we looked at JUST Industry Leaders like Verizon, (#1 in the Forbes Corporate Responders ranking), Starbucks (#8 in the Forbes Corporate Responders ranking), and others, and found that the companies that are prioritizing their workers and communities are seeing the fastest recoveries, as well as outperformance relative to their industry peers.
We're continuing to analyze how companies are performing in the market, as well as for their stakeholders, throughout the COVID-19 crisis. Check out all our coverage here, and stay tuned for next week's chart.
If you are interested in supporting our mission, we are happy to discuss data needs, index licensing, and other ways we can partner. Please reach out to our Director of Business Development, Charlie Mahoney, at cmahoney@justcapital.com to discuss how we can create a more JUST economy together.