Chart of the Week: Global Sustainable Asset Flows Continue to Set Records in 2021
This week, we are highlighting an external report published recently by Morningstar, showcasing the continued record-setting growth of sustainable asset flows. 
Looking at the chart below, we see the global inflows in Q1 2021 to sustainability-focused open-end and ETF products accumulating $185.3 billion in assets. This marks a 406% increase over the $45.6 billion pulled in by ESG strategies just one year earlier in Q1 2020. 
What's notable is that Europe continues to dominate in terms of assets, accounting for roughly 82% of global assets under management in the sustainable fund space per Morningstar's classification, while the U.S. sits at 13.4% of assets.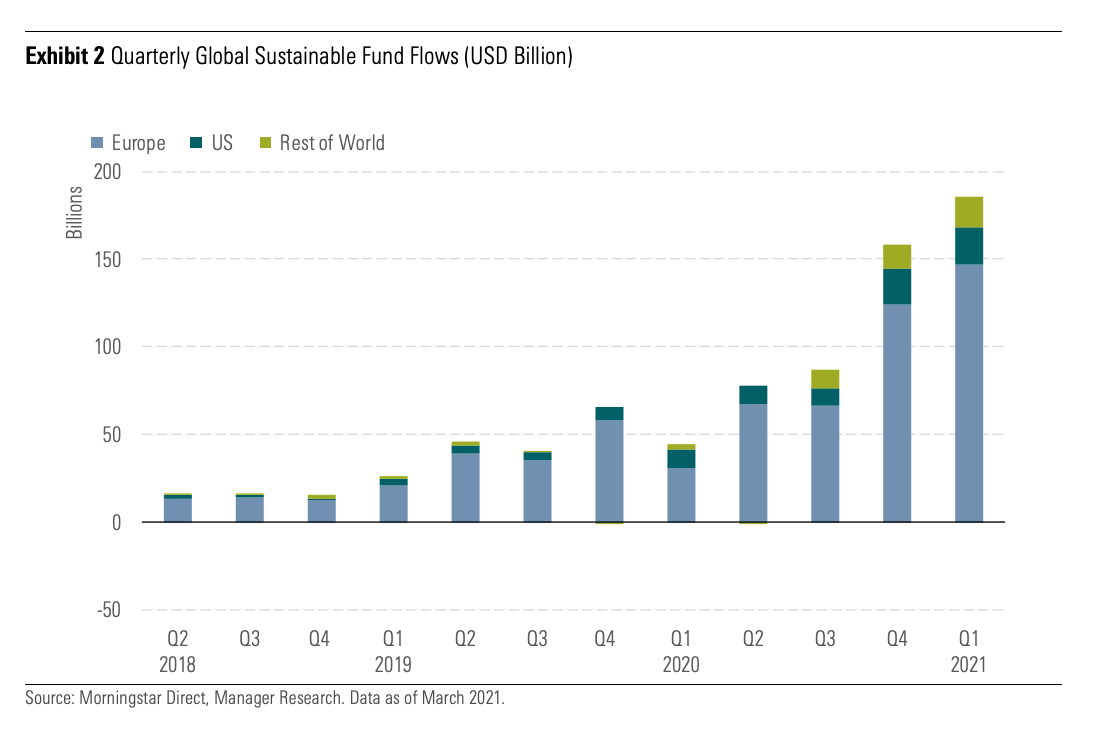 The market continues to see record-setting performance from strong earnings reports in 2021, a large-scale shift in investor preference from growth to value, and COVID-19 vaccine distribution progress. Despite the change in investment regimes, the JUST US Large Cap Diversified Index (JULCD) has continued to deliver outperformance by 72bps YTD as of 5/12/2021 over the Russell 1000. This trend proves the JULCD is a "portfolio for all seasons" as just companies focused on the long-term continue to show market resilience. From the chart above and the JULCD's continued outperformance, it's clear that investor demand for sustainability and stakeholder capitalism shows no signs of slowing. 
For questions on ESG data, JUST Capital's ESG indices, or thought leadership, please reach out to our Director of Business Development, Charlie Mahoney, at cmahoney@justcapital.com