As ESG Divisions Heighten, Deloitte's U.S. Sustainability Lead Recommends Companies Build Data Rigor and 'Lean Into' the Business Case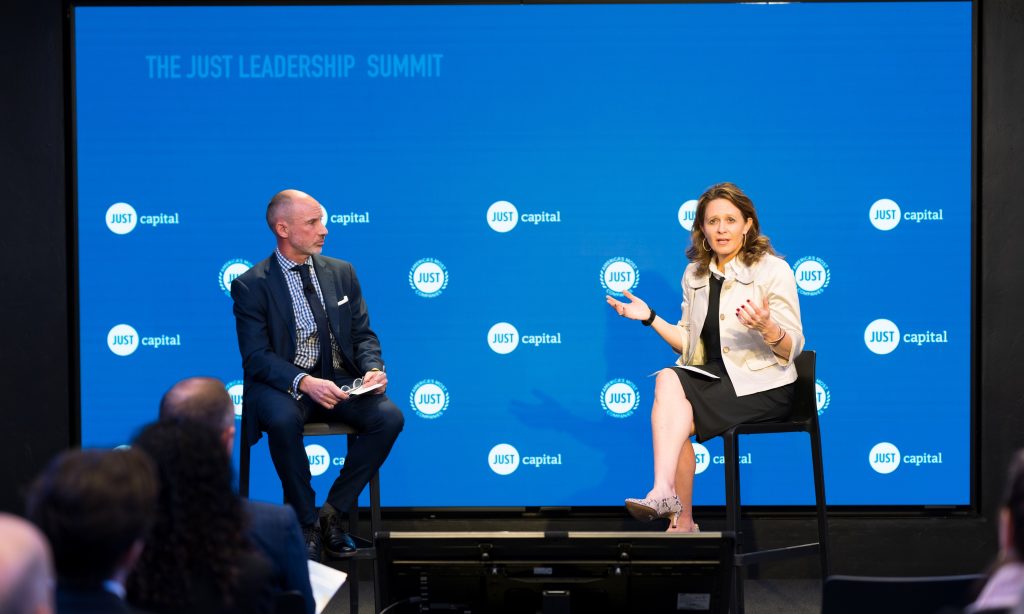 Last week, the partisan debate on ESG reached a new level. President Biden issued the first veto of his administration, on a piece of legislation that would have restricted pension fund managers' ability to consider ESG factors in investment decisions. The decision sparked commentary from both sides of the political aisle. At JUST, we weighed in with our own perspective – emphasizing that ESG isn't or shouldn't be about politics. And our CEO, Martin Whittaker, reiterated this when speaking with GOP presidential candidate Vivek Ramaswamy on CNBC's Last Call.
President Biden's move came one week after we gathered corporate sustainability and ESG leaders and investors at our annual JUST Leadership Summit. Navigating attacks on ESG and politicization of this work came up throughout the day's discussions. Kristen Sullivan, Partner, U.S. Sustainability and ESG Services Leader at Deloitte, spoke directly to it. Sitting down with Whittaker, she shared how Deloitte is advising its clients currently as political divisions over ESG are on the rise and climate disclosure regulation from the SEC nears.
Sullivan's through-line in the discussion was the need to bring the dialogue back to the business case and to the "proof points" in the market. "Stepping back, ESG is just a data-driven way to understand long-term value and resilience," she said. "When you continue to ground this whole conversation in the fact that this is about better understanding how to drive your strategy and minimize risk of disruption, that should not be political." Watch the full conversation below and read on for key takeaways.
Build rigor, discipline, and governance into data
Sullivan acknowledged that there's no shortage of data available on ESG at the moment. She pointed to one study that found that 96% of the S&P 500 issue an ESG report. But where she sees room for improvement is in the mechanisms companies use to report this data and evaluate it to inform their own strategies. She wants to see companies invest in establishing the "right governance" to understand where data is coming from and how it can be used to assess risks and opportunities in a more timely manner. "What's that organizational capacity that's truly needed to drive confident, clear, and quality data?," she said.
Forthcoming regulation from the SEC on climate-related disclosures can be a catalyst for creating these systems. Sullivan sees 2023 as a critical inflection point – the year that we will see an SEC rule that will "move the market a great deal and empower market actors to unlock and allocate capital." Regardless of where companies are currently, that shift is causing a major shift in the rigor and discipline applied to disclosure, she said. This also applies to companies with multi-jurisdictional reporting requirements. In addition to SEC regulation, she noted that companies will have to grapple with changing requirements in the EU. "The foundation of quality disclosure starts with what's relevant to your business and what's relevant to your stakeholders who are going to be consuming this information," she said.
Those stakeholders aren't just investors, she said. The new EU requirements could apply to companies with customers or data flow in the EU, not just with shareholders or operations located there. While regulation may spark an investment in data governance, ultimately Sullivan sees this as an opportunity – to build trust and business value. "I think that's the opportunity for companies to get more systematic, disciplined, apply professional rigor to understanding these issues, putting the right governance management systems in place to truly tell that story in a compelling way that drives trust," she said.
Lean into the business case
With a rigorous and disciplined approach to ESG data, Sullivan believes that companies can lean further into the business case and focus on showing how this work generates value. She raised recent Deloitte research that found that inaction on climate could cost the global economy $178 trillion over the next 50 years. The same study found that addressing climate impacts, however, could add $43 trillion to capital markets over the same time period. Sullivan sees companies increasingly understanding that massive economic opportunity and thinks now is a critical time to hone in on it.
This is especially the case as ESG has become further politicized. Regulation has fueled the political conversation, she said, but using the business and investor cases for action is a key way companies can cut through this rhetoric. Deloitte's been telling its clients to "lean into the market." "I do believe that we're going to see the proof points that are going to counter and really bring transparency to the intentions behind these political conversations," Sullivan said, noting that interventions to limit ESG to date have compromised market performance.
She also brought up that regulation and market infrastructure can help companies focus on business value. "This is about business value. And when you invest in an infrastructure – history has proven this out with financial reporting – that generates higher quality, more timely, more comparable, more reliable information, it informs decision-making. And that's really at the heart of this conversation."
While sustainability and ESG leaders may be facing uncharted territory, Sullivan noted that they're as engaged as ever in getting it right. Deloitte hosted a "standing-room only" session at a recent GreenBiz Conference with over 350 professionals. "The sentiment coming out was 'Yes I feel more prepared, I feel like I have a greater appreciation and command of practical, actionable steps I could be taking, but I'm really scared because I have this greater appreciation of the practical, actionable steps that I need to be taking.'," she said. A disciplined approach to data and an emphasis on the business case can guide companies in taking these step.
Deloitte was an Impact Sponsor of The JUST Leadership Summit.