KKR's Co-Head of Global Private Equity Shares How Employee Ownership Drives Long-Term Business Value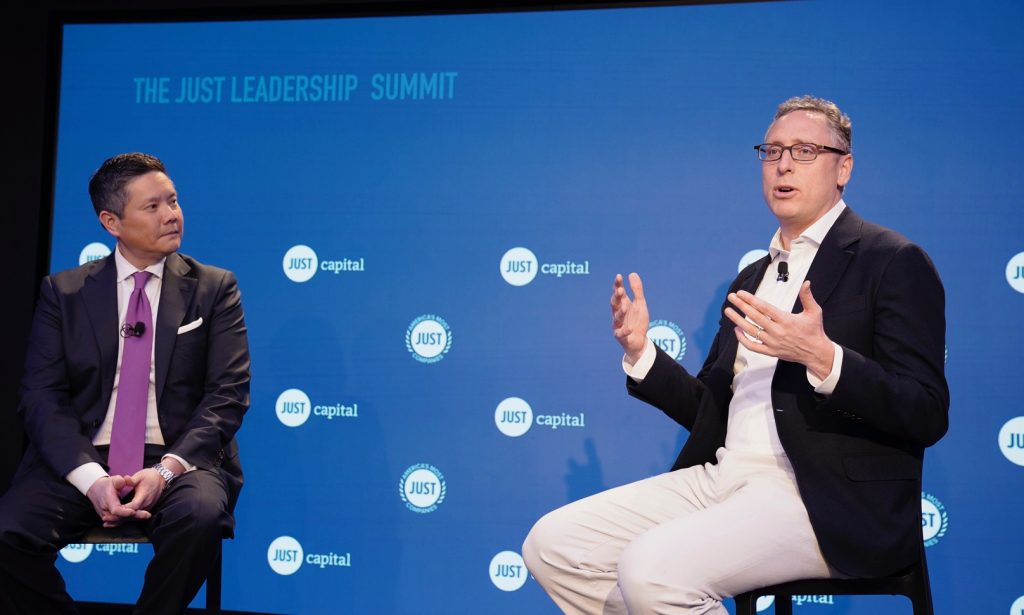 Employees at C.H.I., a garage door-manufacturer headquartered in Arthur, Illinois, received life-changing news last May. In 2015, private equity firm KKR acquired C.H.I. and granted its entire workforce – from those working in its factory to its corporate offices – ownership in the company. Last year, KKR sold C.H.I. in a $3 billion deal, marking one of the firm's largest returns and, for C.H.I. employees, an opportunity to share in the wealth. With the sale, employees received equity payouts based on their tenure at C.H.I., with the average hourly worker earning $175,000 as a result.
Hearing from C.H.I.'s workers themselves, the move was beyond what they had imagined from KKR's employee ownership model and "all because someone held up their word to you." These words grounded our conversation on employee ownership at the JUST Leadership Summit this week. KKR Partner and Co-Head of Private Equity Pete Stavros joined CNBC Senior Markets Correspondent Dominic Chu to discuss his work leading the firm's employee ownership programs, how they've been successful, and their impact at the worker- and shareholder-level.
Stavros, who is also the Founder and Chairman of Ownership Works, a nonprofit supporting companies in implementing employee ownership models, touched on the origins of this work, referring to it as "an initial experiment" from his early days at KKR, but one that's seen great success and has been in practice for nearly 14 years at 30 different companies.
"They don't always go this well. This was a truly remarkable outcome," he said. What's been behind this outcome? For Stavros it's come down to keeping the scale of opportunity top of mind, seeking CEO leadership that prioritizes accountability, and treating employee engagement at the same level as business.
At a time when jobs and the labor market remain at the forefront for corporate leaders, his points have weight for what companies should be prioritizing when it comes to employee engagement and job quality. Watch their conversation below and read on for key takeaways.
Understand the scale of opportunity – for employees and shareholders
Stavros acknowledged that many employees at C.H.I. were understandably skeptical when KKR came in, not believing that this ownership program would amount to anything for them. And, six months later they still didn't fully understand it, he said. The work to help workers understand how they could share in the company's successes, and to tie that to more short-term outcomes, took years. Some of the results he shared for companies who have taken this long-term approach speak volumes to its benefits.
One of KKR's biggest success stories, Ingersoll-Rand, saw its quit rate drop 90% over 10 years with this model in place, Stavros said. And C.H.I.'s profit margin rose from 20% to 35% under the employee ownership structure – a number that might be typical for a software company but is "unheard of" for a garage door-manufacturer. The longest-tenured employees at the company were given a payout worth 6.5 times their annual salary when it sold. Of the initial 10 companies the firm implemented this experiment at, half have sold with a return of more than three times the original equity invested and an additional four are projected to follow the same path, he said. "The track record is unparalleled in the history of private equity," Stavros said. "None of our investors are sitting there going, 'Wait a minute, who's paying for this?' and everyone is saying 'How can we do more of this?'"
Chu opened the conversation noting that there's a "touchy feely" aspect to this work that you don't usually associate with private equity. And that, to Stavros, is an opportunity he'd like to see the industry capture. "For all of its problems, private equity is a very effective governance model and a very effective way of transmitting change," he said. "If that governance model can be put to good use, it can be really powerful."
Seek out CEOs who take accountability for the entirety of the business
The most important factor in the success of these programs, Stavros said, is leadership. "Like everything in the world, it starts and stops with leadership. If you have the right leader at the top this can be magic. If you don't, forget it."
As far as which companies are best suited to these programs, Stavros noted that public companies face quarterly reporting pressure, but that ultimately what matters more than company type or industry is leadership. CEOs with a lens and investment in the entirety of the company, including culture, are particularly primed for success he said. "One of the key screening criteria is, 'what type of a human being is this?'"
Stavros believes this mindset is a mix of something inherent to CEOs and that comes over time. He pointed to the example of Kathy Bolahus, CEO of Charter Next Generation, a speciality film manufacturer that implemented an employee ownership program when KKR invested in the company in 2021. Kathy cries if her employee engagement scores aren't good, Stavros said, because there's a sincere, genuine passion for her people there – and a sense of responsibility. "They think the injustices in society exist, it is their problem to solve them for their people, and they can do it." They're not going to write off quit rates, for example, as just an industry problem, but take ownership for solving them, he said.
While some leaders may be more inclined toward this level of investment, Stavros believes all of them shift by merely going through the employee ownership process. "The process of going through this and rolling the model out and engaging, changes people. I don't think you can coach them up in a room," noting that one in three CEOs are moved to tears when they just start the process – not when the payouts come. Ownership Works is helping CEOs support each other through these changes, Stavros said, and build what Chu compared to a "coaching tree" in sports for executives to navigate these challenges.
Treat employee engagement in the same manner as business operations
That leadership mindset is most important when it comes to organizational culture. Stavros noted that what's core to KKR's approach is teaching CEOs and executives to approach culture-related issues and employee engagement in the same way they would operational issues. "The tools that we've developed are all about taking operational problem solving skills and applying them to fixing culture," he said.
He brought up a hypothetical example of having a scrap problem at a manufacturing company. A CEO, in that instance, would run an analysis, problem solve on each of the issues, have a robust plan to measure against them, and "relentlessly" follow up with data, he said. He wants to see executives take the same approach to culture and engagement. "What we are trying to teach is 'you know how to solve problems,'" he said. Using those problem solving skills to address low engagement and high quit rates has been key to KKR's success.
And, importantly, to the ultimate reward for workers. By tying engagement and operational problem solving goals together, workers won out at C.H.I. "What had never been tried was engaging with the entirety of the workforce to drive operational improvement," Stavros said of the previous C.H.I. owners' strategies. C.H.I. had operational goals on issues like scrap reduction, labor productivity, and route density for deliveries that leadership would tie into short-term outcomes and investment for workers. Workers would receive reports on how they'd contributed to these goals day after day, he said, and receive rewards like a paid lunch if they'd met them.
"This was a million little things that took everyone pulling together to make happen," Stavros said. Those small things added up to soaring profit margins, transformative payouts for employees, and a new example of the opportunity that lies in investing in workers.