These 5 Companies Are Leading the Charge on Recycling
With scientists predicting that if nothing changes in our plastic consumption habits, there will be more plastic in the oceans than there are fish by 2050, it's not surprising that this year's Earth Day theme is End Plastic Pollution. According a recent study from Science Advance, since the invention of plastic in 1907, 8.3 billion metric tons of virgin (non-recycled) plastic have been produced, generating 6.3 billion metric tons of waste, 79% of which has piled up in landfills while just 9% has been recycled. A total of 12 billion metric tons are expected to be in landfills or the environment by 2050 if current production and waste management trends continue.
While we are all, as individuals, accountable for our contribution to the planet's pollution and waste buildup, large corporations play a critical role in either damaging or protecting the environment. At JUST Capital, we've heard from the American people – across all demographics – that environmental impact is one of their top concerns when it comes to just corporate behavior.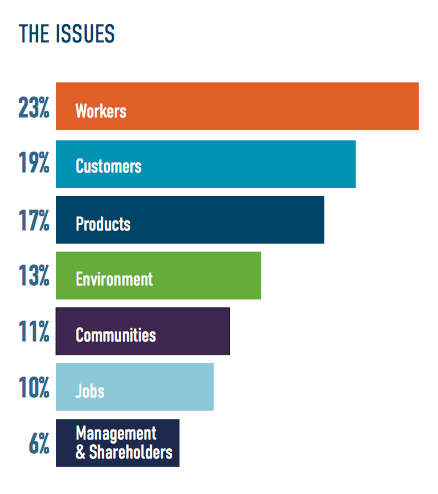 As part of our analysis and ranking of corporations in the Russell 1000, we look closely at companies' environmental practices – including their waste and recycling programs. Of the 875 companies we analyzed, just 136 have disclosed both the total amount of waste produced and recycled within a given year (i.e. the latest year they've disclosed), and we've found that, of the total waste produced by those companies, about 54% is recycled.
These corporations – the largest in the United States – are producing a tremendous amount of waste, and the way it is managed and disposed is likely to critically impact the future of our planet. Here are five leaders that stand above the rest for their environmental stewardship, particularly when it comes to waste management:

These companies:
Recycle more than 85 percent of their waste.

Have made a strong commitment to environmental practices by establishing environmental management systems that include objectives, targets, monitoring and measurement, audits, training, performance records, etc.

Have received external certification (including to the

ISO 14001 standard

) of their environmental management systems across the majority of their facilities.
These companies are also leaders in our overall rankings, with four in the JUST 100 (including Intel and Texas Instruments at #1 and #2, respectively), and Eaton not far behind, suggesting that environmental leadership is an integral part of overall just business behavior.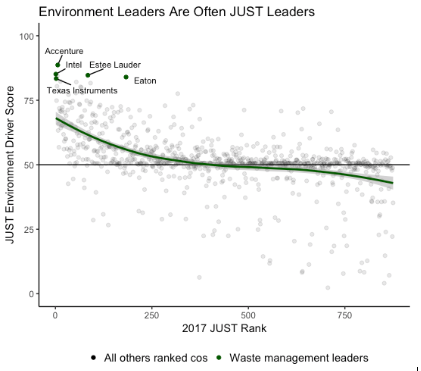 We've dug into what makes these five companies unique in their efforts to minimize impact, finding notable transparency around their waste and environmental management systems. Here's what sets them each apart:
Accenture
1st in Environment, 15th Overall in our Rankings
According to Accenture's 2017 Corporate Citizenship report, the company has made considerable progress toward reducing its environmental footprint and fostering sustainable growth, particularly with regard to carbon emissions – reducing 52% in CO2 emissions per employee. Among Accenture's top priorities are its reuse and recycling efforts – including the management of e-waste and water.
Intel
2nd in Environment, 1st Overall in our Rankings
Intel continually strives to improve its operations and minimize its impact on the environment. Since 2008, Intel has recycled more than 75% of the total waste generated by its operations, and in an effort to reduce waste in 2013, the company linked a portion of employees' compensation to solid waste recycling metrics. Intel aims to achieve zero hazardous waste to landfill by 2020, and recycling rates of 90% for non-hazardous waste.
Estee Lauder
3rd in Environment, 84th Overall in our Rankings
Estee Lauder's Global Environmental and Safety (EAS) team has a strong record of minimizing waste, and continues to identify new ways to improve recovery and diversion rates. Since 2003, the company's 23 owned manufacturing and distribution facilities have sent zero waste to landfill, and any waste that cannot be recycled is incinerated and converted to energy. At its industrial sites, the company achieved a recycling rate of 88.5% in 2016, and has set a target of 90 percent for 2017.
Eaton
5th in Environment, 183rd Overall in our Rankings
Eaton's waste reduction efforts are geared toward supporting its operations as well as the communities where employees live and work. Since 2015, Eaton has reduced the waste sent to landfill by its operations from 33,400 to 25,100 metric tons, a 24.9% reduction. More than 120 of its facilities send zero waste to landfill, and the company seeks to increase this in the near term by another 20 sites.
Texas Instruments
6th in Environment, 2nd Overall in our Rankings
With a strong history of environmental stewardship, Texas Instruments makes significant investments to efficiently use, reuse, or recycle materials across its operations, and reduces its potential environmental impact by sourcing materials responsibly, as well as appropriately managing waste handling and disposal. Each major production site around the world operates a robust recycling program for industrial and nonindustrial waste – for example, recycling water used in the fabrication process by feeding utility plant cooling towers.
This year, as we reflect on how we can all strive to #BreakFreeofPlastic, the work of these companies is already moving the needle – significantly reducing the amount of waste produced and sent to landfill by their operations. Corporations across America stand to learn by the example of companies like these, and JUST Capital will continue to track how they lead the charge in environmental impact, as well as in their efforts to build and drive more just business practices overall.
This article features research from Sam Schrager, JUST Capital Director of Metrics & Data Analytics, and was originally published on Forbes.com.