Is COVID-19 Killing Shareholder Primacy?
We have an opportunity to build a better economy. The question is whether we will seize it.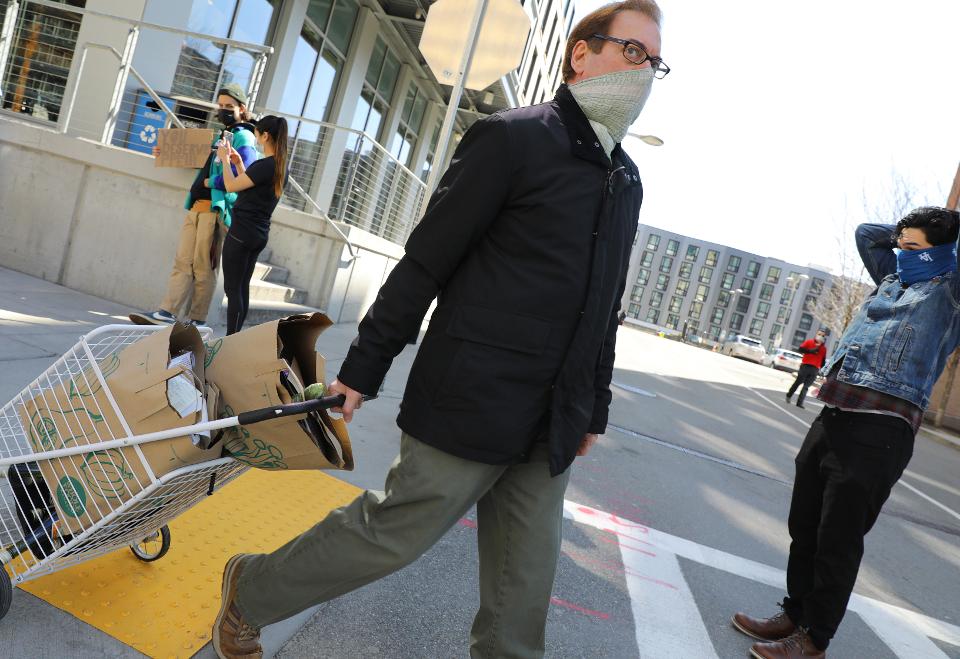 The COVID-19 pandemic has not only wrought untold human tragedy, it has laid bare the fault lines and fundamental brittleness of our global economic system. By the time we beat back the virus, trillions of dollars in market value will have been wiped out, we'll face a mountain of debt the likes of which we have not seen since World War II, and – in the United States, at least – we'll have tens of millions unemployed, hundreds of millions of livelihoods impacted, and a tax revenue base grossly undercut by weaker demand.
History teaches us that crises of this magnitude always leave their mark on society. In this case, I believe permanent change will come to the way we practice capitalism. Not because of some newfound human idealism, though that might happen, but out of sheer necessity. For it's only by building a more resilient, inclusive, and just economy, where business drives value for all stakeholders, where long-term systems thinking supplants short-term opportunism, and where as many people as possible have a stake in the recovery, that we can generate the breadth and scale of wealth creation now required.
Shareholder primacy is no longer fit for purpose.
The post-WWII boom of the 1950s and '60s was perhaps the greatest period of wealth creation in history. John Maynard Keynes, whose legacy made him the most influential economist of the time, summed up the prevailing wisdom: "prioritizing short-term gains through profit maximization comes to the detriment of long-term value creation, which in turn yields weaker companies that contribute less to society." This thinking helped to establish the American middle class and drive tremendous gains in productivity and innovation. Annual GDP growth across the OECD averaged 4-5%. Economically speaking, this level of growth is what we must return to.
Business as usual won't cut it. To have a hope of building the economic engine we now need, the reign of shareholder primacy must end. Milton Friedman's exhortations to focus corporate purpose solely on shareholders' needs addressed the problems in the markets in the 1970s and brought much needed discipline to capital allocation. But it is no longer fit for purpose. Even before the coronavirus crisis, we needed a course correction. The U.S. had reached levels of income and wealth inequality last seen in the 1930s. Productivity from 2010-2018 has been merely 0.9%, down from 2.3% from 1990-2008. The costs of continuing down this path are too high.
The "golden age" of stakeholder capitalism?
What coronavirus has done is reset the economy. It has accelerated the need for a new, better operating system that gives more Americans the incentives and, in many cases, the opportunities they need to create broad-based prosperity.
That system is stakeholder capitalism. A system that shares the spoils of victory with those who make it possible. A system that motivates capital to focus on long-term value creation; that promotes disclosure and performance measurement on issues society cares about; that fosters systems thinking and mutual resiliency; and that captures for all time the incredible spirit of community that has characterized corporate America's response during the crisis itself.
Cynics, of course, will have their say. But those who dismiss the stakeholder approach as either a "publicity stunt" or "window dressing," or as some sort of backdoor socialist takeover designed to limit market freedoms and redistribute wealth, are either lazy in their thinking or blinded by ideology. We don't have time for those debates any longer. The jury is not only in, the case is closed and the court has been dismissed.
One by one, over the past few years, we've seen stakeholder capitalism gain high-profile champions. The CEOs of the Business Roundtable reversed years of commitment to shareholder primacy to embrace it. The World Economic Forum has put it front and center. The heads of the world's largest asset management companies, like BlackRock's Larry Fink and State Street's Cyrus Taraporevala, have called on CEOs to look past profits at all costs, and the leadership teams of the JUST 100, among others, have answered. Wall Street titans like JUST's founder and chairman Paul Tudor Jones and Bridgewater founder and chairman Ray Dalio have declared we need to reimagine capitalism. Executive directors of massive pension funds, like the Washington State Investment Board's Theresa Whitmarsh, have said shareholder primacy destroys long-term value.
In fact, I am hard pressed to come up with any credible defenders of shareholder primacy at this point. Will anyone call for a return to the status quo? I seriously doubt it.
Now is the time to turn talk into reality.
Let this be the moment when all of this talk manifests into reality. For what is plain now is that companies that come out of our current crisis in the best shape will be those that have the strongest relationships with the people who make them flourish. These companies will have a renewed sense of value for the employees and contractors who managed to keep the lights on in our darkest hour. They will have taken steps to support their suppliers – especially the smaller, private businesses that collectively represent the backbone of the U.S. economy. They will have supported the communities where they operate, and bent over backwards to make sure their customers were properly cared for.
The JUST COVID-19 Corporate Response Tracker is capturing and recording all of this, and we have already seen corporations like Target, Starbucks, PepsiCo, and Microsoft taking swift action to ensure the health and financial well-being of their stakeholders through policies like paid leave and community support. It is business at its best.
Needless to say, all of this is also better for shareholders. Research from Morningstar indicates that, in fact, sustainability-led funds are outperforming their peers at this time, as they have in previous crises. The emphasis on quality companies that invest for long-term impact combined with lower ESG risk validates the argument for sustainability as a hedge during down-markets. We are seeing this firsthand as our own JUST Index is outperforming the S&P 500 in this same period. Almost all of the investors we talk to believe that the crisis will accelerate interest in ESG strategies, as well as influence the underlying strategies themselves, mostly by emphasizing the "S" – the social factors that are currently so critical.
The struggle against the coronavirus has often been likened to wartime. It's an unfortunate but apt comparison, and one that enables us to see our way through to society's full recovery. We will get there, but the world won't look the same. JUST Capital, and the network of organizations we work with, will do what is necessary to guide us on this journey.
This article was originally published at Forbes.com.