The Americans' Views on Business Survey was written by Jennifer Tonti, Managing Director of Survey Research & Insights.
Since 2015, JUST Capital has surveyed more than 172,000 Americans on a fully representative basis to understand what matters most when it comes to just business behavior and how they think companies are doing when it comes to creating value for their stakeholders and building a more just economy that truly works for all. This annual Americans' Views on Business Survey is our longest running longitudinal study, providing important insights into how Americans think about business today and how those sentiments have shifted over time. This year's survey, which reached a cross-section of 3,000 Americans, asked their perspectives on whether companies are having a positive impact, whether CEOs should take a stand on key societal issues, whether they trust large companies, and more. 
Against the backdrop of today's divisive economic, social, and political landscape, this year's Americans' Views on Business Survey yields particular resonance. This year, we've seen CEOs and corporate America pulled into political culture wars as political candidates and some members of Congress wage a war on corporate leadership and ESG in the public square. New legal challenges threaten to slow progress companies have made to diversity, while natural disasters intensify the conversation around climate change. Meanwhile, workers' voices have come to the fore, with some striking (UAW, WGA, and SAG-AFTRA) and others averting the picket line at the 11th hour (Railroad workers, UPS). And underlying all this is ongoing uncertainty for these workers between layoffs, return to office mandates, impacts of AI, and the looming child care crisis, alongside a continued strong labor market and receding inflation that have helped low-wage workers see a modest uptick in real wages.
With all these forces converging, Americans are increasingly skeptical of corporate America's promises to do better. Since the Business Roundtable (BRT) released its Statement on the Purpose of a Corporation in 2019, JUST has been tracking how Americans perceive companies' commitments to their stakeholders. This year, Americans say that progress has stalled, and the survey results suggest that Americans want to see more action from America's largest companies on the issues that matter most.
This sense of stalled progress is not unique to Americans' views on corporate America. Recent consumer sentiment polling shows that consumers are increasingly pessimistic about their personal finances and business conditions, both now and looking ahead. And American voters have similarly gloomy views when asked about their feelings toward the economy in general and average incomes in another recent survey.
Still, Americans are optimistic that purpose and profit can go hand in hand, with more than three-quarters saying they believe that business can be a powerful force of societal change. What's more, Americans are hopeful that they themselves can help encourage companies to move in the right direction, as 85% believe people can be effective when they act together to try to change companies' behaviors. 
In the following pages, we explore Americans' views on business – both today and over the long term – to help corporate leaders chart a path toward a more just economy and society. Here are a few of the top takeaways for business from this work:
Focus on action over commitments.

91% of respondents agree it is important for companies to promote an economy that serves all Americans, but only 38% believe companies are doing this well – a 53 percentage point divide. There was a similar divide (51 percentage points) when it came to providing equal pay for equal work, with 94% agreeing this is important but only 43% believing companies are doing this well. Another 49 percentage point divide (86% important, 37% doing well) was found when we asked about child care benefits. And more than 8 in 10 Americans still believe that companies "often hide behind public declarations of support for stakeholders but don't walk the walk."

Take a stand on issues that matter most to your stakeholders.

Despite a year of mounting attacks on "woke" businesses, we saw Americans hold steady in their belief that CEOs should take a stand on important societal issues. However, we did see a 15 percentage point increase in those who agree CEOs should take a stand on important societal issues "only if the issues are related to their business."  Across ideologies, we saw the highest alignment that CEOs should take a stand on issues of equity (gender pay equity, income inequality, and advancing racial equity), as well as ethical use of AI and upholding and protecting voting rights for all Americans.  

Be more transparent to build trust.

Americans were overwhelmingly in favor of increased disclosure across all issues we surveyed, and even across political ideologies we saw strong support from the public for federal requirements mandating disclosures on issues like minimum wage, greenhouse gas emissions, and the use of AI. 

Invest in your workers.

Year after year, we hear from the public that workers must be the top priority for companies, and 2023 is no different. The best way for companies to earn trust and demonstrate that the BRT's Purpose of a Corporation is more than words is to demonstrate how they are investing in their workers.
Americans Are Skeptical that Business is Heading in the Right Direction
JUST Capital has fielded the Annual Views on Business survey since 2016, which gives us perspective not only of the public's views in any given year, but longitudinally as well. To add perspective to this year's survey, we will be looking back on those we've conducted in the past seven years – including our 2019 survey, fielded just before the Business Roundtable announced the redefined purpose of a corporation. Today, despite the promises of the BRT's directive to companies to serve not just shareholders but all stakeholders, Americans remain unsure about whether companies are measuring up. 
To wit, we asked respondents to evaluate how just companies are today. For reference, we define a just company as follows:
A just company operates in a way that serves its workers, customers, shareholders, the environment, and the communities it affects, even if it comes at a cost.
Although more Americans say that companies today are very or somewhat just than say they are not very or not at all just (58% vs. 42%), that number has leveled off. Looking back over our years of asking this question, we found that there was an uptick to 66% in 2021, at the height of the pandemic, but a regression in subsequent years.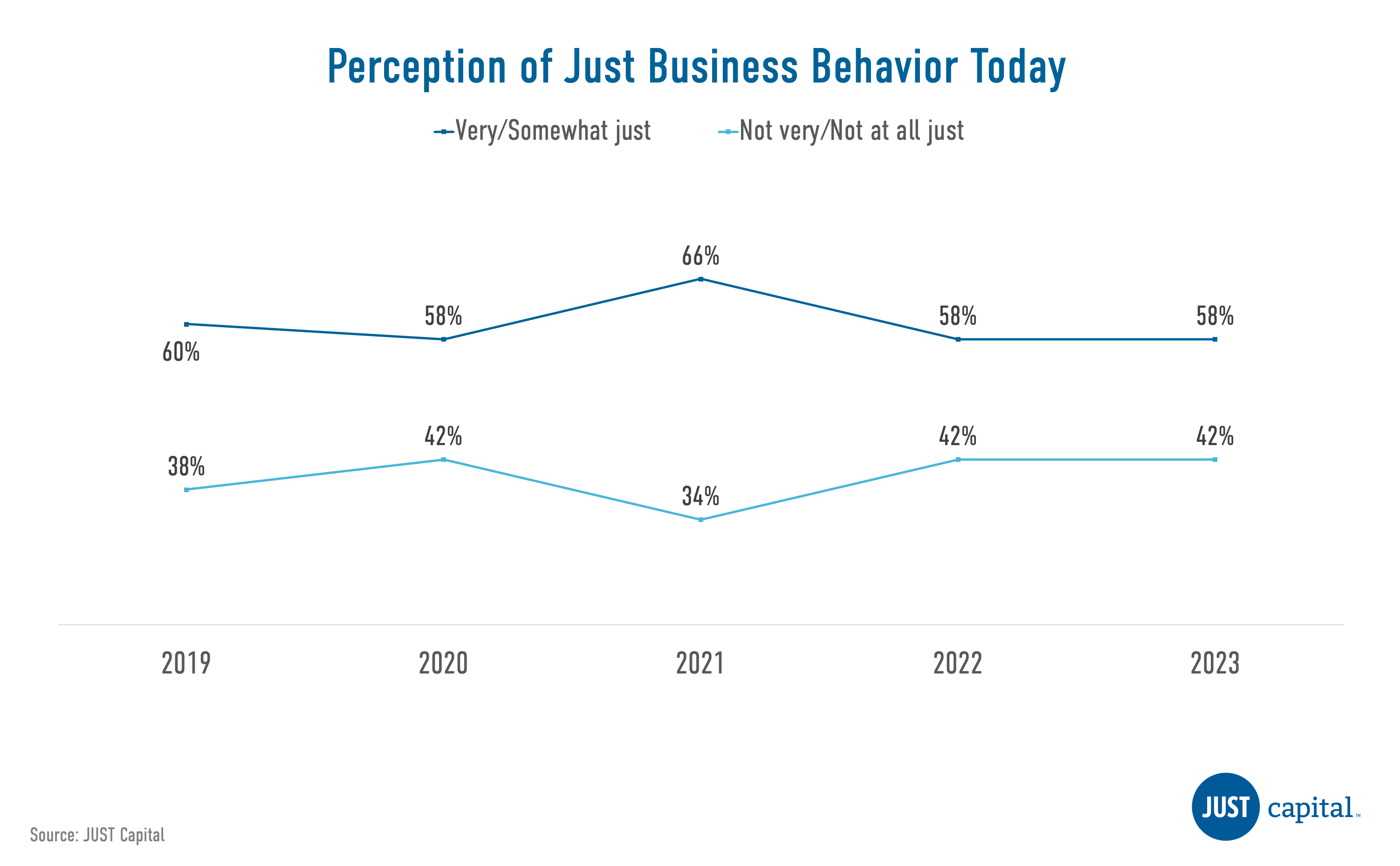 In keeping with this finding, we also found that more and more Americans believe companies are heading down the wrong path. Today, 52% agree that companies are heading in the wrong direction, a 12 percentage point increase since the BRT announcement in 2019. In that same timeframe, the percentage of those who believe companies are heading in the right direction has leveled off, but remains low at just one in five Americans.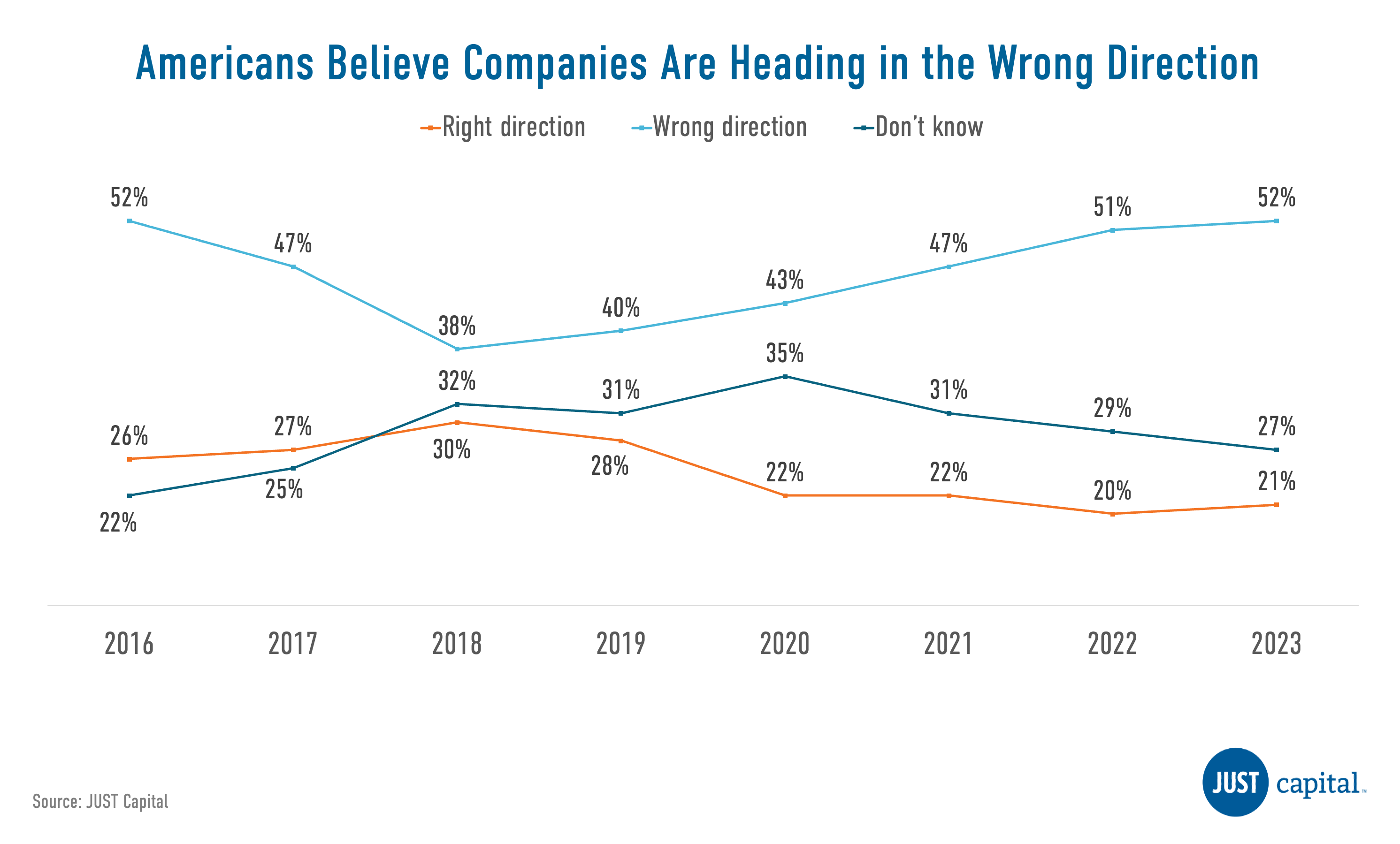 In our own ongoing analysis of corporate stakeholder performance, we have found that companies are increasingly taking steps to create value for their stakeholders – especially their workers. In the first half of 2023, eight companies raised wages for their U.S. workers, 17 increased paid parental leave, four added new benefits, 26 increased engagement with diverse suppliers, and more. The public's ambivalence signals that Americans need to see and feel these kinds of changes are happening on a wider scale to believe that companies are truly committed to creating value for all stakeholders, and not just shareholders.
Americans Continue to See Shareholders as Companies' Top Priority
Since 2017, we have asked respondents which stakeholder – shareholders, customers, or workers – are the top priority for companies. And for the past seven years, roughly more than half continue to say that shareholders are the top priority for America's largest companies. The only time we saw their perception shift – with similar proportions seeing shareholders (46%) and workers (37%) as top priority – was in 2020, when many companies were going above and beyond to keep their workforces employed and safe during the early months of the pandemic.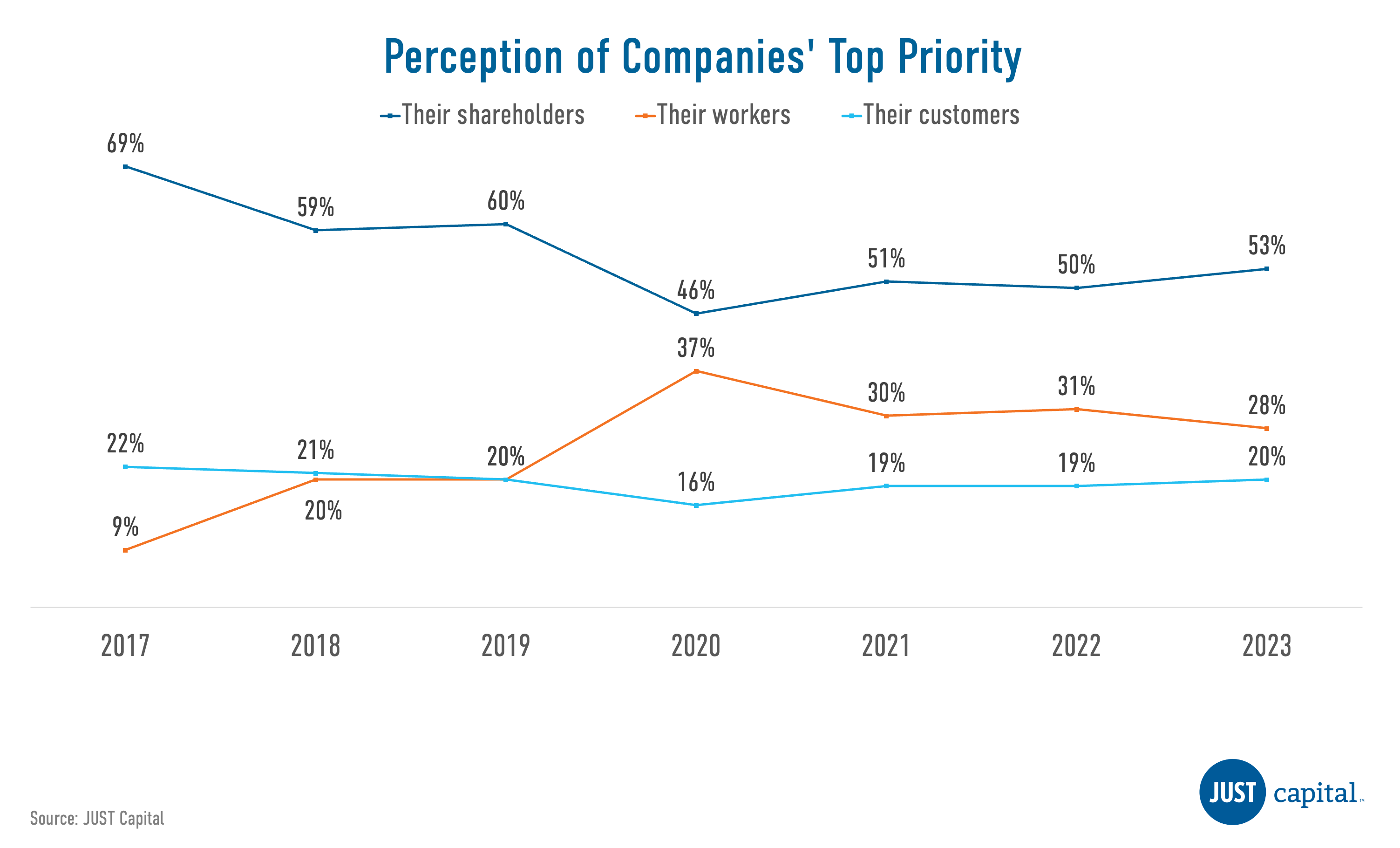 But any impression that companies were turning their focus to their workers has diminished since the height of COVID, with just 28% seeing workers as the top priority this year, compared to 53% that see shareholders holding the top spot. 
The next chart further underscores these findings. For the third year in a row, the public says that companies have the most positive impact on their shareholders (75%), higher by a factor of ten percentage points or more than customers (65%) and the health & safety of their workforce (61%). What is more staggering is that perceptions of positive shareholder impact are more than double that of perceptions of a company's positive impact on the financial well-being of their lowest-paid workers (37%) and the environment (37%), a margin that has not budged substantially in the three years since we started asking this question.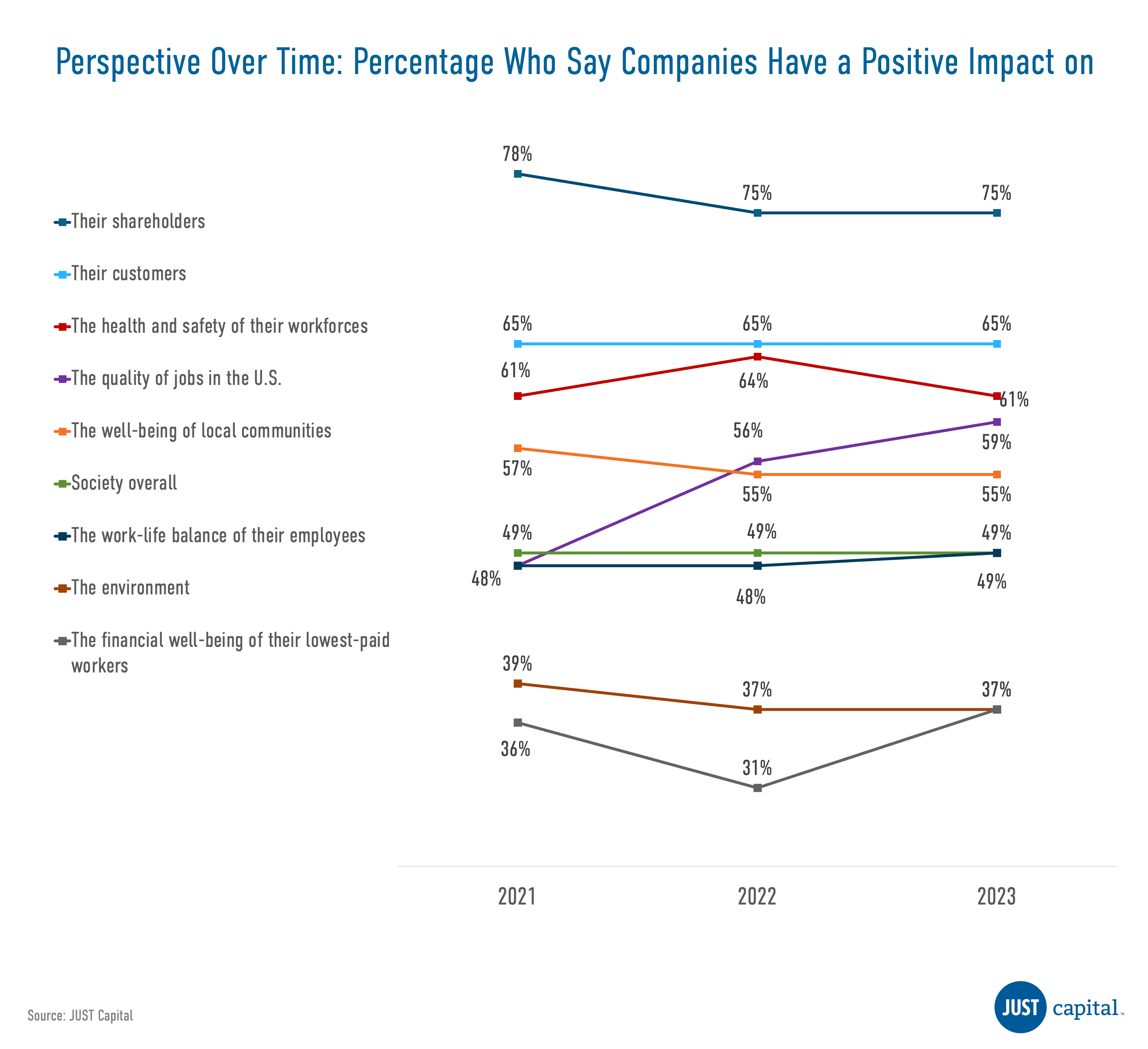 This finding stands in stark contrast to what we've heard from the public year after year in our companion Issues Report survey – The People's Priorities – that the top priority for companies should be to pay their workers a fair, living wage. In 2022, the top Issue – "Pays a fair, living wage" – commanded a weight of 21.2%, reflecting the probability that a respondent would choose this issue as most important. In contrast, "Generates returns for investors" held just a 2.2% weight, indicating that while Americans believe it is important for companies to deliver value to shareholders, it is vastly more important that they pay their workers a living wage. With just just over one-third of Americans believing that companies have a positive impact on low-wage workers – compared to three-quarters who see a positive impact on shareholders – it's clear that Americans view corporate priorities as profoundly in conflict with their own.
Americans Agree That Just Business Behavior Is Important, But Aren't Seeing Enough Action
With Americans skeptical of commitments to just behavior – and doubting companies' positive impact on key stakeholders – it's clear they are seeing a divide between commitment and action. This year, more than eight in 10 Americans told us that companies might "talk the talk" with public declarations of support but they "don't walk the walk."

This year, we asked a new set of questions that dig deeper on this perceived divide, to better understand how Americans view the importance of specific just business behaviors in comparison to the actions they see companies take on those issues. All of the issues we asked about, except one, have a delta of more than 40 percentage points, signaling most Americans see companies falling short when it comes to delivering on key business behaviors that are important to them. The three areas with the starkest divides include: 
Promoting an economy that serves all Americans,

with 91% of Americans agreeing it is important and only 38% agreeing companies are doing well – a

53 percentage point divide

. 

Providing equal pay for equal work

with 94% of Americans agreeing it is important and only 43% agreeing companies are doing well – a

51 percentage point divide

.
Investing in expanded child care benefits with 86% of Americans agreeing it is important and only 37% agreeing companies are doing well – a 49 percentage point divide.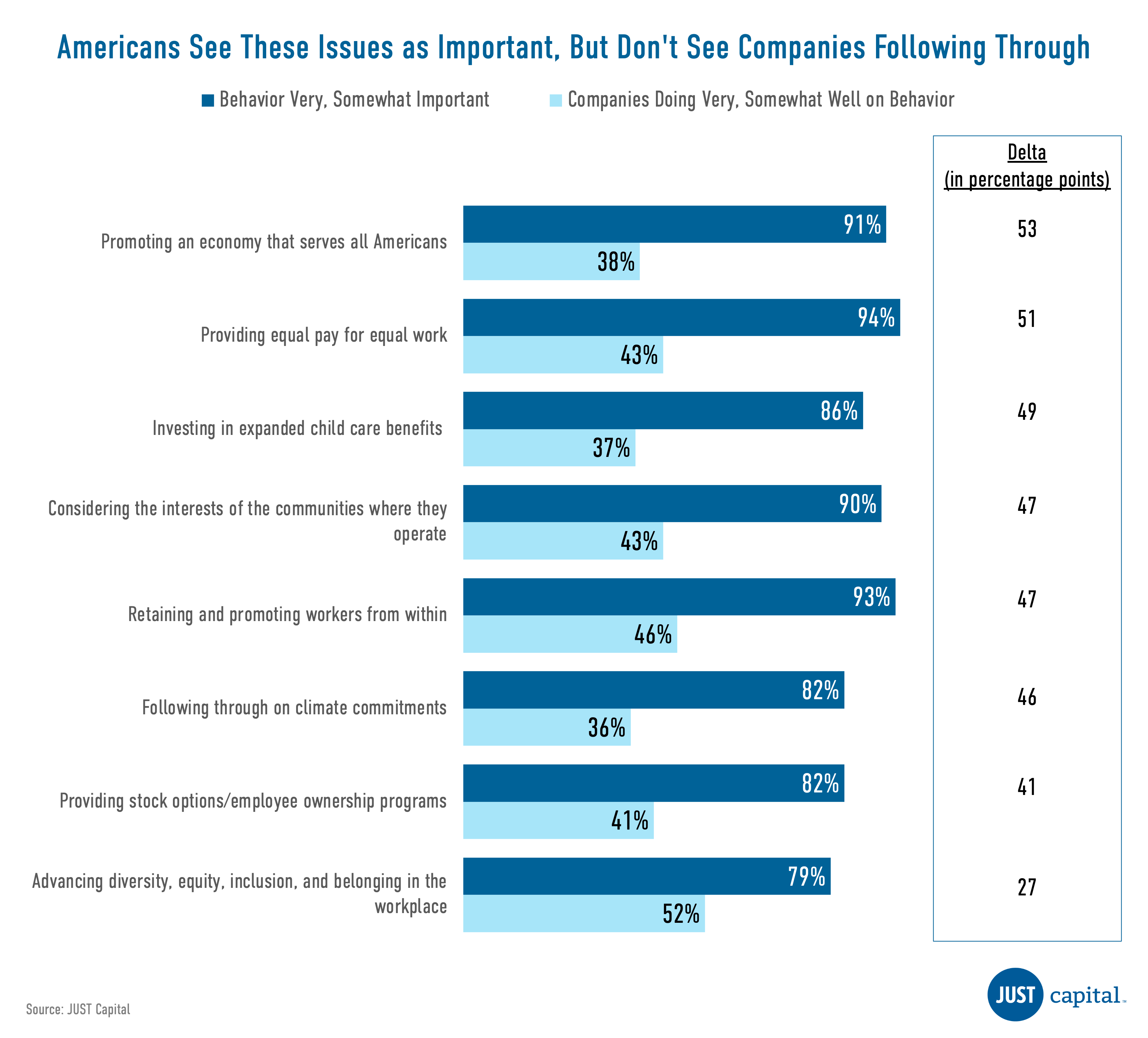 With Americans perceiving a lack of action on many of the issues most important to them, we can see clear areas where corporate leaders could invest more resources to close this perception gap – in particular, prioritizing equal pay, child care, communities, climate, and promoting from within.
With Increased Disclosure Comes Increased Trust
America's largest companies can increase awareness about their efforts to align with a stakeholder-focused model by being forthcoming about the tactical ways in which they're addressing these issues. Indeed, for the past four years, a recurring theme of our annual focus group discussions is that the public expects U.S. companies to be as transparent about their operations as possible, including disclosing details about their progress. 
"I would say one thing is just transparency on a whole and being able to listen to feedback. Not that a company has to go out and tell you everything they're doing — A, B, C, and D — but when asked about … what their plans are, what they're trying to accomplish, just be forthcoming with the information."
Male, Age 35-39, midwest, Republican
This year, we asked the public whether they favor or oppose large companies increasing disclosure across a number of issues. Furthermore, we asked a follow-up question about whether they would favor or oppose federal government requirements on publicly reporting data about these same issues. Americans were overwhelmingly in favor of increased disclosure across all issues, and were almost as supportive of federal requirements for disclosure.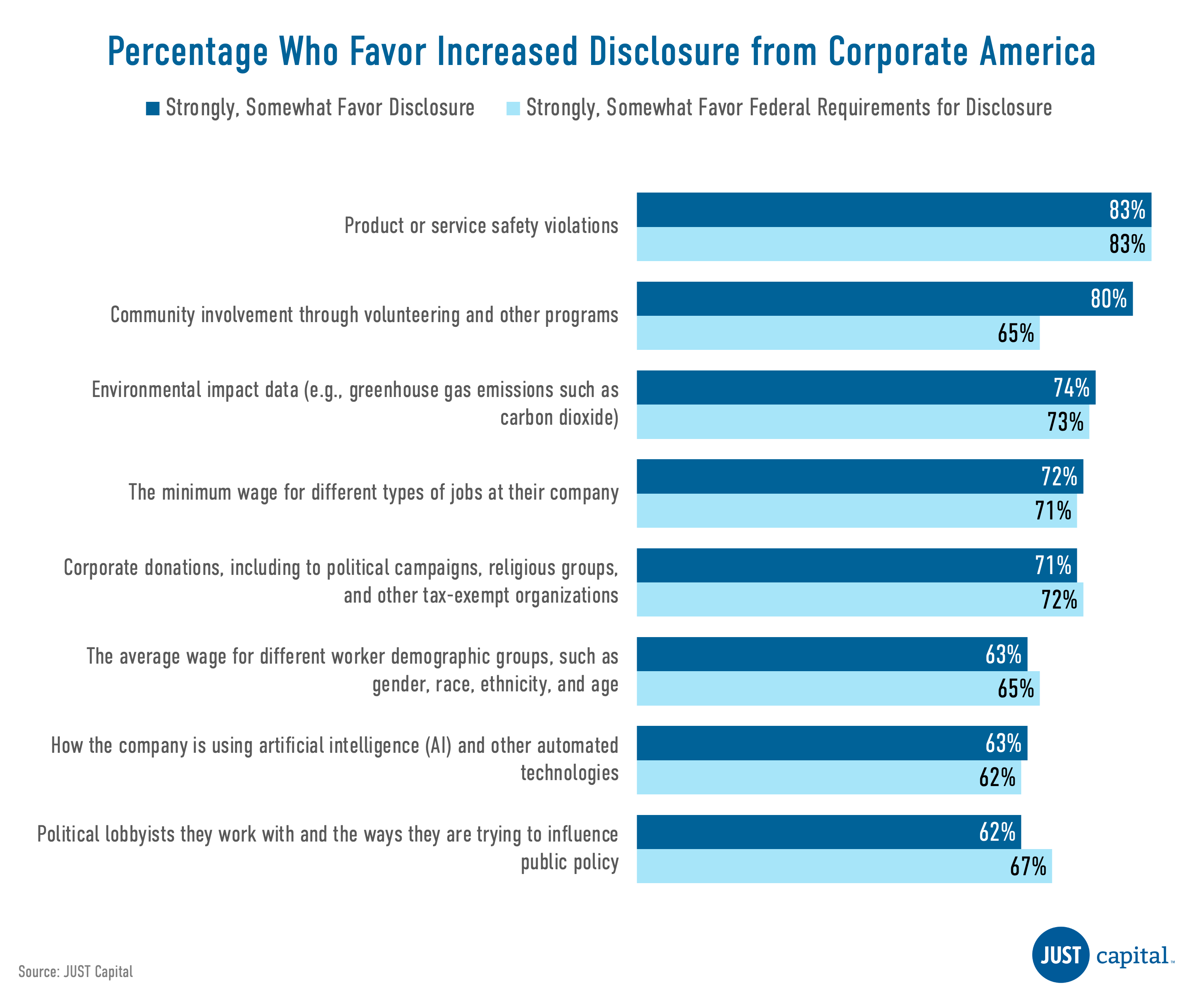 We see the same pattern of response when looking across political ideologies, even for those who lean Conservative, majorities of whom favor increased disclosure on all issues we asked about – from minimum wage to climate impacts to community engagement efforts.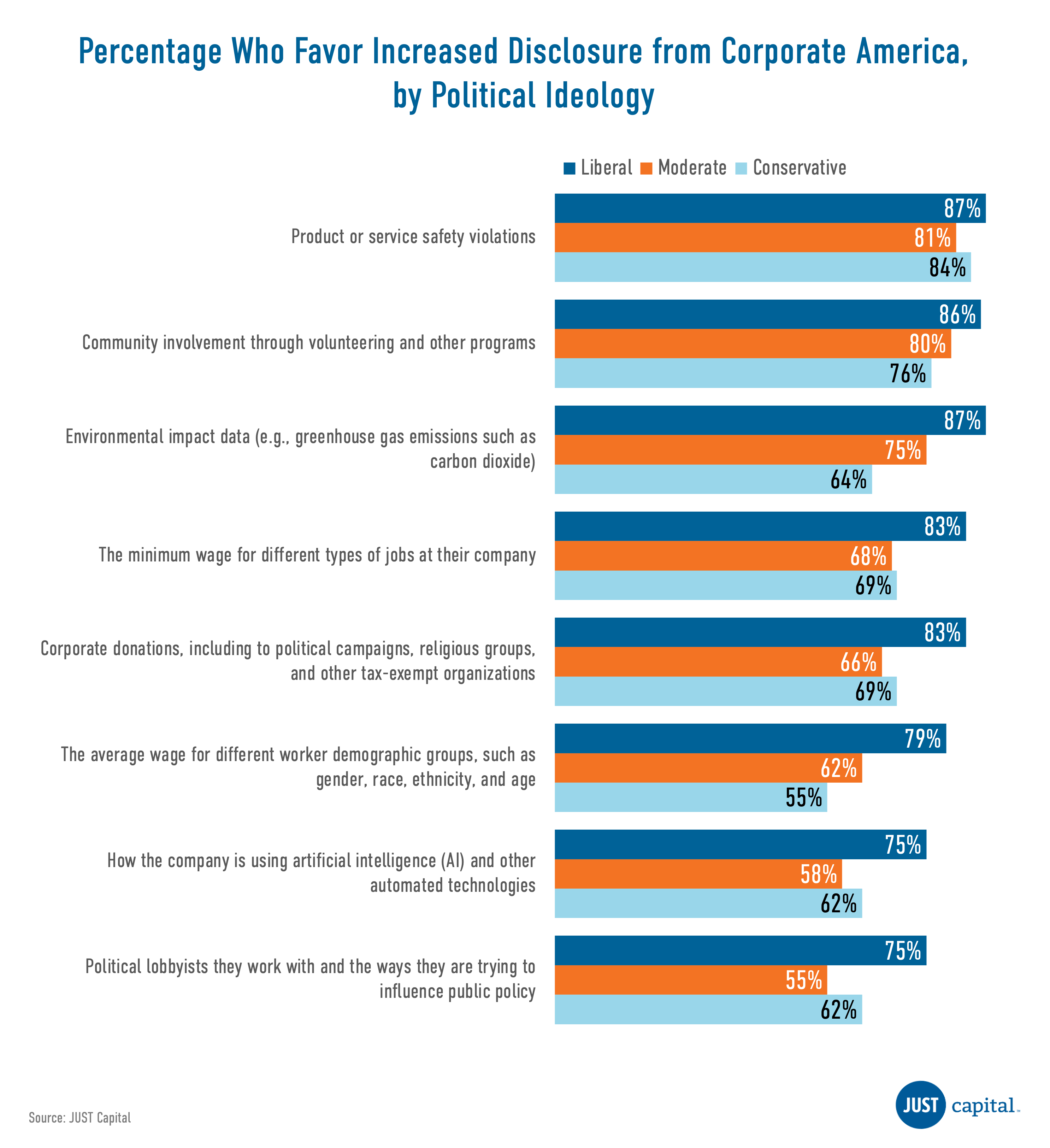 Additionally, when we look at all ideologies, we also see support for federal requirements for disclosure, signaling that Americans across the board are in favor not only of increased transparency but of government mandates for disclosure. This underscores our findings from another survey we conducted last year in partnership with Public Citizen and Ceres, in which 87% of Americans we polled said that they support the federal government requiring corporate disclosure on human capital and environmental impact data.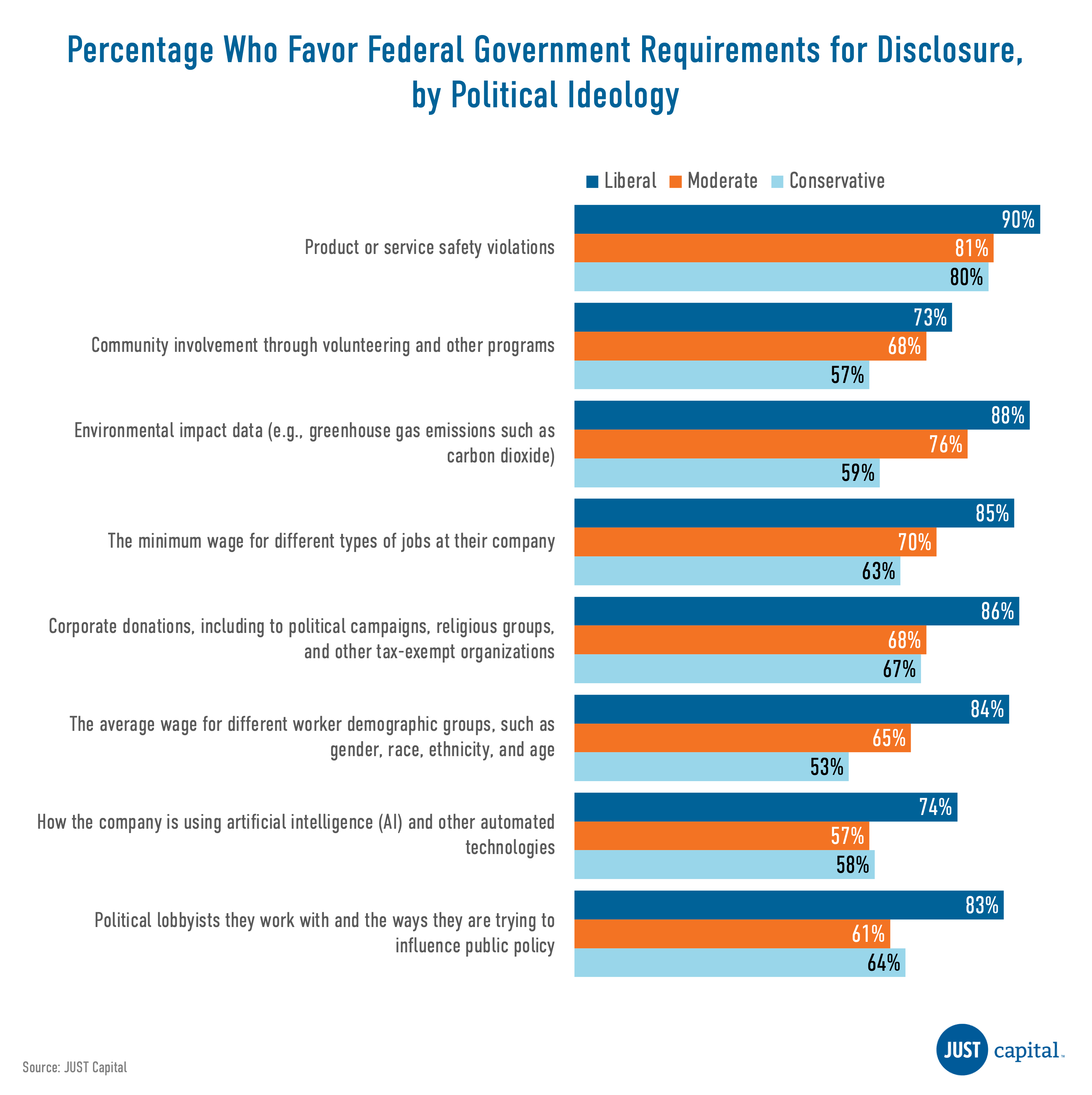 Increased disclosure from companies allows the public to more fully understand the actions that corporate leaders are taking to do right by each of their stakeholders – but we have seen across much of our corporate analysis over the years that disclosure is lagging on a number of key issues, including the racial pay gap, paid sick leave, fair chance hiring, corporate political spending, and more. This only reinforces the uncertainty and skepticism Americans seem to feel when it comes to just business behavior.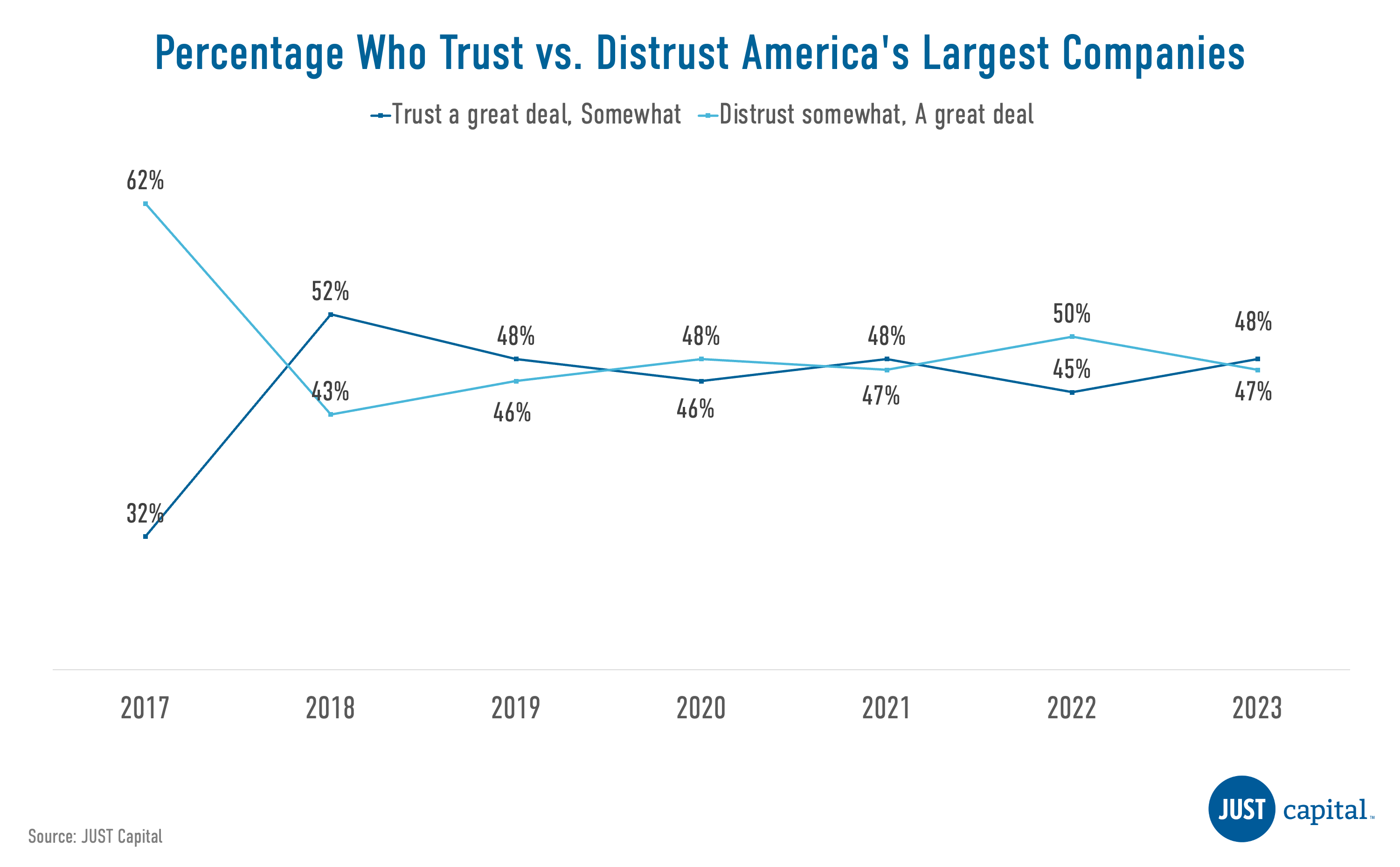 With greater transparency comes the opportunity to gain back the trust of the public – something we've asked about over our past seven years of survey research. Last year, more Americans said that they distrust companies (50%) than trust them (45%), but in 2023 we're back to equal proportions of Americans who trust vs. distrust large U.S. companies. There is potential here for corporate leaders to harness this upward trend with greater transparency on the actions they're taking to create value for their stakeholders, signaling to the public that they are not just talking the talk, but walking the walk.
Today's Culture Wars Are Shaping Americans' Views on Whether CEOs Should Speak Out
Faced with these growing calls for transparency, corporate leaders also find themselves in the midst of contentious culture wars that demand their attention and, at times, public perspective. This year, we heard from 61% of respondents that CEOs have a responsibility to take a stand on important societal issues – a slight decrease from last year, in which closer to two-thirds of respondents shared this view.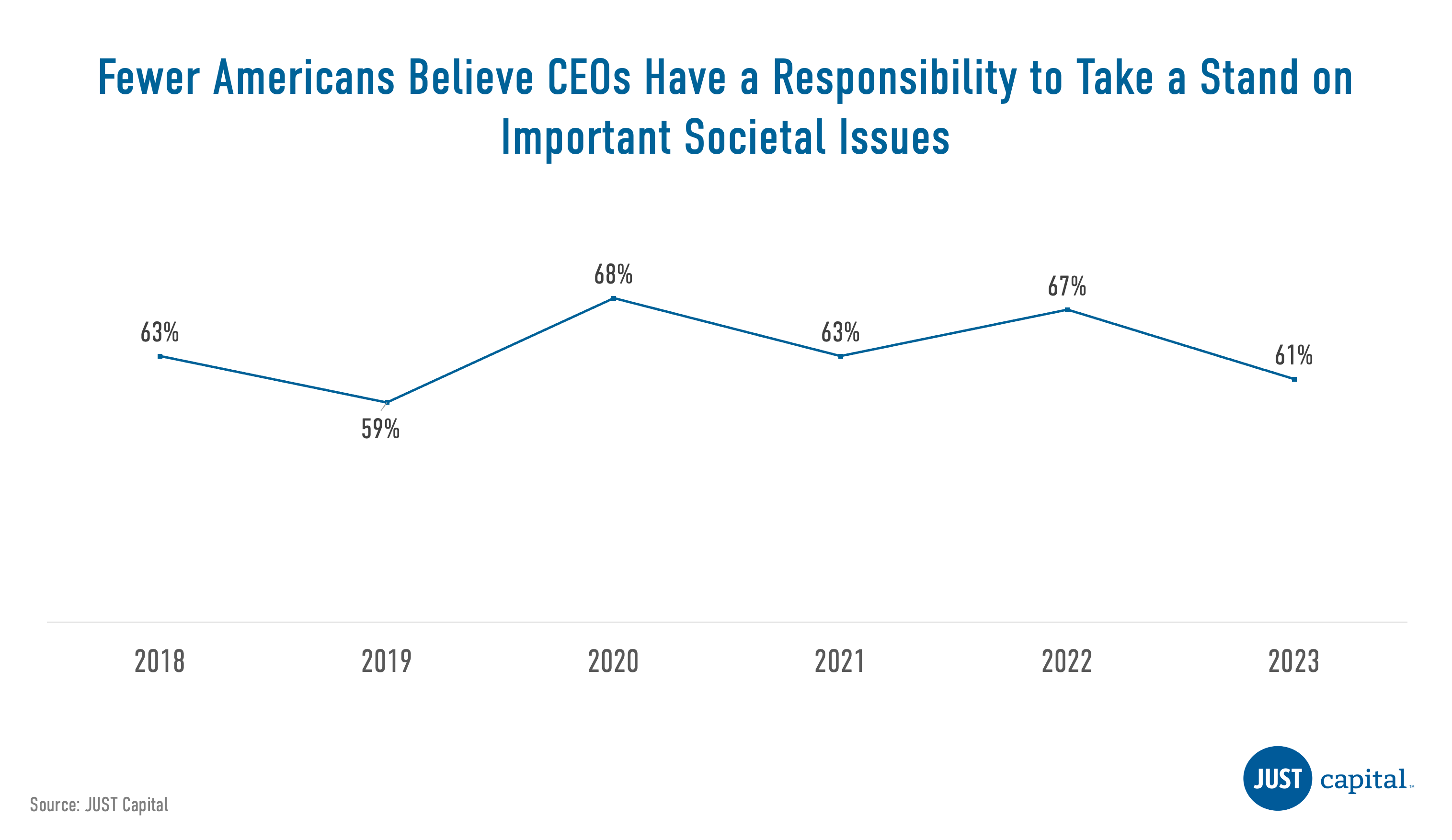 This year's decrease could be reflective of the current "war on woke" and its implications for leaders across political and economic arenas. And indeed, we see significant differences when looking at this question across political breaks, with far fewer Conservatives agreeing CEOs have a responsibility to take a stand (43%) compared to their Liberal (79%) or Moderate (67%) peers. We saw similar proportions last year, with the exception of Moderates, who are less likely to say CEOs should take a stand than they were in 2022.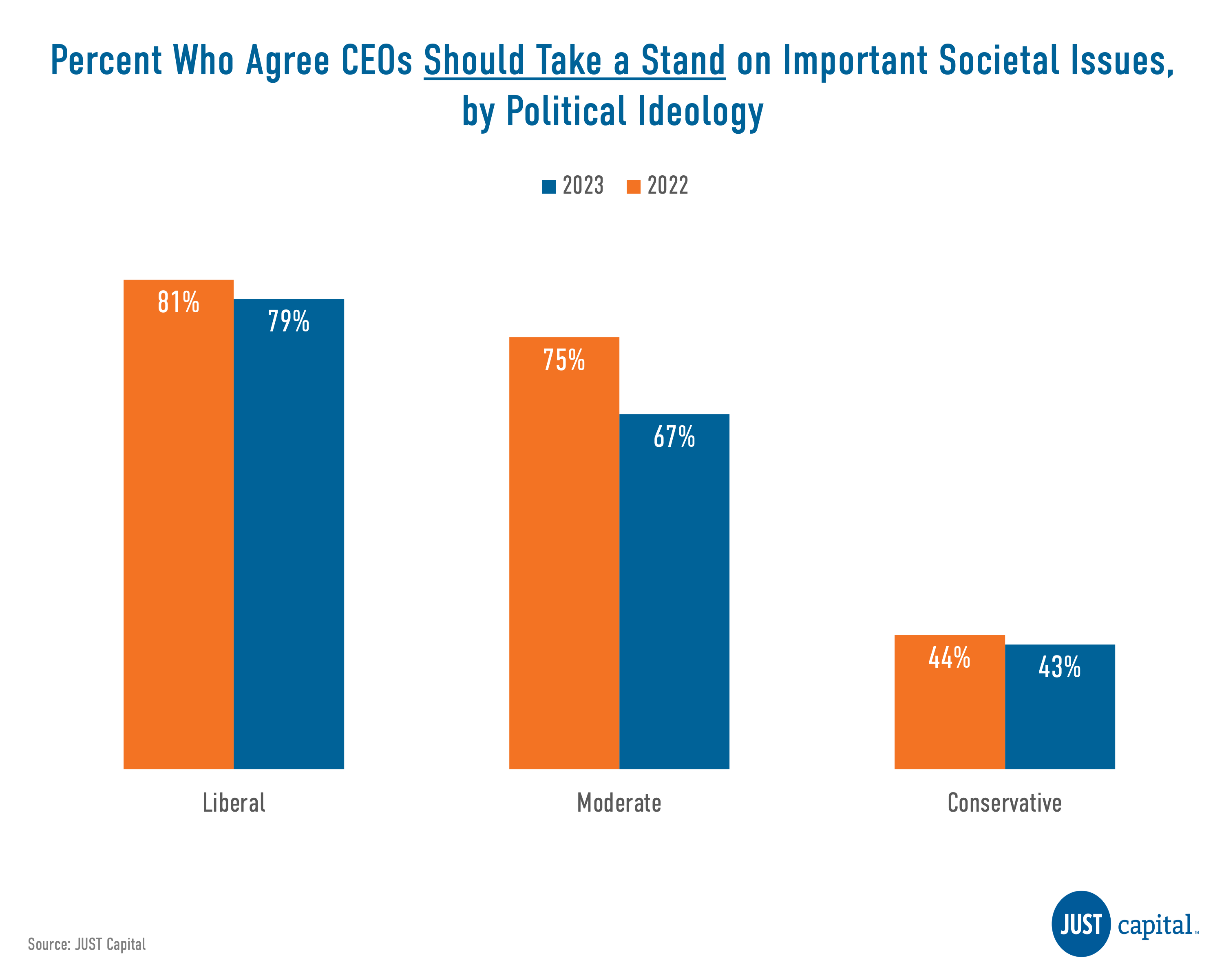 Unfortunately, today's divisive political landscape has put corporate leaders, and their efforts on issues from DEI to ESG, in the crosshairs of leaders in one or both political parties. These ideological divides seem to be shaping the public's views in 2023, leading fewer Americans to be in favor of corporate leaders speaking out.
Interestingly, when we look more closely at those who say CEOs do have a role to play speaking out, the belief that CEOs should "stick to" issues that are directly related to their business — rather than any issue — has grown by double digits in the past three years, from 32% in 2020 to 47% in 2023.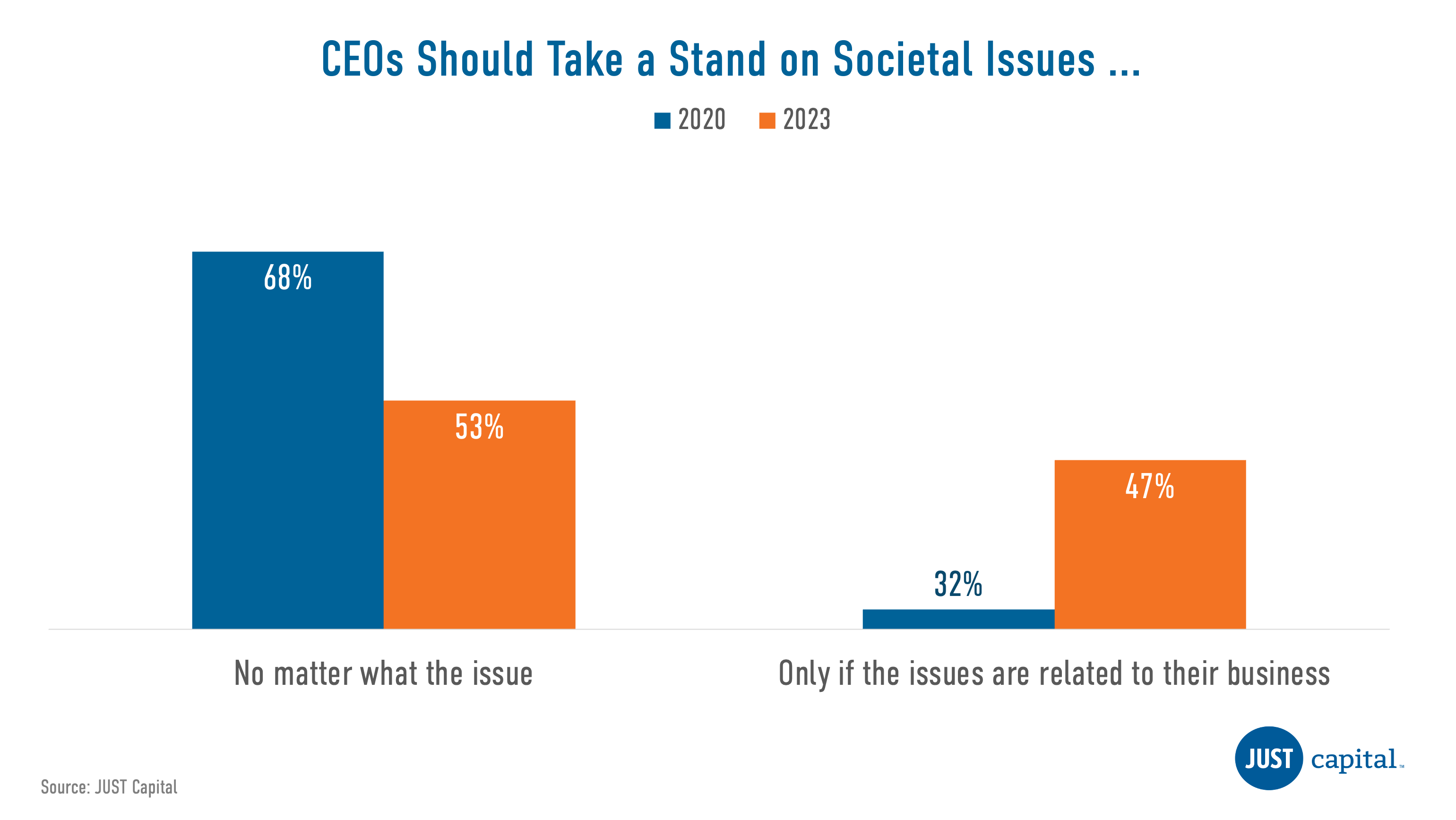 Looking at the responses by political ideology, there is an even starker divide on this question. Respondents who identify as Liberal are far more likely to agree that CEOs should take a stand on any issue (58%), versus 46% of Conservatives and 53% of Moderates. We see almost an exact flip in sentiments for those who believe leaders should speak out "only if the issues related to their business," – 54% of Conservatives, 42% of Liberals and 47% of Moderates.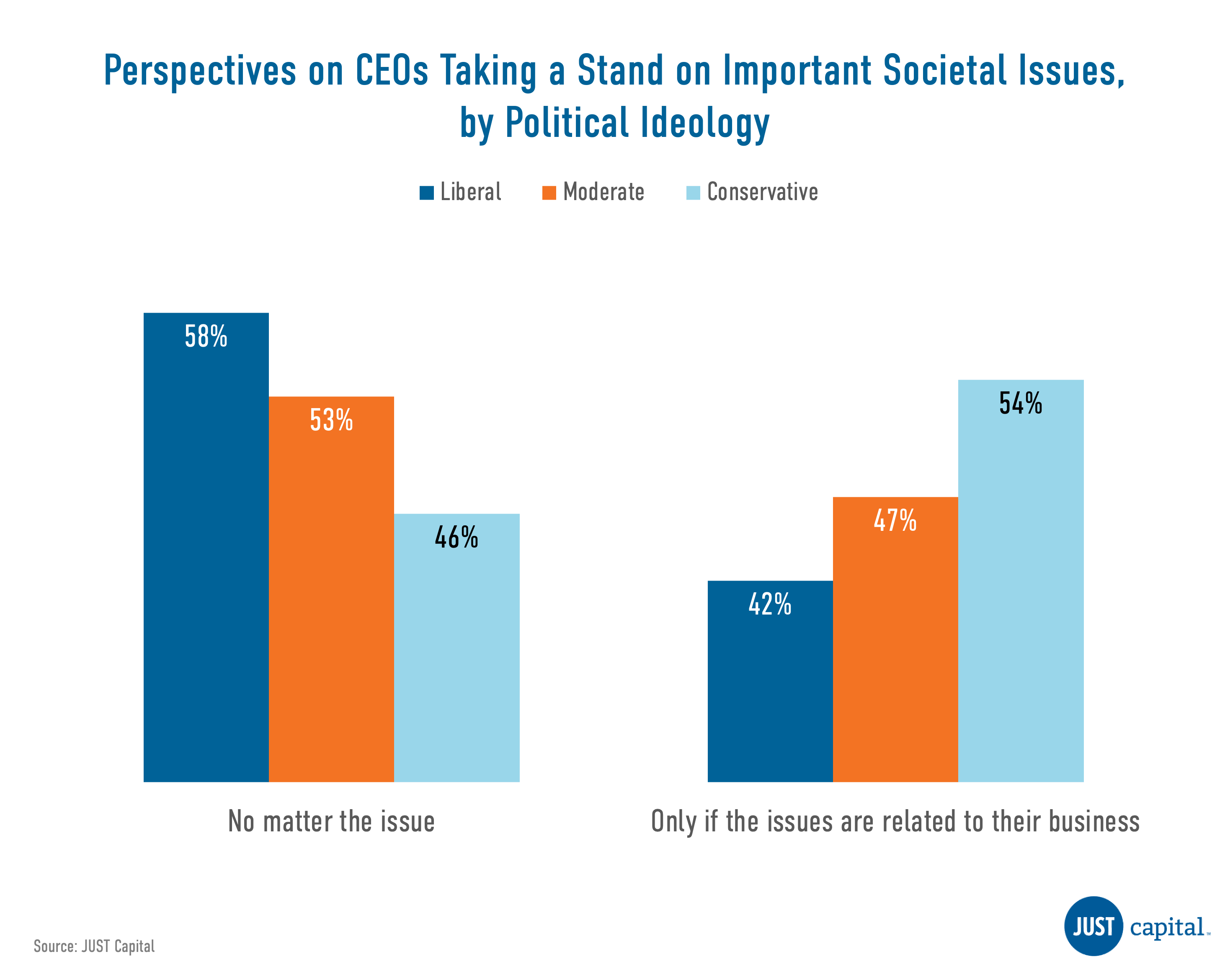 Societal Issues That Americans Believe Companies Should Address
With CEOs under the microscope for their statements on social issues, we can look to the public for important guidance on which social issues need not only their statements of support but their actions. Across ideologies, we see the highest agreement on issues of equity (gender, race, and income), as well as ethical use of AI and maintaining infrastructure.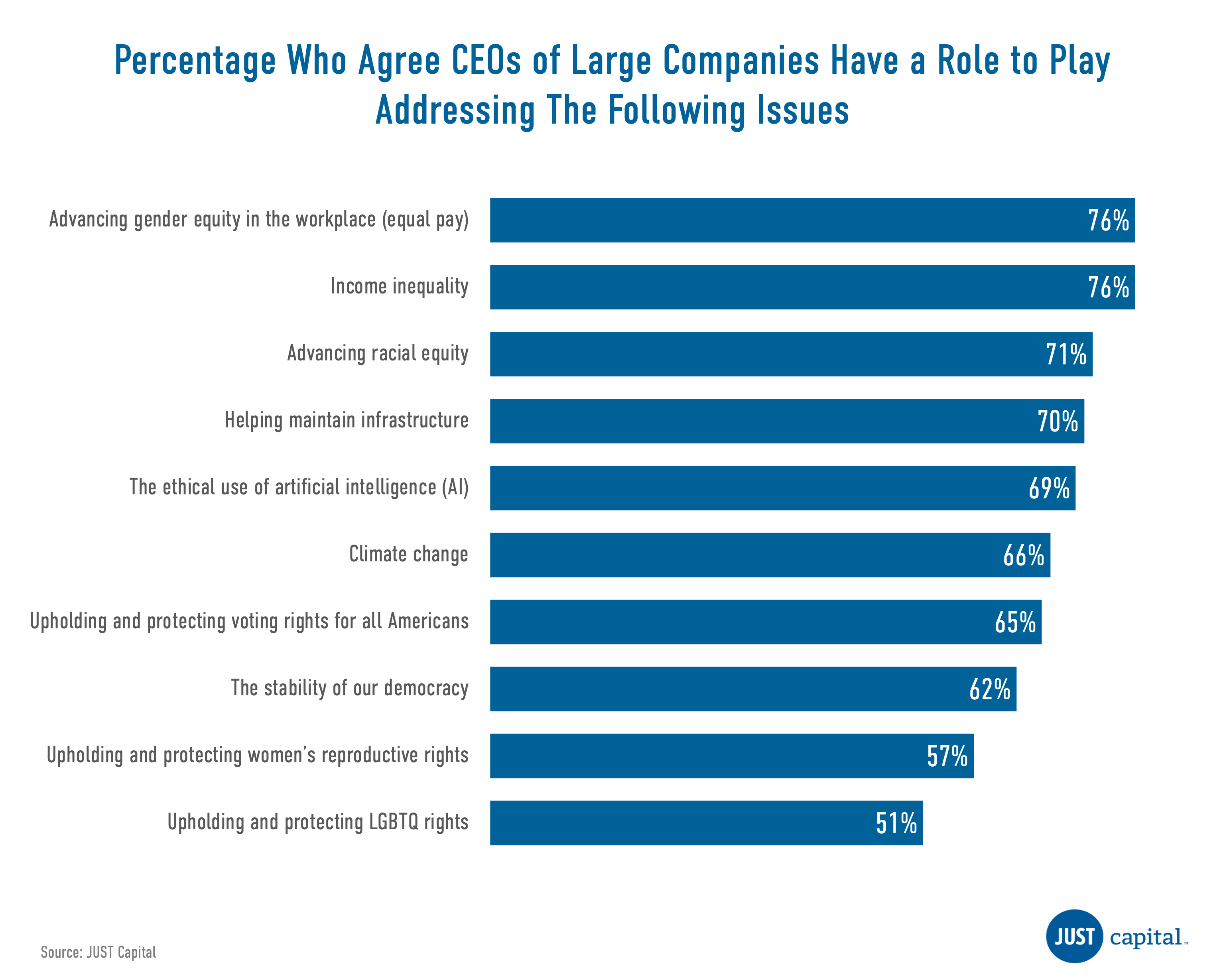 We see greater division on other issues, such as climate change and equal rights (women & LGBTQ) both of which have higher support among Moderates and Liberals, but significantly less among Conservatives.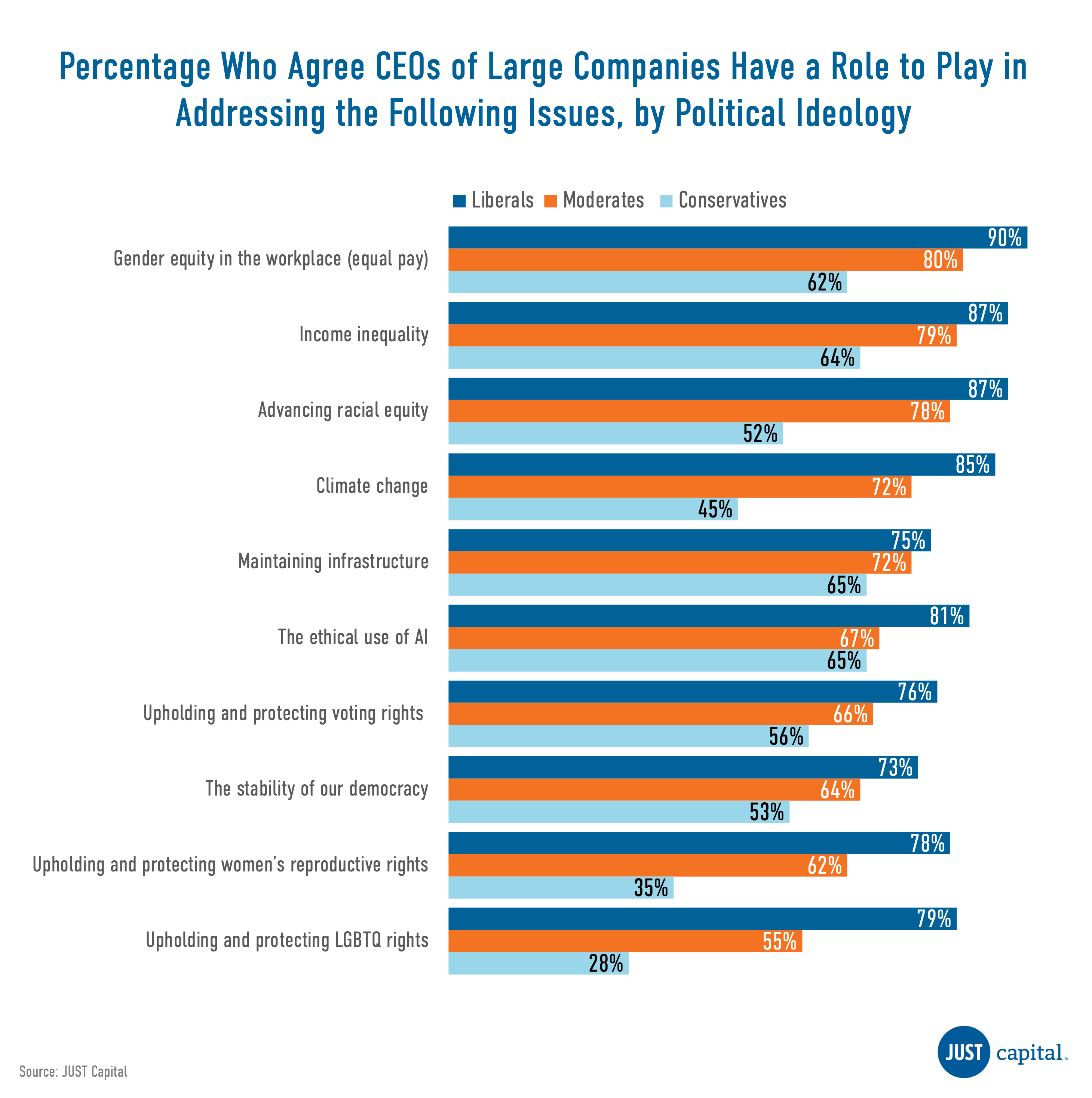 In December 2022, we led a series of focus groups with a cross-section of Americans to gain their perspectives on the mounting ESG pushback. What we found is an ongoing skepticism – in particular, respondents believed that companies were more likely to offer words before deeds and that trust must be earned through action that can be seen and experienced. 
To that end, most participants agreed that it is most acceptable for companies to speak out about issues they can closely tie back to the interests of both their business and their stakeholders. And when companies do choose to speak out, they are perceived as most credible in the eyes of the public when their words are backed by clear action, demonstrating that they are "walking the talk." To be sure, the worst corporate leaders can do is flip-flop on an issue, such as we saw with Disney vs. DeSantis, as 70% of Americans agree this will cause their trust to falter.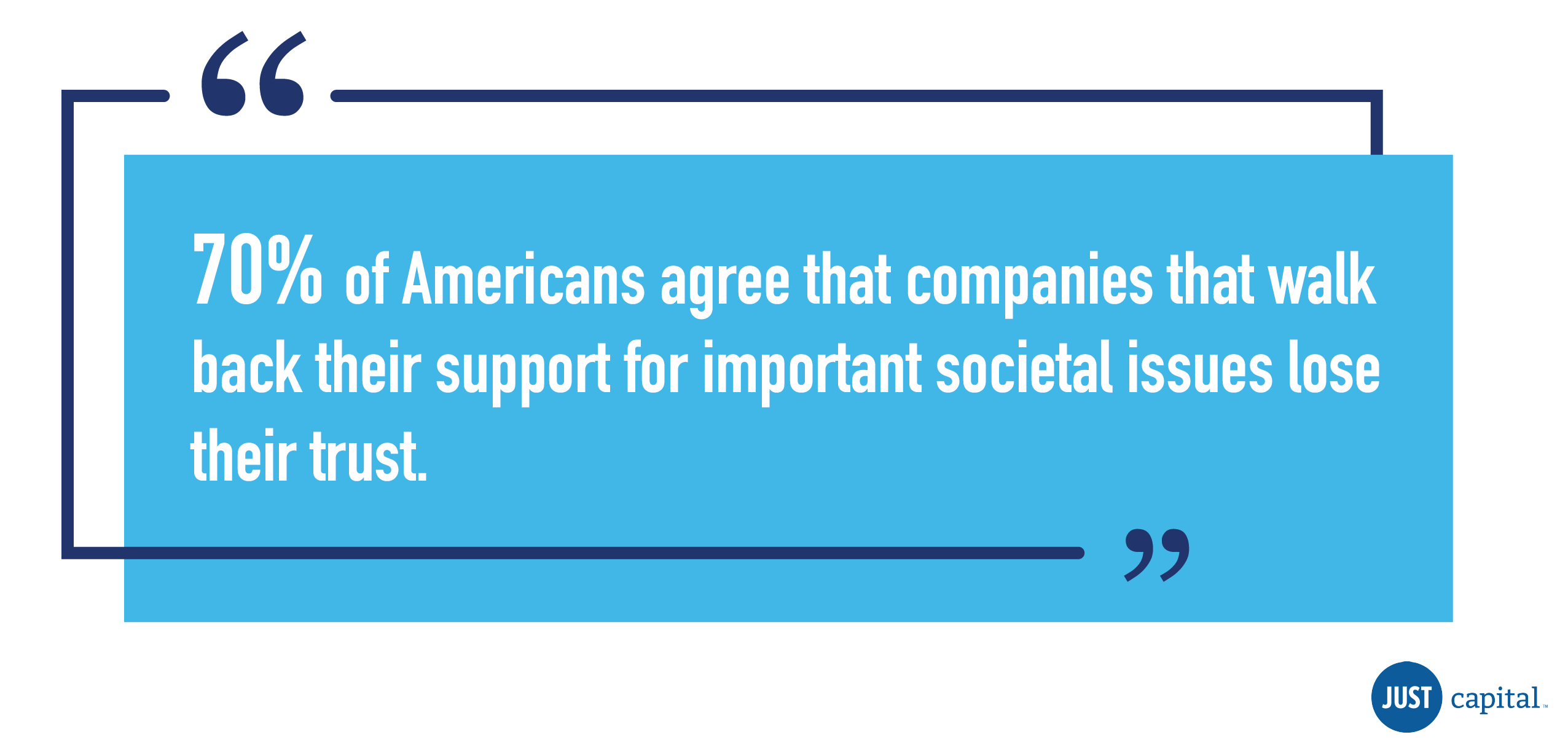 Focusing on the Right Issues Means Focusing on Workers
The public has told us year after year that a just company is expected to prioritize its workers – with Americans agreeing, by significant margins, over the past seven years of our survey research that just companies should prioritize worker issues.
Americans firmly believe that companies that invest in their workers – in particular, by paying a living wage – are more competitive in their industries, better for the economy overall, and more profitable in the long term. In this survey, we find that Americans again support the idea that the utmost focus of a just company should be its workforce, and specifically with regards to wages, where we see 80% or more Americans agreeing with the following statements that focus on worker issues: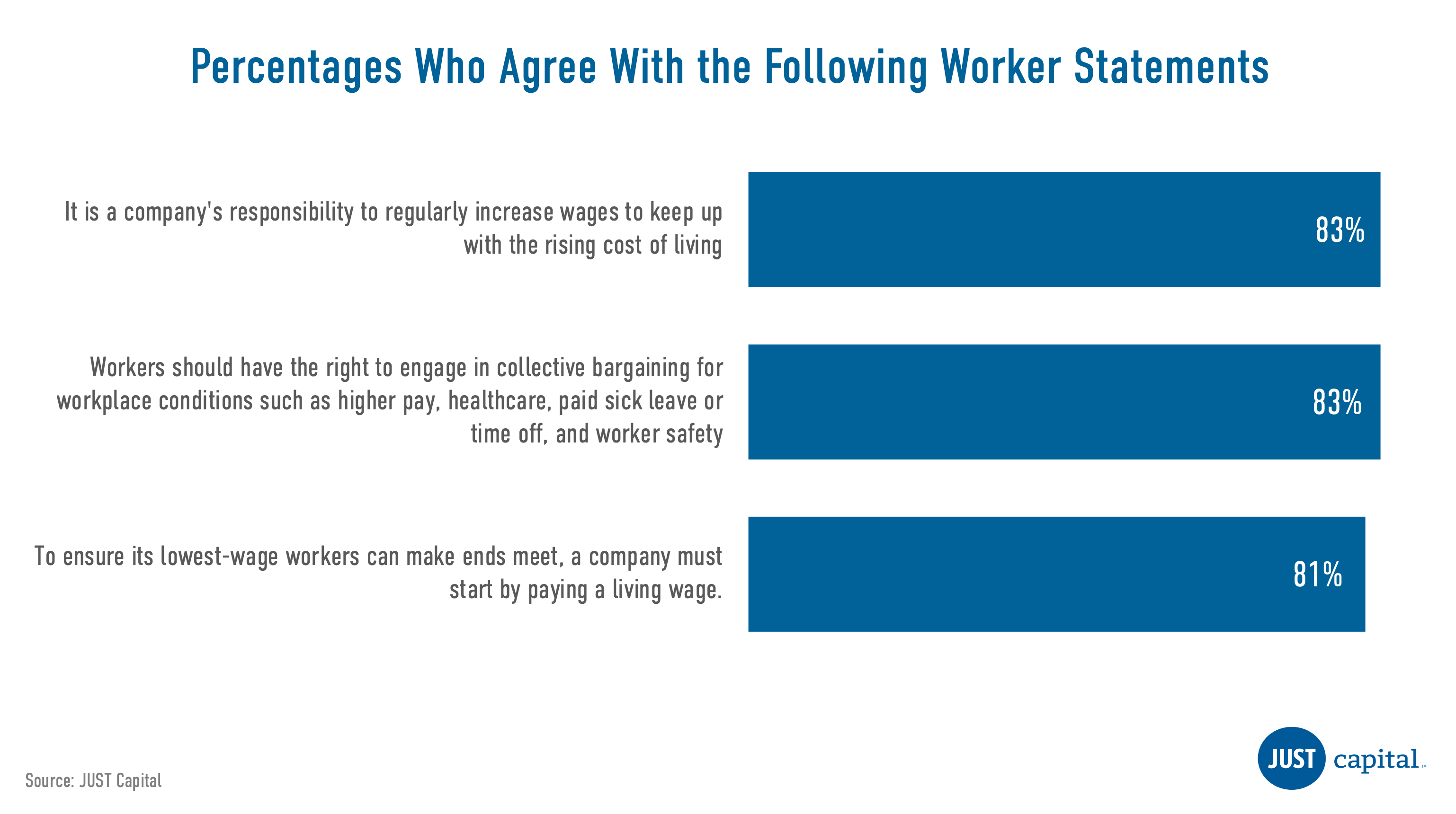 What's more, there is remarkable consensus on these issues when looking across political divides, suggesting that, despite sentiment that the right and left are polarized, there is agreement that America's largest companies should prioritize their workers, specifically by paying a living wage.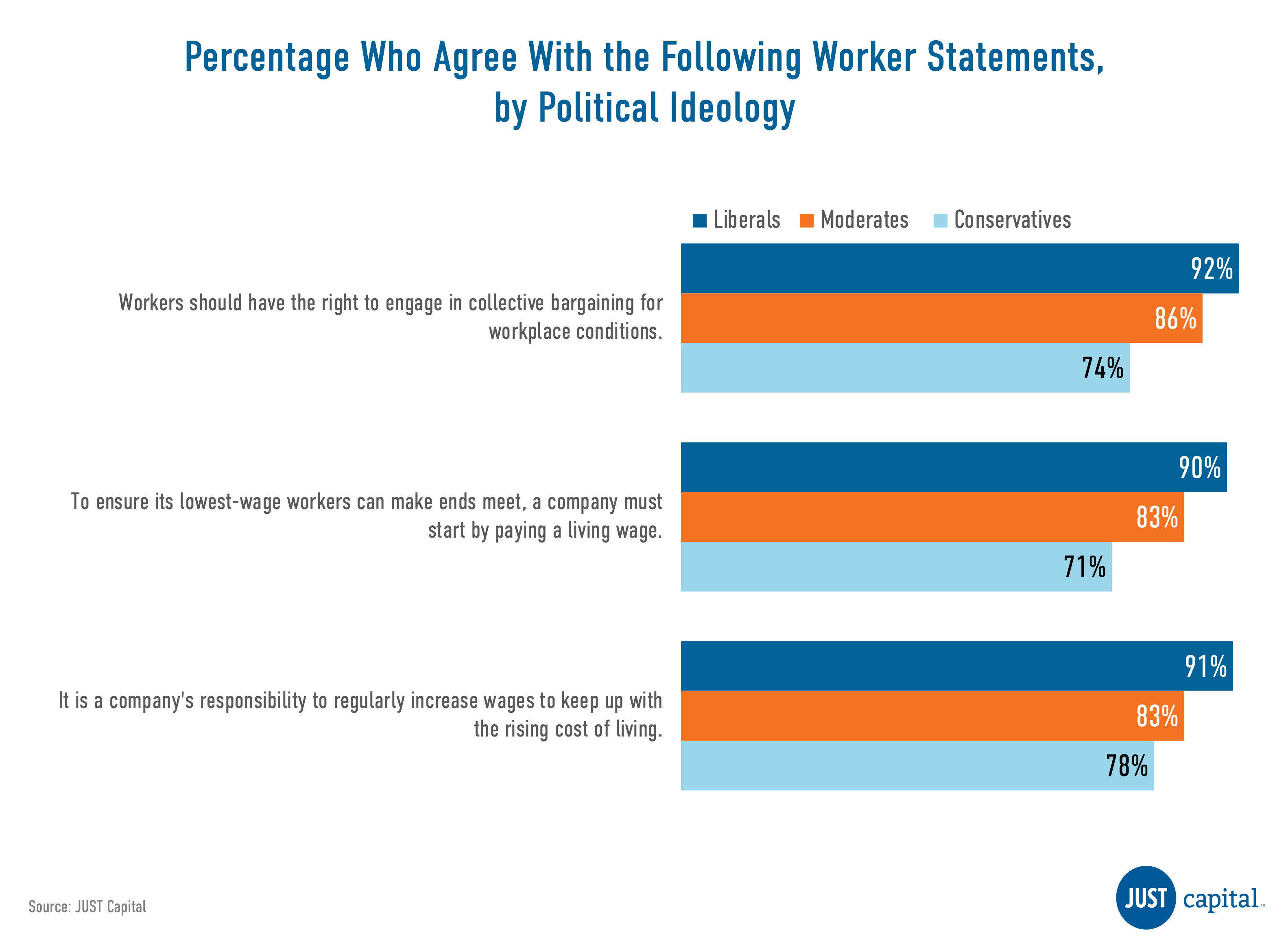 In a year where workers across sectors took to the picket lines, we saw support for the labor movement continue its forward momentum, with majorities from every political party (92% of Liberals, 86% of Moderates, and 74% of Conservatives) in support of collective bargaining. This is supported by recent polling from Reuters/Ipsos, where 70% of Americans say they believe that organized labor still has a place in the American economy, and additional polling that shows voters on both sides of the aisle supporting the UAW strikes. Despite the seeming polarization of this issue – and its centrality to today's political discourse – Americans see more or less eye to eye, regardless of their broader ideological views.
Despite Affirmative Action Backlash, Americans Want to See Corporate America Do More to Advance Racial Equity
Following the rise of the Black Lives Matter movement in 2020, we saw many companies make serious commitments on Diversity, Equity, and Inclusion – and we've been tracking whether companies are making good on these commitments along the way. And we've seen corporate America begin to make good on these commitments, with a recent Bloomberg report finding that, of the 300,000+ jobs added by the S&P 100 in 2021, 94% went to people of color.
Still, In the past year we've seen a mounting backlash against not only ESG but against corporate DEI efforts specifically, emerging from the Supreme Court's ruling on affirmative action. In the face of this growing scrutiny, corporate leaders are continuing to quietly back efforts to increase racial representation, in favor of more explicitly speaking out on their actions. 
This hushing-up may be shifting Americans' views on corporate diversity efforts, as we see 44% agree that companies are not doing enough today to hire and promote Black Americans in the workforce, a number that rises to 77% among Black Americans.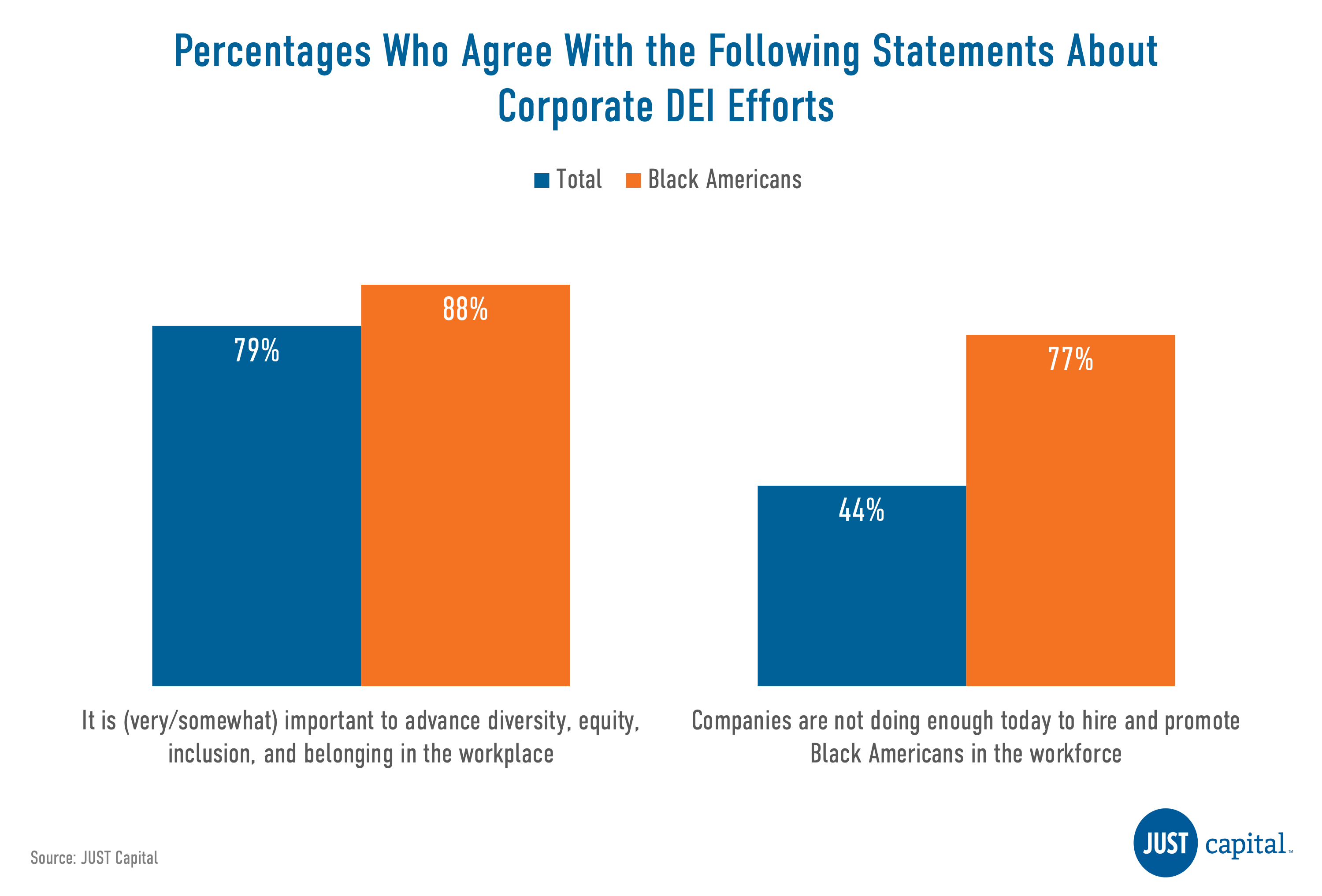 This is consistent with our previous findings, which also suggests that corporate America simply still has a ways to go to meaningfully advance racial equity. It remains to be seen how the DEI backlash will impact these initiatives over the long term, and we will be continuing to track both public perception and corporate commitments on DEI in the months and years to come.
Americans Still Believe a More Just Capitalism Is Needed
In 2022, we heard from 68% of Americans that "our current form of capitalism is not working for the average American," the highest percentage we've seen in our years of polling. This year, we've seen the public start to feel more positively on this issue, though a majority (62%) is more negative than positive by a margin of two to one.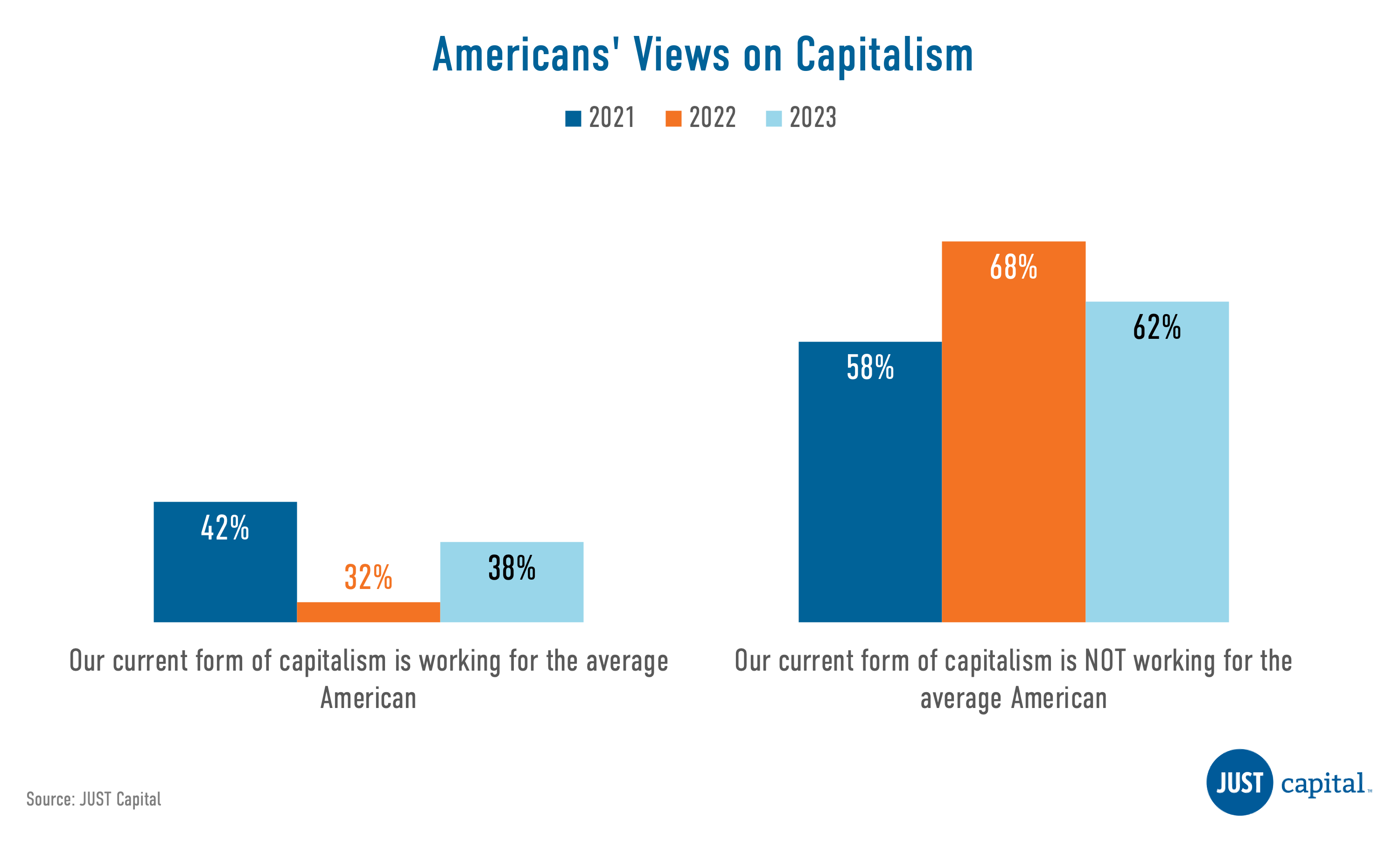 We see this progression across multiple demographic divides. Although all groups are more likely to agree that our current form of capitalism is not working for the average American, the public is feeling a little more sanguine about the economic model, as the proportions who say capitalism is working are on a positive trend across the board.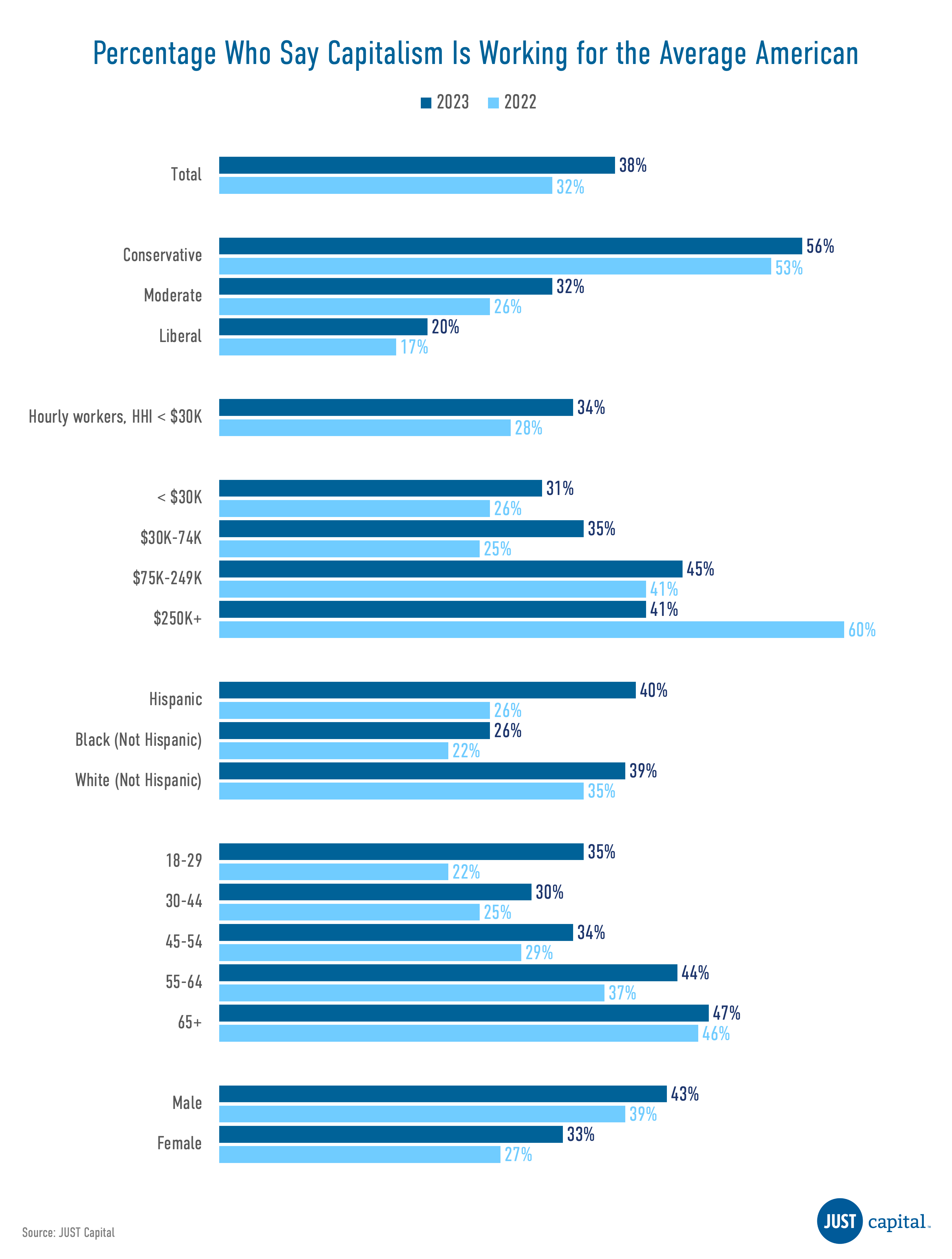 The only exception is those in the highest income range. Americans' largely unified perspective is likely driven in part by the mounting calls to increase the federal minimum wage to $15/hour – something that could potentially impact the lives of 32 million workers – bolstered by the states that have already increased wages from $7.50/hour.
Americans Believe Their Actions Can Help Shape a More Just Economy
In light of Americans' overall dissatisfaction with our current form of capitalism, an important question is how and whether they themselves can do anything to help turn the tides. We asked respondents whether they would take positive action in supporting companies that are more just, and as we've heard in years past, two-thirds or more said that they would either accept less pay in a new job at a just company, and/or pay more for a product made or sold by a just company.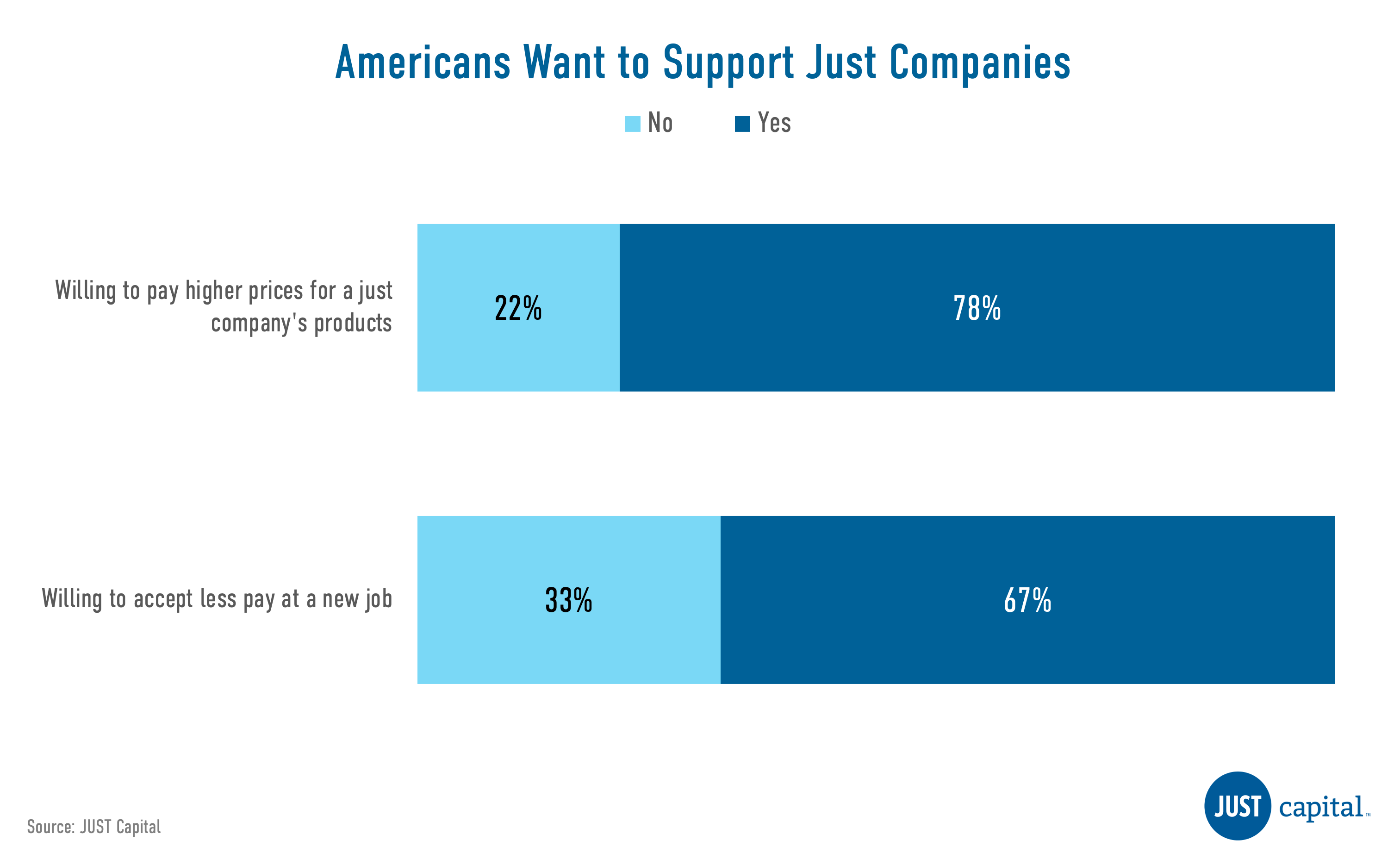 This comes at no surprise when we see that 85% of Americans believe that their own actions can shape the future: a level double-digits higher than when we first asked this question in 2017.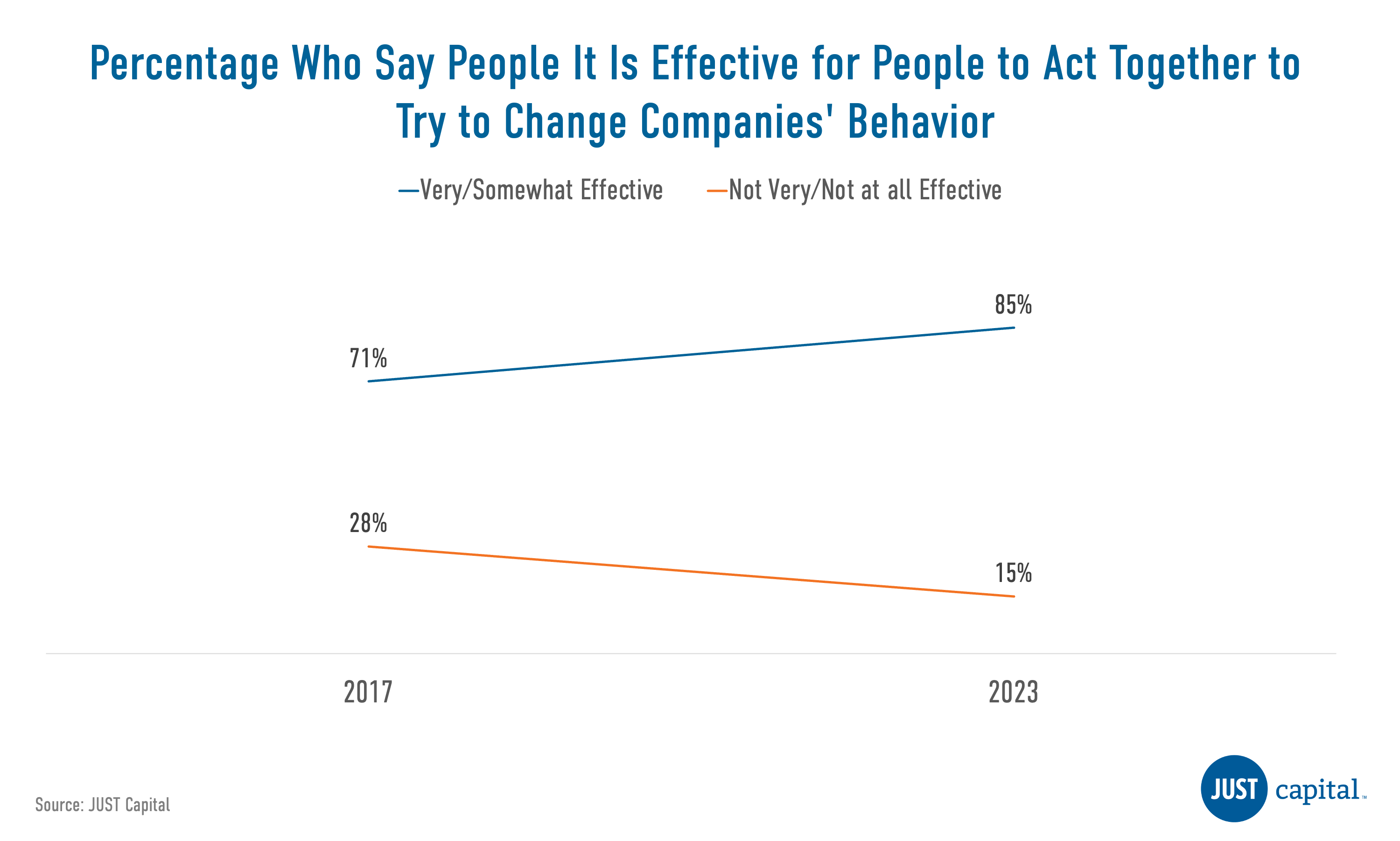 That Americans have strong opinions about large U.S. companies may be attributable to the degree to which the public is informed about corporate activities and behavior, which has grown substantially (29% are "informed" or "very informed" in 2023) in the past three years (18% in 2020).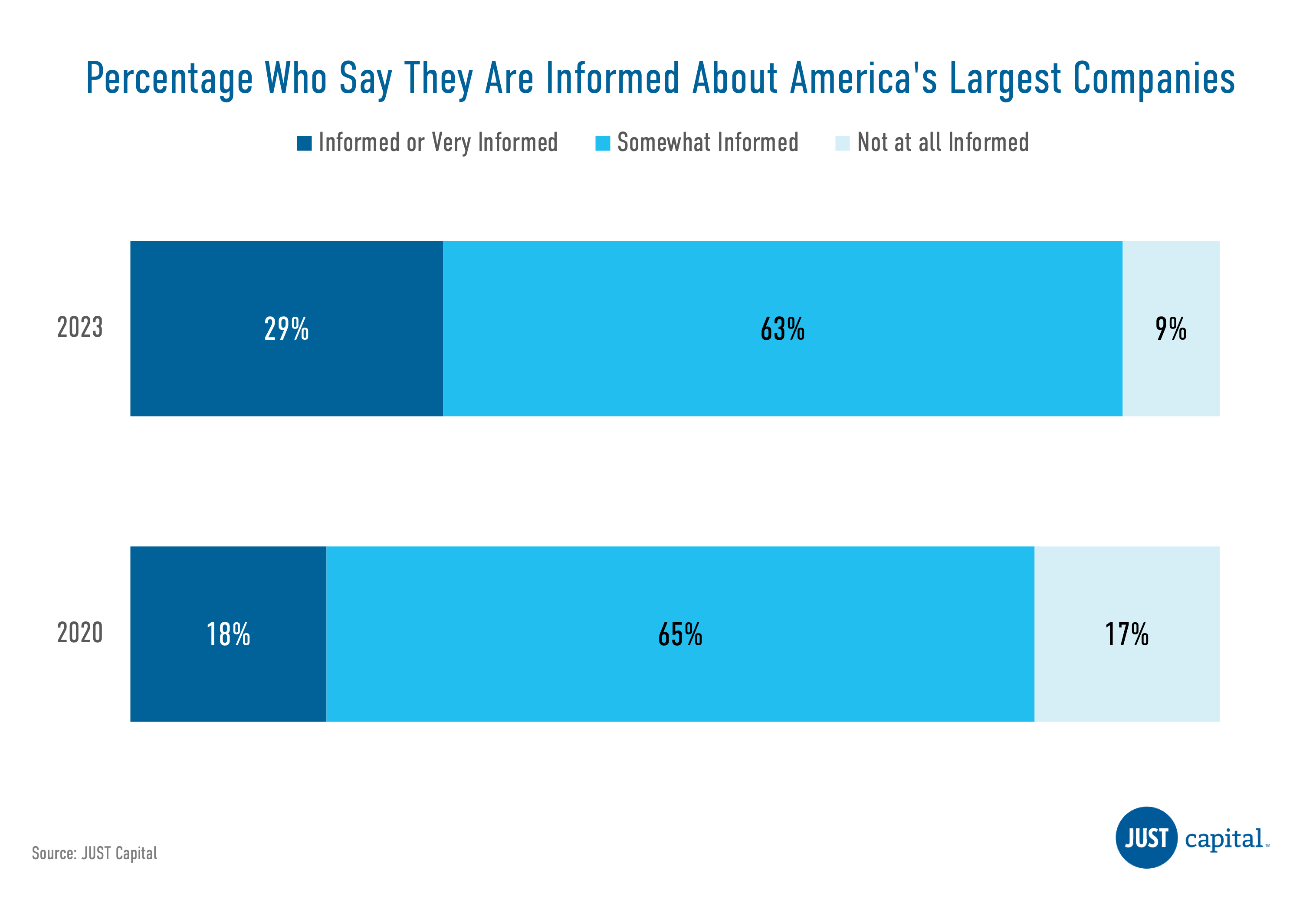 Moving Toward Greater Trust Through Action
As corporate America faces mounting backlash on corporate leadership in the public square, it's increasingly clear that statements of support, commitments to change, and talk about commitments isn't cutting it. And while the public may be less interested in seeing CEOs speak out on major societal issues, those issues are no less important to them. According to this year's survey, the public is looking for concrete action on the issues they consider most important – issues like providing equal pay, creating quality jobs, and ensuring the financial well-being of their lowest-paid workers.
It's possible companies may have been underestimating the strength and resolve of the American worker in recent decades, but we're seeing labor unions and organizers begin to turn the tide in their favor as employers come to the negotiating table ready to meet their calls for change. There's still a long way to go – as the American people have told us, they're not seeing that change just yet – but corporate leaders have ample opportunity today to begin to win back the trust of the public.
As we've heard again and again in our years of polling the public, the clearest way to do exactly that is by focusing on workers – by paying a living wage, providing good benefits, ensuring career advancement opportunities, prioritizing health and safety, and creating a diverse, equitable, and inclusive workplace.
In December we will be release the findings from our companion Issues Report survey – The People's Priorities – which will complement the Americans' Views on Business survey by providing a detailed roadmap for corporate leaders looking to understand how the public prioritizes the major issues facing our society today.
Going forward, corporate leaders must consider how they can stop "talking the talk" and begin "walking the walk." This survey – and more to come – emphasizes that the most crucial next step is to put workers at the heart of just business practices, not with words but with actions.
For additional resources on where to get started, visit:
Methodology
We conducted this survey online with a probability-based sample attained through the exhaustive statistical sampling methods employed by SSRS. The SSRS Opinion Panel is a nationally representative probability-based web panel, and findings are generalizable to the general adult population.
The full survey was conducted from June 23 to July 5, 2023 among a general population sample of 3,001 English- and Spanish-speaking U.S. adults 18+ years of age, with an oversample of 590 Hispanic and 411 non-Hispanic Black respondents. Panelists were sent an email invitation to take the survey online as well as up to eight reminder emails throughout the field period. The survey program was optimized so that respondents could complete it using a desktop or laptop computer as well as a mobile device. In total, 900 respondents completed the survey on a computer and 2,101 completed it on a mobile device.
The margin of error is +/- 2.2% at the 95% confidence level. Results were weighted to U.S. Census parameters for age, gender, education, race/Hispanic ethnicity, and Census Division to ensure representativeness of the U.S. population. All margins of error include "design effects" to adjust for the effects of weighting.