The JUST Report: Never Mind the Politics, Here's What ESG Is Really About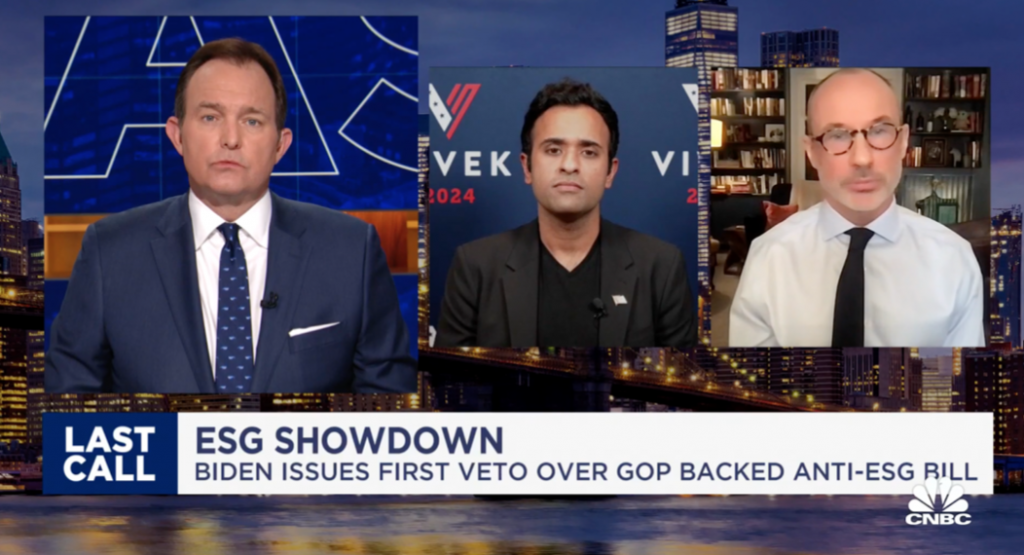 From a markets perspective, ESG is about understanding and capturing emerging risks and opportunities. It's not a dogma, or a monolith. It can be interpreted and applied in different ways. It can be done well or poorly. It comes with no guarantee of financial performance or underlying societal impact. And it isn't – or shouldn't be – about politics. Such were the points I made speaking with GOP presidential candidate Vivek Ramaswamy on CNBC's Last Call this week and in a statement we released about Biden's use of the Presidential veto on ESG legislation.
Companies typically see leadership on the issues underlying ESG as making them better. Our data supports this view. Last week we released 19 new index concepts featuring top companies across issues like workers, wages, and DEI. All of them have outperformed their benchmarks. At our JUST Leadership Summit last week, executives shared how just job strategies have helped build long-term company resilience. And as Roosevelt Giles, JUST Board member and governance expert, describes in a recent article for Nasdaq's Center for Board Excellence, boards are becoming more agile, more adaptable, and better prepared to meet growing challenges ahead in part because of stakeholder- and ESG-related drivers.
One such challenge that many may still be unaware of is the new European Corporate Sustainability Directive (CSRD), which will require disclosures on key stakeholder issues for every U.S. company that has a European subsidiary, or does business/has employees in the EU at a certain scale. Speaking at an Enterprise Engagement Alliance YouTube event, Wachtell, Lipton's Carmen X. W. Lu said she considers it "an inflection point for stakeholder capitalism."
Be well,
Martin
Rankings Spotlight – Three Companies Raising the Bar on DEI
Leadership on DEI is something every company is grappling with. In this week's list, we spotlight how three companies are creating JUST Jobs by raising the bar for themselves and all those around them on DEI.
Accenture – ranked 4th in the 2023 JUST 100 and tied 12th on DEI specifically – conducts and reports the results of gender and racial pay equity analyses annually, reaching 100% racial and gender pay equity in 2022. It also reports that 50% of board seats and 45% of revenue-producing roles are held by women, making it a true leader.
Intel – ranked 9th in the 2023 JUST 100 and tied 12th on DEI – is one of 323 companies in the Russell 1000 to publish its EEO-1 report. In 2022, Intel reported doubling the number of women in senior leadership positions and reaching 11% representation of Black employees in senior, director, and executive roles –surpassing its original goal of 10%.
Starbucks – ranked 46 in the 2023 JUST 100 and 1st on DEI – is a leader on pay equity, having reached 100% gender and racial pay parity in the U.S. in 2018 and maintaining this as of 2022. Starbucks is noted for its policies to help hire veterans, formerly incarcerated individuals, and young people who face systemic barriers to jobs and education.
Here's a snapshot of their performance from our upcoming JUST Jobs Scorecard :"compare" tool. Russell 1000 business leaders can sign up here to attend an introductory webinar on April 4 and receive updates about accessing their company Scorecard.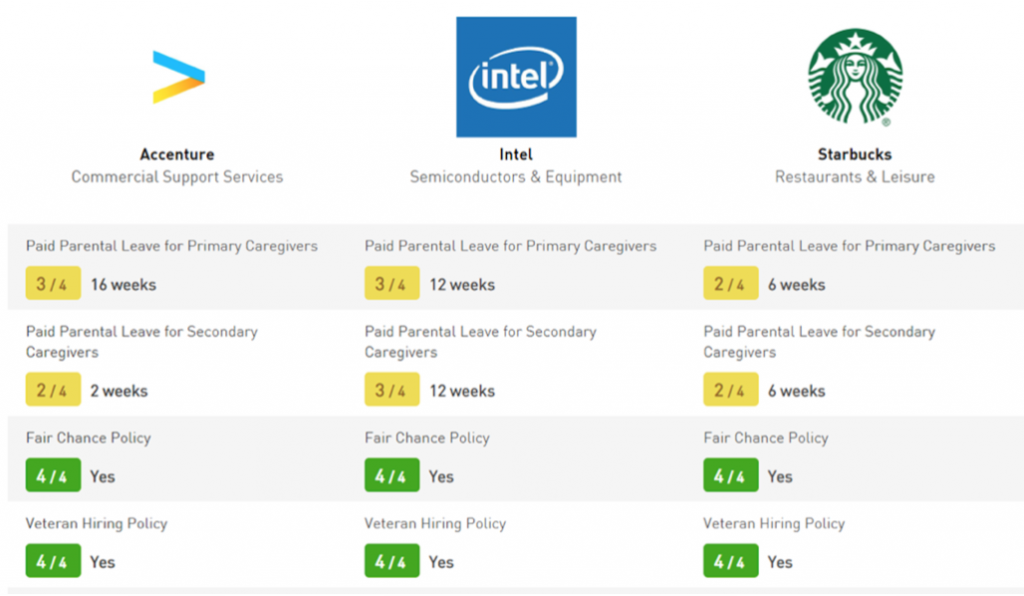 This Week at JUST
Two Sigma, Verizon, Mastercard, and Hershey spoke at the JUST Leadership Summit on how they're prioritizing JUST jobs in a time of great economic uncertainty. We released some top insights from their conversations to spotlight how a focus on job quality is "helping build better companies."
We also heard from AEP and Nike at the Summit on how transparency, collaboration, and a people-centric focus drive their approaches to sustainability, with key insights from their conversation here.
Martin appeared on CNBC's Last Call with Vivek Ramaswamy to discuss President Biden's first veto, on ESG. We also released our perspective on the politics of ESG.
We released 19 new index concepts, featuring the top-scoring companies in our Rankings on everything from wages to climate change. Every one of them has outperformed its benchmark.
With Ford Foundation, we announced the winners of our search for research proposals to advance the field of Human Capital Management (HCM) research. Impact Alpha covered the announcement.
Quotes of the Week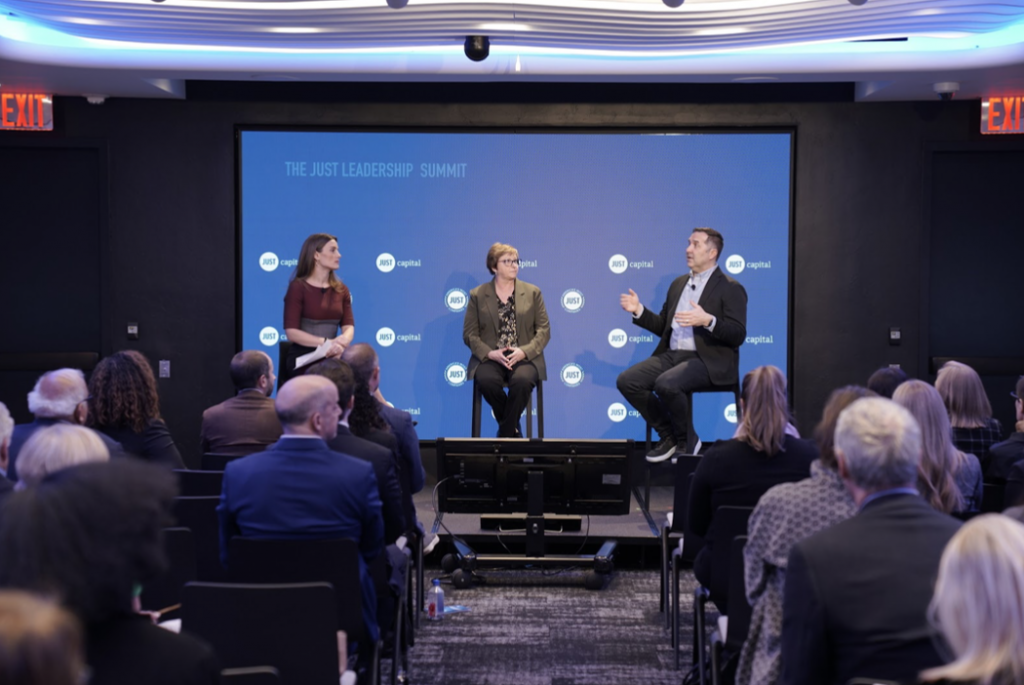 "We have an obligation to continue to show our homework…It's less 'don't talk about.' It's more, 'if you're going to talk about you better prove it.'"
"I see fatigue on one side that 'you're not doing enough, you should be doing more' and then I have another side that says 'why are we even talking about this?'… The common denominator between everyone is that they want meaningful work …. And so everyone in our organization from the CEO to an analyst is also contributing to that goal."
Randall Tucker, Chief Inclusion Officer at Mastercard, on the company's work to tie ESG goals to compensation for all employees.
"As people learn more about how to measure the cost of turnover or not actually developing anyone in your workforce and having to hire from the outside every time…and really understand the engagement of your workforce and productivity measures, once people start learning about those things you kind of can't not look at it again."
Must-Reads of the Week
"We don't believe that purpose and profit are enemies." Mars' CEO spoke out in the Financial Times against the "nonsense" attacks on corporate ESG, and how the companies fighting back will only push away young employees.
Fortune reveals that more employers are shifting resources to benefits that will help keep talent amid an ever-tight labor market – ones focused on financial wellness.
CNBC reported on companies navigating haphazard remote work policies, with many settling on 3-days per week in the office out of "magical thinking" around productivity.
According to Fortune, the pandemic significantly shrank America's wage inequality, and the trend may continue.
The Wall Street Journal highlighted the coming avalanche of sustainability shareholder votes in 2023.
Chart of the Week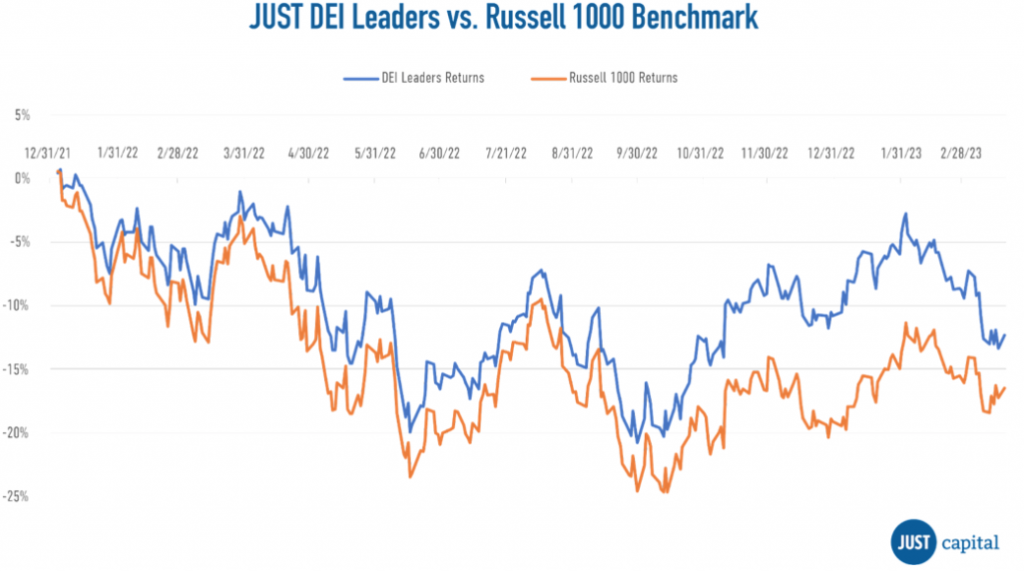 Our DEI Leaders Index Concept was revealed on CNBC's Squawk on the Street last Friday. This index tracks the financial performance and social impact of the top 20% of companies in our Rankings that outperform when it comes to diversity, equity, and inclusion metrics. Since Inception through March 20, it has delivered 4.15% alpha compared to its Russell 1000 benchmark, and the companies featured are:
147.6% more likely to disclose pay gap analysis results.
101.9% more likely to pay a family-sustaining living wage.
26.3% more likely to disclose workforce demographics.