The JUST Report: Is Ohio A Turning Point for the Railroad Industry?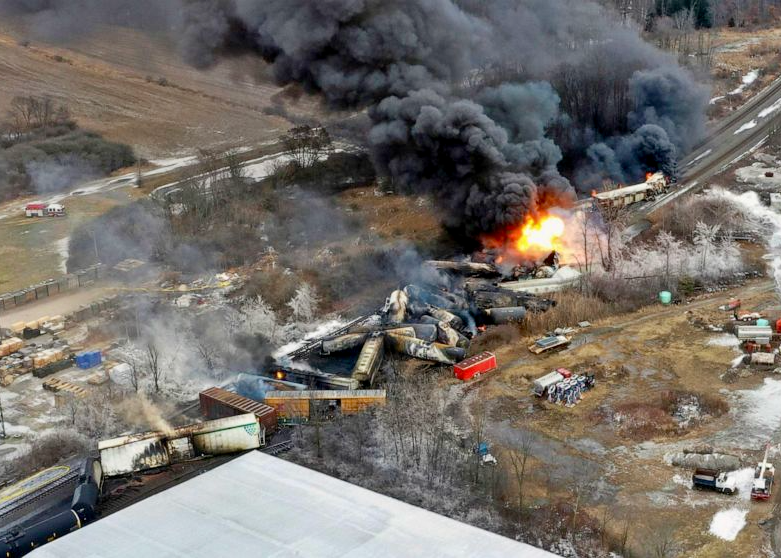 The derailment of the Norfolk Southern Corporation freight train 32N in East Palestine, Ohio on February 3 is turning into a stakeholder disaster of the highest order and, I suspect, a defining moment for the industry.
Environmentally, the consequences are undoubtedly serious and long-term. Vinyl chloride (the train's cargo) is a particularly hazardous chemical that is not easy to remediate and presents genuine dangers to human health. To the East Palestine community and its surroundings, the effects have already been devastating and look to be equally enduring. For Norfolk Southern – which lags the other rail companies in our Rankings across the board, and is in the bottom half of companies in the transportation industry overall – it is a major test of leadership and accountability.
Train derailments are not uncommon, and thankfully the Ohio accident did not result in any fatalities. It is notable, however, for its impact on a residential community (which is rare) and in the larger context of a debate that's been going on in the industry for over a decade. Many are pointing the finger at the industry's singular focus on operating ratio and Precision Scheduled Railroading, which has led rail operators to essentially transport more freight using longer trains, tighter schedules and fewer workers, who must in turn contend with irregular schedules and little time off. Profits over people, in other words.
We spoke with Rachel Premack, Editorial Director of FreightWaves, whose team closely covers the industry. She explained that the rail companies have done a great job at delivering profits, but that "a lot of workers would argue that this chase for profitability has been at the expense of safety, and a lot of rail customers would also argue that this chase for profitability has been at the expense of customer service."
Like the Bhopal chemical plant disaster in India in 1984, or the Exxon Valdez oil spill of 1989, the Ohio accident is likely to have far-reaching consequences not just for those directly involved, but for the entire freight rail industry, its investors, and the government regulators that oversee it.


Be well,
Martin Whittaker
---
---
JUST 100 Stakeholder Performance Spotlight
This week we're highlighting #4 in our 2023 Rankings of Americans Most JUST Companies – Accenture, which has been a steady presence in the JUST 100 over the years and jumped from #17 to #4 this year. Accenture stands out for its strong commitment to consumer data privacy, limiting its retention of users' personal data and implementing security protocols to notify individuals of unauthorized activity or potential breaches of personal data.
When it comes to environmental impact, Accenture recycles 99.69% of its generated waste, sets a verified 1.5 Degree Science-Based Target, and has committed to reaching Net-Zero emissions by 2025.
It delivers for its workers too, prioritizing diversity by disclosing its 2021 EEO-1 Report and by setting concrete goals to increase the percentages of women, Black, and Hispanic employees in both workforce and management positions by 2025 in the United States.
This Week at JUST
As part of our ongoing efforts to track views on the role of business in society, our latest public opinion research – executed in collaboration with The Harris Poll, Omidyar Network, and The Ford Foundation – asked more than 40 focus group participants to consider if and how companies should align with the principles of stakeholder capitalism, as the dialogue on "woke" companies and ESG investing continues to intensify.
Jennifer Tonti, our Managing Director of Survey Research and one of the report's authors, says she was struck by the ways the participants didn't fall into the lines prominent Republicans and Democrats have drawn over ESG and related business issues. "It was more 'they have every right' to speak out about whatever they want, as long as those issues were relevant to their stakeholders," but participants were largely against corporate political spending. "They could draw a clear line between what's truly 'political' and what is an issue that has been 'politicized'."
Quote of the Week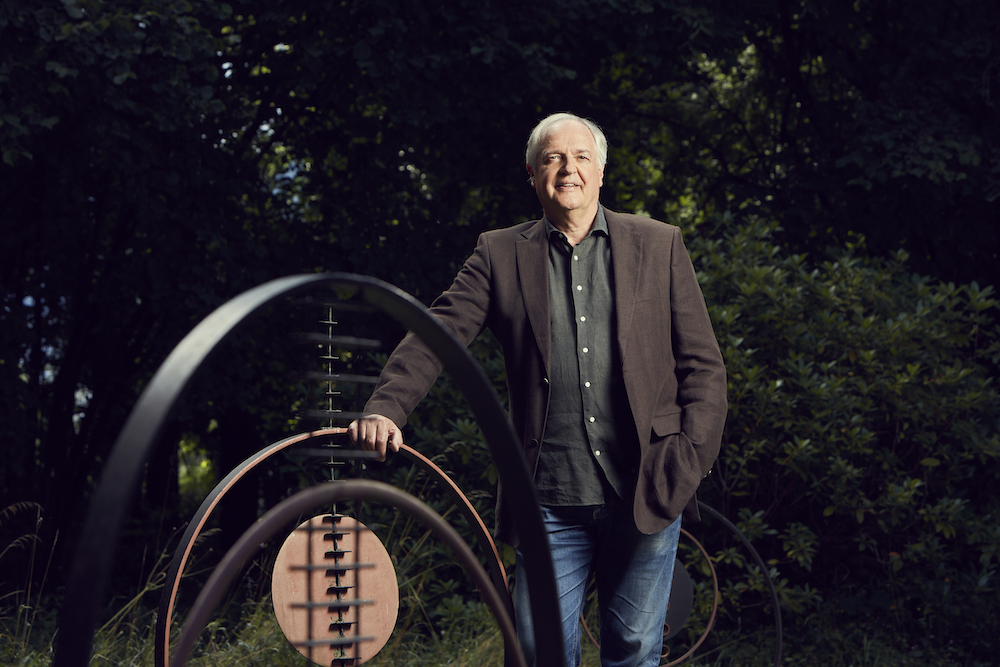 "If I really had to boil it down, I would say: Do whatever it takes to show your employees that you are closing the ambition gap. Of all the insights in the research, one of the most eye-opening is not that people think their companies are doing nothing on issues such as climate, diversity and so on. On the contrary, they see that steps are being taken. But they're still saying: It's not enough. Many people want to see stronger values and bolder, more transformative action on the issues that matter, in order to have confidence that their companies are stepping up."
Paul Polman, cofounder of Imagine and former Unilever CEO, telling JUST what he considers to be the most immediately actionable takeaway from his team's new Net Positive Employee Barometer.
Must Reads of the Week
The backlash to the ESG backlash begins. Semafor, Politico, the Financial Times, DealBook, and Responsible Investor have reported on the failure of campaigns in several states to curtail ESG investing, citing studies that limiting choice for money managers will lead to lower returns and higher costs, and explaining that if an investment is financially sound, investors have a fiduciary duty to stick with it.
In response to the anti-ESG campaigns, Alan Murray at Fortune's CEO Daily says, "​​I still can't find a big company that is backing off its ESG plans." Instead CEOs are "getting better at defining and explaining their policies, both inside and outside the company. And where necessary, they are changing the language they use to defend them."
Fortune reported on a new analysis from our data partner Revelio Labs revealing that recent layoffs have disproportionately affected diversity, equity, and inclusion roles. Revelio's report found that 33% of DEI-related roles were cut compared to 21% of non-DEI roles.
The Washington Post explored women's return to the workforce and found that women are returning to jobs at a higher rate than men and have made up for losses incurred during the pandemic.
Forbes reported on Conference Board data showing an increase in S&P 500 companies that link executive compensation to ESG performance, reinforcing our own analysis of Russell 1000 companies.
Chart of the Week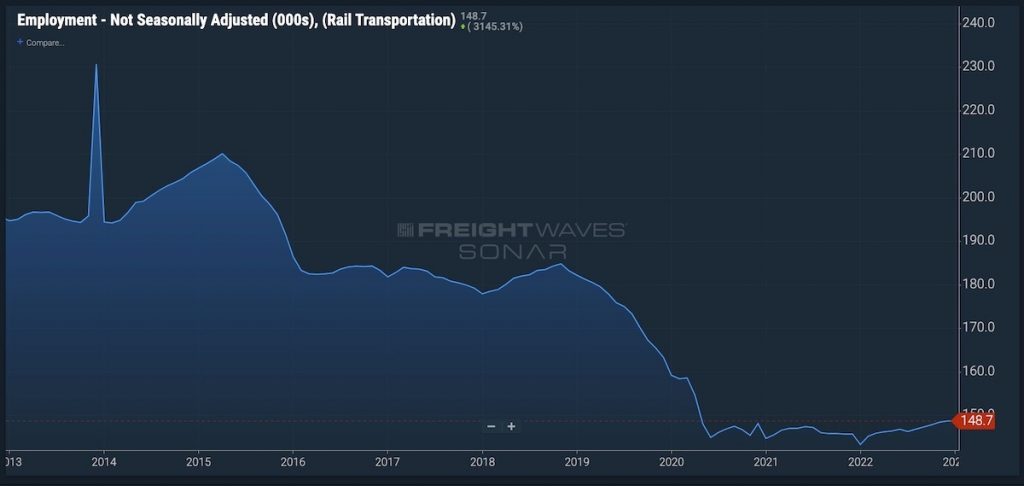 This chart from FreightWaves shows the decline in worker headcount at U.S. Class I railroads (the largest ones) over the past decade, an issue that's been brought into mainstream debate following the Norfolk Southern accident this month. As Martin wrote about above, critics argue that executives aiming for efficiency cut too deep at the expense of safety and service. Regardless, rail companies are now looking to ease up a bit on cost-cutting, and boost headcount and invest in technology that will allow them to increase freight volumes.