Join Us for our July 24 Quarterly JUST Call featuring Bruce Broussard, CEO of Humana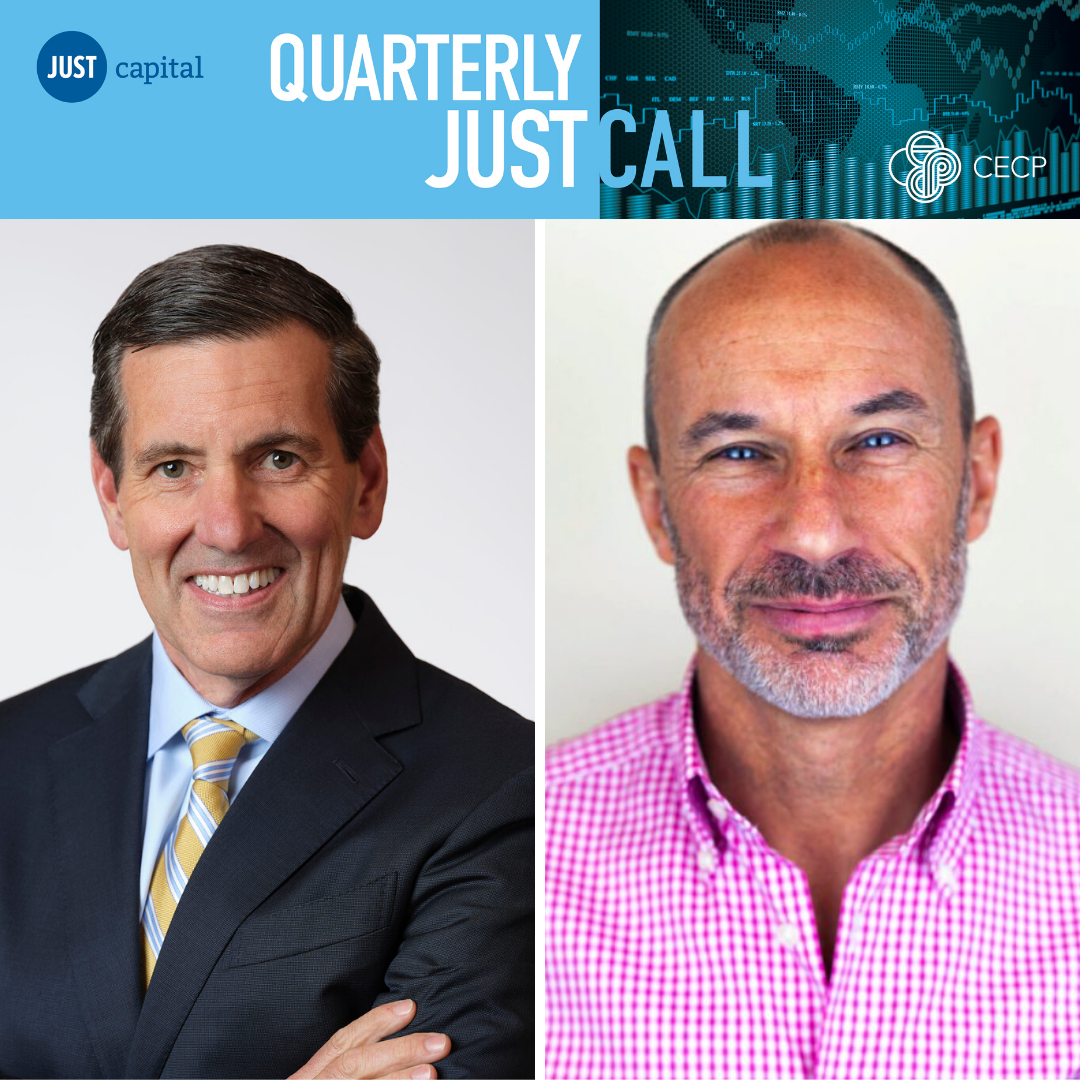 JUST Capital and Chief Executives for Corporate Purpose (CECP) invite you to join us on Friday, July 24, for our latest Quarterly JUST Call featuring Bruce Broussard, CEO and President of Humana.
Tune into an interview with Andrew Ross Sorkin on CNBC Squawk Box in the 7:15-8AM EST window followed by an interactive webcast where we'll unpack Humana's stakeholder performance, long-term plan for sustainable value creation, response to COVID-19, and more.
The Quarterly JUST Call builds on the traditional quarterly earnings call, providing a platform for CEOs to speak directly with investors about the ways in which they are creating value for all their stakeholders – workers, customers, communities, the environment, and shareholders – over the long term. Specifically, it taps into growing demand for investors interested in long-term value creation through the lens of ESG and sustainability, even amidst the crisis.
For the first time, this Quarterly JUST Call is being produced in partnership with CECP's CEO Investor Forum to strengthen C-suite communications about their long-term strategies to create sustainable value creation for both investors and other key stakeholders.
The Humana Quarterly JUST Call Schedule for July 24, 2020: 
CNBC: Tune in between 7:15-8 AM EST for the segment on Squawk Box.

Quarterly JUST Call Webcast: Join the live discussion from 8:15-9:00AM EST.
Humana
Humana Inc. is committed to helping our millions of medical and specialty members achieve their best health. Our successful history in care delivery and health plan administration is helping us create a new kind of integrated care with the power to improve health and well-being and lower costs. Our efforts are leading to a better quality of life for people with Medicare, families, individuals, military service personnel, and communities at large. To accomplish that, we support physicians and other health care professionals as they work to deliver the right care in the right place for their patients, our members. Our range of clinical capabilities, resources and tools – such as in-home care, behavioral health, pharmacy services, data analytics and wellness solutions – combine to produce a simplified experience that makes health care easier to navigate and more effective. More information regarding Humana is available to investors via the Investor Relations page of the company's web site at www.humana.com. 
Chief Executives for Corporate Purpose® (CECP) 
CECP is a CEO-led coalition that believes that a company's social strategy – how it engages with key stakeholders including employees, communities, investors, and customers – determines company success. Founded in 1999 by actor and philanthropist Paul Newman and other business leaders to create a better world through business, CECP has grown to a movement of more than 200 of the world's largest companies that represent $6.6 trillion in revenues, $21.2 billion in social investment, 14 million employees, 23 million hours of employee engagement, and $15 trillion in assets under management. CECP helps companies transform their social strategy by providing customized connections and networking, counsel and support, benchmarking and trends, and awareness building and recognition.
JUST Capital
The mission of JUST Capital, an independent nonprofit, is to build an economy that works for all Americans by helping companies improve how they serve all their stakeholders – workers, customers, communities, the environment, and shareholders. We believe that business and markets can and must be a greater force for good, and that by shifting the resources of the $19 trillion private sector, we can address systemic issues at scale, including income inequality and lack of opportunity. Guided by the priorities of the public, our research, rankings, indexes, and data-driven tools help measure and improve corporate performance in the stakeholder economy. To learn more about how data-driven insights are creating a more just future for capitalism, visit: www.JUSTCapital.com.