JUST's Most Popular ESG Features from 2020
2020 was a momentous year across all areas of our society and economy – and we saw the need for purpose-driven leadership, stakeholder capitalism, and ESG investing grow more urgent, perhaps, than ever before. In addition to record inflows into ESG funds, the coronavirus crisis and our national reckoning with racial injustice underscored the importance of stakeholder capitalism and how markets can be mobilized to create positive societal change and address some of the most critical issues of our time.
In 2020, we launched our Chart of the Week series, which explores how the companies that prioritize all their stakeholders outperform their peers, and held conversations with leading ESG experts to ask what the role investors must play in our society today. Below we revisit five of our most viewed ESG-focused features from 2020: 
1. A Discussion on the Future of ESG 
September 2020
In one of our most popular LinkedIn Live conversations of the year, Martin joined John Goldstein, Head of the Sustainable Finance Group at Goldman Sachs, and Megan Starr, Global Head of Impact at The Carlyle Group, for a conversation about the state of ESG investing and reporting, the social issues rising to the forefront, government attempts to stymie the sector's growth, and what needs to happen over the next 10 years to transform ESG into general, common-sense investing. 
2. JUST Companies Continue to Outperform Their Competition
August 2020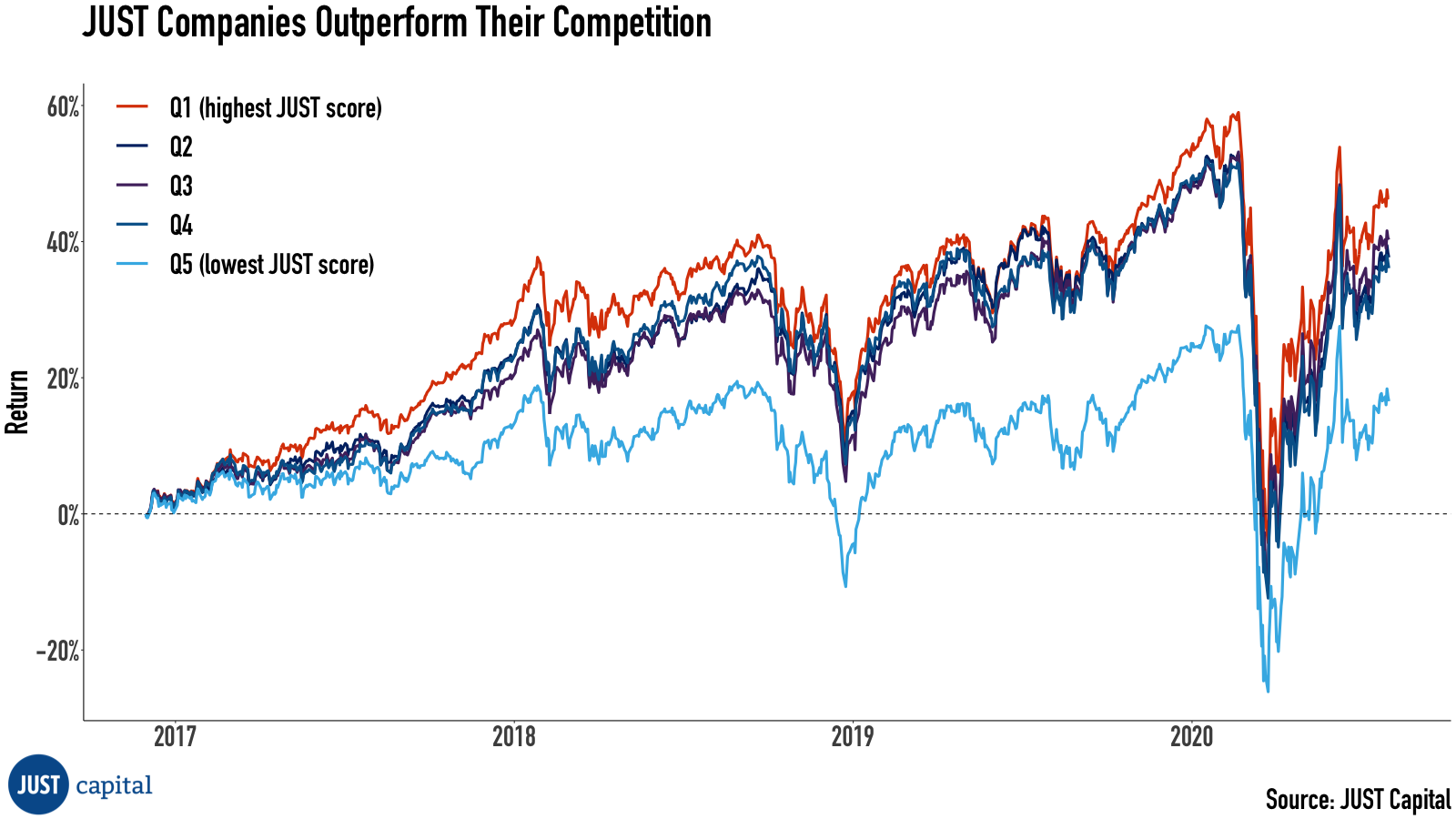 In this Chart of the Week feature, we evaluated how America's Most JUST Companies have performed on a cumulative basis since we started tracking them on Nov. 30, 2016. The results?Companies that scored in our top quintile for stakeholder performance have consistently outperformed the bottom quintile, by 29.9% cumulatively. 
3. Companies Prioritizing Workers and Customers in Coronavirus Crisis Are Outperforming Peers
April 2020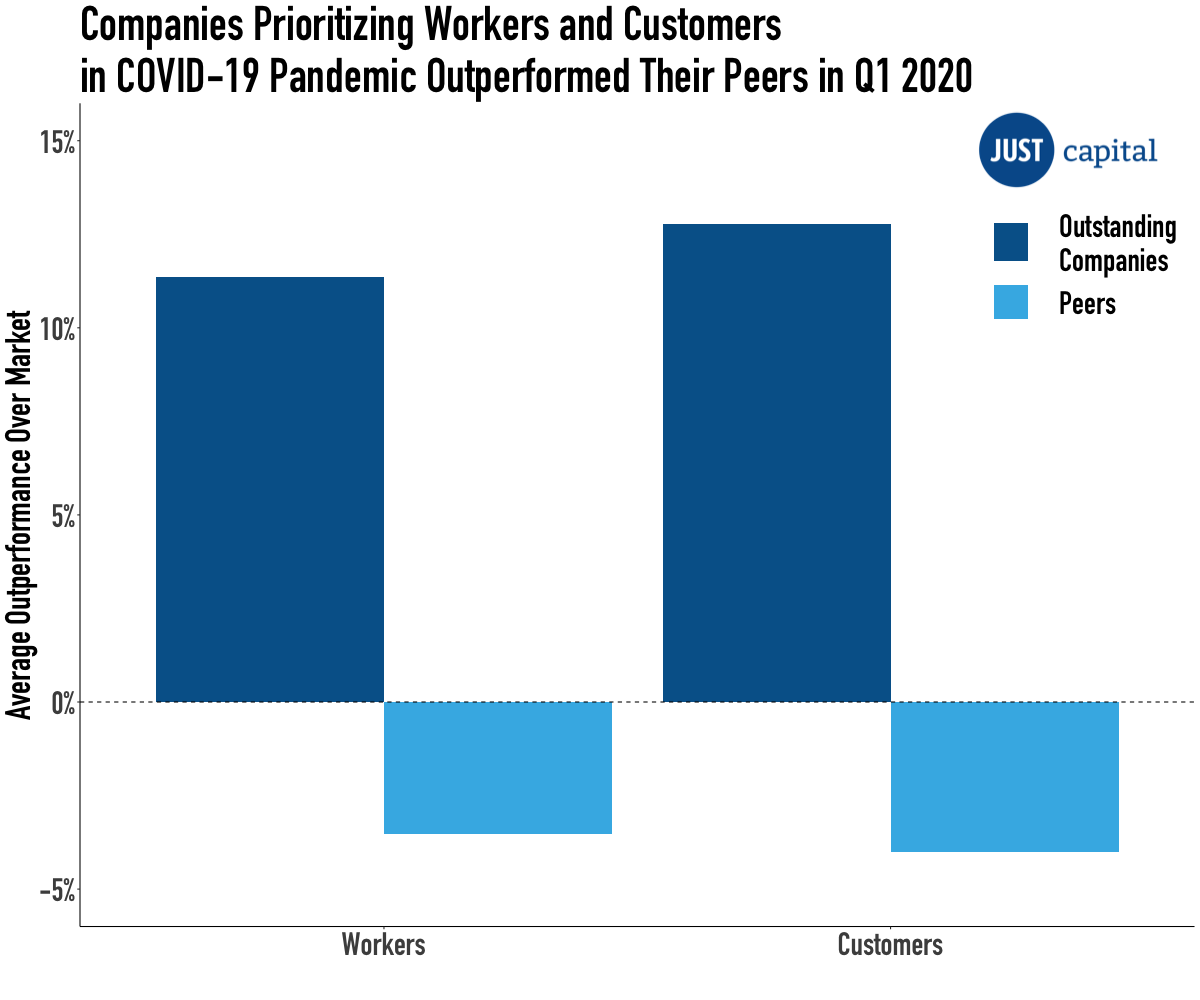 As the corporate response to the coronavirus pandemic rapidly grew throughout the spring, we explored how the companies that supported their key stakeholders were performing. This Chart of the Week feature showed that the companies that had prioritized their workers and customers in the first phase of the coronavirus crisis dramatically outperformed their peers through Q1.
4. The Future of ESG Data in 2021
December 2020
Toward the end of the year, Martin and our Managing Director of Investor Products, Lorraine Wilson, teamed up with one of the leading authorities on ESG factors and integrated reporting, Robert Eccles, for a LinkedIn Live discussion exploring where the field is heading in 2021 and beyond, with a particular focus on emerging data standards, and how the SEC and DOL can help businesses adopt better ESG policies.
5. Companies that Embrace Full Disclosure on Workforce Diversity Outperform their Peers
June 2020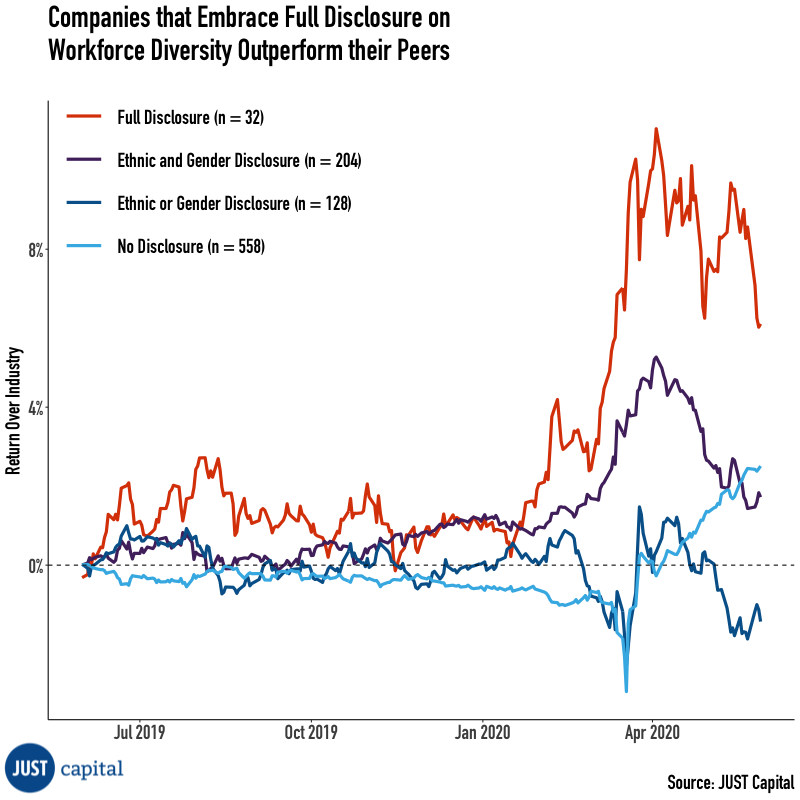 As calls for racial equity rose to the forefront of our national dialogue, spurred by the killing of George Floyd and many other Black Americans, ,we shared recommendations for how companies should combat systemic racism in the workplace, and began tracking statements of support versus corporate actions. In this Chart of the Week, we looked at how companies that had disclosed detailed intersectional demographic data (typically found in an EEO-1 Report)  performed versus those that did not, finding that companies that fully disclosed their demographic makeup significantly outperformed their peers. 
Our highly differentiated data – inclusive of thematic datasets around  workforce demographic disclosure, DE&I, and social equity – continue to drive assets under influence through our various asset manager partnerships. Please reach out if you would like to work with us to create new tools and products that can drive stakeholder capitalism forward.