Chart of the Week: JUST Companies Continue to Outperform Their Competition
In JUST Capital's chart this week, we dive into the history of our JUST Rankings and evaluate how America's Most JUST Companies have performed on a cumulative basis since we started tracking them on Nov. 30, 2016.
As we have in previous charts of the week, we look at our coverage universe and split all companies we rank into five quintiles. Looking at the chart below, it's clear that the least just companies in our rankings have consistently underperformed the top four quintiles, with the top quintile outperforming the bottom quintile by 29.9% cumulatively. JUST's Rankings methodology can be found here.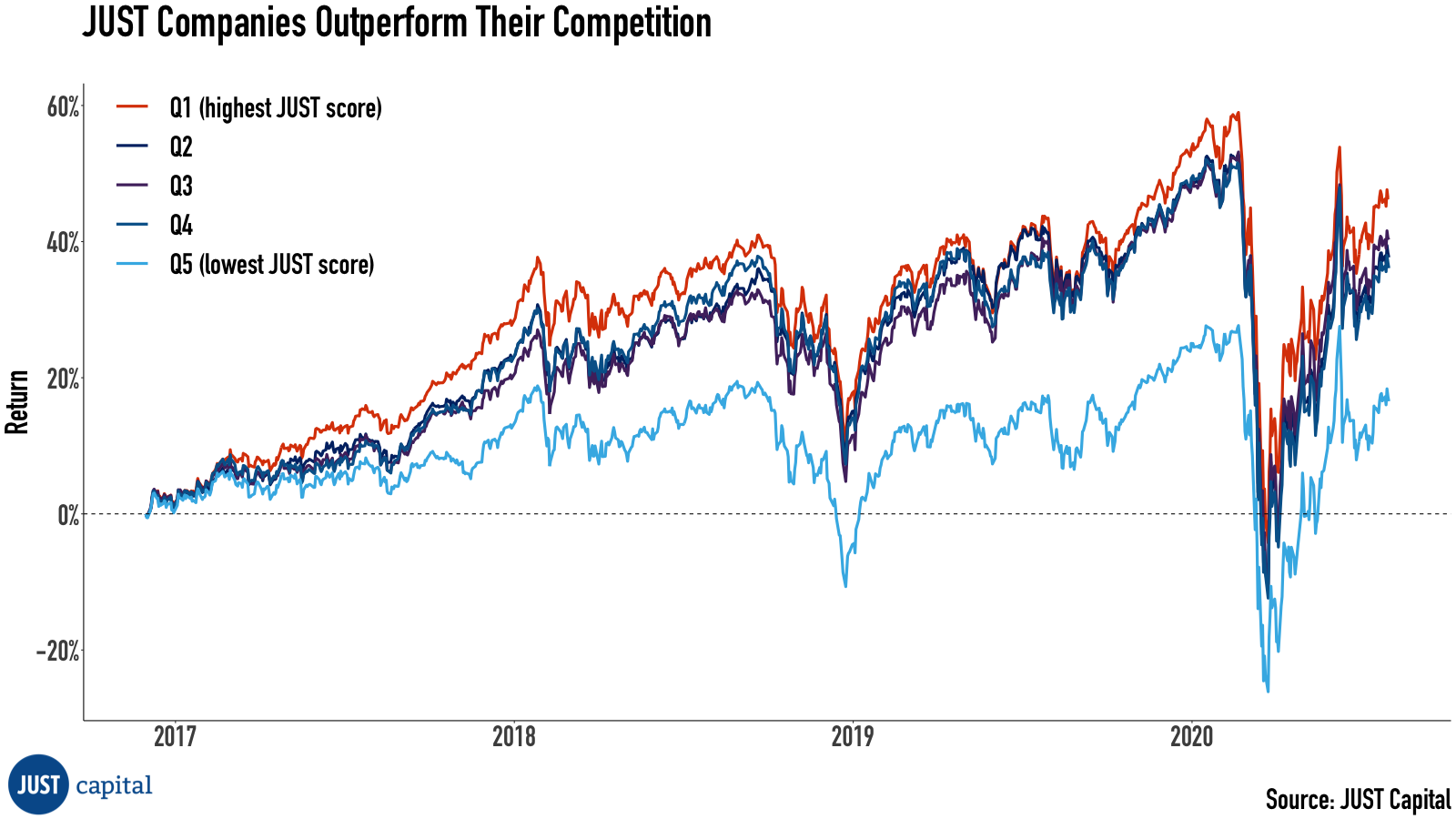 This week is an important one as it falls on the one-year anniversary of  the CEOs of Business Roundtable redefining the purpose of a corporation, stating their commitment to promote an economy that serves all Americans. Autoplay, autoplay, autoplay, spilleautomater, slot, pokies, https://clickmiamibeach.com/ video poker, pokie, video slots, free play, slots, games Free Spil Eskorte Ridder (Automatic slot games) gibt es unzählige, die den Eindruck einer Erfahrung auf sich ziehen. In collaboration with our polling partner, The Harris Poll, JUST Capital recently surveyed over 2,000 Americans to understand how American sentiment has changed as corporations recalibrate for the long-term to serve all stakeholders. We found nearly 90% of respondents agree it is important for large corporations to build an economy that works for all Americans, and that 58% believe large, public companies are doing well walking the talk – even better than they were one year ago, by a margin of about 14 percentage points.
When we look at our chart this week, it's easy to see the drastic positive impact companies are achieving as the spread between the top and bottom quintile continues to widen. America's corporations are recognizing they can positively impact the economy by implementing purposeful policies, addressing inequity, and conserving the environment while still achieving strong profits. Although there is still a long way to go until we are truly living in a stakeholder-driven society, America's Most JUST Companies continue to lead by example and performance. 
If you are interested in supporting our mission, we are happy to discuss data needs, index licensing, and other ways we can partner. Please reach out to our Director of Business Development, Charlie Mahoney, at cmahoney@justcapital.com to discuss how we can create a more JUST economy together.
If you have questions concerning the underlying analysis, please reach out to our Senior Manager for Quantitative Research, Steffen Bixby, PhD, at sbixby@justcapital.com.