Steve Case's Vision for American Business Is One He Thinks the Whole Country Can Get Behind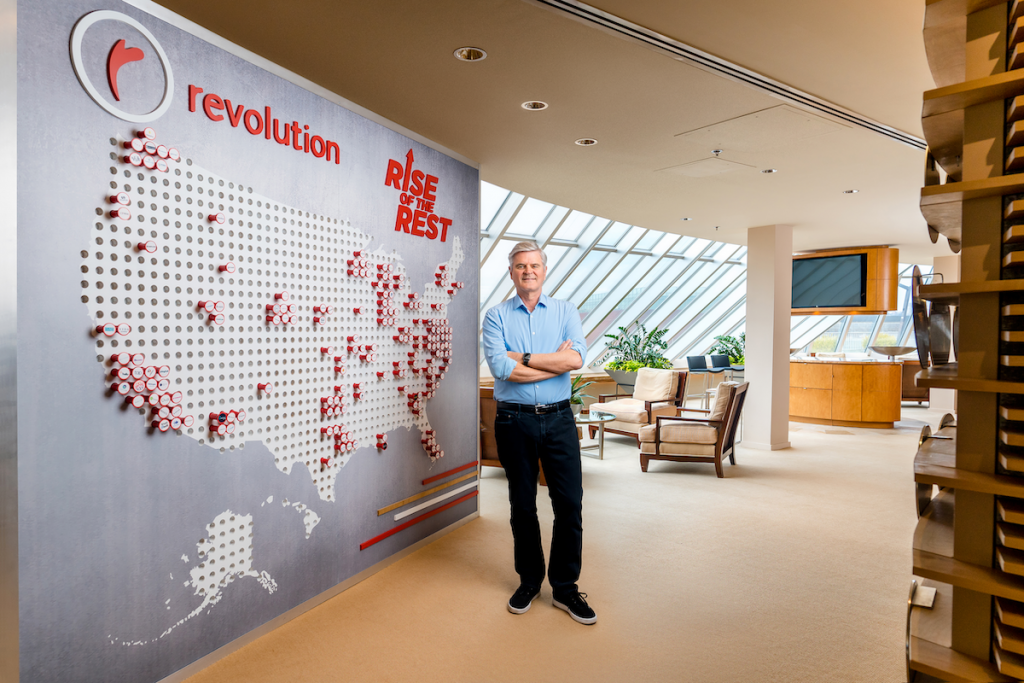 Inflation, a potential recession on the horizon, the lingering effects of a pandemic, a war with global impact, and bitterly divisive politics – it can be easy to be pessimistic about the direction of the United States. But Steve Case won't indulge that.
For the past eight years, the AOL cofounder and founding CEO of the venture capital firm Revolution has been touring the United States in a big, bright bus, for the "Rise of the Rest" initiative, which shares its name with Case's new book. The book is an exploration of his vision for an America boosted by startup economies tied to their communities – namely the ones not in Silicon Valley, New York City, or Boston, where 75% of venture capital in the U.S. goes. And it's an expression of optimism that can feel exceedingly rare these days, but is one complementary to what we've found at JUST.
In the same way that we have found through our polling research that Americans across all the demographics we track agree that worker issues, especially providing a living wage, should be the number-one priority of American businesses, Case is driven by the idea that people across the country ultimately want the chance at a fulfilling career regardless of where they live. And, he says, we're at the beginning of an era in technology that can help make this happen. Case believes that AOL represented the First Wave of the internet, followed by social media marking the Second Wave, and now we're at the forefront of the Third Wave, where "internet of things" becomes the internet of everything and opens up transformative opportunities across all industries.
So far, Case and his team have been to 43 cities across the country and made 200 investments through two $150 million funds. They made eight bus tours before COVID forced them to temporarily go virtual, leading to one virtual tour focused on Black founders and another connecting talent from the coasts to opportunities at startups beyond the three primary hubs.
The new book is the next step in introducing his mission to a wider audience. We recently spoke with Case about what he wants to accomplish with it, and explored the overlap of Rise of the Rest with JUST's own work.
The following transcript has been edited for length and clarity.
How has your perspective on Rise of the Rest – the fund, the tour, the idea – evolved over time?
We've seen steady progress each year in terms of interest in these cities, new companies starting and scaling, big exits that get attention, people shifting where they're living, and people starting to think about investing in other places.
It was steady progress and then COVID has been a tipping point on multiple levels. For some people it was a moment to take a step back and rethink how and where you want to live, and how and where you want to work.
We stressed even when we got started that one of the things we needed to do was shift the talent discussion from being about bemoaning a "brain drain" of people leaving to celebrating a boomerang of people returning. So the pandemic has been helpful on that front.
It's also been helpful on the venture investing side. Investors who were intrigued with some of what's happening in rising cities but not necessarily intrigued enough to jump on a plane could now jump on Zoom and then talk to people in those cities. That led to a lot of pitch meetings on Zoom.
On the policy side of things, at the state and local level, a lot more governors and mayors are focusing on startups, and at the federal level, there's been legislation passed like the Inflation Reduction Act and the CHIPS and Science Act, which includes authorization for investment in regional hubs.
A few weeks ago President Biden was in Columbus talking about regional entrepreneurship at the Intel plant. And then Treasury Secretary Yellen was talking about the idea of leveling the playing field and creating more opportunity for more people and places. So they're mostly in sync with the arguments we've been making.
I'd say that it went from steady progress to an acceleration, which I think bodes well for the next chapter.
It sounds like there was, maybe this is the wrong phrase for it, but a silver lining of the pandemic.
It was such a terrible pandemic and I'd hate to say, "But oh, isn't this great!" But yes, it was a silver lining, if you are looking for something positive in a difficult two-and-a-half years.
You included in the book some numbers that appear to be backing the Rise of the Rest thesis, in terms of where the money is starting to flow.
You're referencing the Beyond Silicon Valley report we did with Pitchbook. There's one data point particularly that was of surprise even to me, which is that in the last decade there have been 1,400 new regional venture firms outside of San Francisco, New York, and Boston. So basically you've got our Rise of the Rest footprint.
That's super interesting and super encouraging because we've long said that the entrepreneurs in most parts of the country need more access to that initial capital as a seed stage, and having capital available locally is really important.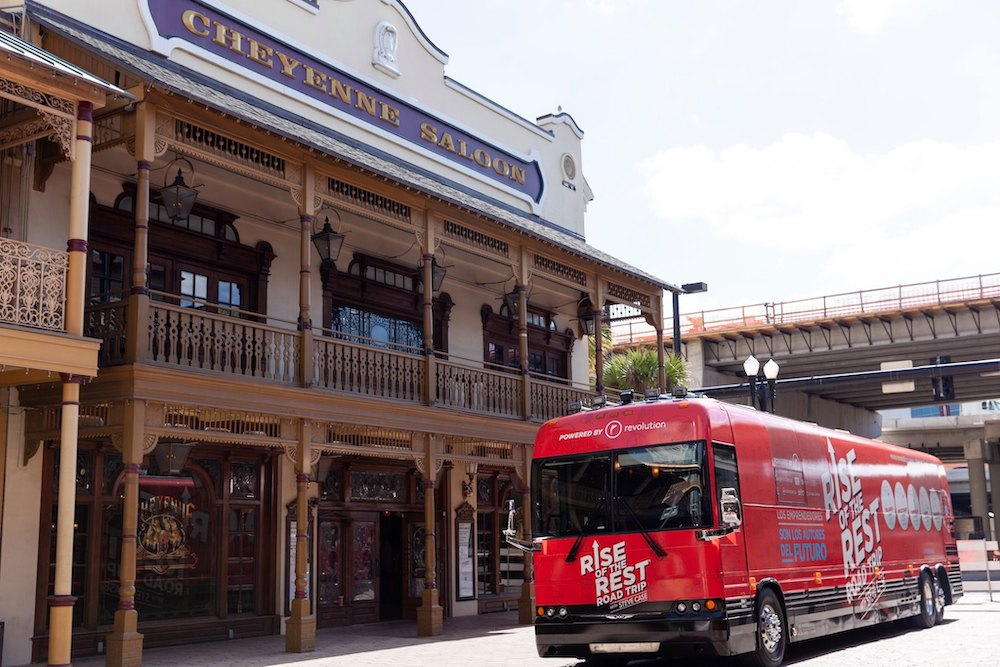 Business and community are inextricably linked
With a lot of the companies you highlight from the Rise of the Rest portfolio, it seems like these startups are baking in purpose-driven values and stakeholder issues JUST tracks for corporations. Are you seeing that?
A lot of these Rise of the Rest entrepreneurs are passionate about fixing or addressing some problem in society and opt to do that through the prism of starting a company. That leads to companies like AppHarvest in Kentucky with sustainable agriculture or TemperPack in Richmond, Virginia with sustainable packaging, and I could give you a couple of dozen others.
They are also quite intentional about how their companies also can lift up their community. For example, Jonathan Webb of AppHarvest was deliberately focusing on this and had a strategic reason to do it. Eastern Kentucky, outside of Lexington, is within a 24-hour drive of 70% of the U.S. population. But Jonathan also had a desire to create jobs and bring opportunity to coal country Appalachia, which for several decades had been struggling. So there was that broader societal impact.
On the DEI side, many of these cities are diverse, and we have been intentional about diversity for building our own team and backing entrepreneurs. Right now the Rise of the Rest portfolio, which is about 200 companies, is 41-42% female founders or founders of color, which is still not what it should be, but a lot better than you see in most venture firms.
The corporate and startup worlds of are often linked in ecosystems. One of the examples that you point to is Atlanta, where you have corporations like Delta, Home Depot, and UPS actively engaging their communities, including entrepreneurs there. Why should corporate leaders be paying attention to Rise of the Rest, regardless of where they are in the country?
Because their own success could be accentuated by focusing on Rise of the Rest. If they're staying close to entrepreneurs who are doing innovative, disruptive things, they're more likely to see the future as opposed to being overwhelmed by it, and might, if they're agile, actually be able to partner with or, in some cases, acquire some of these companies to strengthen their competitive position.
Second, every company is ultimately about its people, and part of what JUST has done is highlight that and the benefits of investing and properly rewarding people. How do you attract great people who want to work at your company? Part of that is attracting people that want to live in your community.
Personally I remember my own experience in Cincinnati, where my first job out of college was at Procter & Gamble. At the time there were a few big companies there, but there were really no startups. The downtown area was occupied nine-to-five, was basically dead on evenings and weekends, and there wasn't a real vibrancy to it. Some of the big companies eventually noticed that, too, and they got together and funded some programs like Cintrifuse, the Hatchery, and others to basically create a more fertile environment for startups. That paid off, and the city is now more interesting to live and work in. It makes it easier for those big companies to attract and keep the people they want to take their companies to the next level.
What Dan Gilbert's done in Detroit comes to mind.
That's obviously a great example. I'll be there on Monday. He helped get the Forbes 30 Under 30 Summit to Detroit, and that's exact thing we're talking about. Dan made an effort to get more young people to understand what Detroit is now, with the idea that some people visiting for a conference would see it and some of them would end up deciding to move to Detroit. That's happened. So it's an example of this idea of trying to use your position as a corporate leader to have a broader impact in the community.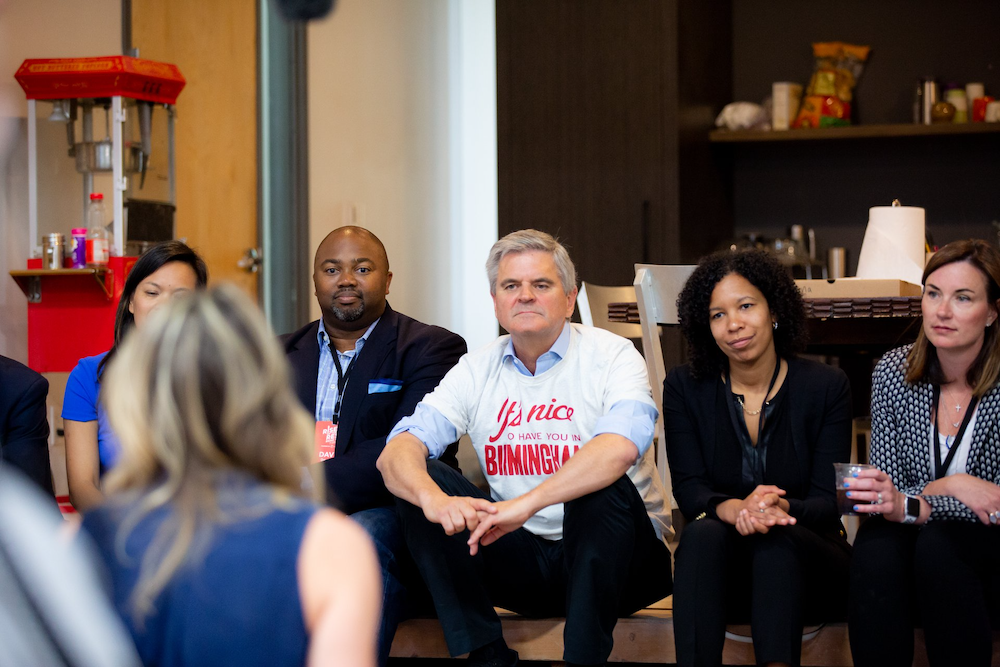 A mission to unite behind
You've got access to a lot of politicians and big influential players across the political spectrum. You've been all over the country, talked to people from every corner of America. Given your perspective and optimism, what are you seeing that could better unite the country when it's so divided?
Well, part of the reason why I wrote the book is I think it's an optimistic story of an America that's not something that most people are aware of. There are a lot of things that are negative with inflation, Ukraine, the pandemic, all kind of things. But there's a more positive, inspirational story that's not just about certain people or certain places. I felt there's a reason to be more hopeful, but we have to continue to build on some of the initial foundational efforts over the last decade.
I start and end the book with the idea that it's not our God-given right as a country to remain the most innovative, entrepreneurial nation in the world. We can't be complacent about that. We've got to lean into the future and I don't think we can do that successfully if we're only putting our eggs in a few baskets like Silicon Valley, New York, and Boston. We need to have a more diversified and decentralized approach to innovation.
But my hope is that this book will lead everybody in America to maybe feel a little bit better about our country's potential future.
So this is based on the idea of economic opportunity for Americans regardless of where they are in the country, whether they want to create something or even just work within their own community with a good paying job?
Yes, one of the big problems is the opportunity gap where some people in some places are doing really well, and a lot of people in a lot of places are struggling and feeling left behind because they have been.
So the idea is that fertile startup ecosystems in more places brings more capital, which creates more jobs, which drives more economic growth, and which will then create more opportunity and more reasons for people to be more optimistic about the future. I think it's critical that we do that if we are going to have a country that continues to lead the world. Now is the time to get it done.
I think it's safe to say, then, that you're bullish in America.
I believe in America! I believe in America, as long as we're celebrating the next generation of entrepreneurs, how we're doing it everywhere, not just in a few places.