The JUST Report: After COP, Companies Need To Prioritize Building ESG Trust
(Spencer Platt/Getty Images)
With COP26 wrapping up and the $1 trillion bipartisan infrastructure bill becoming law, two things are clear: The stakeholder lens for corporate risk and value creation is vital to addressing climate and other systemic societal challenges; and whether companies can get the job done is now the core question.
The latest Edelman Trust Barometer investor report* reflects this. The survey of 700 institutional investors found "86% of U.S. investors believe that companies frequently overstate or exaggerate their ESG progress when disclosing results, and 72% of investors globally don't believe companies will achieve their ESG or DEI commitments." Quite remarkable. At the same time, vast majorities still want to see these commitments, including 94% of the American investors surveyed expecting companies to have net-zero plans.
These findings complement our own annual Americans' Views on Business Survey, which found an increase in those who believe business is headed in the wrong direction, while still desiring stronger action across ESG initiatives.
PwC, whose U.S. chair and senior partner, Tim Ryan, spoke to JUST this week, is overseeing the Trust Leadership Institute. Their first session launched last week. Tim cited his firm's own recent survey and said part of the problem is that CEOs have not recognized the demand from employees for accountability. Corporate leaders must double down on transparency, he said, complementing ESG commitments with clear milestones and progress updates.
"I'm encouraged by what I'll say is the humility of the C-suite," Ryan told us about recent discussions he's had, "of I'm trying to learn, and, frankly, keep up with the changing expectations."
Markets depend on information, transparency, trust, and confidence in order to work properly. The ESG, impact, and stakeholder markets are no different.
Be well,
Martin Whittaker
*Full disclosure: I recently became a Senior Advisor to Edelman.
This Week in Stakeholder Capitalism
American Express releases its inaugural DE&I report, documenting the company's progress on its $1 Billion Action Plan launched in October 2020.
Apple opens some iPhones and Macs to DIY repairs in response to the growing "right to repair" movement.   
Activision-Blizzard CEO has been accused of knowing about the company's sexual misconduct allegations for years without informing the board. Some workers and shareholders are asking him to step down.
Bank of America plans to hire an additional 10,000 workers from low-to-moderate income communities they do business in by 2025, after delivering on its Community Reinvestment Act goals.
Medtronic partners with the Society of Hispanic Professional Engineers to launch a new program to invest in scholarships, internships, and mentorships for Latino STEM students.
Target announces that despite The Great Resignation hitting other employers, turnover rate for hourly workers was lower this year compared with 2019. The company has increased starting wages, expanded benefits and training, and provided more flexible schedules.
JUST

Events
Help us build momentum for #GivingTuesday by making an early gift to support JUST's mission!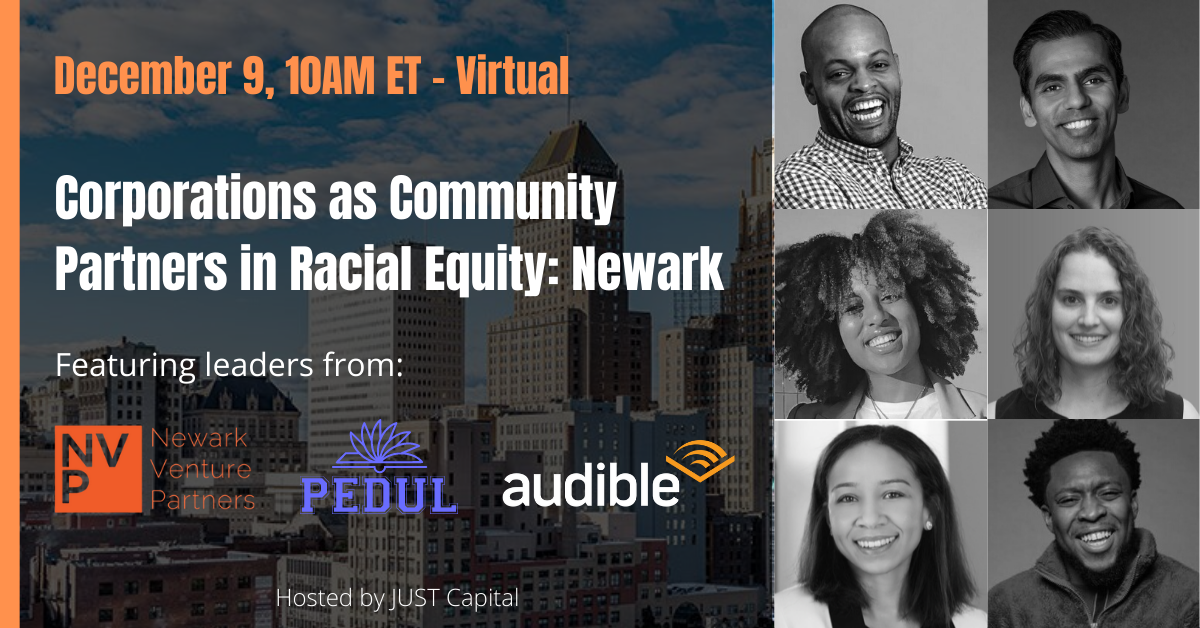 Corporations as Community Partners in Racial Equity: Newark
DECEMBER 9TH at 10AM ET: How can corporations advance racial equity in the communities they impact? We'll be sitting down with leaders from Audible and others to discuss the launch of Newark Venture Partners (NVP), which invests in high-growth startups and generates jobs and opportunities for residents in Newark, New Jersey, where Audible is based. NVP has invested more than $40 million in 93 portfolio companies, more than half of which were founded by women or people of color. Join the webinar to learn more about this program and others from leading practitioners in the field.
What's Happening At

JUST
Last week we released two features for Veterans Day: A survey analysis exploring what Americans want from companies to support veterans and their families and an analysis of what corporate performance against these expectations looks like today showcasing notable leadership. Jim Cramer highlighted the findings from both on his Veterans Day episode of Mad Money, highlighting some of the companies doing right by veterans as well as the evidence that hiring veterans improves a company's overall ROE. Watch the clip here and check out Triple Pundit and Military.com for additional coverage.
Fortune's CFO Daily featured our 2021 Americans' View on Business Survey insights, which reveal that confidence in corporations is waning when it comes to the positive impact they are having on society, jobs, and especially their lowest paid workers.
The Forum
(PwC)
"One of the significant takeaways from COP26 was the company pledge. It's significant because it signals to the marketplace that ESG and climate is a priority—it's a coordinated action to help generate activity and consistency. …Add on top of that the announcement of the International Sustainability Standards Board (ISSB), which is an important step towards having globally consistent and trusted standards for investor-focused corporate reporting on ESG issues. … While I appreciate it won't be of the size, magnitude or pace that satisfies everyone, it's in the right direction. And I think it deserves analysis and support so companies can be a part of it."
Wes Bricker, Vice Chair and US Trust Solutions Co-Leader at PwC US, to

JUST

on COP26 impressions.
"For equity to happen, we have to have a serious discussion with our allies. … If you truly want to be an ally, allow us that platform to come in and say, "This is what's going to work." Lend me your platform."
"What employees are saying they want in their work environment going forward is going to be a lot more important than a bunch of senior executives at the top of an organization determining what that will be."
Must-Reads of the Week
CNBC reports that over 4.4 million workers quit their jobs in September. With the Great Resignation showing no signs of slowing, The Wall Street Journal takes a closer look at just who is quitting their jobs during this period. The result? Low-wage workers, employees of color, and women outside of management are leading the pack in job switches.
The New York Times reveals that MBA programs around the U.S. are overhauling their curriculums to include more classes on ESG and sustainable investing as jobs and interest in the sector grows.
Inflation continues to loom large over American life, but the one group who isn't worrying about it? The largest U.S. businesses. The Wall Street Journal reports that this year, two out of three of the nation's largest publicly traded companies are posting higher margins than before the pandemic. The Washington Post shows that despite hourly earnings being up this year, inflation is more than wiping out those gains; when adjusted for the costs of rising prices, earnings are down 1.1 percent on the year.
Fortune reports that nearly 40% of corporations expanded their mental health benefits during the COVID-19 pandemic.
The Financial Times reports on the growing trend of companies connecting executive pay to achieving specific climate targets.
​​​​​​
Chart of the Week
This chart comes from our latest veteran research, which shows that companies with veteran hiring and supplier policies have a significantly higher ROE profitability ratio compared to those that don't. Learn more here.
The first edition of this newsletter incorrectly stated that Edelman is still working with PwC on the Trust Leadership Institute. Its participation has finished.