The JUST Report: Measuring a Company's Most Important Asset
On Tuesday, SEC chair Gary Gensler once again sat before members of the House, and over four hours he discussed how the commission is tackling market structure, crypto, and, one of his regular subjects, ESG.
When faced with questioning around preventing ESG metrics from being a way to impose a liberal agenda on the markets, Gensler revisited a point he made in his opening remarks: "Companies and investors alike would benefit from clear rules of the road. I believe the SEC should step in when there's this level of demand for information relevant to investors' investment decisions."
He made it clear that while the SEC's first set of ESG metric proposals may be delayed from the end of this year into 2022, they are very much part of the core agenda, and that human capital metrics in particular are on the table.
That's one reason that JUST took a thorough look at the state of human capital disclosure for America's 100 largest companies by workforce size. We considered 28 metrics across six themes – employment and labor type; job stability; wages; compensation and benefits; workforce diversity, equity, and inclusion; occupational health and safety; and training and education – and found that under 20% of the companies disclosed the majority of the metrics. Further, most of these metrics are disclosed in sustainability or CSR reports, which don't require auditing or standardization. The report is getting good attention and I urge you to check it out.
The relevance of human capital to corporate boards, CEOs and investors is well documented. Seven years of JUST polling confirms that most Americans see it as a defining issue too. And the combined effects of the pandemic, the economic reboot and a reckoning with racial injustice have made it impossible to ignore.
More disclosure on human capital is inevitable. The only thing companies have to decide is what side of the curve they want to be on.
Be well,
Martin Whittaker
This Week in Stakeholder Capitalism
General Motors announced plans in January to offer only electric vehicles by 2035 – leading activist investment firm Engine No. 1 to take a stake in the company.
McKesson, Cardinal Health, and AmerisourceBergen Drug Corporation reached a $75 million settlement with the Cherokee Nation, whose citizens were disproportionately impacted by the opioid epidemic.
Apple, Amazon, Microsoft, and Disney are among companies currently under scrutiny for their support of lobbyists fighting against Senate Democrats' recent landmark climate legislation, despite their own public pledges to address climate change.
McDonald's stepped up this week with renewed climate commitments, announcing that the company is targeting net-zero emissions by 2050. Mars also made a net-zero-by-2050 pledge this week, outlining its plan to reduce emissions across its full value chain.
Target announced it will pay store and service center employees an extra $2 per hour for time worked on peak days during the holiday season.
Intel, Prudential, and Starbucks are among a group of over 220 companies calling on the Senate to pass the John Lewis Voting Rights Advancement Act.
JUST Events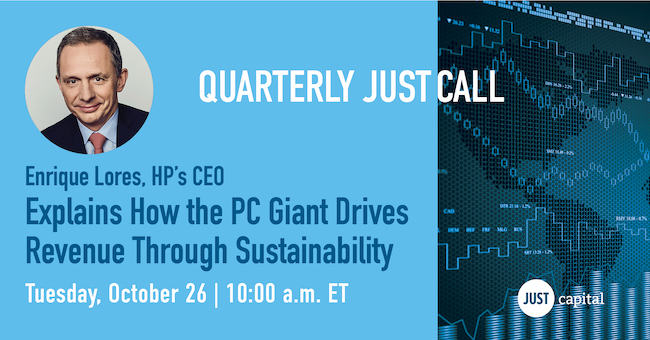 Ahead of 2021's biggest climate change conference (COP26), we're speaking to HP CEO Enrique Lores to learn how the company has managed to tie its sustainability goals to its business goals, and what other corporations can learn from its leadership. We'll explore the policies that have allowed HP to excel on climate action, diversity and inclusion, and more, while discussing how these pursuits tie into core business strategy. Join the live conversation here.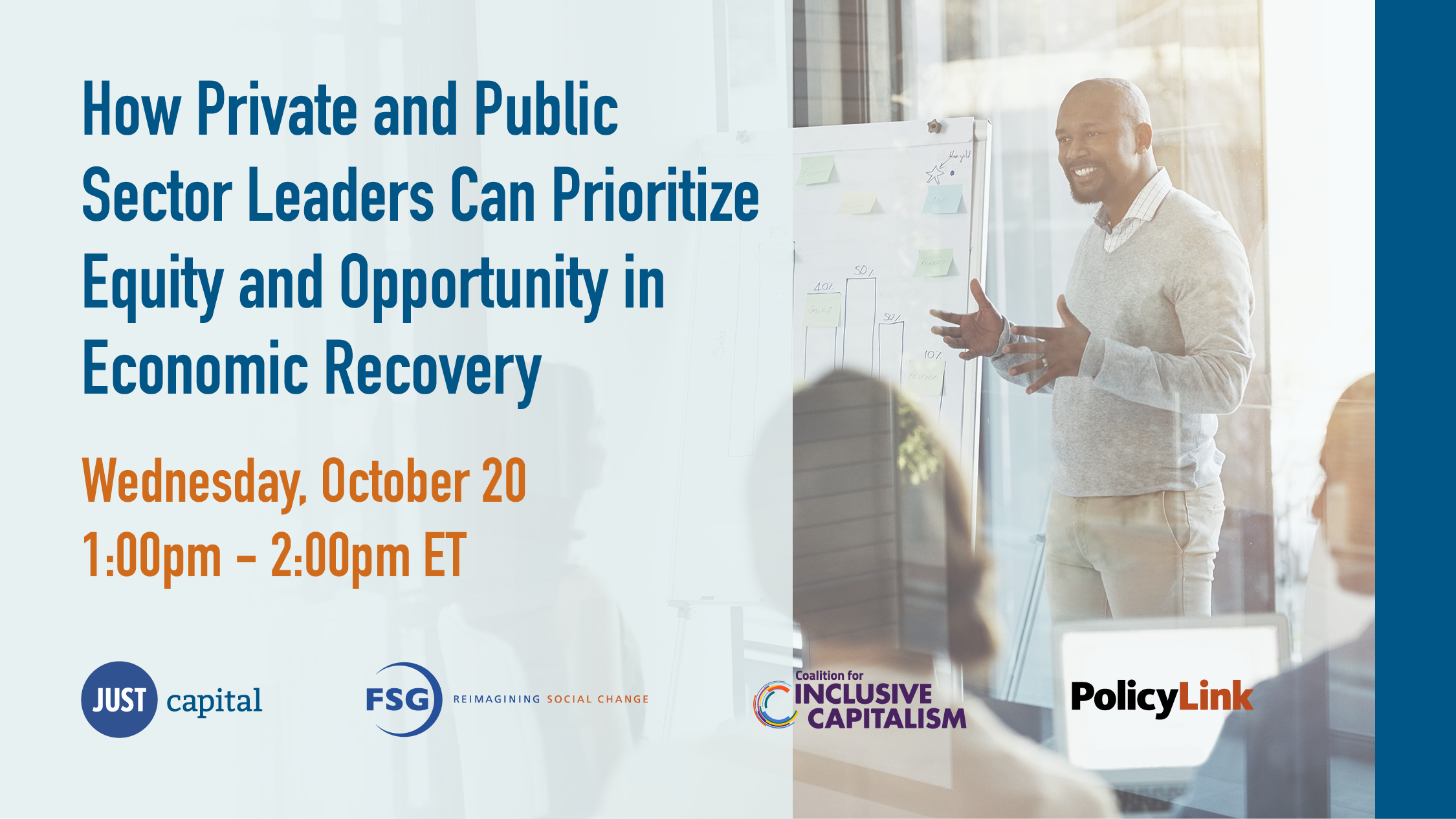 As the country looks toward an economic recovery, we're joining the Coalition for Inclusive Capitalism, FSG, and PolicyLink to host a conversation on prioritizing equity and opportunity for all workers in these efforts. Tune in to hear from Coalition for Inclusive Capitalism Founder Lynn Forester de Rothschild, PolicyLink Founder in Residence Angela Glover Blackwell, Department of Commerce Deputy Secretary Don Graves, Procter & Gamble Chief Communications Officer Damon Jones, and Edwards Lifesciences CFO Scott Ullem. Register to watch here.
What's Happening at JUST 
Our new human capital disclosure analysis was featured in The New York Times' Dealbook. The team at For What It's Worth also highlighted this research and what it means in the context of the Great Resignation.
JUST Board Member Xavier de Souza Briggs penned an editorial with Adrian Haro in Fast Company on why gig economy innovations and technologies should be informed by the workers they affect and scaled to last beyond the pandemic.
The Forum
"We know what we have to do. … It's not technology, because we can do a lot. It's not really the money – we have too much money coming out of our ears. It's the willingness to put the interest of the common good ahead of your own, knowing that by doing so, you're better off yourself, as well. And that takes courage."
Paul Polman, former CEO of Unilever and founding chair of Imagine, in a JUST interview about corporate leadership.
"One thing I believe is that there will be some businesses on the margins who had to raise wages in this period and then go, oh, it actually, wasn't so bad. They've increased morale and reduced turnover. … But my fear is that the share of businesses that really changed their behavior as a result of this will be small. And that when this is all in the rear view mirror without organizing policy change it's not going to fundamentally have changed things."
Heidi Shierholz, president of EPI, to JUST on the urgency of passing federal policy (while also noting the positive spillover effect of corporate leaders)
"I want them to actually have the chance to articulate out loud, 'I don't want to do this. Thank you for offering,' That's true equity, that's true equality – when you get the chance to turn the goddamn thing down."
Must-Reads of the Week
Axios covers a new White House report that shows employer COVID-19 vaccine mandates have helped boost workforce vaccination rates by 20 points, in many cases to over 90%. Tyson Foods and United Airlines reported a respective 91% and 99.5% workforce vaccination rate after issuing mandates. CNBC also touches on CEOs' frustration with getting employees back into the office as COVID-19 infection rates remain high.
CNN discusses how Facebook came under fire this week after product manager-turned-whistleblower Frances Haugen testified before a Senate subcommittee. Haugen had shared documents with The Wall Street Journal showing that the company was aware of its products' harmful impacts on young users, among others, and her testimony came the day after an hours-long outage across Facebook platforms. The Verge highlights Pinterest whistleblower, Ifeoma Ozoma, who launched a new handbook for tech workers to prepare to go public with their stories this week.
Bloomberg reports on the impact a decade-old analysis highlighting the risk in carbon-intensive assets had on the finance industry's relationship with fossil fuels. The story comes as 220 financial institutions, with $29 trillion in assets, ask 1,600 of the world's most carbon-intensive companies to set science-based emissions reduction targets ahead of COP26.
The Financial Times' Moral Money highlights a new report from Credit Suisse, which finds that women hold almost a quarter of board seats globally – a nearly 9% increase since 2015. Fortune also released its annual list of the Most Powerful Women in Business, with CVS Health CEO Karen Lynch earning the top spot.
Chart of the Week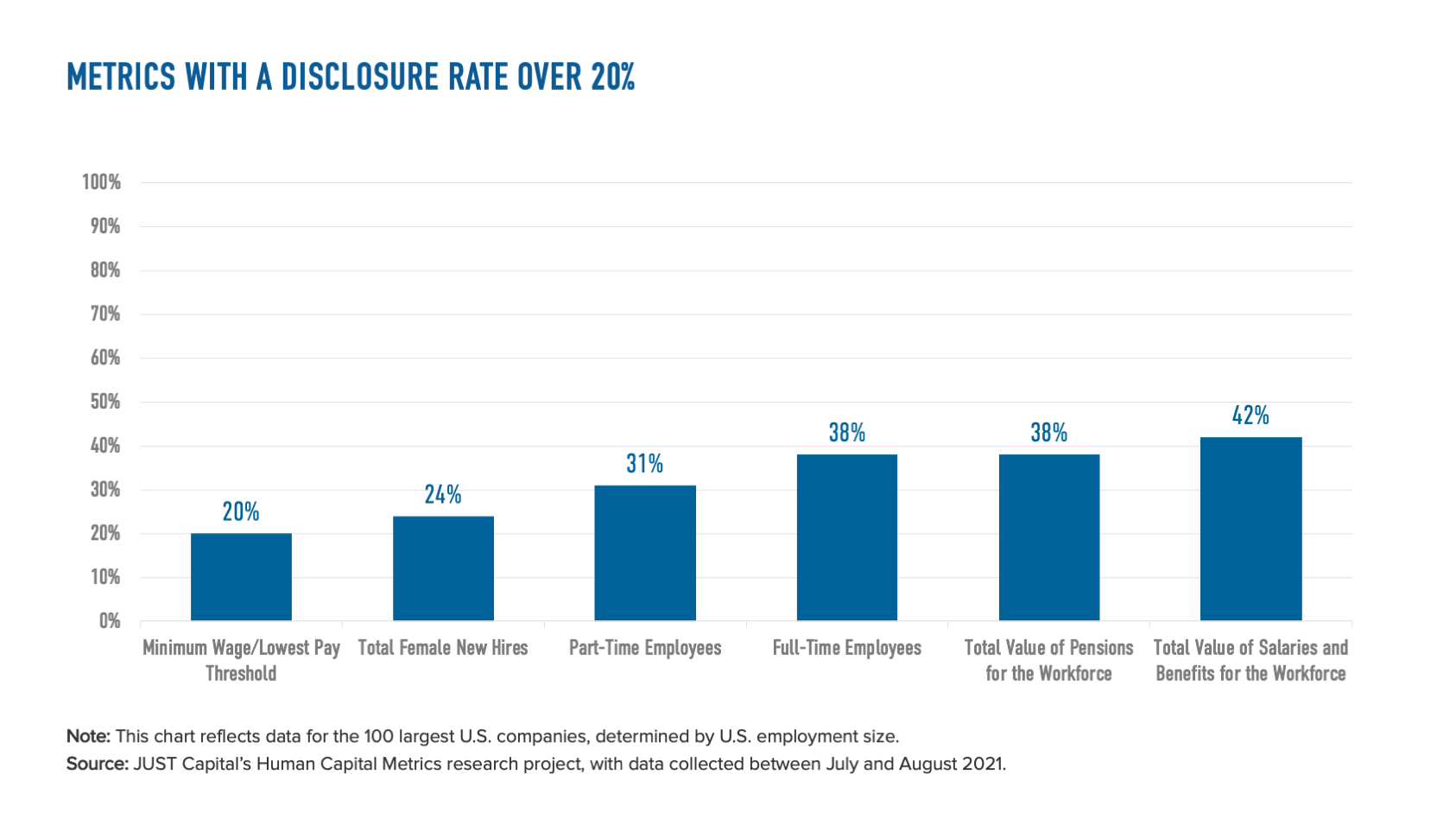 This week's chart comes from our new research on the current state of human capital disclosure in corporate America. Looking at the six metrics with the highest disclosure rates, our analysis shows a pattern – with three focused on workforce size and three capturing workforce costs. Learn more about this and other trends in human capital data disclosure here.