The JUST Report: What Americans Actually Think About ESG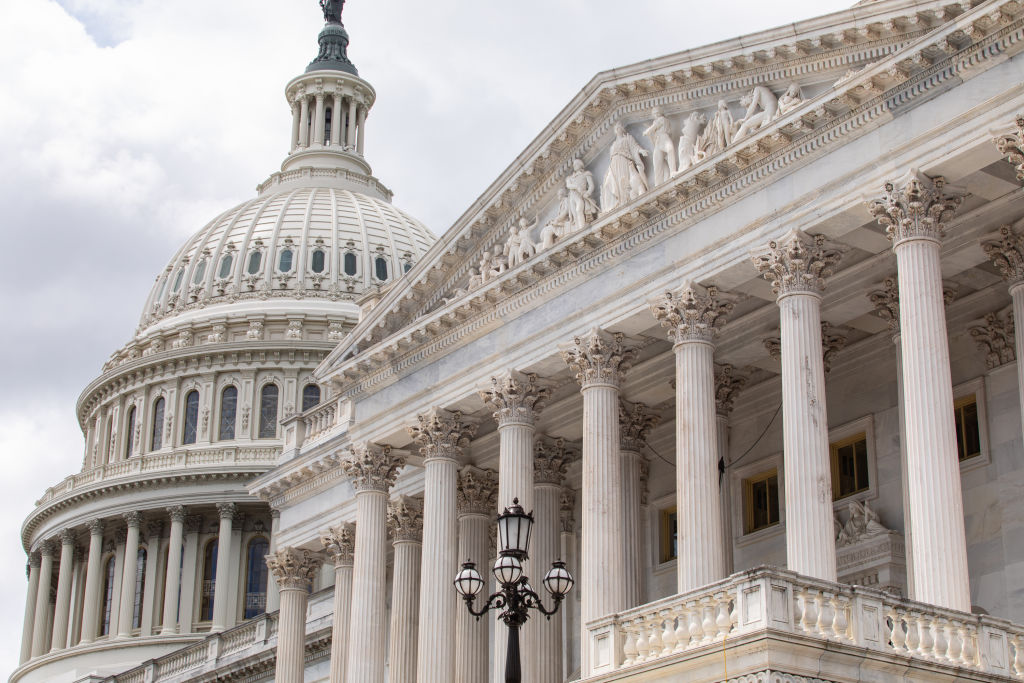 One of the arguments those opposed to ESG often make is that it is antithetical to the interests of everyday hard-working Americans. We heard it again this week, as the House and Senate voted to overturn a Labor Department rule allowing retirement fund managers to consider ESG factors when making investments (the President has said he'll use his veto power to ensure the rule stays).
To shed more light on this, we decided to run a series of focus groups.
What we learned is that, in fact, Americans across the board don't really care about, or know about, this battle of "woke capitalism" or ESG. Only a few participants said they had heard of the term "ESG" and when asked whether they thought considering non-financial metrics made sense from an investment perspective, most agreed.
We confirmed (yet again) that there is widespread support across political lines for companies to look after all their stakeholders and it's clear a majority of Americans don't support state funds banning ESG or other similar restrictions. They think it should be up to investors to decide what's best. This ties in with a recent survey by Penn State's Center for the Business of Sustainability and communications firm ROKK Solutions, which found that 63% of voters – including 70% of Republicans – oppose government restrictions on ESG investments.
The anti-ESG movement has faced some setbacks at the state level in recent months (including in Wyoming, North Dakota, Arizona, and Kentucky) on the grounds it is costly, divisive, bad for business, and anti-free market. And with prominent conservative politicians and groups, mainstream business leaders, and state banking associations increasingly questioning and challenging these bills, one wonders how it will play out.
It may be time to listen more closely to what the public is actually saying on the issue.
Be well,
Martin Whittaker
---
---
JUST Rankings Spotlight
This week we're highlighting the Top 5 Semiconductors & Equipment leaders from our 2023 Rankings. This week the Biden administration asked manufacturers vying for subsidies to share how they're providing employees with low-cost, best-in-class child care, so we took a special lens to the companies' caregiving policies:
#1 NVIDIA leads the industry by offering subsidized child care, backup dependent care, and 22 weeks of paid maternity leave – the most in the industry.
#2 Intel supports its Workers and Communities by offering subsidized child care and backup dependent care, and disclosing its spend to women-owned suppliers.
#3 Micron Technology prioritizes child care by disclosing a paid parental leave policy as well as a backup dependent care policy. The company also conducts gender pay analyses to ensure all employees are being paid fairly.
#4 Qualcomm looks to the future when supporting its workforce by disclosing racial and ethnic diversity targets for workers and management, in addition to offering both backup dependent care and subsidized child care.
#5 Analog DevicesIn addition to providing six weeks of paid parental leave for both primary and secondary caregivers, Analog Devices supports employees' families by providing backup dependent care.
Quote of the Week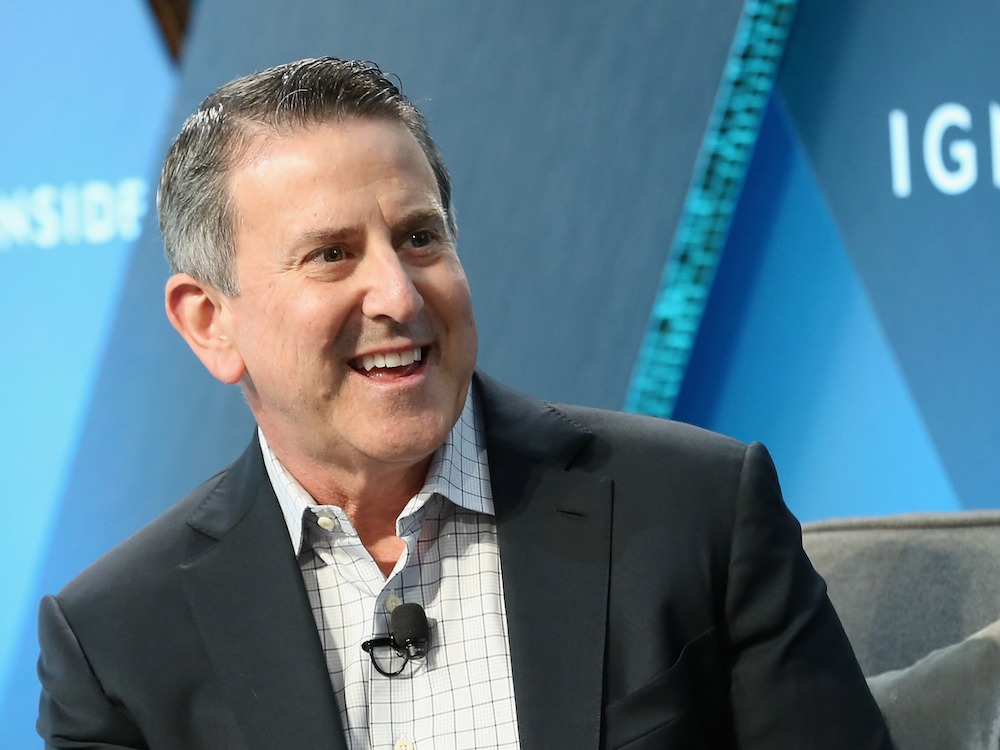 "Our minimum starting wage is between $15 and $24. So that's allowed us to attract and retain team members across our system…Sitting here today, thinking about adding $30 billion of growth, while there are lots of factors, it has all come down to the work our teams have done to take care of our guests each and every day. So we'll continue to make sure we're investing in our team and I know they will provide that return on investment."
Must Reads of the Week
The Alphabet Workers Union won a minimum wage raise for Google contract workers. All contract employees will now receive at least $15 an hour, keeping in line with the tech giant's minimum standard of benefits provided to full-time employees.
Pilots at Delta approved a new contract that will increase wages 34% by 2026. According to the pilots' union, the raises are valued at more than $7 billion over four years.
The New York Times wrote about the eagerness of some employers to avoid layoffs even as the labor market cools. Fewer Americans were laid off in December than in any month in the 20 years preceding the pandemic.

Bloomberg investigated the millions of U.S. workers who are still missing from the labor force three years after the start of the pandemic. Early retirement and shortfalls among immigrant workers may explain part of the picture, but economists cannot come to an agreement about the size of the hole or the reason for it.
The Washington Post had the story on a series of state-level bills aimed at blacklisting ESG-conscious financial institutions have been defeated by legislatures in Republican strongholds such as North Dakota, Indiana, and Mississippi.
The Financial Times reported on how U.S. finance giants, including BlackRock, Blackstone, and KKR are seeing the ESG backlash as a material threat, noting language in recently-filed annual reports that "divergent views" or "competing demands" on ESG investing could hurt financial performance.
Chart of the Week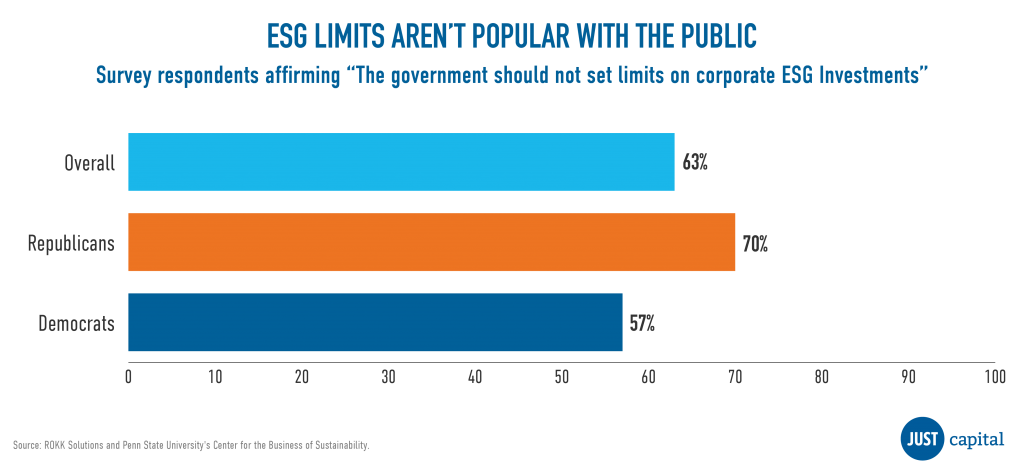 This chart from This visualization is featured in our new Mission & Impact page showcasing a snapshot of outcomes Last December Politico featured a survey by Penn State's Center for the Business of Sustainability and communications firm ROKK Solutions to illuminate views on ESG on the eve of a new Congress. Sixty-three percent of respondents – including 70% of Republicans – said the government should not set limits on ESG investments. Democrats expressed the view that ESG investment is good for society, while Republicans were more likely to view the government setting limits as excessive interference with the free market.