Who is the Wall Street Bull's New Opponent and What Does She Have to Say About Board Refreshment?
Fearless Girl, sculptor Kristen Visbal's new piece, was installed on International Women's Day by State Street Global Advisors, along with the fund manager's promise to urge Russell 3000 companies to diversify their boards with more female directors.
State Street and other asset managers like BlackRock Inc. have been putting pressure on corporations to create more diverse boardrooms. Motivated at least in part by industry studies that show a correlation between women in leadership and positive corporate performance, these fund managers seek to push corporations not only toward having more diverse leadership, but also better return on investment – according to MSCI's 2015 Women on Boards report, companies with female leadership generated a greater return on equity than those without.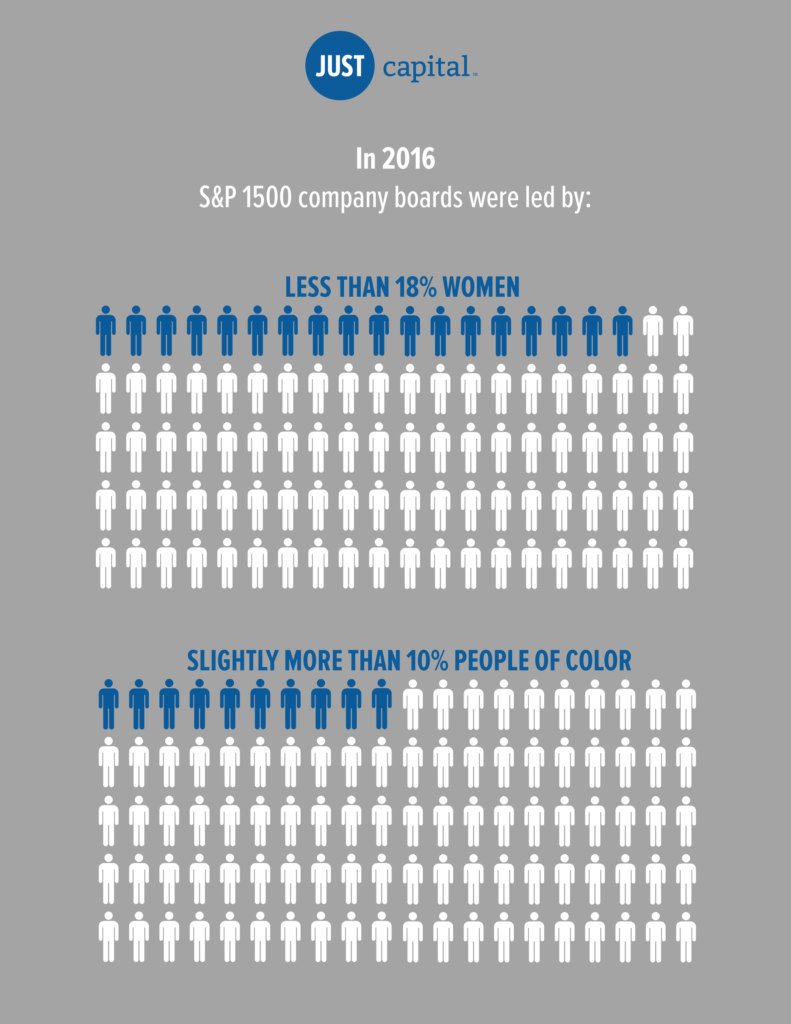 Still, in 2016, according to a recent Board Refreshment Study by IRRCi, women held less than 18% of S&P 1500 board seats, and people of color slightly more than 10%. Even companies in the JUST 100, the top performing industry leaders in JUST Capital's ranking, have struggled to bring gender diversity to their boards, with just about 1 more female board member at the table on average. If research shows that corporations with female board members perform better, why do so few board seats go to women?
Boards can't easily address diversity without first considering the question of refreshment. Over time, board seats have been populated by directors with CEO or other corporate leadership experience, historically the province of white men. Lending to this potential tendency for stagnation, 38% of board seats in the S&P 1500 were occupied by directors with at least ten years of service, and the average director tenure is 8.7 years, according to IRRCi's research.
Regular, proactive refreshment challenges boards to diversify in more ways than one – adding women and people of color to their ranks, as well as simply bringing fresh perspectives to the table and challenging the potential for bias in decision-making. JUST 100 company Sysco adopted a new board refreshment policy in 2016 that limits directors to 15 years of service, marking it as a leader in this area of corporate governance.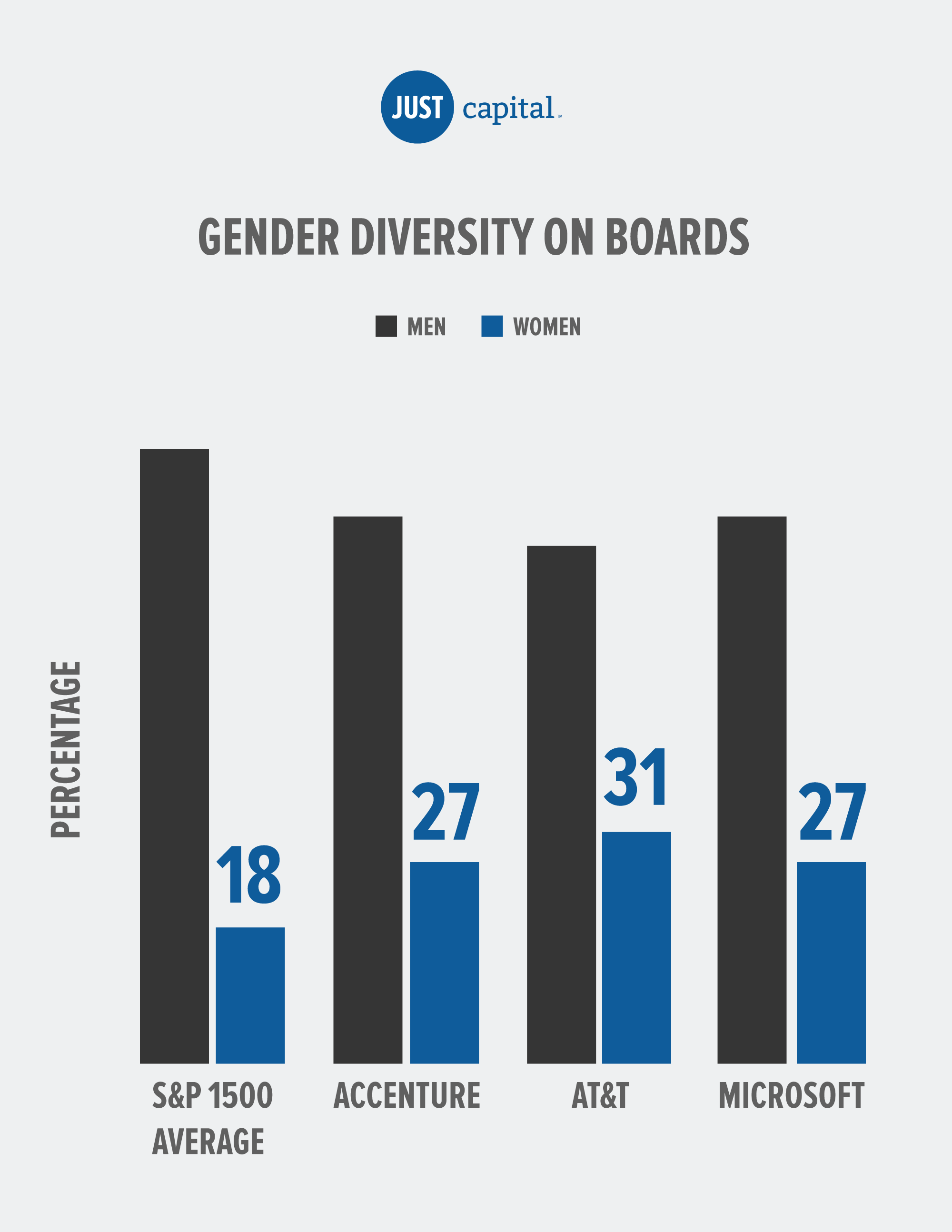 That said, it's rare for corporations to institute strict term limits as Sysco has, and it's worth noting that corporations that informally prioritize regular refreshment have also emerged as leaders in the area of board diversity. Accenture, America's Most JUST winner in IT Services, has an average board tenure of just 4.8 years, as well as notable diversity on its board, including three women, four people of color, and six people born outside the United States. Fellow JUST 100 companies AT&T and Microsoft can also boast above average gender diversity numbers, alongside tenures well below the industry standard for S&P 1500 companies.
Members of the JUST 100 have emerged as leaders in the area of board refreshment, with some, like Accenture, fostering exceptionally diverse teams of leaders. In 2017, JUST Capital is working to incorporate board diversity into our metrics and rankings – focusing on gender but also race, age, tenure, and professional experience – in the hopes that we can encourage corporations to invite a new set of decision makers, like Visbal's Fearless Girl, to the boardroom table.