November 29, 2022
This report is by Ian Sanders, Junior Research Analyst, Aleksandra Radeva, Research Analyst, and Matthew Nestler, Senior Manager of Workplace Policies Research.
This past year has been one of tremendous economic uncertainty as many Americans struggle to keep pace with elevated inflation and the rising cost of living. But what remains crystal clear is the public's unwavering agreement, year after year, that companies' top priority should be paying a fair and living wage to their workers. This year's Annual Issues Survey – The People's Priorities found that a fair, living wage remains the most important business Issue – in fact, it has doubled in importance over the last two years, comprising 21% of our annual Rankings model in 2023. This belief holds across political divides – in another recent survey, we found that strong majorities of Democrats (93%), Independents (83%), and Republicans (75%) alike agree that large companies have a responsibility to pay full-time adult workers in frontline jobs enough to make ends meet.
Despite this consensus, there is remarkably little transparency on worker pay. It remains difficult to track corporate performance on this issue, and while 89% of Americans favor the release of minimum wage rates for frontline and entry-level workers, again with broad bipartisan support, publicly available wage data is overall sparse and unstandardized.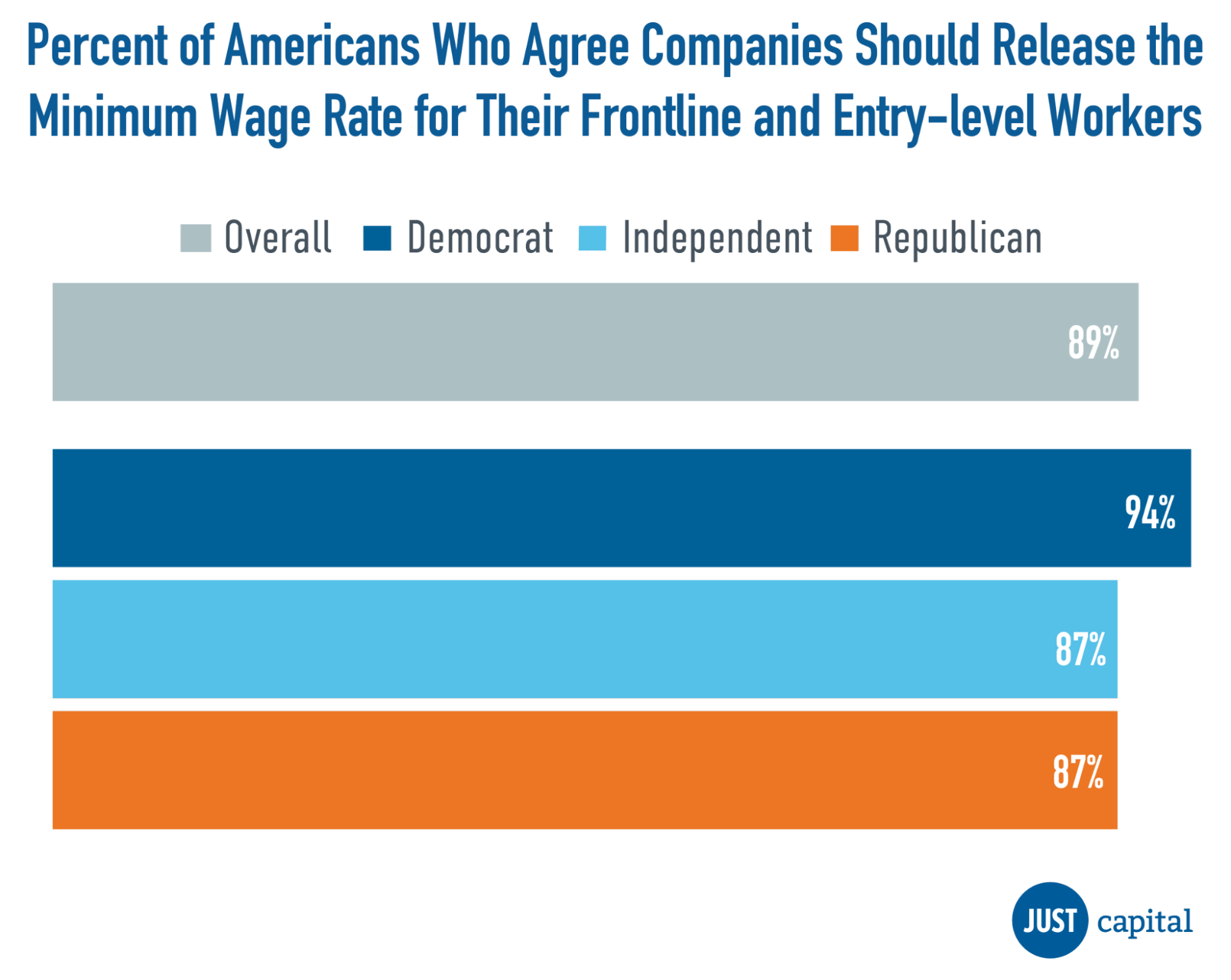 That's why for our 2023 Rankings we've enhanced how we are tracking and measuring performance on this key issue, which includes a new partnership with Revelio Labs, and a new data point tracking whether a company discloses any information on hourly wages, as well as its minimum, or lowest entry level, wage, which we will preview and explore in this article.
When we looked across the companies that will be featured in our 2023 Rankings in January, we found that only 13% of America's largest companies disclose some data about their employees' hourly wages, and even fewer, 9%, disclose the exact value of the minimum wage paid to their U.S. workforce.