Industry Distribution 
While we expected to find that companies who influence their supply chains to provide a living wage might be concentrated in industries with short supply chains and majority white collar workers, instead, we found that there is low but somewhat industry-distributed traction around companies encouraging or requiring their supply chains to pay a living wage. 19 out of the 36 industries we track (or 53%) were represented across the 30 companies that influence their suppliers to pay a living wage. The sheer diversity in the companies recommending this important benchmark to suppliers demonstrates that for these industries, the concept of living wage is not a foreign concept.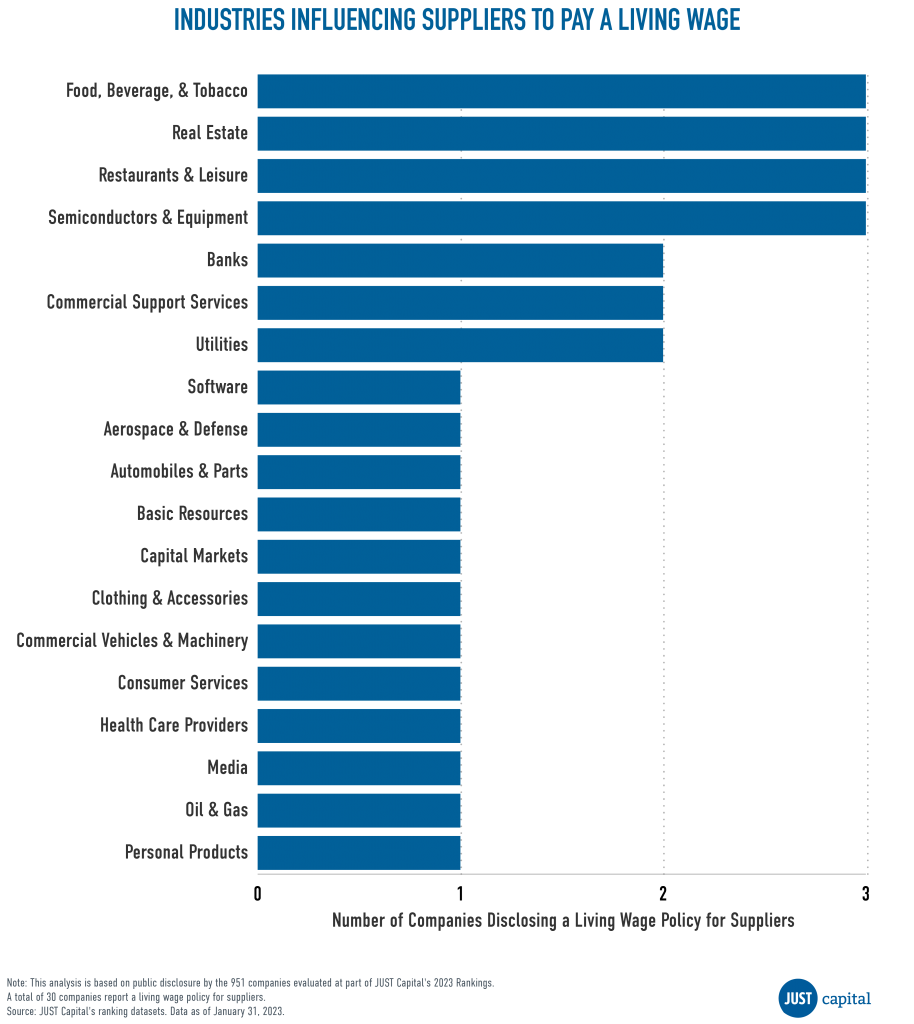 Company Best Practices 
Through our analysis we identified five companies: Morgan Stanley Capital International (MSCI), Accenture, Analog Devices, Smartsheet, and Teradyne who are leading on supply chain living wage commitments as well as wages for their own employees. In modeled estimates (produced by JUST Capital in partnership with Revelio) of the share of employees earning a living wage at each Russell 1000 company, all five of these organizations were in the top quartile of companies in terms of that predicted share. What's more, all five disclosed a living wage policy or encouragement for suppliers. These companies' approaches suggest three best practices in supply chain living wage commitment disclosure: 
Provides Clear Guidance for Suppliers.

Provides a clear definition of living wage for suppliers to follow. Describes living wage as meeting basic needs and separate from fair wages or legal minimums. See

Accenture

. 

Considers Living Wage to be a Human Right.

Explicitly links wage practices and living wage as a basic human right. The ability to provide for basic needs and the needs of dependents is already considered a human right by global Human Rights watchdogs including the United Nations and the World Economic Forum. See

MSCI

.

Develops Sustainable Supply Chain Strategies.

Develops actionable strategies to scale living wage in supply chains and own operations, and regularly reviews supply chain policies to improve living wage. This includes moving from merely encouraging suppliers to pay a living wage, to requiring that they do so. See

Smartsheet

. Disclosing transparent strategies demonstrates a commitment to living wage beyond virtue signaling and provides a clear roadmap for others within the same operating environment to follow. 
Morgan Stanley Capital International (MSCI) (Commercial Support Services) 
Morgan Stanley Capital International (MSCI) is a research firm focused on investments and stock analytics. They have some of the strongest language in the Russell 1000 around disclosure, requiring rather than encouraging that suppliers pay their employees a living wage. In addition, MSCI provides a clear definition of living wage which is essential in influencing behavior change. 
Accenture (Commercial Support Services)
Accenture specializes in strategy and consulting around a broad range of services for companies to optimize their business operations. Accenture is headquartered in Dublin, Ireland, and works to scale living wages throughout their own operations and supply chain. 
Accenture has developed an action plan and targets for scaling living wage throughout their global operations and supply chain, and they regularly disclose progress and update targets. They currently hold a 'real living wage' accreditation in the United Kingdom, and require suppliers in the United Kingdom to pay employees a living wage. At present, they strongly encourage suppliers in global operations to pay a living wage. As part of their work with suppliers, they also employ best practices such as regularly reviewing supply chain practices.  They are meaningful contributors in the global conversation about living wage, and frequently collaborate with the World Economic Forum to provide guidance and best practice solutions. 
Analog Devices Inc (Semiconductors & Equipment)
Analog Devices, Inc. (ADI), is an integrated circuits company based in Wilmington, Massachusetts. Analog devices is one of the few companies in the Semiconductor Industry that encourages suppliers to provide a living wage to employees as an addition to scaling living wage in their own workforce. ADI has identified living wage as a key focus area in self-education to improve their own operations and supply chain practices. While they do not offer a definition of living wage yet, they are clear in providing guidance on how they would like suppliers to treat their employees– recommending suppliers provide employees with paid vacation and sick leave.
Smartsheet (Software) 
Smartsheet specializes in project management and team collaboration software. While they do not define living wage for suppliers or their own operations, they do require suppliers to pay employees a living wage. They also include additional working conditions that suppliers are required to uphold including a safe and healthy work environment, and ethical conditions. Smartsheet has an eye toward passing the living wage down past their own operations and suppliers; in addition to requiring that suppliers pay a living wage to their employees, they also require that suppliers also pay their own contractors a living wage and guarantee the same working conditions. This kind of impact is far reaching, leveraging multiplier effects to create positive changes in workers wages well beyond their own operations.
Teradyne (Semiconductors & Equipment) 
Teradyne is a semiconductor company specializing in test equipment headquartered in North Reading, Massachusetts. Teradyne discloses that they ensure a living wage for their own employees through their own labor practices, and they expect suppliers to follow the same practice. While they do not supply a definition of living wage, they have focused efforts on improving their supply chain practices, and clearly disclose strategies and processes taken to improve and engage supplier practices. They outline a management approach designed to ensure that they are implementing responsible sourcing practices that engage all stakeholders in their own company, environment, governance, the communities they impact and in the products that they produce.