Chart of the Week: Companies Paying a Living Wage Fare Better in Recovery
For too long the conventional wisdom in corporate America has been that keeping wages low and reducing labor costs was the key to profitability. But the reality is that divesting in workers was bad business during good times, and is equally short-sighted during an economic downturn. Leading research shows that investing in workers – raising wages and providing strong benefits – improves business outcomes. As companies are developing strategies to weather the current recession, they should start by considering how to improve the financial security of their workforce.
One way to do this is by paying a living wage, which is the amount of money needed for a given family to cover the cost of their minimum needs where they live – including food, childcare, health insurance, housing, transportation, and other basic necessities like clothing and personal care items. 
In this edition of our Chart of the Week series, we look at our "pays a living wage" metric to analyze how companies with a high percentage of employees who are estimated to be making above a threshold for a national living wage have performed over the trailing one year, including the market downturn in the first six months of 2020. 
As it turns out, the top quintile of companies in our living wage ranking have returned 12.3% compared to the bottom quintile companies who have seen a 1.1% return relative to their industry peers.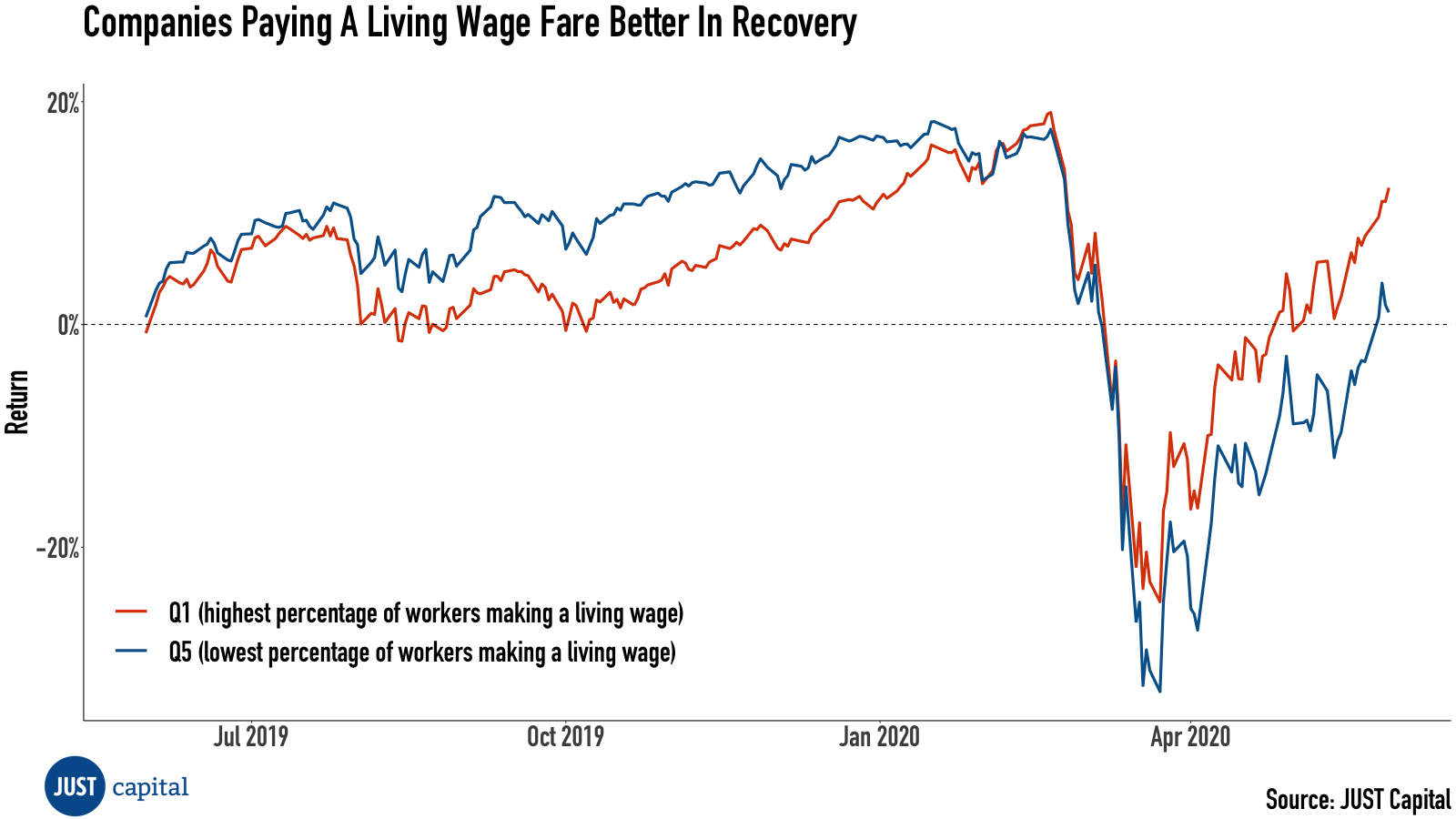 Years of research has found that workers who do not have to stress about things like whether they can afford a doctor's visit or medication, stay with their companies longer, and are more engaged. It's expensive to replace an employee, and a more engaged workforce is more productive.
Whether or not a company pays its employees a living wage is the third highest prioritized issue that Americans care about with JUST Capital's Ranking model. Our living wage estimates are  created in collaboration with MIT, which provides us with county-level estimates on the income that a representative family needs to meet just their basic needs, which do not account for short- and long-term savings or other burdensome expenses like debt. 
Historically, many frontline workers, i.e. those with what is now known as essential jobs, did not generally receive a living wage. With many workers now facing increased economic insecurity in face of the COVID pandemic, responsible companies  should consider paying their workers more. This would allow them to focus on their jobs, which in turn can have a positive impact on the company's bottom line. In fact, we found that companies who have prioritized their workers' financial needs throughout the pandemic in the first six months of 2020, have shown significant outperformance we have highlighted in past Charts of the Week.
If you are interested in supporting our mission, we are happy to discuss data needs, index licensing, and other ways we can partner. Please reach out to our Director of Business Development, Charlie Mahoney, at cmahoney@justcapital.com to discuss how we can create a more JUST economy together.
If you have questions concerning the underlying analysis, please reach out to our Senior Manager for Quantitative Research, Steffen Bixby, PhD, at sbixby@justcapital.com.