Chart of the Week: Companies With Strong COVID-19 Responses Prove You Don't Need High Profit Margins to Do Right by Your Stakeholders
This week, on the heels of Forbes' recent list of Top Corporate Responders, powered by JUST Capital's data, we take another look at the companies taking action for workers, customers, and communities in response to COVID-19. Looking at the top 25 Corporate Responders featured in Forbes, we evaluate each company's operating margin relative to its respective industry median. What we find is that the companies that are providing PPE, paying wage hikes for frontline workers, and investing in local communities are not necessarily the companies with the highest profit margins within their industry.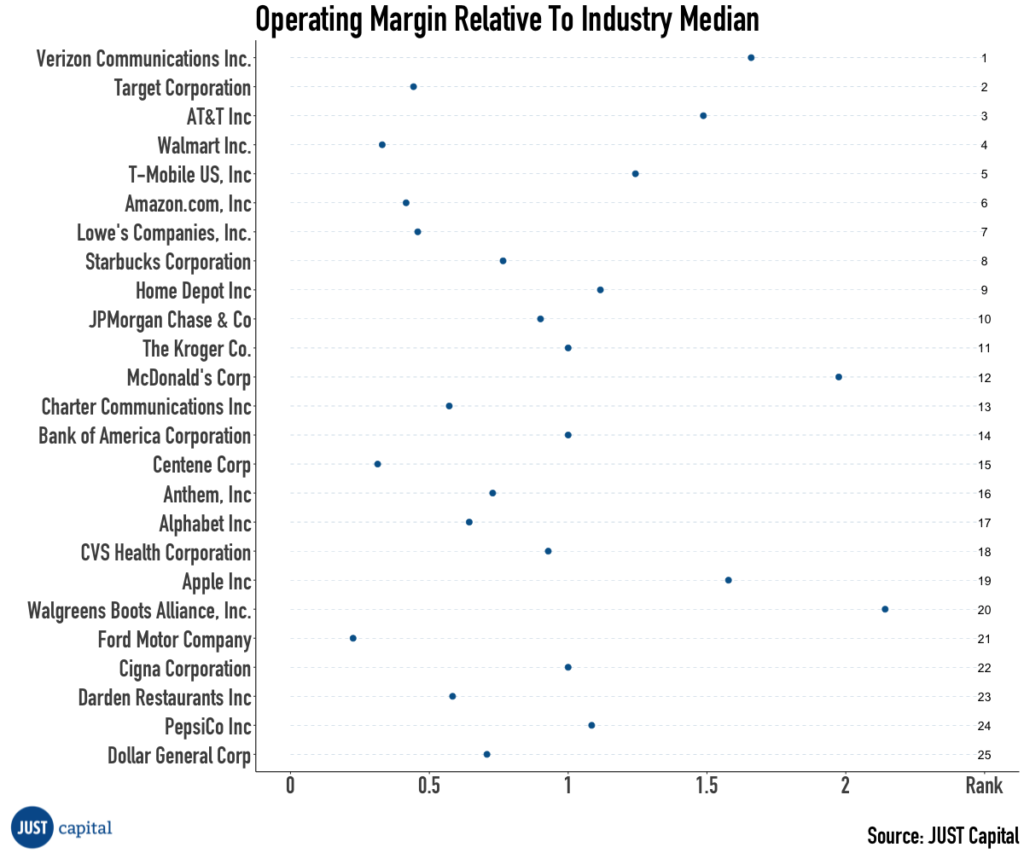 Some companies, for example, Ford – which pledged to provide health insurance to employees who elect to take sabbaticals, cut pay up to 50% for 300 executives, pivoted to produce respirators and masks for frontline workers, and suspended dividends to shareholders in order to focus on its workers, customers, and communities – continue to provide for their workers and communities even without strong profits. As we look to America's largest companies to take action during the crisis, these standout leaders provide a clear example of what it means for companies to support all stakeholders, even when they're not yet being rewarded in the market.
Corporate social responsibility has never been more important than it is in times of crisis. While 29 of the 100 largest employers have laid off or furloughed employees throughout the pandemic, those that have created a sustainable basis for their long-term success by supporting all their stakeholders deserve our attention and support. We believe that those actions will prove to be a win-win for everyone. And once the pandemic subsides, workers, customers, and communities will remember the companies that did right by them and those that did not.
We're continuing to analyze how companies are performing in the market, as well as for their stakeholders, throughout the COVID-19 crisis. Check out all our coverage here, and stay tuned for next week's chart.
If you are interested in supporting our mission, we are happy to discuss data needs, index licensing, and other ways we can partner. Please reach out to our Director of Business Development, Charlie Mahoney, at cmahoney@justcapital.com to discuss how we can create a more JUST economy together.