Chart Of The Week: Minimum Wage Raises Are Only the First Step for JUST Companies
Over the last few weeks, we looked at some of the implications of the incoming Biden administration for environmental policies and found that there is significant potential for a win-win for both shareholders and the environment. This week, we turn our attention once again to the stakeholder that Americans prioritize above all others: Workers.
Each year JUST Capital's polling shows that the American public prioritizes a fair and living wage. Last month, the public took those strongly held beliefs to the ballot box in Florida, passing a proposal to raise the minimum wage to $15 by 2026. For many workers in Florida this will be a crucial step toward strengthening their financial security. However, companies can do much more, both in Florida and across the country, to ensure workers are financially secure: A minimum wage of $15 does not necessarily translate to sufficient income for all workers to meet their basic needs – both for themselves and for their families – as those needs vary widely depending on an individual's situation and geographic location.
As part of JUST Capital's annual ranking process, we estimate the percentage of workers making a living wage – i.e. the percentage of workers who earn enough to meet their basic needs. We have shown in the past that companies that pay a living wage to a higher share of their workers are not only surviving, but that they are thriving and outperforming their peers. Updating this analysis using our latest living wage estimates, we find that the top 20% of companies in each industry (Q1) outperform the lowest 20% by 9.84% over the trailing year to October 31st, 2020: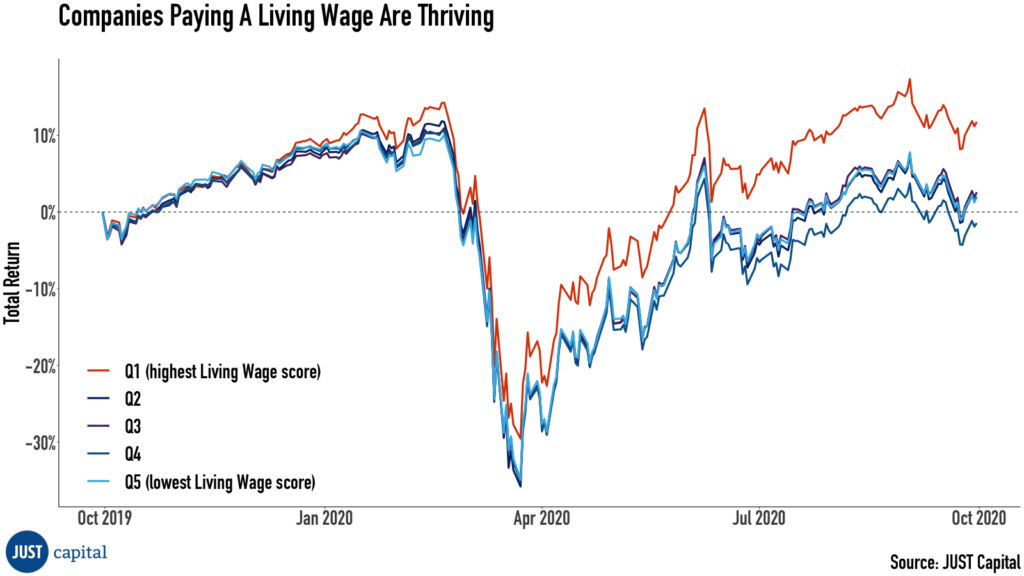 As president-elect Biden takes office next month, there will be a renewed focus on raising wages for low and middle-income Americans, including increasing the federal minimum wage to $15 per hour. Those that pay their workers more can be expected to continue to outperform in the future, showing that both workers and shareholders benefit from a company's focus on paying a living wage.