Chipotle, Intel, and Prudential Leaders Share How They're Using Transparency, Real-Time Feedback, and Advancement to Recruit and Retain Workers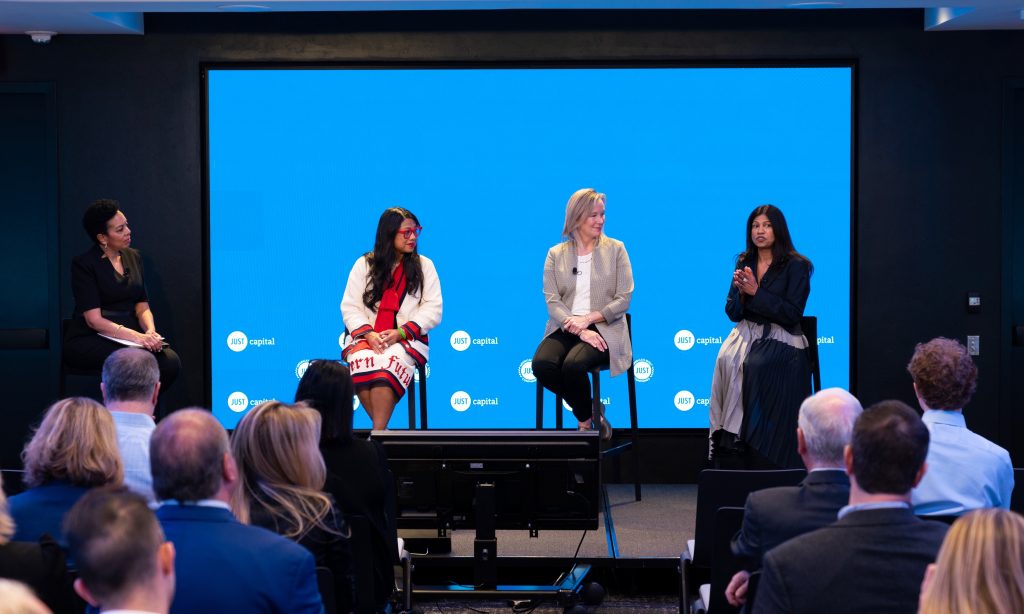 After capturing the attention of economists, employers, investors, and others for nearly a year, the "Great Resignation" may be showing signs of slowing. The latest jobs report from the Department of Labor shows the U.S. has recovered 93% of jobs lost since the beginning of the pandemic, and new research finds that current quit rates are in-line with similar trends seen during periods of economic growth in the 20th century.
Instead, as the economist Bart Hobijn argued in a letter to the San Francisco Fed, we might be better off thinking of the current labor movement as a "Great Renegotiation." Workers are leaving jobs en masse, but they may be doing so to take a better paying role with greater opportunities for growth and or that better aligns with their values. And those that are staying on the job are fighting for better working conditions, pay, and other factors – seen clearly in recent unionizing efforts at Starbucks and Amazon.
For employers committed to environmental, social, and governance (ESG) principles, this reframe only adds weight to the need to invest in their workforce right now. To find out what companies can do to bolster their employee engagement and retention as well as recruitment efforts, we brought together Chipotle Chief Diversity & Inclusion and People Officer Marissa Andrada, Intel EVP and Chief People Officer Christy Pambianchi, and Prudential SVP of Inclusive Solutions at our event held Monday at Nasdaq, "The Strategic Imperative of the 'S' of ESG."
Sitting down with CNBC's Sharon Epperson, Andrada, Pambianchi, and Reddy talked about the importance of real-time employee feedback, transparency on workforce metrics, and pathways for growth to their hiring and retention efforts. Read on for key takeaways and watch the full conversation below.
Gather real-time and periodic employee feedback
The use of a formal survey to gain employee feedback doesn't work anymore, Andrada said. She described Chipotle's "Chip Chats," where C-suite leaders visit different restaurants to give a five-minute update on company-level efforts and then invite questions from employees. The format went virtual during the pandemic, with the restaurant chain holding sessions every month for any worker at the company to attend – key to engaging its widespread workforce, she noted.
"Sometimes people on the outside don't understand we are not a franchise business," Andrada said. "We are company-operated across 3,000 plus restaurants so that's a huge 100,000-person workforce that work for us hourly."
Reddy touched upon similar efforts to bridge both formal and informal employee feedback at Prudential. The company sends out both annual and periodic surveys, but is making use of its Business Resource Groups to ensure it's getting a "real-time pulse on employee sentiment from different demographics." Reddy shared that 5,000 Prudential employees belong to its business resource groups, nearly a third of its workforce, and that this approach has helped the company pilot new offerings like allowing for more individual choice in benefits.
For Intel, gathering this feedback has been crucial for retention, Pambianchi said. She noted that the company launched an inclusion survey last year and that it's been focused on defining the unique value it provides as an employer. "I call it re-recruiting the people that do work for you," she said. "Like renewing your marriage vows – why did I come work here in the first place?"
Be transparent with workforce data, especially on compensation
A key unique value for Intel, Pambianchi said, is its transparency. That's extended from its founders' belief in an "open door" policy with executives to sharing its workforce data and demographics. Intel has been disclosing its EEO-1 data, the detailed, intersectional data large companies are required to report annually to the EEOC, for over a decade, she said, and recently started disclosing its pay data in relation to demographics of its workforce.
The move allows for an open and transparent conversation about how the company is doing, she said, and this has been especially beneficial when it comes to compensation. "People want to get paid," Pambianchi said. "In roles like ours if you're explaining, you've already lost. So it's just much better to say, here's the data. We're doing good here. We're doing bad here. We're going to work on getting better. And can you help us?"
Invest in employee growth and workforce development
Beyond understanding where companies currently stand in relation to wages, Andrada shared that Chipotle's investing in helping its employees understand their earning potential with the company. "What we hear most importantly for anyone is, 'How can I live a life?' and 'How can I make that pathway to middle class?'," she said. The company's increased its wages to an average $15 an hour and offers a bonus program for hourly workers that allows them to earn up to an extra month's pay annually, Andrada noted, but also introduced a debt-free degree benefit in 2019 to help create a pathway toward economic mobility and growth for its employees.
"I've met employees who join us and in as quick as six months or as soon as three years, are making over six figures because they're leaning into their opportunities with the company," Andrada said. Investing in workforce development has also taken shape outside of the company, Pambianchi noted, in Intel's case. The company is investing heavily in increasing access to STEM education for underrepresented communities around the world through its AI For Youth program, she said, as a way of collaborating with communities to help build a more diverse workforce.
Whatever nickname you want to give it, employers are facing a hyper-competitive talent market. There are no easy answers, of course, but Chipotle, Intel, and Prudential are providing examples of how responding to needs of workers with real-time engagement, transparency, and a focus on opportunity can help bolster the "S" in a company's ESG agenda.