COVID-19 Is Changing How Businesses Behave. Will They Keep it Up?
COVID-19 has transformed our cities, our jobs, and our economy. It's also fundamentally transforming businesses – from the urgent need to address operational and financial challenges to turning broadly pronounced statements of stakeholder purpose to precise examples about how companies are treating their stakeholders in a crisis.
We've been tracking the actions taken by companies in response to coronavirus, and as of April 1st, we've tracked that 29% of the 100 largest U.S. employers have announced some kind of bonus, grant, or financial assistance to help curb income volatility and compensate people for their work in this time, including Target and AT&T.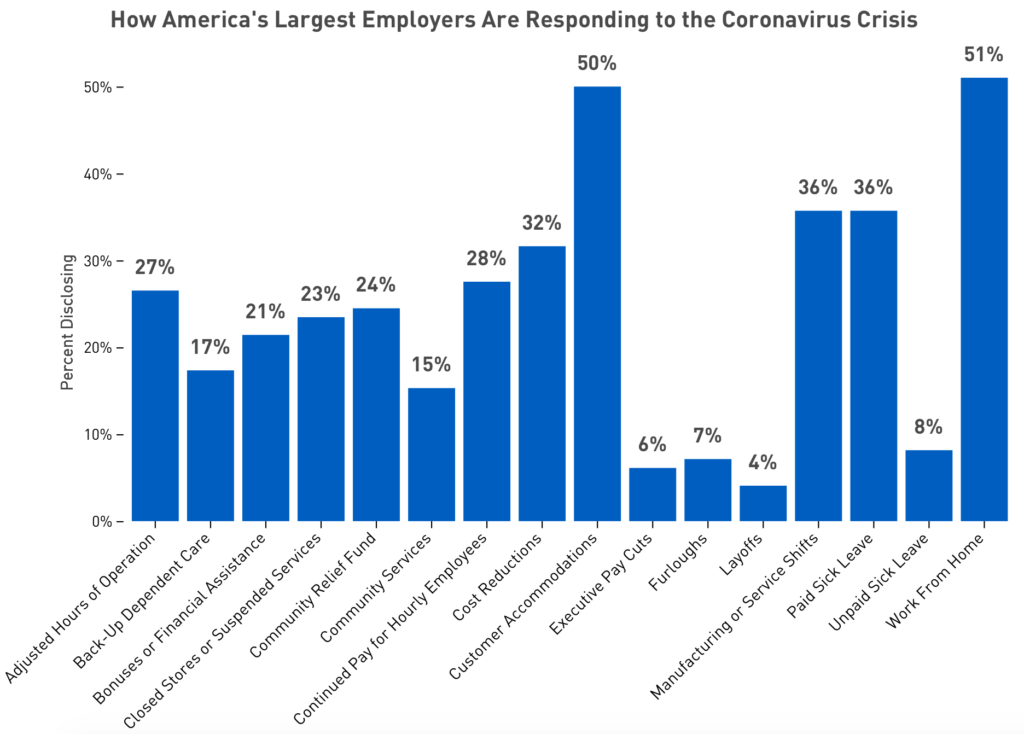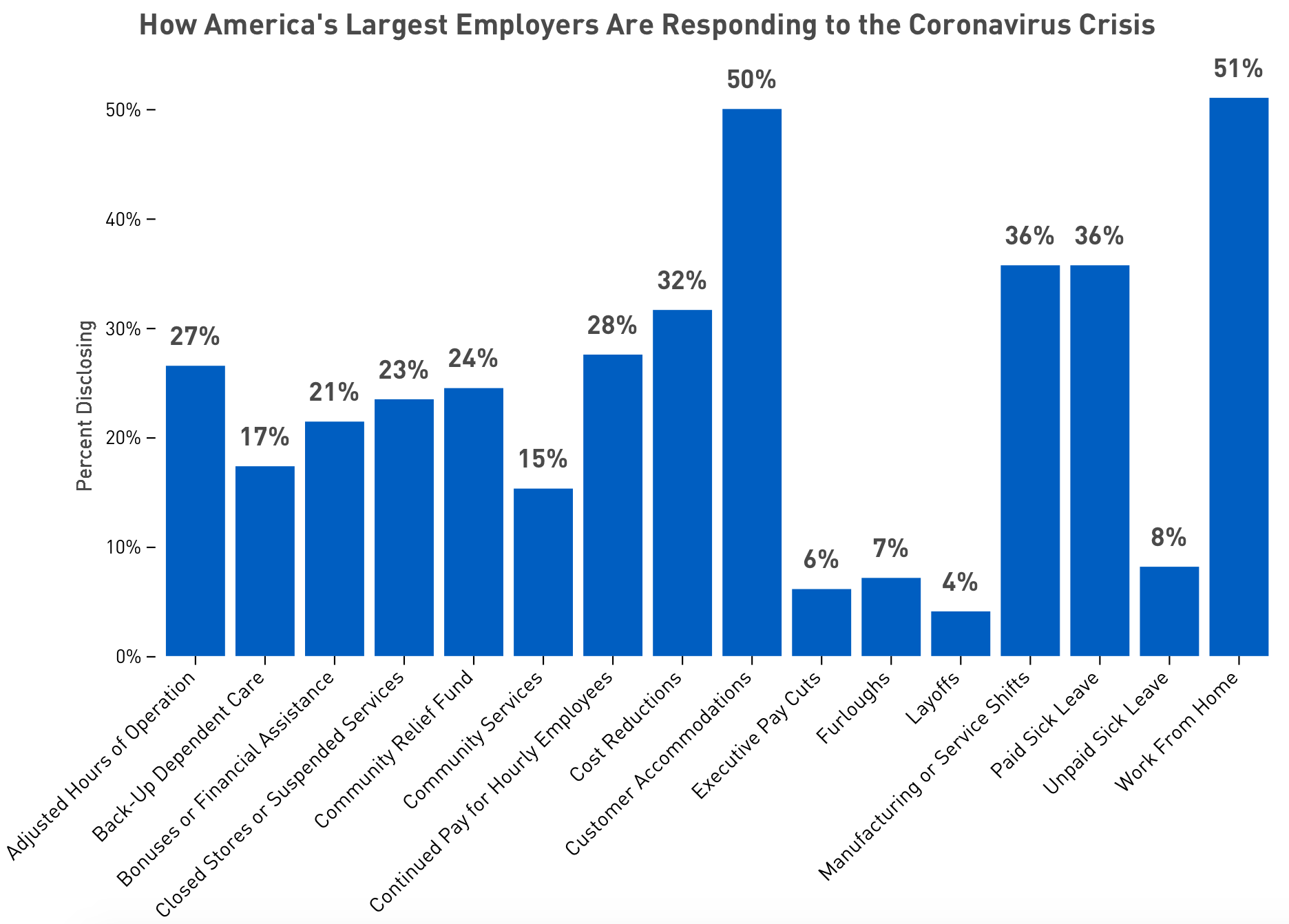 Those payments are increasingly being referred to as hazard pay because workers in grocery stores and pharmacies are literally on the frontline of this pandemic, sacrificing their health and safety for companies to stay open and for consumers to continue to have access to essentials like food, internet, and basic services.
Paid sick leave is another critical benefit for workers. According to our assessment, 38% of the largest employers have announced implementing or extending a paid sick leave policy in response to COVID. Many of these policies are reliant on an employee having a confirmed case of COVID, which in a limited testing environment, is a high bar.
We're also seeing the relationship among businesses and their stakeholders change. We've seen employee activism explode in recent days, from strikes at Instacart and Whole Foods, to reports from worker groups hearing from workers in droves. We're seeing communities and governments ask companies to step up in new, profound ways around making medical equipment and other necessities not experienced since wartime.
It may be too early to ask but here's what's on my mind: What comes next? This crisis has shown how vulnerable many Americans are, and that many companies either didn't or don't have policies in place to ensure people's well-being and financial security. A number of companies have really stepped up to the plate – clearly considering their workers' full, lived experiences in enacting policies that range from wage increases and bonuses to paid sick leave and dependent care to more flexibility on working hours.
Whenever this ends – spring, summer, or later – companies will face a choice: Do they continue to compensate their workers at the level they have been through this crisis, or do they withdraw those wages and benefits because the immediate crisis is over?
JUST Capital has done extensive polling of the American people, and before the pandemic, 80% of people thought companies were not sharing enough in their successes with their workforce.
Workers on the frontline – nurses, doctors, and also grocery, pharmacy, and delivery workers –- have recently been celebrated and championed, but will they all see wage cuts? Are we really going to roll back paid sick leave for all the workers that just received it for the first time? Or is this the moment that we can recognize that the way out of this crisis in a sustainable way is to grow the pie for more people?
This is a moment for companies at the forefront of stakeholder capitalism – that have been talking about their commitment to their stakeholders – to actually show that commitment, keeping benefits and higher wages in place. This is a moment where we don't aspire to return to normal. But rather we build something better, and create a stronger, more interconnected system that supports all stakeholders over the long term. Where companies and workers alike are better equipped to weather future storms, and where companies become more resilient against future shocks and disruptions like this one.
This article was originally published at Forbes.com.