Experts Explain How Companies Can Navigate the Fallout of Roe v Wade Overturning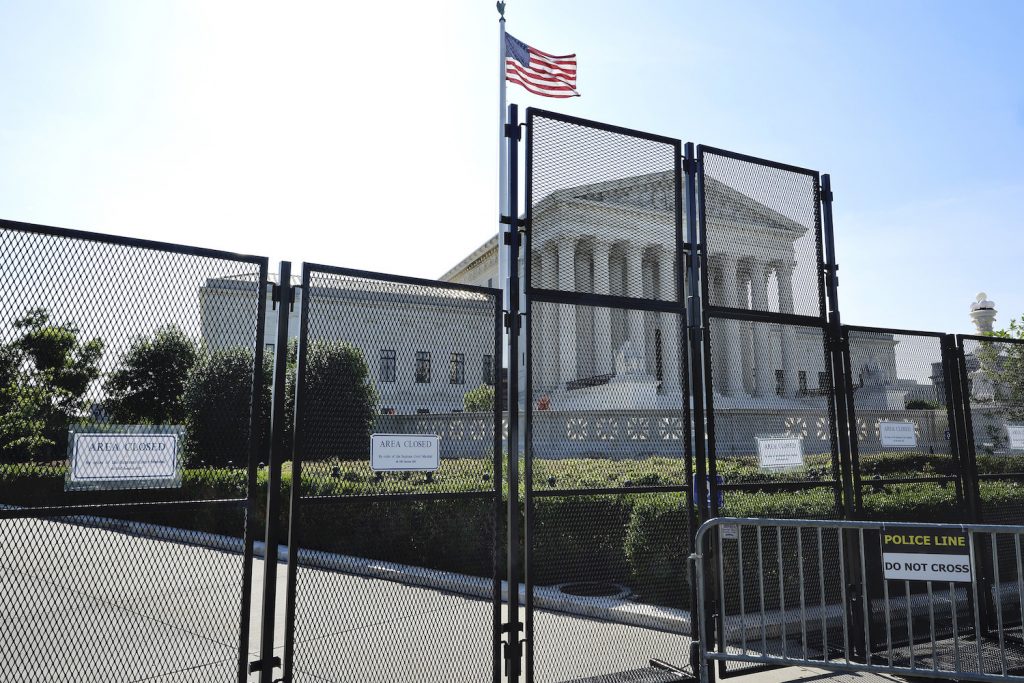 Today the Supreme Court issued its anticipated ruling to overturn Roe v. Wade, a massively consequential decision that will alter the fabric of American society as we've known it for the last 50 years – particularly for women. While the shifting makeup of the Supreme Court and their leaked draft opinion forecast this moment, it nevertheless represents a jarring shift for our nation, one which leaders of both the public and private sectors will be asked to navigate in the coming months and years.
Following the trend of earlier polling, we know that CEOs are finding themselves in a situation where a sizable portion of their stakeholders expect them to weigh in on societal issues, and where silence itself can communicate a position. In our 2021 Americans' Views on Business Survey, JUST Capital found that 63% of Americans believe that CEOs of large companies have a responsibility to take a stand on important societal issues. It would be interesting to see what that number looks like today. However, while there is certainly an ideological divide – the percentage of those holding that belief was split into 81% liberals, 68% moderate, and 42% conservative – there's no doubt that business leaders are having to contend with the implications of issues that affect their workers and customers like never before.
Through our work, JUST Capital is committed to identifying the public's priorities for just business leadership and objectively assessing the state of corporate performance on these priorities, including what actions they're taking to improve.
To help business leaders navigate the specific challenge of abortion and reproductive rights, we turned to a few experts. Susan McPherson is the founder and CEO of McPherson Strategies, and is also a JUST Capital advisor and author of "The Lost Art of Connecting." Her clients have included Dell, Intel, and Salesforce, and she also worked on Don't Ban Equality, which has brought 330 companies in support of access to abortion since 2019. Mackenzie Long is vice president and Caty Gordon is director at the Evergreen Strategy Group, a consultancy whose clients have included BlackRock, Levi Strauss & Co., and Nike.
While each of these experts has experience working with pro-choice organizations, their advice comes down to organizational authenticity. McPherson, Long, and Gordon agree that corporate leaders must remain faithful to their company's values, culture, workplace policies, and workforces. Along these lines, instead of prescribing a specific position, our intent is to highlight prompts companies should consider in shaping their plans. In order to maintain our objectivity as a research organization, JUST Capital does not hold an organizational view on the underlying issue; however, we strive to create guidance and share examples for companies navigating timely, complex issues. We hope the insights below are useful in determining how to make the best decisions for your organization.
Begin with your values
"This needs to be – and yes, I'm going to use that overused term, 'authentic' – authentic to the core values of your company," McPherson said. That is, if a company has never been overtly political, it would seem out of character to all stakeholders for Roe to be the issue to change that.
Many of the largest companies in America, however, have spent years being outspoken about promoting greater gender and racial equity through hiring, promotions, and equal pay, McPherson noted, and if those companies are going to attempt to have no response on the effects of the Supreme Court's decision, "they're going to be called out if they're not also addressing this particular issue."
She said that she recognized that in a state such as Texas, with an administration that has shown it will take action against companies that push back against its laws, corporate leaders may be "terrified" to publicly speak about reproductive rights even if they decided that it is in alignment with their company's values to respond in some way.
It may also just be entirely new territory, too. "Abortion access has not been an issue that corporate America, or really, most people in the public sphere in different sectors have really wanted to touch," Long said. "It's been this sort of political third rail and it's not been understood as, or thought of as, a business issue, a workforce issue, or any of the things that we're now quickly talking about."
Because of this, McPherson said it is reasonable for companies to keep the conversation primarily internal, and not feel obliged to rush to speak publicly.
Take a look at your health insurance and benefits and 'get your house in order'
In separate interviews, McPherson and the Evergreen teams both used the phrase "getting your house in order" to refer to the most important step any company should take.
"Where companies have the most opportunity to make a positive impact, and also where they're going to be most successful without running into trouble, is getting their own houses in order first," Gordon said. McPherson expanded, "When you think about what happened prior to marriage equality, where you had different policies for every state (which created a bureaucratic nightmare), I think now companies are realizing we're going back to that with regards to reproductive health. So the sooner they can get their house in order, it's going to be much easier for them to make a statement overall, which the public is asking for because we've come almost to the point where we expect them to."
That is, regardless of whether or not a company wants to make an ideological statement, and regardless of whether or not they want to adjust a policy, its leadership needs to be prepared to answer questions its workers may have. And that primarily involves the company's health care benefits.
McPherson and the Evergreen team both tell their clients that, when looking to help their workers maintain the same level of access to care, they should offer, as McPherson put it, the "gold standard of health insurance for women's reproductive care – for contraception, for abortion, for fertility treatments."
Companies that either enhanced their benefits or touted existing ones within the context of Roe following the Politico leak include Amazon, Apple, Citi, Starbucks, Tesla, and Yelp. Not all of these companies released a statement regarding a political position.
McPherson pointed to Levi's as an example of a company that went the "first, get your house in order" route. Following Texas' S.B. 8 bill in September, which enacted a ban on abortions beyond six weeks and empowered citizens to sue those providing or assisting with an abortion they learn about, Levi's decided to internally assess its offerings and get a feel for where its stakeholders stood. Shortly after the Politico leak in May, the company was prepared to take a stand saying that "protecting reproductive rights" is "a business imperative" while showcasing what steps they've taken and how they are supporting women and families through their offerings.
If you are going to release a statement, craft one that is consistent and aligned with stakeholders
"What we are always reminding our clients is that one of the most, if not the most, important stakeholder groups are their employees and it's employees that are the first to see if a company is talking out of both sides of its mouth," Long said. If a company is going to make a public statement, as Levi's did, then it should not come as a surprise to stakeholders when it is published.
In a CNBC interview in Davos in May, Bank of America CEO Brian Moynihan was asked how he knows which social or political issues to have his company respond to without letting his personal bias take the lead. Moynihan said those types of decisions often follow his workforce's sentiment. "We have 200,000 people and they represent every interest so we tend to take action when it means something to our team."
McPherson told us that CEOs can access this insight through employee resource groups (ERGs). "Tap into your ERGs to find out how employees are feeling and how you can be supporting them through this," and noting that the board must also have buy-in with whatever position the C-suite decides is best.
Long said she tells her clients that internal communication and "the email from the CEO is more important than the press release that goes out," and it (or any other communication) will likely have more of a personal touch for the particular organization, but has to be written as if it were going to become public – because it very may well end up that way.
As Paul Polman recently wrote in Fortune, "The best and the only defense is consistency. A company doesn't have to be perfect, but it should be striving to improve all the time."
Take a position you are willing to stand by, and expect stakeholders to hold you accountable
You must be ready to back up anything stated with future actions, McPherson said, because any position a company may choose to take following the Supreme Court decision and following state restrictions is "not a one and done." If a company is going to take a stance because of stakeholder demand and values, then leadership needs to ensure that things like where it chooses to hold events or do business, or where it spends political money, need to follow that stance. There is no "right" answer, but, as McPherson kept returning to, authenticity is crucial for every kind of organization in this moment.
As we've discussed in the past, we are in a new era of accountability. And corporate leaders should expect that activists will shine a light on public positions that are at odds with those actions, like political donations.
"There are real potential consequences to taking action," Long said, referring to states that might penalize companies for taking direct or indirect political stances. But she pointed to research that argues that safe access to abortion has benefitted American women economically by reducing unwanted pregnancies: "Since women have had this right for the last 50 years, the labor force has grown, businesses have made more money…We know that if women don't have access to care, they're three times more likely to leave the workforce." A 2021 Brookings analysis of years of peer-reviewed research on the topic concluded that "overturning Roe v. Wade would diminish women's personal and economic lives, as well as the lives of their families."
Treasury Secretary Janet Yellen echoed that concern at a recent Senate Banking hearing saying. "I believe that eliminating the right of women to make decisions about when and whether to have children would have very damaging effects on the economy and would set women back decades." Further, the Institute for Women's Policy Research estimates that state-level abortion restrictions cost state economies $105 billion dollars per year by reducing labor force participation and earnings levels and increasing turnover and time off from work among women ages 15 to 44 years.
Moreover, Long explained that companies have increasingly been committing seriously to diversity, inclusion, and equity, but the overturning of Roe "can make it really hard to follow through on those commitments. And they will still be held accountable for that."