How Corporate Transparency on Racial Equity is Driving Investment Decisions
After a summer of protests around racial equity and injustice, many CEOs have responded with statements to support racial equality and commitments to improve their company's efforts in addressing this issue. But investors want to know if companies are going to "put their money where their mouth is."
On July 27, JUST Capital hosted a discussion with representatives from two of America's largest pension funds, the New York City Employees' Retirement System and the California State Teachers' Retirement System (CalSTRS). Bloomberg's chief diversity reporter, Rebecca Greenfield,  moderated the virtual event, where we explored how and why investors, media, and nonprofits are exerting more pressure on companies to disclose workforce demographic data as a crucial first step toward addressing racial inequity in corporate America. 
Watch the full discussion here:

JUST Capital's senior researcher on wages and workers, Kavya Vaghul, kicked off the panel with a sneak preview into some of the data JUST has been collecting around workforce demographic disclosures. This data allows us to build a benchmark for not only what good disclosure looks like, but also what representation looks like at America's largest employers. (Please note it's a snapshot of the data as of July 23 and is subject to change.)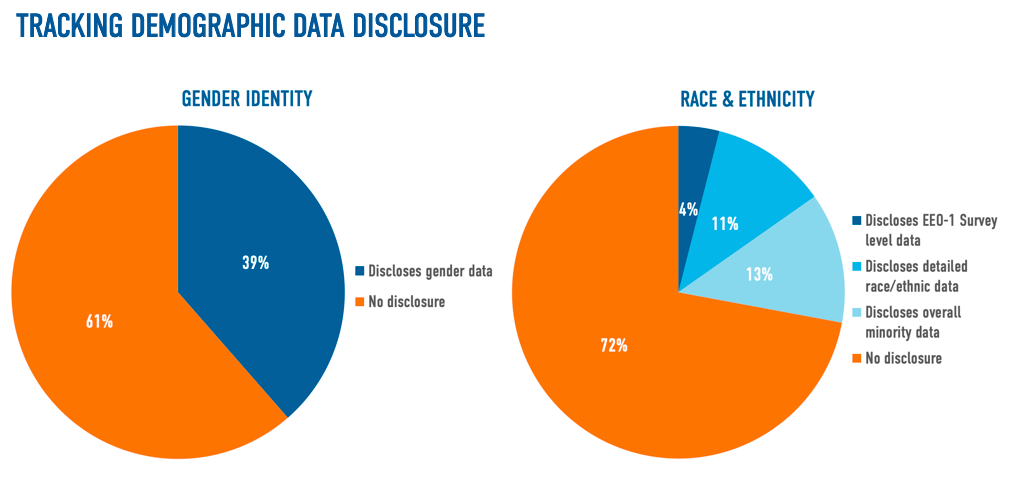 JUST's preliminary analysis of the Russell 1000 shows that 40% of companies disclose data on the gender identity of their workforce, and 60% have no disclosure. Nearly 30% of companies disclose some type of data on the racial and ethnic identity of their workforce, with the level of detail provided varying greatly. Only 4% of companies publicly disclose either a full EEO-1 Report or the data that would typically be available in an EEO-1 Report. 
The discussion went on to explore what EEO-1 data shows us, how companies and boards can use it, and why investors are pushing for disclosure.
"When we talk to companies, they certainly like to tell us all the great stuff they are doing to promote diversity in their companies, but we have no way to evaluate that," said Michael Garland, assistant comptroller for corporate governance and responsible investment for the New York City Office of the Comptroller, which oversees the city's pension funds. The comptroller recently sent letters on behalf of the city's employees', teachers', and board of education funds to the CEOs of 67 S&P 100 companies that issued supportive statements on racial equality, calling on them to affirm their commitments with concrete action by publicly disclosing their annual EEO-1 Report data by the end of August. "We have no way to tell what's real and what's not," Garland said, "so give us the numbers so we can actually assess your performance."
Garland also explained it is in the companies self interest to disclose. "McKinsey and others have shown that companies with diverse workforces typically outperform their peers," he said. "Sharing the EEO-1 data is cost effective, because companies have to collect the data anyway, and it allows for both benchmarking and showing year over year trends." It also helps the C-suite and boards understand how their company stacks up against its peers, he added. 
"We know it's not proprietary information," said Mary Morris, investment officer for the California State Teachers' Retirement System and co-chair of the Human Capital Management Coalition. "It's not information companies should not be disclosing. If they disclose the information, they can put it into context." Morris went on to say that the next steps pension funds take to exert pressure on companies would be to "submit shareholder proposals and not vote for directors." 
"I would be remiss if I didn't acknowledge the fact that while it's highly detailed and a critical benchmark, the EEO-1 Report is not a panacea for the state of diversity at companies," JUST's Kavya Vaghul said. "There are many other aspects of diversity – such as age, sexual orientation and gender identity, or disability – that it doesn't track and that we're currently unable to track in other forms because disclosure is so low. We hope that this changes over time."
Garland agreed with Vaghul that the reports can't solve all issues of diversity and equity within companies, but said it's the best first step we've got. , "It is the gold standard and it does solve a problem for investors."
For additional reporting, see Jeff Green's article on Bloomberg: "Big Companies Track Workforce Diversity But Won't Share the Results."