How Have America's 300 Largest Employers Responded to Backup Dependent Care Challenges During COVID-19?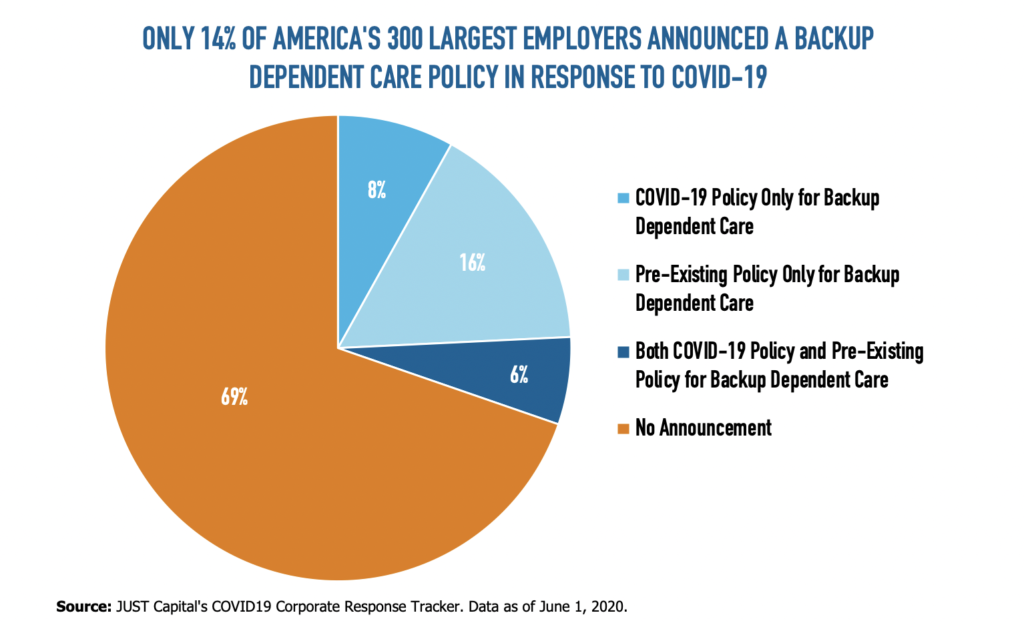 Data from JUST Capital's 2020 Rankings shows that 22% of America's 300 largest employers disclose having a general backup dependent care policy.
With the onset of the COVID-19 pandemic, some companies announced that they were providing additional backup care or paid time off benefits to help working families cope with shifts in their care arrangements. Using data from JUST Capital's COVID-19 Corporate Response Tracker, we found that the vast majority (69%) of America's 300 largest employers have neither a pre-existing backup dependent care policy nor a COVID-19 specific policy, leaving employees without any solutions to address the disruption of typical care arrangements due to the shift to remote work, school and childcare center closures, and other social distancing measures taken by care providers.
Overall, 14% of employers disclosed specific backup dependent care provisions in response to COVID-19 – just 6% of employers disclosed COVID-19-specific policies in addition to pre-existing policies, while 8% did not disclose pre-existing policies but created new ones specifically in response to the pandemic. This does little, however, to address the question of whether and when care arrangements will go back to normal and amplifies the need for employers to help their employees bridge the gaps in dependent care in the uncertain months ahead, perhaps by transforming COVID-19 provisions into permanent policies.