JUST Companies Tend to Outperform Their Peers
As companies navigate their commitments to stakeholder capitalism as strategy beyond shareholder primacy faces a resurgence of political blowback, it's worth considering how the corporations we've found to be "just" are actually performing.
To do that, we're taking a look at how the JUST U.S. Large Cap Diversified Index (JULCD) and JUST 100 Total Returns Index (JUONETR) have been performing against their Russell 1000 benchmark, as well as how leading companies perform against their less just peers at the bottom of JUST Capital's Rankings of America's Most JUST Companies. What we've found is that companies that prioritize all their stakeholders – we measure performance for Workers, Customers, Communities, Shareholders, and the Environment – not only don't suffer consequences for investments beyond short-term profit maximization, they even tend to outperform their peers. 
Below, we show the performance of the top (D1) and bottom (D10) deciles of JUST's Rankings using our Overall Weighted Score and the Russell 1000 Equal Weighted Index from Jan 2018 to June 2022. D1 is composed of the top 10% of the companies we rank whereas D10 consists of the bottom 10%.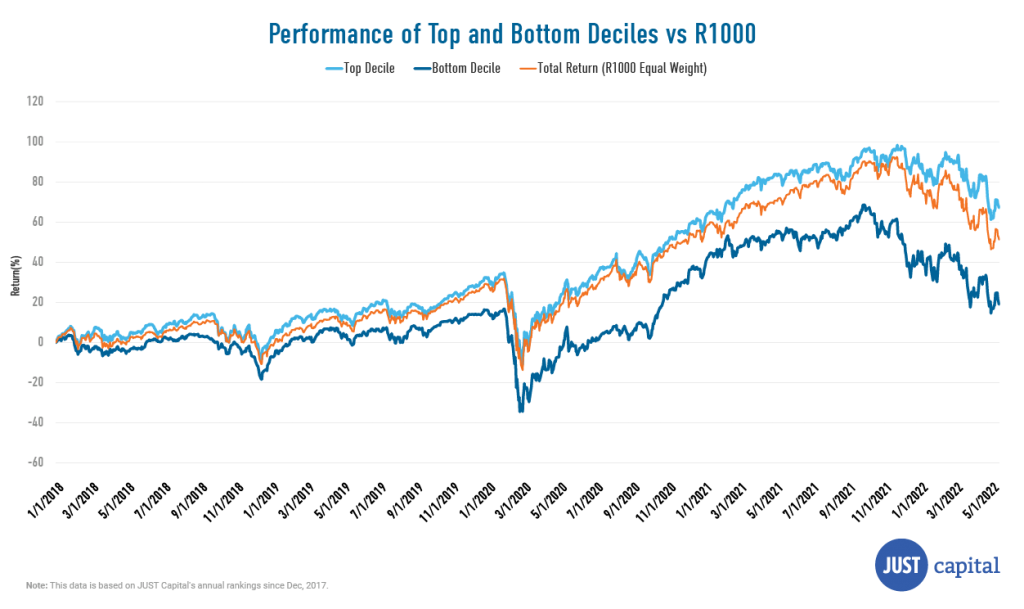 The JUST Overall Weighted Score takes into account the 20 core Issues identified through our survey research as top priorities for just business – including paying a living wage, creating a diverse, inclusive workplace, and helping combat climate change – across key business stakeholders. This score delivered a spread of 48.09% between D1 and D10 over the period ending June 30, 2022.
D1, with returns of 67.12%, has outperformed the R1000 Equal Weighted Index (returns of 51.26%) by 15.86%. D10, which has returns of 19.02%, has underperformed the Russell 1000 Equal Weighted Index (returns of 51.26%) by 32.24%.
Using the Rankings and the Overall Score we have created JUST Capital's investable indexes and financial products, which enable investors to implement our research and methodology and drive dollars toward just companies. These indices have demonstrated the investor case for just business behavior, showing that the companies prioritizing these core Issues can be more resilient over the long term. 
Our flagship index, the JULCD, began live trading in November 2016 and tracks the top 50% of Russell 1000 companies ranked by JUST Capital by industry, and is constructed to match its industry weights. It has outperformed the benchmark since inception by 7.53% as of June 30, 2022.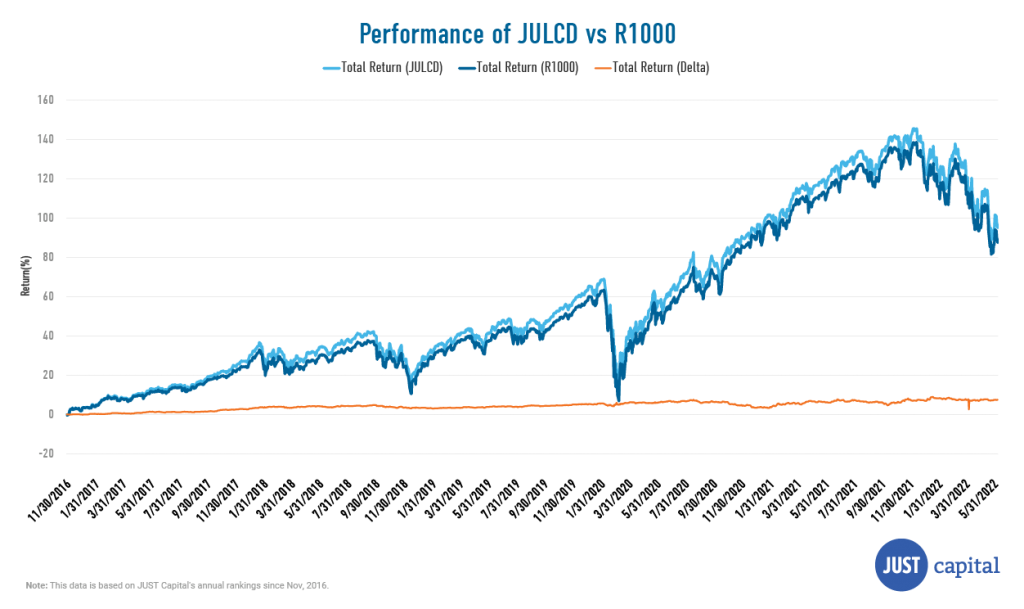 The JULCD Index also provides the basis for the Goldman Sachs JUST U.S. Large Cap ETF (JUST ETF), which seeks to provide investment results that closely correspond, before fees and expenses, to the performance of the JULCD.
The second live index that we have created is the JUONETR, which was constructed to track JUST Capital's top-performing companies. It is an equal weighted index that launched in March 2019 and includes the top 100 Russell 1000 companies ranked by JUST Capital in its annual Rankings.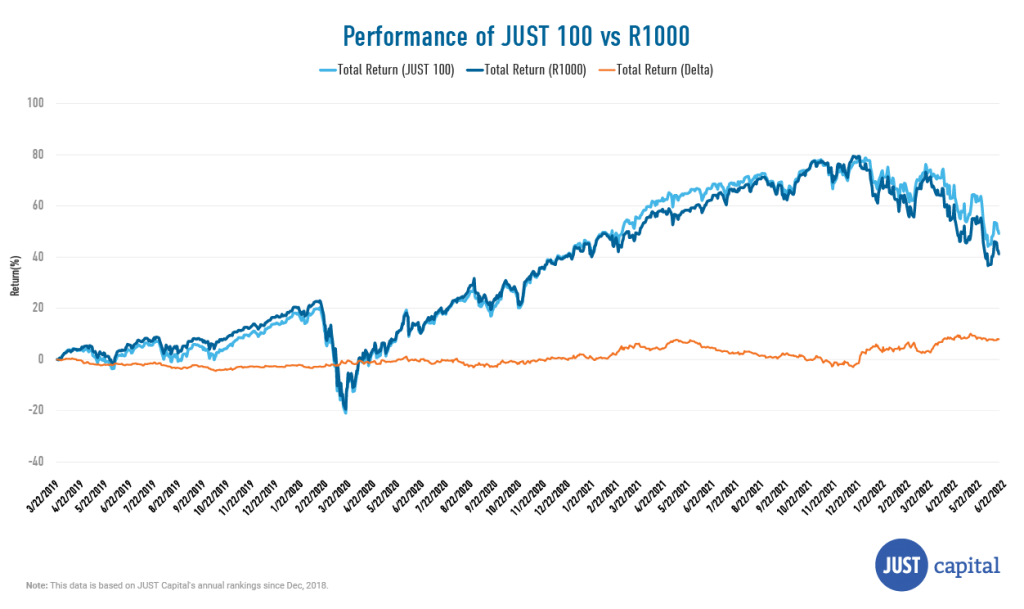 The JUST 100 Index has outperformed the benchmark since inception by 8.01% as of June 30, 2022.
The Investor Solutions team at JUST Capital continues to expand the suite of products tracking our in-depth company research and polling of the American public. We firmly believe that together we can create a more just and equitable marketplace that works for all Americans. Please reach out using this request form below if you have an interest in partnering with us to launch the next stakeholder-driven strategy.