Labor Day 2020: Workers' Voices Must Be Heard – Not Silenced – in the Fight Against COVID-19 and Systemic Racism
This year, Labor Day carries unprecedented meaning for America's workforce. Over the past six months of COVID-19's grip on Americans' health, safety, and financial security, workers across the country have toiled on the frontlines, worked from home with their children and families, faced outbreaks in the workplace, and confronted levels of unemployment not seen since the Great Depression.
And in the midst of all this, the deaths of George Floyd, Breonna Taylor, Ahmaud Arbery, and others, as well as the recent police shooting of Jacob Blake, have sparked a reckoning with racial injustice and systemic racism across all facets of society, including corporate America – from the boardroom to the factory floor.
The fundamental nature of work has changed over the last year, and it's unlikely to return to "normal" anytime soon, or maybe ever. And as employees continue to contend with the challenges of COVID-19 and advancing racial equity in the workplace, the question at hand is not just what role companies will play in supporting America's labor force in the months and years to come. but how and whether workers themselves will be empowered to help define the future of work in America.
According to our recent survey in partnership with The Harris Poll, almost nine in 10 Americans agree that this moment represents an opportunity for companies to hit "reset" and focus on doing right by all their stakeholders: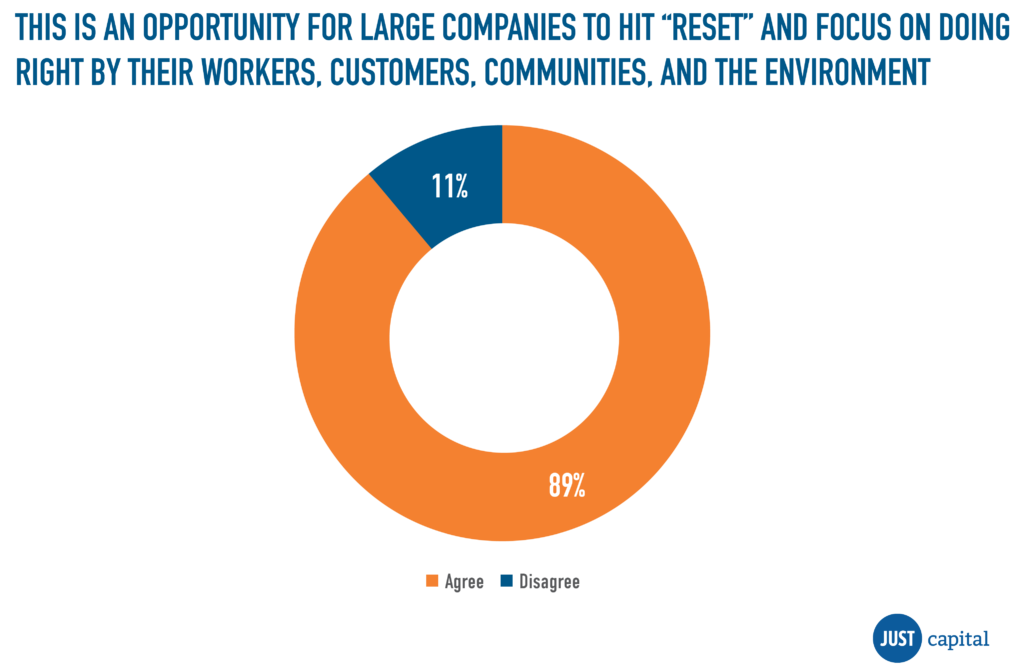 And yet, only 28% of respondents shared that their employers had asked for their input around cost cutting measures like furloughs and layoffs during the pandemic, and fewer than half of respondents (47%) let us know that they believed their employers were open to such discussion – suggesting that, despite their overwhelming recognition that change is needed, employees have largely not been empowered around one of the core issues of the pandemic.
We can't forget that workers' health is still a top priority.
Conversations around worker health and safety appear to be similarly stifled in recent weeks. In August – responding to a flurry of safety complaints from workers at companies from Amazon to Delta to General Electric – the National Labor Review Board (NLRB) released a set of memos affirming that employees will not be protected should they speak out against their employers' COVID safety policies. In other words, workers can actually be fired for protesting their companies' responses to the pandemic – even if an individual feels their health is at risk.
For workers on the front lines – who every day risk their lives to provide essential services – this is potentially devastating news. With practically no federal oversight from OSHA, responsibility for workers' safety has been placed solely in the hands of corporate leaders and in how they choose to operate their companies. At stake is not only the ability of workers to advocate for their well-being – a fundamental issue underpinning the history of Labor Day in our country – but the health and safety of the American public, as well as the future of the pandemic.
Workers are demanding racial equity.
Protests from workers against racial inequality and police brutality have also emerged in recent months. Most prominent perhaps is the NBA's recent protest against the shooting of Jacob Blake, which illustrates the leverage that high profile employees have in disrupting their industries and pushing for change.
Corporations are both seeking guidance on racial equity issues through Black employee resource groups and also being challenged on internal policies through collective action. In June, Starbucks employees challenged an internal memo prohibiting clothing or accessories that mention Black Lives Matter. Starbucks, which has been a vocal supporter of the BLM movement, listened to its workers and shifted course reversing its decision by issuing branded t-shirts in support of the movement.
Workers' financial security is good for business.
The circumstances of the moment we're in may be unlike anything we've ever faced as a country, but the underlying issues are consistent through history: worker safety, racial justice, and financial security.
And while the pandemic has highlighted a growing frustration among workers around how their employers are approaching safety during COVID and racial equity on a structural level, these acts of protest and employee activism are building on recent momentum. In the past few years, employees have increasingly organized to fight for higher wages for low-income workers – a product of historically high income and wealth inequality in the U.S.
There are, indeed, companies that have in the past six months responded to what their employees have been demanding. Through our COVID-19 Corporate Response Tracker, we've shown how companies with significant frontline workforces – including Best Buy, Charter Communications, Target, and Tractor Supply – have raised wages for workers, not just for the duration of the COVID-19 crisis, but permanently. And Darden Restaurants, which operates brands like Olive Garden and Longhorn Steakhouse, instituted a new, permanent paid sick leave policy for hourly employees who previously did not have access, something urgently needed to support workers in the months and years to come.
Today, frontline workers are profoundly vulnerable – perhaps more than ever before. And the challenges they face today, and have faced for many years, will not diminish until corporate America undertakes real, long-term change – building toward the "great reset" that Americans want to see. This change cannot be achieved until corporate leaders genuinely seek the input of their workforces to better understand how to navigate the crises of today and ensure a safe and equitable tomorrow.