JUST Capital Joined the U.S. Department of Labor and Families and Workers Fund to Better Understand the State of Job Quality in America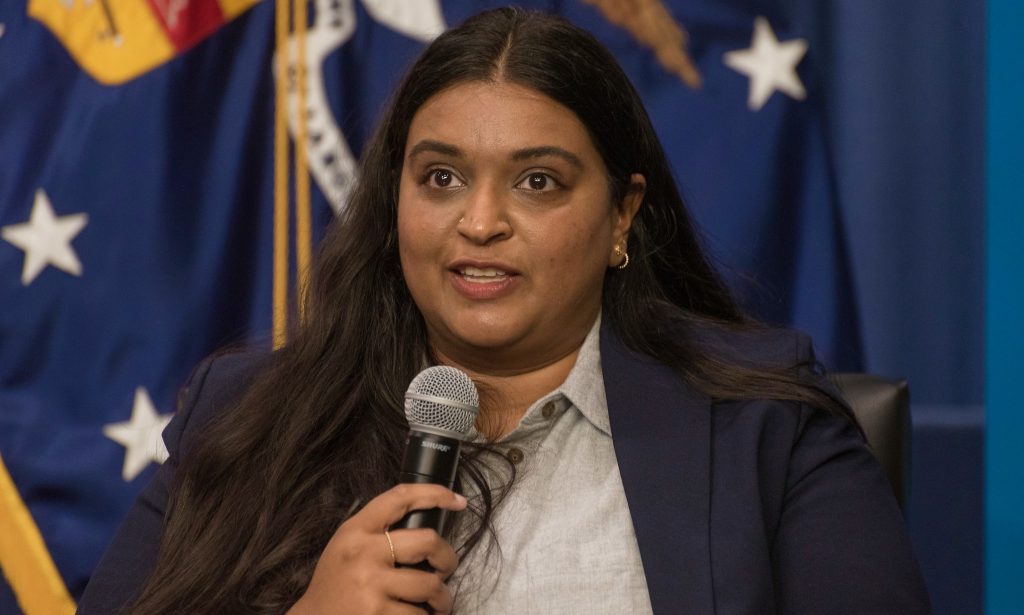 Like the first Friday of every month, July 8 marked the release of the Bureau of Labor Statistics' Employment Situation report, more commonly referred to as "Jobs Day." The latest report seems to paint an optimistic picture of job growth. The economy added 372,000 jobs in June, with the private sector regaining its pre-pandemic number of jobs. But that seemingly rosy snapshot stands at odds with what workers themselves are experiencing, and how employers are responding. What began as the Great Resignation has become the Great Reshuffle, a watershed moment in the labor market in which millions of workers across the United States have quit their jobs in search of better ones. The result has been a tight labor market, characterized by hiring outpacing quits across every sector, record-high job openings still exceeding 11 million, and complaints from companies about a "worker shortage."
But it's not that workers aren't available, it's that employers are struggling to attract, hire, and retain them. A mere 40% of workers in the U.S. – and even lower shares of workers of color – report that they are in a good job. The U.S. labor market is in the midst of a forced reckoning with the reality that we face a job quality shortage decades in the making. In fact, this is something that JUST Capital has heard through our polling since we started seven years ago: Respondents tell us that prioritizing workers is the most critical part of corporate leadership today. The message to private and public sector leaders alike, from the American public among others, is clear: it's time to radically reprioritize the American worker.
In response, the Families and Workers Fund launched the Job Quality Measurement Initiative, a collaborative movement across stakeholders from government, philanthropy, research, nonprofits, and the investor community to identify how to better measure good jobs, and we've been honored to be leading some of the work on corporate job quality data. Last month, the U.S. Department of Labor and the Families and Workers Fund advanced this movement by hosting the Good Jobs Summit.
We participated in the Summit and heard firsthand from leaders in the field on how different stakeholders can administer and prioritize strong job quality. JUST's Senior Director of Research, Kavya Vaghul, also joined a fireside chat alongside Alex Hertel-Fernandez, Deputy Assistant Secretary for Research and Evaluation at the U.S. Department of Labor, and Rachel Korberg, Executive Director of The Families and Workers Fund, about the role of data in measuring and defining good jobs.
You can watch the full Summit here, including the fireside chat (starting around 5:28:00), and read on for our key takeaways from our time in the nation's capital and the current state of the conversation on good jobs.
Job quality is an essential measure of a healthy economy
Data on our economy's jobs numbers or unemployment rates – like those reported on Jobs Day – do not paint the full picture of the health of our labor market. These numbers fail to describe "whether those jobs have sustained and uplifted the people in them and the families they support," said Sarita Gupta, Vice President of U.S. Programs at the Ford Foundation. To meet the moment, job quality must become central to "the way we judge the success and growth of the U.S. economy." Job quality is also at the heart of how the American public judges just business performance, as we know from JUST Capital's own polling research.
This raises the question: How should we define a good job? In a panel about how federal dollars from the Infrastructure Investment and Jobs Act (IIJA) serve as a core lever for creating good jobs, Deputy Secretary of Labor Julie Su and Deputy Secretary of Commerce Don Graves unveiled that the Departments of Labor and Commerce joined hands to develop Good Jobs Principles. This framework takes a necessary step toward creating a shared vision of job quality, especially for businesses navigating diverging reporting standards and requiring guidance to increase otherwise poor corporate disclosure on key human capital metrics.
The principles include: (1) recruitment and hiring; (2) benefits; (3) diversity, equity, inclusion, and accessibility; (4) empowerment and representation; (5) job security and working conditions; (6) organizational culture; (7) pay; and (8) skills and career advancement. These are fundamentally aligned with how JUST Capital measures good jobs and workers issues, as identified and prioritized by the American public in our polling.
Secretary Graves emphasized that the private sector is key to delivering on good jobs. "If employers are utilizing best practices [on job quality], they will [encourage] other employers to also adopt those practices because that's how they get the skilled workforce that is available in every community across the country," he said. With definitional alignment on job quality principles across federal departments – and a common commitment to embedding them within their work – public sector leaders can support and drive good jobs in the private sector.
There's a quality-job shortage, not a skills gap
On the topic of a skilled workforce, the Summit marked a dramatic shift in the public narrative around the "skills gap," a mismatch between the skills job seekers have and the skills employers demand. Employers often cite the skills gap as a reason for why it is difficult to fill jobs, but previous research has extensively shown that the data do not support these claims. In reality, today's federal policy encourages the use of debt-financed education, and U.S. employers increasingly require workers to attain higher education or credentials that do not always translate to better earnings.
But amid a growing student debt crisis and declining worker power, the burden to fill the skills gap can no longer be placed on workers alone. As White House Cabinet Secretary Evan Ryan put it, "For too long, workforce development and training have emphasized the skills deficiencies of workers," and asked the workforce to underwrite "training for its own sake." Companies, too, have an equal, if not greater, responsibility to address the fact that wages, working conditions, stability, and respect are not meeting worker demands. That's because, according to Ryan, and echoed by many other speakers at the Summit, "We don't have a skills deficiency. We have a good jobs deficiency."
Apprenticeships are powerful tools for accessing high-quality jobs
So how can employers play a role in filling the purported skills gap while also improving job quality? Over the course of the Summit, we heard from a number of state and local government representatives and workforce development partners about the power of the apprenticeship model. In contrast to traditional training, which requires job seekers to make their own financial and time investments in gaining what they assume are in-demand skills, an apprenticeship is an employer-based opportunity for workers to obtain relevant on-the-job education and credentials all while being paid a competitive wage.
Apprenticeships are based on the philosophy that, "Talent is not found. Talent is developed," as Chanton Green, a former participant in an apprenticeship pathway program from Roxbury, Massachusetts said. Apprenticeships are also built on the notion that companies bear a responsibility for – and benefit from – providing that development rather than insisting it take place through external degree programs. Green's words have particular meaning for industries where certain demographic groups are underrepresented due to historical and systemic discrimination and budding sectors where good jobs can be prioritized from the start.
For example, Kathleen Culhane, President of Nontraditional Employment for Women, shared at the Summit how training and apprenticeship placements have increased women's participation in construction trades in New York City. Saket Soni, Executive Director of the Resilience Workforce, also shared how apprenticeship programs have been a pathway to increasing wages and stability for a traditionally low-wage and transitory workforce around disaster recovery, an imperative to bolster climate resiliency in communities across the country.
The problem, however, is that apprenticeships have not been widely adopted by companies. In fact, our own research has shown that only 25% of Russell 1000 companies disclose having an apprenticeship program, with the highest concentration in the Utilities industry.
Equity is the starting point, not an afterthought
Perhaps the most resounding theme from the Summit was the call to place equity at the forefront of job quality conversations. Secretary of Labor Marty Walsh's keynote address detailed the pernicious effects of historic federal, state, and private investments that helped propel some families – mostly white ones – into the middle class, but left others behind. For instance, while the Fair Labor Standards Act of 1928 was a seminal piece of legislation to improve job quality, then measured by wages and hours, it exempted industries with predominantly Black and brown workers like domestic work and agriculture.
It is worth noting that these unprotected industries were among the few in which workers of color were actually able to find employment at a time when Jim Crow laws and segregation prevented them from competing for high quality jobs. "The negative impact of those inequities [in investment for people of color, women, people with disabilities, and others] has had a long lasting impact all across our country," said Secretary Walsh, as well as an "intergenerational impact that continues to limit the opportunities of young people in many communities."
In a panel discussion on equity in job quality, Wendy Chun-Hoon, Director of the Department of Labor's Women's Bureau, listed some of these impacts clearly. "Women and workers of color are really overrepresented in some of the lowest paying jobs in our economy," she said.
Chun-Hoon cited recent research that found, in a single year, "the pattern of occupational segregation, coupled with longstanding discrimination in our labor market policies, in unequal pay, [and] in lower access to benefits, costs Black women $39 billion [and] Hispanic women nearly $47 billion," which turns into "a wealth gap over a lifetime."
Breaking down generations of occupational segregation and other labor market discrimination is no easy feat, which is why Secretary Walsh emphasized that "care, intention, partnership, and persistence" were critical elements of building truly inclusive quality jobs. That's why multiple speakers at the Summit raised procurement – the process governments take to obtain goods or services from businesses – as an innovative channel to hold governments and companies accountable for extending opportunities for good jobs to everyone. Through the bidding process, federal, state, or local agencies could both require companies to report on job quality metrics to assess their performance and meet representation requirements for historically underrepresented groups.
The reality is, as Walsh plainly stated, "if we don't do something differently this time, … inequities will continue to be there. And people won't be able to access these good jobs [and] companies won't be able to access the great talent that's out there."
Where does that leave us? We know that better company-level data is needed, and JUST Capital will continue to strive to measure and identify sources to track and understand job quality. We're working directly with companies and across sectors to identify what paths and changes need to be made to reorient our thinking towards recognizing that the health of our economy is connected to the types of jobs we are creating. And, our programmatic efforts will continue to focus on providing pathways for companies looking to contribute to an equitable economy where good jobs are the norm, not the exception.
For more on how we're engaging on job quality issues, please reach out to Tolu Lawrence, JUST's Managing Director of Programs and Partnerships, at programs@justcapital.com.