Shareholder Activism Takes Hold as Proxy Season Gives Rise to ESG Issues
In this week's chart, we pull from the June 2021 edition of the ESG Acceleration report from MUFG Research (NOTE: member gated) to highlight not only the rise in the number of shareholder resolutions filed but the wide range of ESG issues addressed. 
The chart below highlights the broader trend in the rise of shareholder activism related to ESG issues and how investors are increasingly using proxy votes to express their views on company behavior, rather than relying on company disclosure. This past year, climate change, human capital metrics, and diversity, equity, and inclusion (DEI) were especially relevant to shareholders. Increased demand for transparency, targets, reporting metrics, and business impact assessments have all rapidly gained momentum, as we see below.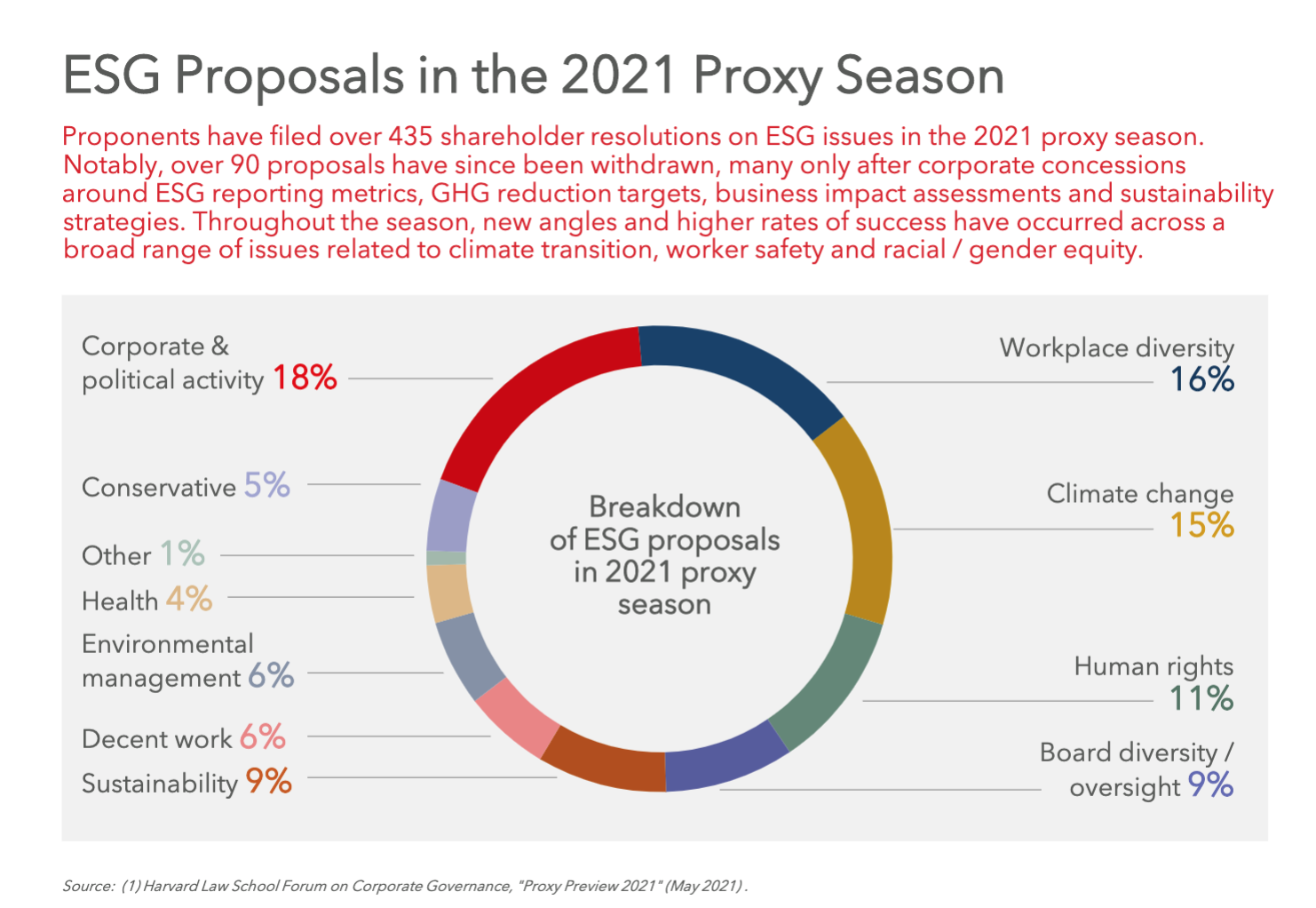 Investors and shareholders continue to demand more, as disclosure is considered a meaningful first step – however, it doesn't always lead organizations to take meaningful action toward their ESG goals. Bloomberg reports campaigns launched through June 21 at companies with a market value of more than $1 billion reached 116, up from 87 over the same period in 2020. Furthermore, we see the demand for more than disclosure in corporate debt issuance as well, as investors show their willingness to pay a premium or "greenium" for companies to publicly link their debt to ESG goals, with the sustainability-linked-debt market expected to surpass $200 billion this year per S&P, up 54% from the year prior. 
Last month, activist investor Engine No. 1 won three of four contested board seats as part of its $30 million Reenergize Exxon campaign, demonstrating that ESG activism can drive actual change and will continue to be a focus as we emerge from the pandemic. Engine No. 1 has continued its activist approach this week with an initiative to empower passive investors through the launch of a new ETF (ticker: VOTE) that aims to encourage better behavior using its shareholder voting rights and will follow voting guidelines aiming to get businesses to invest in employees, communities, customers, and the environment. We're actually going to be speaking with them and Betterment on June 30th on how they hope to transform retail investing with this offering. Sign up to listen here. 
To further highlight the surge in ESG proposals meant to change corporate behavior, we're showcasing another chart from MUFG. This one is focused on BlackRock, the world's largest asset manager and an outspoken supporter of sustainability initiatives over the past few years, and how its votes have broken down over the last year.
It is clear we are at the forefront of a shift toward broader transparency and accountability. Investors and shareholders not only demand to know what the benchmark looks like for the companies they invest in, but how they are progressing on the broader commitments they have made to address them. As we have seen from Engine No. 1, ESG shareholder activism is now at the forefront as human capital, DEI, and environmental proposals continue to gain traction and importance in 2021's proxy season. 
If you are interested in supporting our mission, we are happy to discuss data needs, index licensing, and other ways we can partner, please fill out our request form to answer a few questions, and someone from our Investor Solutions team will reach out to you within two business days.