The JUST Report: Is War Reshaping How We Think About ESG?
(Christopher Furlong/Getty Images)
State Street Global Advisors is one of the world's largest institutional investors, with more than $4 trillion in assets under management. It's also hugely influential on ESG. For a feature this week, its CEO, Cyrus Taraporevala, and proxy voting guidelines lead, Benjamin Colton, sat down with JUST editorial director Rich Feloni for an in-depth discussion on everything from the coming proxy season, corporate "brown-spinning" and the war in Ukraine. It's a fascinating conversation (a sample: "Demonizing the fossil fuel industry and having this simplistic 'green is good, brown is bad' approach was not something we subscribed to") and I urge you to check it out.
Regarding the awful events in Ukraine, the war itself and the concomitant humanitarian and economic fallout are posing some tough questions for the ESG community.
Are defense companies, which have often been excluded from ESG portfolios, now suitable for inclusion if they're helping democracies defend themselves? Is any company involved in Russia now considered anathema to ESG investors, even if, like PepsiCo, they're servicing the Russian people and not the Kremlin? Should ESG investors and companies committed to ESG leadership temporarily support U.S. efforts to produce more domestic energy from fossil fuels, as Tesla CEO Elon Musk has stated? The list goes on.
For some, ESG continues to be a riddle, wrapped in a mystery, inside an enigma. Crises such as the pandemic, and now the conflict in Europe, force us to unravel some of these complexities and determine what we really stand for. For the State Street team, the bottom line is clear: "This is about the best risk-adjusted return."
If you want to track how corporations are responding to the war in Ukraine, check out our regularly updated list.
Be well,
Martin
---
---
This Week in Stakeholder Capitalism
Amazon workers can now get degrees at 180 different colleges for free. The board also approved $10 billion in stock buybacks.
Macy's is spending $5 billion by 2025 to diversify company leadership, raise hourly pay, and increase the use of sustainable materials in its products.
S&P Global launches $1.25 billion bond with interest tied to Scope 3 emissions & supply chain diversity goals.
Uber, Lyft, and DoorDash launch a campaign to prevent efforts to classify their workers as employees, which would allow them to form unions.
Wells Fargo donates $20 million to Houston small businesses in underserved communities.

What's Happening at JUST
Martin spoke with Alan Murray at Fortune, and Adele Peters at Fast Company about the different ways companies are responding to Russia's war in Ukraine and the rapidly evolving humanitarian crisis. Our running list of corporate responses was also featured in FT's Moral Money and CEO Daily.
From the war in Ukraine to the controversial new Florida Parental Rights in Education bill (see: initial comments and backpedaling from Disney CEO as a case in point), companies are reckoning with when and how to take a stand on critical social issues. The Financial Times Moral Money Forum explores the question in depth featuring insights from JUST advisor Hubert Joly, WFWI partner and PayPal exec Franz Paasche, and JUST polling data lifting up what Americans expect from corporate leaders in this rapidly shifting landscape.
Our latest report on workforce diversity data disclosure and trends has been republished as a resource by Harvard Law School's Forum on Corporate Governance. The analysis was also featured in CFO Dive.
JUST Events
We'll have a team at SXSW starting this weekend, so drop us a line if you are planning to be in Austin and would like to meet up! Our chief strategy officer Alison Omens will join Fortune, Color of Change, and SEIU 2015 to discuss the systemic inequities that have been driving millions of women out of the workforce at record pace and what companies need to support their return. Attend the session: "Supporting Working Women Amid the Pandemic" on March 15th at 2:30PM CT. Hope to see you there!

The Forum
(Drew Angerer/Getty Images)
"Time is life. If we miss our budget for a year, no one will remember it the year after. If we miss the opportunity to do something for the world now, we will all remember it forever."
"There are limits to what governments can do. Companies may choose to continue to work with Russian business, but they should be held accountable by their shareholders for that decision. To do so requires that they disclose the nature of that association, their rationale for continuing to do business with Russia, and what–if any–economic and financial risks this entails."
"I put in my two week's notice. I was walking out the door, and someone who worked in our legal firm downstairs said to me, 'I just got a job at Intel as an administrative assistant. If you're looking for a job that pays really well, maybe you should try it, just to get your foot in the door.'"

Must-Reads of the Week
For International Women's Day, Barron's features the 100 Most Influential Women in U.S Finance, featuring JUST board member Mindy Lubber and JUST 100 CEO Jane Fraser.
Employers loved promoting their International Women's Day platitudes, until, as Fortune reports, a U.K.-based Twitter bot started revealing the gender pay gap at each organization.
Proxy season is upon us and Fortune reports on investors wanting to see more explicit plans on ESG, climate, human capital, and DEI. For additional details check out Broadridge's 2022 proxy season report detailing key corporate governance and shareholder voting trends.
New survey data from Pew shares top reasons behind the Great Resignation with low pay, no advancement opportunities, feeling disrespected, lack of childcare, and flexibility in the top five.
Almost two-thirds of Americans are now living paycheck to paycheck, according to one report shared by CNBC.
Chart of the Week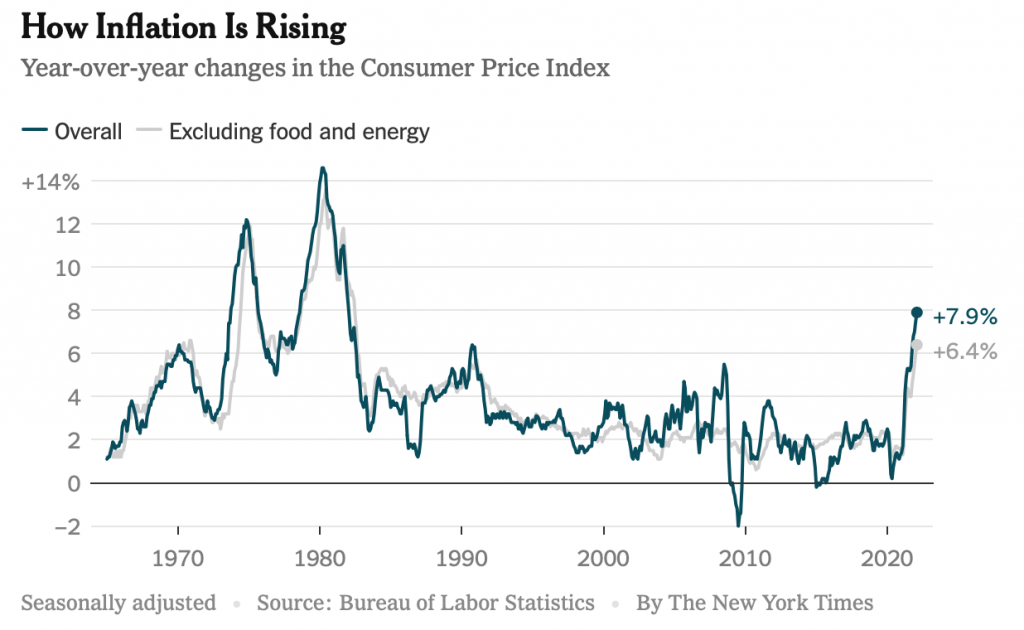 This chart comes from The New York Times article showing the massive spike in inflation currently hitting the U.S., the highest it's been since 1982. Learn more here.

---
Get to Know JUST
Jean Oelwang
CEO, Virgin Unite
JUST Capital Board Member
Jean Oelwang released her new book, Partnering: Forge the Deep Connections that Make Great Things Happen , this week. The book offers new insight on the importance of collaboration over hyper-individualism on the path to making a difference in the world. Jean shares stories of effective partnering which provides tangible takeaways for readers and provides a call to action to build deep connections for better lives, better organizations, and a better world.
Join Jean at SXSW on March 14th to hear key insights from the book firsthand – more information here!