The JUST Report: SEC Climate Rule Puts Energy Transition into Spotlight
(David McNew/Getty Images)
On the face of it, the SEC's proposed rule requiring companies to disclose emissions and other climate information, announced Monday, gives the market exactly what it's been asking for.
It helps to address concerns over greenwashing and the haphazard nature of ESG data. It brings greater consistency, validity, and meaning to climate risk disclosures, so the free market can make more informed choices over capital allocation.
It tracks what many companies are already doing. JUST's analysis shows a majority of companies (57%) currently disclose Scope 1 and Scope 2 emissions (up from 42% in 2021); 30% report Scope 3 emissions from travel; 10% report Scope 3 emissions from use of their products (mostly utilities); and over 100 companies from our universe have set net zero targets of one kind or another.
It gives big asset managers – BlackRock, State Street, and Vanguard – and pension funds what they say they want.
Finally, it accords with our recent polling, in which 87% of Americans, including 74% of Republicans, agree that public companies should disclose their risks from climate change; and 90% say it is important that there is a common, standardized reporting structure for companies.
That said, the rule will undoubtedly encounter some resistance. It comes at a time when world events are fundamentally destabilizing the U.S. economy and pushing the historical balance of energy reliability, affordability, and cleanliness to its limit. Pressure to increase domestic fossil fuel production is intensifying. In a meeting with President Biden on Monday JPMorgan Chase CEO Jamie Dimon called for a "Marshall Plan" for domestic natural gas.
The politicization of ESG and climate is also a factor. Speaking on CNBC's Squawk Box Thursday morning, Republican Sen. Dan Sullivan of Alaska – a proponent of more domestic oil and gas investment – implied that legislation to curtail the power of big asset managers to vote their shares on ESG issues may be in development.
Tackling climate change and transitioning to a clean energy economy has the support of a majority of Americans but it will be a long and contentious process.
Be well,
Martin
---
---
This Week in Stakeholder Capitalism
​​​​​​AEP completes its largest wind farm and sets the course to rapidly increase renewables in an effort to hit net zero goals.
Delta is giving all of its workers a 4% pay raise, their first since the start of the pandemic.
Disney held a town hall dedicated to LGBTQ+ issues, with some workers staging a walkout to demand more action – including ceasing political donations to several Florida lawmakers.
MetLife announces $2.5 billion in DEI commitments, including spending with diverse suppliers and advancing diverse-owned firms.
Starbucks and Volvo partner to bring EV-charging stations to 15 Starbucks locations as part of a pilot program to help scale charging infrastructure.
Target tests its first net zero prototype store in California, which is planned to deliver a 10% energy surplus each year.

What's Happening at JUST
BONUS CLIP: Our interview with Cyrus Taraporevala of State Street is now available on our website to watch in its entirety, but the conversation continued for several minutes afterward. In this newsletter-only clip, Cyrus discusses the increasingly problematic fact that public companies have to play by a different set of environmental disclosure rules than private ones. Watch the clip here.
Join JUST Capital as we run in the NYC Marathon and raise money for a more JUST economy. Info here!
Join us in shaping the new standards for corporate action on racial and economic equity! Please join JUST and our colleagues at PolicyLink and FSG to provide feedback on new corporate performance standards we have been developing together for racial and economic equity. By sharing your insights, you can help ensure that what we develop is comprehensive, actionable, and has the power to set new norms for equity in the private sector. We'll hope you'll join us and share your feedback!


The Forum
(Andrew Toth/Getty Images)
"We wanted to amplify a conversation about this crucial issue facing parents and caregivers within the private sector and shed light on why paid family leave is imperative to get millions of women back into the workforce. Men have already recouped pandemic employment losses, while 1.1 million fewer women are participating in the labor force than the previous year. At this rate, we are looking at a timeline that reverses decades of progress for women's participation in the workforce."
"Excited to announce that I'm going to lead the building of a new business at ExxonMobil focused on the (very) large scale decarbonization of the industrial economy. We'll be significantly moving the needle toward net zero in the most hard-to-decarbonize industries, in an economically viable way, and with urgency."
"The Russian war is going to prompt companies and governments worldwide to re-evaluate their dependencies and re-analyze their manufacturing and assembly footprints – something that Covid had already spurred many to start doing."

Must-Reads of the Week
The Hill features a new Oxfam study showing that nearly one-third of U.S. workers make less than $15 an hour. The demographic inequities are stark: 40% of women earn less than $15, compared to 25% of men, while 46% of Hispanic/Latinx and 47% of Black workers earn less than $15, compared to 26% of white workers.
The Wall Street Journal highlights data from the Atlanta Federal Reserve showing that women are starting to regain lost ground when it comes to wage increases, versus one year ago.
Bloomberg reports which S&P 100 companies are disclosing EEO-1 forms, the "gold standard" of workforce race data and reveals ​​what companies are making progress – and falling behind – when it comes to increasing diversity among their ranks.
NPR shows that Black business ownership is actually 30% higher now than pre-pandemic.
Chart of the Week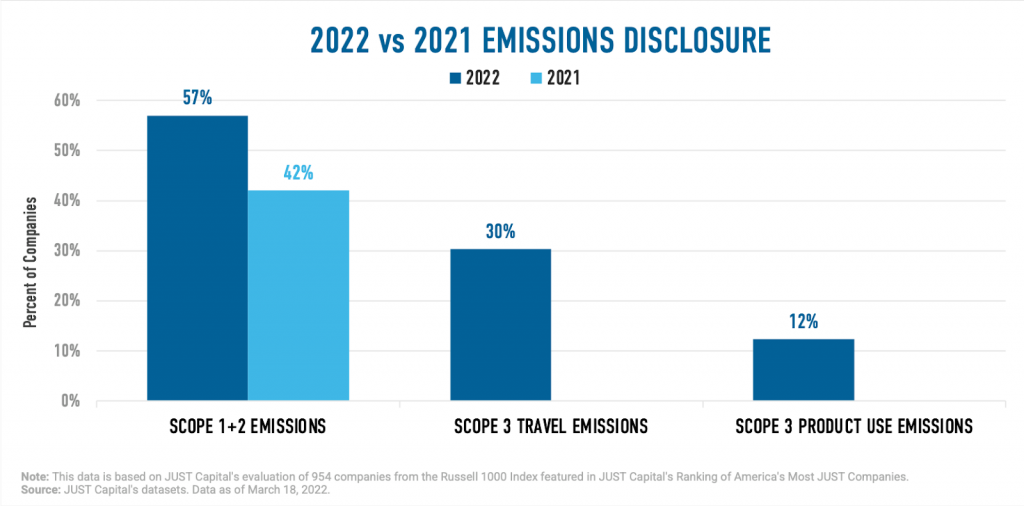 This chart comes from our latest analysis on the state of corporate GHG emissions disclosure in light of the new SEC proposal and shows that currently nearly 43% of America's largest companies are not disclosing Scope 1 and 2 emissions, and far less have tackled reporting on Scope 3 emissions. Learn more here.
---
Get to Know JUST
Annette Nazareth
Senior Counsel, Davis Polk & Wardwell
JUST Capital Board Member
Annette Nazareth is an experienced financial markets regulator, former SEC Commissioner, and recognized authority on financial markets regulatory issues. Annette has been a key player in financial services regulatory reform for much of her career, and worked in various posts at the SEC for a decade, serving as a Commissioner from 2005-2008.
Currently, Annette serves as the Co-Chair of the Board for the The Integrity Council for the Voluntary Carbon Market, an independent ​​governance body for the voluntary carbon market. "To secure a liveable future, we urgently need to ensure that every tool available to us is working as effectively as possible to reduce and remove greenhouse gas emissions," she said, speaking on the Council's planned global standards for carbon credit quality. "The voluntary carbon market has a critical role to play in accelerating a just transition to 1.5 degrees centigrade, but it can only succeed if it is rooted in high integrity."