The JUST Report: UAW and the Complicated Dynamics of Worker Engagement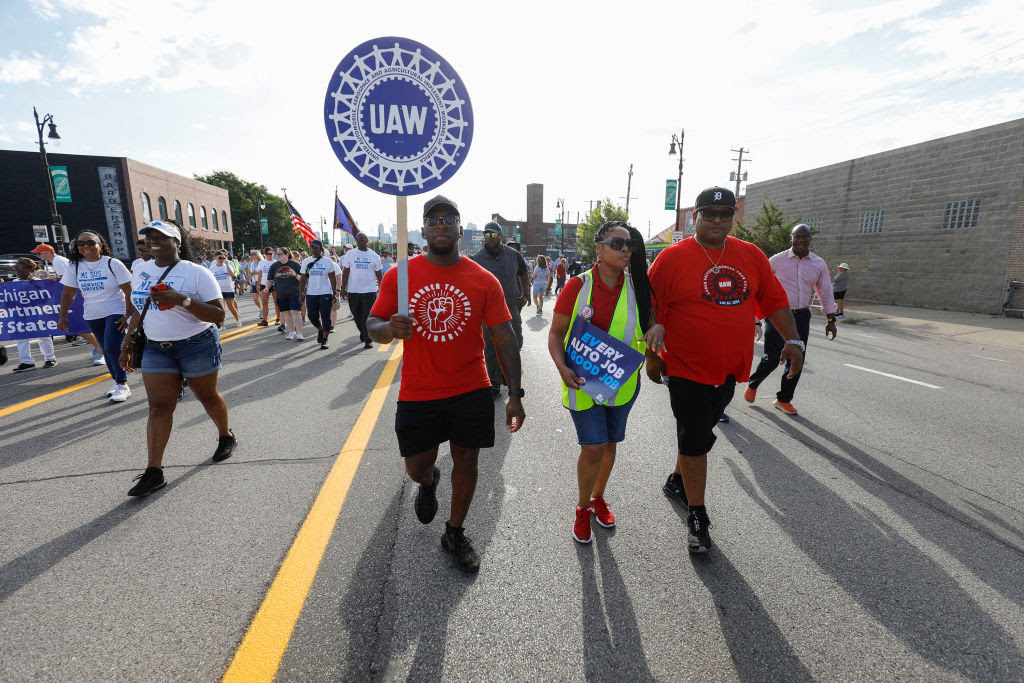 The dispute between the United Auto Workers and Detroit's so-called "Big Three" – Ford, GM, and Stellantis – has once again thrust the topic of employer-employee dynamics into the headlines. Some view it as a test case with wider repercussions for American industry.
As I write this on Thursday afternoon, it's not clear whether a deal will be reached, though negotiations don't appear to be headed toward an agreement. Wall Street has apparently already priced a strike in and sees it as "manageable." The companies have presumably offered the unions what they consider to be attractive contractual improvements. Representatives for the approximately 146,000 unionized workers have framed it as a matter of justice and reportedly called the company proposals "shameful and insulting."
A new McKinsey study on worker productivity released this week presents an interesting juxtaposition. It finds that over half of employees report being relatively unproductive at work, with disengagement and attrition potentially costing a median-size S&P 500 company between $228 million and $355 million in lost productivity each year. "These are big numbers that strike at the heart of value creation," the authors note. Echoing our own research, the McKinsey study says employers can capture the value at stake by focusing on factors like compensation, flexibility, meaning, advancement, and safety.
That underlying worker issues such as these are critically important in today's business environment is surely not in doubt. C-suite leaders know it. Our polling reinforces this every year. Indeed, who reading this would honestly say that such things aren't a top priority for themselves?
The challenge becomes one of balance. In this sense, corporate leaders have a tough job. How to invest in workers in ways that increase retention and productivity, and advance competitiveness in an economically uncertain environment; how to get ahead of labor issues in ways that promote great outcomes for all stakeholders. These are the elements of a winning model that our work, and that of others, is helping to inform.
Be well,
Martin
JUST IN THE NEWS
JUST board member Roosevelt Giles took to the stage of the Fortune Impact Initiative this week to discuss how to expand diversity in America's boardrooms, explaining that "the boardroom represents the Supreme Court of stakeholder capitalism" when it comes to advancing DEI initiatives Watch the full panel here.
Next week Martin will be at The Nest Climate Campus alongside Emilio Tenuta of Ecolab, Erik Hansen of Workday, and Scott New of Trane Technologies, for a climate week panel on the strategies that leading companies are using to make their businesses more sustainable. Grab your tickets to Nest here.
Additionally, Martin will be speaking at the Fast Company Innovation Festival on Thursday, September 21st on how the culture wars are shaping the future of ESG. Get tickets here. The JUST Team will be making the rounds – we hope to see you there!
QUOTE OF THE WEEK
"Recent labor negotiations across an array of industries suggest that the power dynamic is shifting in favor of workers. Given the tight labor market and the decades-long decoupling of profits and productivity, this was likely inevitable. Still, there's one big looming question, can workers preserve this power heading into a downturn? There is growing anecdotal evidence that business leaders may better serve their shareholders by not waiting to find out and instead developing new ways to cultivate, develop, and reward their employees."
Ethan Rouen, associate professor of business administration at Harvard Business School, to JUST Capital on the case for investing in workers.
JUST AI
Silicon Valley's most influential tech leaders – including Elon Musk, Sam Altman, Mark Zuckerberg, and Sundar Pichai – met with lawmakers to discuss AI's potential, including its risks to civilization and challenges of regulation, The New York Times reports. In related news from the Capitol, more companies including IBM, Salesforce, and Adobe sign on to a White House AI safety pledge committing to security and transparency in regards to their use of the new technology.
The Wall Street Journal discusses the climate tradeoffs presented by AI. On one hand, the new technology has proved an asset for cutting emissions in certain sectors, while on the other hand, the computing power required to run the systems adds to greenhouse gas emissions.
Fortune's CEO Daily Newsletter explores the possibility that generative AI may offer lower-skilled workers an advantage over their higher-skilled counterparts. A study found that productivity inequalities among the group "were half erased" by the technology.
Axios reports that Google will give $20 million to a new fund focused on ensuring AI is developed responsibly and avoids dangerous pitfalls.
Walmart embraces AI as a means of freeing its associates from monotonous, repetitive tasks and encouraging workers to focus on customer and member experience. The My Assistant software used by the retailer can summarize large documents and speed up the drafting process, among other features.
Reid Hoffman pens an opinion piece in the Financial Times arguing the need to focus on four fundamental questions while developing AI to ensure the technology positively impacts humanity.
Two new polls are out on the American public's relationship to AI. Gallup finds that 22% of workers fear the new technology will make their jobs obsolete, while more than half of respondents in an Axios survey say it will decrease their trust in the 2024 election.
MUST READS
Lots of great content coming out of the Fortune Impact Initiative, including how the C-suite is navigating its sustainability and social impact work in light of the ESG backlash. Execs explained that while they are still focusing on the tenets of ESG in their decision making, they're avoiding the term except in communications to investors. As corporations face increasing conservative attacks on DEI programs, a group of 13 civil and human rights organizations have formed a coalition to provide legal support to companies.
In California this week, two big policy moves took shape that impact workers and the environment. The New York Times reports on a new agreement between restaurants and unions in the state that will guarantee a minimum wage of $20 an hour for workers. Legislators also passed an unprecedented law that will require companies to disclose carbon emissions, including Scope 3 (from suppliers and customers), which companies have argued are hard to accurately collect and disclose. The Verge has the details.
CNBC talks with UPS CEO Carol Tomé about the company's latest labor contract. She said the wage increases "are really good for us and a 3.3% compounded annual growth rate. That's a deal we'll take every day, but it wasn't just about the money. We've got work/life balance for people, while retaining the ability to deliver on the weekend, which is really important for our customers."
The Wall Street Journal has new median U.S. income numbers. When adjusted for inflation, 2022 marked the third straight year living standards fell as rising prices and knock-on effects from the pandemic hit American households. Related to rising costs, among other factors, The New York Times reports on how poverty rates "soared" in 2022.
CNN reports that Lyft is introducing a new feature in response to high requests from customers that lets women and nonbinary riders choose to match with drivers of the same gender. 
Chart of the Week
Released this week, McKinsey's study on worker productivity demonstrates the potential financial impacts of employee disengagement. Prioritizing improvement on several key drivers of disengagement – including inadequate compensation, a lack of meaningful work and workplace flexibility, and an absence of career development opportunities – could help companies save up to an estimated $56 million annually, showing once again that doing right by workers is good for business.